Canada When Justin Trudeau emerged surprisingly victorious in the Canadian elections, it was immediately apparent to Marc Emery that "pot is now legal throughout Canada". Canada's other activists also celebrated the Liberal Party's victory, almost as though cannabis was now no longer banned. More about the current situation in Canada here:

A top domestic issue barely noticed outside Canada
When Justin Trudeau emerged as the surprisingly emphatic victor in the Canadian elections, it was immediately apparent to Marc Emery that "pot is now legal throughout Canada". Canada's other activists also celebrated the Liberal Party's victory, almost as though cannabis was now no longer banned. Admittedly, such a situation remains a long way off; nevertheless, it is not as though the new Prime Minister discovered hidden plans for re-legalisation on the second to last page of his party's election manifesto. As fact would have it, he had already made cannabis a top issue during the campaign. Whoever voted for Trudeau in Canada literally knew what would be in store for the electorate in the event of his victory: legal cannabis plants in a G7 country.
Trudeau, who had posed cannabis regulation as one of the key points of his new policy, set about actually delivering on his promise shortly after the election. Within a few weeks of taking office, he summoned the Department of Justice to do everything necessary to instigate a national policy on cannabis. In an open letter, Trudeau has outlined to his cabinet and prioritised the implementation of a raft of election pledges that he had made to his electors in the campaign. In cooperation with Public Safety Canada and Health Canada, a process must be instigated aimed at the legalisation and regulation of cannabis at a national, regional and local level," writes Canada's new leader on the topic of cannabis. Three weeks later, Governor General David Lloyd Johnston confirmed that the new government was planning a law "to legalise, regulate and restrict access to marijuana."
Vancouver as a pioneer
In Vancouver, one might be led to believe that cannabis is legal. For some time now, the city administration under Mayor Gregor Robertson has permitted cannabis pharmacies, which are actually illegal in Canada. Vancouver City Council is even actively involved in establishing rules for these Medical Dispensaries, which are in fact illegal under Canadian law. Since June 2015, cannabis pharmacies can apply for a licence, and the first eight of these are soon to be issued. In total, 176 shops had applied; the majority of these were unsuccessful on account of the strict proximity rule, which enforces a distance of 300 metres between dispensaries and schools. The rejected applicants now have six months to look for appropriate premises in order to submit a new licence application. Until recently, tolerance in the British Columbian capital had led to fierce conflict with the conservative government of the previous Prime Minister, Steven Harper. During its long term in office this administration had gradually tightened cannabis legislation and even prohibited patients from growing their own cannabis, something that was previously legal. Of course, the conservatives wanted to have all the dispensaries in Vancouver closed down by the end of their time in office in 2015 because such dispensing outlets are in breach of Canadian law. The new government, however, considers Vancouver to be a type of pilot for a regulated model at a national level rather than a danger. In the past few weeks and months, decisions regarding similar such schemes have been made in various towns and communities in British Columbia, and presently, it is no longer just the police in Victoria that are wondering how, and whether, to target the new shops, or even if they are permitted to do so.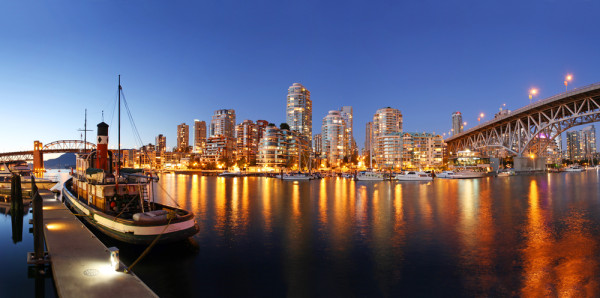 Vapour Lounges to remain outlawed for the time being
In addition to dispensaries, which may only serve approved patients, so-called Vapour Lounges have also become established in Vancouver, where for a monthly membership fee, patients and recreational users can vape cannabis in a coffeeshop-type environment. Some of these lounges are directly connected to the cannabis pharmacies, whilst others operate separately. Cannabis is not sold there; there is a BYOB (Bring Your Own Bud) policy in operation in the Vapour Lounges. Although the lounges do not sell, Vancouver's city leaders intend to ensure that they do not receive licences and that they are closed indefinitely. But many of these establishments remain in operation which, according to the opinion of Canadian criminologist Professor Neil Boyd, poses no significant problem. At Simon Fraser University in British Columbia, Boyd has for many years been researching and publishing on the effects of all kinds of drugs on Canadian society. He believes that such lounges are less dangerous than pubs. "I remember talking to a police officer once and he said, 'You know, Neil, if it wasn't for alcohol, I'd only have a part-time job.' You couldn't actually say that about cannabis. Cannabis doesn't produce the same kinds of social disruption that alcohol abuse does," Boyd stated in conversation with The Globe and Mail newspaper.
The UN Single Convention as a barometer
Whilst the re-legalisation in British Columbia appears to be moving faster than any legislative change, the Canadian government under Prime Minister Trudeau will still have to work hard until cannabis can be sold legally throughout the country. Alongside the necessary regulations relating to youth protection, prevention, taxation, self-production and consumer security, Canada must also succeed at an international level as a G7 country and appease its partners on the international stage. Unlike Uruguay, it is one of the biggest economies in the world. When the small nation between Argentina and Brazil legalised cannabis in 2013, there had already been criticism and threats from the UN, which have not yet been acted upon. Uruguay, however, has not even managed to establish a sales system that could be criticised or even sanctioned. Canada, on the other hand, is not set to legalise cannabis without having clarified the details beforehand and there are already 27 producers of medicinal cannabis who are just awaiting a production licence for recreational use. Also, the new government's announcement that the necessary legislation might take up to two years to draft sounds reasonable, for unlike Uruguay or the Netherlands, thought has already been given to how Canada can reconcile legal cannabis and the UN Single Convention on Narcotic Drugs:
"As part of examining legalization of cannabis possession and production, Canada will need to explore how to inform the international community and will have to take the steps needed to adjust its obligations under these conventions," announced Trudeau in January 2016.
This is precisely the point that so far has been deftly avoided by all those politicians keen to see legalisation and the UN has displayed little willingness to compromise. However, even amongst the former hardliners of the UN drug agency UNODC there appears to be a very gradual shift taking place. Sir Richard Branson, co-founder of the Global Commission on Drug Policy published an internal UN paper, which the UN had withdrawn shortly before its publication because of the veto issued by at least one of the member states at the last second:
"International treaties on drug policy do not make it compulsory for member states to criminalise drug consumption and possession for personal use. Member states should take into consideration the introduction of health preservation measures and measures against the overfilling of detention facilities, including the decriminalisation of small quantities of drugs for personal use. […]. More resources must be invested in science, research and in safeguarding human rights, incorporating prevention programmes, treating addicts and other mitigating measures," the report states.
Thus far it has been possible to maintain the status quo against the recommendation by the UN's own experts following pressure from one or more member state(s). Yet, in view of the legalisation attempts by many US states and Canada, as well as many Central and South American countries, it seems that it will be just a matter of time until the findings of the UNODC's in-house experts are also included in the official position adopted by the international community. Should Trudeau also find a way to circumvent the UN Single Convention and regulate cannabis, it will pave the way for those who wish to follow Canada on the way to regulation.