NIGERIA The federal republic of Nigeria is a large country on the coast of West Africa. It has a population of over 170 million people and is by far the most densely populated country in Africa. Nigeria is the economic centre of the region and a very important hub in the international trade triangle that connects South America, West Africa and Europe.
History of Cannabis in Nigeria

Cannabis is thought to have arrived in Nigeria and other parts of West Africa relatively late compared with much of the rest of the continent; it is believed that soldiers and sailors returning from conflict zones in North Africa and the Far East after World War II brought the seeds with them. Certainly, pre-war botanical treatises covering tropical West Africa do not mention cannabis among the useful plants of the region. Cannabis use quickly became established, and cultivation spread rapidly throughout the country, with the 1960s heralding a new era in which cannabis became a public issue, subsequent to several arrests of Nigerian nationals abroad, plantations being discovered in various locations, and a handful of cases of reported cannabis-associated psychiatric illness.
The Cannabis Trade in Nigeria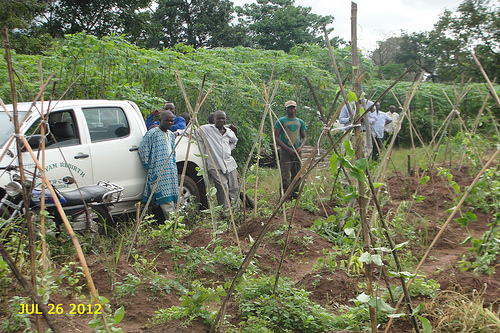 Today, cannabis is grown throughout the country, with most cultivation sites located in the states of Edo, Delta, Ekiti, Ondo, Osun, Ogun and Oyo in the south-west, where the tropical coastal climate allows the plant to thrive. Much of Nigeria's population is still heavily dependent on agriculture, and cannabis is a favoured crop as it commands far higher prices than any other.
It is thought that over half of the deforestation activities that took place in Nigeria in the period between 2010 and 2012 were for the purpose of clearing land for cannabis cultivation. This loss of habitat further threatens many already-endangered species, including the Nigeria-Cameroon chimpanzee subspecies, the most threatened of all chimpanzee populations.
Currently, a joint's worth of cannabis can be purchased for around 20 naira (£0.08/€0.09) in most urban areas, and cannabis is often smoked openly in such locations. There are even coffeeshop-style venues in some cities, in which cannabis can be purchased and consumed. Although cannabis is illegal in Nigeria, police can often be bribed for minor cases of possession to be ignored; corruption throughout the government often means that trafficking cases are also ignored.
Cultural Use of Cannabis in Nigeria
While cannabis has only existed in Nigeria for a few decades, a culture of use has sprung up around it. Several notable Nigerian musicians, including the renowned Fela Kuti, espoused its use, and it has become an increasingly common sight among the nation's youth, particularly in urban areas. It is thought that up to 22% of Nigerians regularly smoke cannabis, with the 15-29 demographic the most likely to consume the drug.
Unlike many countries in North and South-East Africa, there is no particular culture of spiritual or religious use of cannabis in Nigeria, nor does it appear in folk-medicine—no doubt due to its recent introduction. There are no traditional words for cannabis: it is popularly known as Indian hemp, and Yoruba and Ibo loanwords are also in widespread use (igbo and nwonkaka).
Law & International Policy
Nigeria's cannabis policies are strict and rigorously enforced. Cannabis was one of the first illicit narcotic substances introduced to Nigeria, and while its significance has been eclipsed by the trade in heroin and cocaine, it is still viewed as a serious problem.
The main body of authority over drug policy and enforcement is the National Drug Law Enforcement Agency (NDLEA), which has liaised with the U.S. government and with regional authorities to jointly combat narcotics trafficking in West Africa. US-donated full-body scanners implemented at the major international airports have thus far proved particularly effective.
However, the agency is limited in its power, as it is underfunded and thus underequipped and understaffed. As well as following various pieces of domestic legislation, Nigeria is a signatory to the 1961 Single Convention on Narcotic Drugs and the 1988 UN Convention on Psychotropic Substances.
Nigeria's efforts to curb illicit trafficking have been hampered by persistent allegations of involvement in cannabis trafficking on the part of corrupt government employees; there is a general perception among the international community that the nation is not acting sufficiently to bring itself in line with international law.
Cannabis Arrests & Sentences
Penalties for possession, cultivation and trafficking of cannabis are severe in Nigeria. In the most serious trafficking cases, life imprisonment may be imposed; trafficking, import and sale are all punishable by a minimum sentence of 21 years. Up until 1992, serious cases of cannabis trafficking were punishable by death. Possession is nominally punishable by at least four year's imprisonment, although possession cases rarely make it to court due to widespread corruption.
In 2012, 8,052 individuals were arrested on drug-related offences; of the 2,827,862 drug-related arrests made between 1990 and 2009, 2,794,733 were cannabis-related. 2008 was a remarkable year in terms of cannabis arrests, with 335,534 individuals detained.
In 2011, the NDLEA commenced night patrols on the major roads in Osun state, in an attempt to intercept the covered trucks that are often used to transport cannabis during the hours of darkness. In 2011, 918 hectares of cannabis was eradicated; in 2012, 1,404.27 hectares of cannabis was eradicated, with 764 hectares in Ekiti state alone, and over 233 MT of cannabis was seized.
So far in 2013, the NDLEA has destroyed 102 metric tons (MT) of cannabis. In April 2013, an NDLEA spokesperson stated that 60% of Nigeria's cannabis traffickers had been driven out of the country.
Modern Attitudes to Cannabis in Nigeria
In a newspaper interview given in April 2012, NDLEA chairman Ahmadu Giade linked cannabis use with crimes including rape, murder, armed robbery and mob attacks. Attitudes towards cannabis and other illegal drugs are generally intolerant on the part of the authorities, whereas surveys conducted on members of the public indicate that public opinion generally favours education and awareness and campaigns over increased penalties.
It is important to document the history and current events of the ongoing drug war in every country that it occurs—for this reason, organisations like the Hash Marijuana & Hemp Museum in Amsterdam are crucial as they attempt to bring together information from various credible sources in order to provide the most accurate, up-to-date and unbiased information on the present global situation.