Winter People living in regions of the planet with cold winters need to take certain steps to ensure success when growing cannabis. However, once certain factors are taken into account, many growers find that winter growing is much less problematic than growing in the height of summer! This guide assumes cultivation is done indoors.
How to maintain grow room temperature in winter
Temperature is the obvious consideration when growing in winter. Cannabis requires daytime temperatures of 24-30°C (75-86°F), and night-time temperatures of 18-22°C (64-72°F). If night-time temperatures drop below 16°C (61°F), growth rate will be severely affected.
As well as this, if there is too great a discrepancy between daytime and night-time temperatures in the first 2-3 weeks of the flowering period (during which time plants 'stretch' noticeably), very widely-spaced internodes will result; conversely, keeping the discrepancy as small as possible throughout this time reduces the space between nodes. A temperature gap of 2-4°C (3.6-7.2°F) is ideal for the first 2-3 weeks of flowering; a gap of no more than 10°C (18°F) should be maintained for the rest of the flowering period.
If using hot lights, the heat they generate is often sufficient to keep plants at an adequate temperature, but the temperature drop when they are switched off may be significant. To mitigate this, winter growers will usually keep lights on during the night and off in the daytime, as daytime temperatures are usually considerably higher than at night.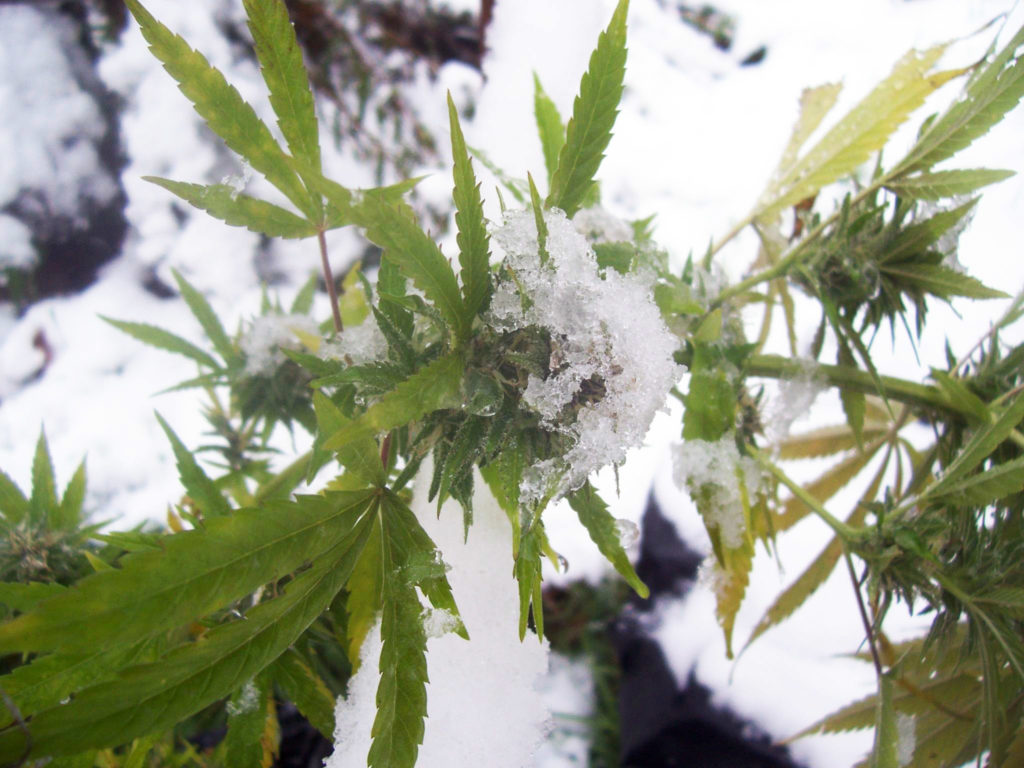 While daytime temperatures are higher, they are often not high enough to maintain the plants' required 'night-time' temperatures of 18-22°C (64-72°F). If temperature is consistently dropping below this range when lights are off, it is advisable to use central heating or an electric heater to maintain adequate temperatures. A digital thermostat will come in handy here, to automatically control the heater according to the ambient temperature. If using cold lights such as LEDs, heaters may be required round-the-clock.
Controlling humidity of cannabis grown in winter
If temperatures are too low, problems with high relative humidity may result. As air temperature decreases, the volume of water that can remain as vapour also decreases—for example at 25°C, air at 100% relative humidity contains 23g of water vapour per cubic metre, while at 15°C the same volume of air can hold just 12.8g/m³. At 25°C and 60% relative humidity (RH), the air holds 13.8g/m³; if temperatures drop to 20°C, the RH will increase to 80%, and if they go as low as 15°C, the water vapour content will exceed the air's capacity to hold it and will rapidly condense.
If the water vapour content of air at a given temperature exceeds its water vapour capacity, condensation will inevitably occur; this is often a problem in winter, particularly when the temperature drops at night. Cold, damp conditions are the perfect breeding ground for moulds such as powdery mildew and botrytis, particularly when condensation is allowed to remain for prolonged periods. Use of a good dehumidifier should resolve this problem, as well as maintaining slightly higher temperatures where possible.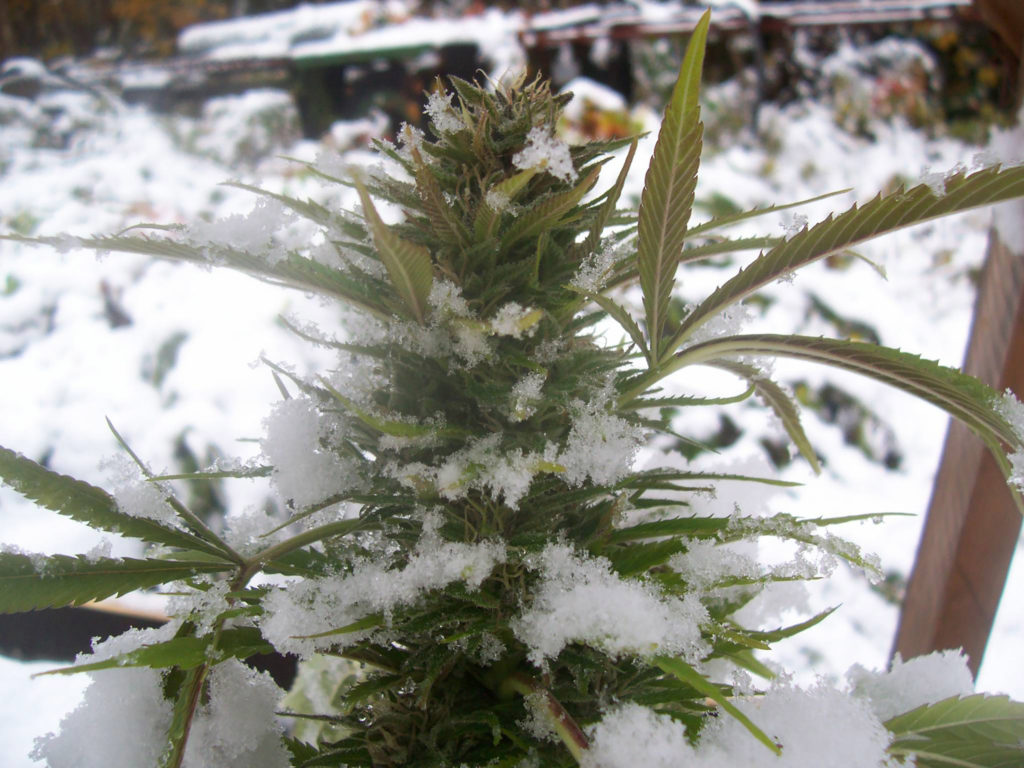 In many areas, winter is actually the driest time of the year, as well as being the coldest. Cold, dry air can present its own problems when brought into the grow room. If air is taken in from outside at a temperature of 10°C and an RH of 50%, it will contain water vapour at 4.7g/m³. If this air is heated to 25°C without the addition of extra moisture, its RH will drop to around 20%, which is far too low for?cannabis to grow healthily. In the growroom, the presence of moist growing medium along with water released through transpiration will generally raise levels of water vapour in the air, but if RH consistently remains below the recommended 40-60%, use of a humidifier may be necessary.
Other things to consider when growing in winter
Temperature and humidity are the main issues that winter-time growers will have to deal with. Lighting is usually not an issue as plants are typically grown under high-intensity discharge (HID) lighting. However, many hobby growers will utilise natural sunlight where possible to grow cannabis (e.g. on a windowsill), and will find that both the hours of daylight and the light intensity of the available sunlight during winter will be insufficient for growth.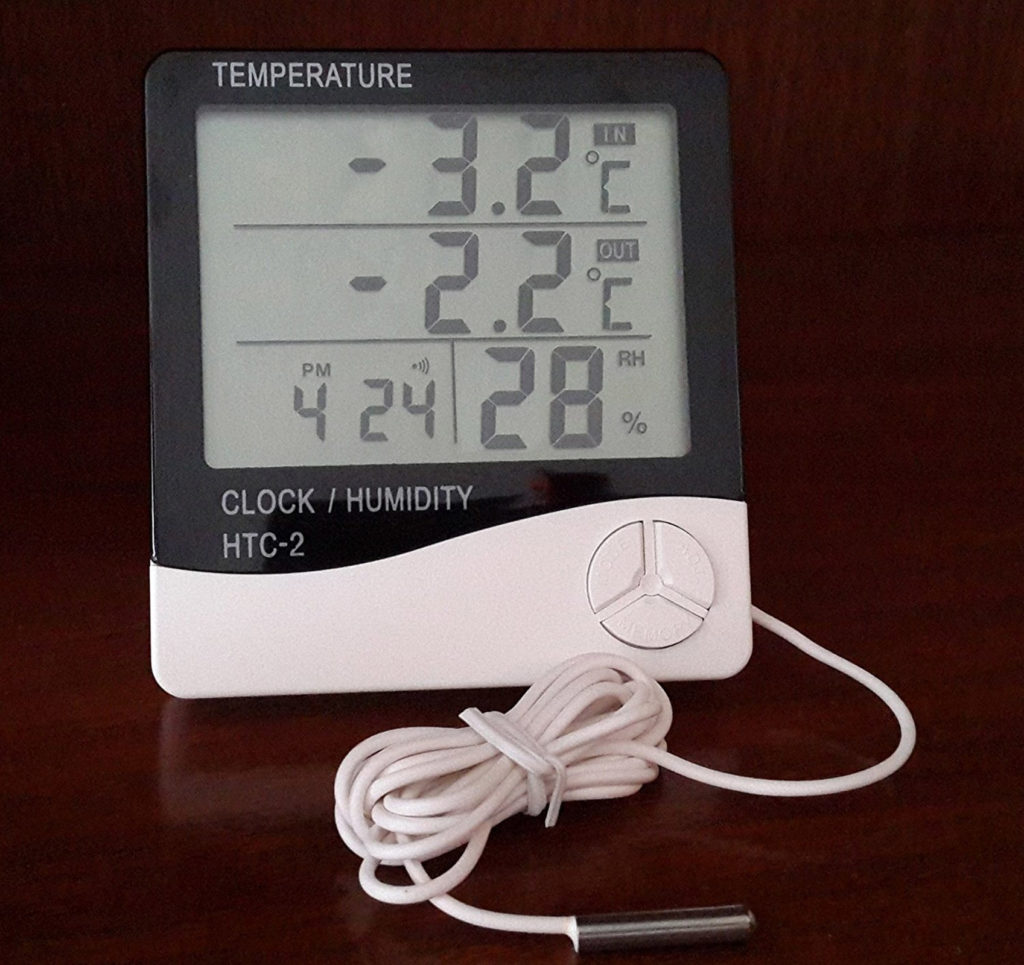 Some clever growers will use supplementary lighting during winter only, to ensure that their plants have enough light to grow. While plants will usually not achieve the yields and qualities achieved in more favourable times of the year, there are plenty of smart hobby gardeners out there that will ensure their supply remains steady even in the harshest times of the year by following this principle.
Greenhouse growers are similarly affected by the reduction in daylight hours during winter, and unlike those growing on their windowsill at home, supplementary lighting may attract undue attention. However, some intrepid greenhouse growers will add the supplementary lighting and then make sure that the greenhouse is covered so that light does not escape when it is dark outside. Thick, heavy blackout curtains or Mylar sheeting can do an excellent job here. Then, all that remains is to heat the greenhouse sufficiently and provide adequate airflow, and growing throughout the winter should become possible.