High pressure sodium (HPS) lights have been the heavyweight champion of the lighting world for decades now, with other lighting systems making only minor challenges to their supremacy. Here, we will take a good look at the their differences and what growers can expect from each type.
High pressure sodium (HPS) lights have been the heavyweight champion of the lighting world for decades now, with other lighting systems making only minor challenges to their supremacy. Here, we will take a good look at the their differences and what growers can expect from each type.
So what are HPS, LED and LEP lights?

HPS lights emit light by sending a pulse of high-voltage energy through a pressurized quartz tube filled with vaporized sodium, along with other elements such as xenon and mercury. As the gases heat, they emit light. Sodium produces an intensely yellow-orange light; this can be mediated by xenon and mercury, both of which emit light in the blue end of the visible spectrum, to produce a whiter end result.
LED (light-emitting diode) lights are semiconductors, which allow electrical energy to pass with little resistance in one direction and overwhelming resistance in the other, across an "pn-junction". On one side of the junction is a material that has been treated to give it extra electrons, while on the other side is material that has been treated to lack electrons. When voltage is applied, the extra electrons move across the junction to fill the "electron holes" on the other side. This causes light to be emitted, the colour of which varies according to the material used. Phosphides and nitrides of gallium, aluminium, zinc and silicon are the most commonly-used materials.
LEP (light-emitting plasma) lights work quite similarly to HPS lights, but instead of passing a high-voltage discharge through a gas-filled quartz chamber, electrical energy is directed through a magnetron (the same device that powers microwaves) to be converted into a radio frequency field, before it is passed through the chamber. Similar mixtures of gases are used for HPS and LEP lights.
Efficacy
The efficiency (or "luminous efficacy") of lighting systems can be expressed in a basic equation: output (lumens) divided by total units of power consumption (Watts). High-efficiency lighting is generally accepted to output at least 90 lm/W, with some bulbs achieving efficacies of 150 lm/W or even higher. Increasingly, grow lights are also rated in terms of PAR (photosynthetically active radiation) output, measured in µmol/s (the number of photons per second falling on 1m² of plant matter).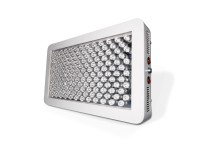 Mmol/s is increasingly seen as superior across the board for horticultural lights, as it is a measure of light usable by plants rather than visible to humans as is lm/W, so it is advisable to get to know the ins and outs of PAR output measurement. Although too complex to explain in detail here, and excellent guide to the concept can be found here.
Currently, the highest-performing HPS bulbs produce around 150 lm/W. For example, GE Lucalox 600W bulbs produce 90,000 initial lumens ("initial lumens" refers to mean output over the first 100 hours), while Lumatek's high-par 600W HPS lamps produce 92,000. Although previously seldom the case, newer HPS lights are now beginning to include PAR output ratings. For example, Lumatek's 600W bulbs have a PAR output of 1,030 µmol/s.
For LED grow lights, lm/W is generally considered less meaningful than the PAR output. This is due to the fact that red-blue systems generally have much lower overall lm/W ratio–as they only provide the most necessary bands for photosynthesis, expenditure of "unnecessary" light energy can be avoided.
However, newer LED lights use multiple bands to create a more complex, effectively full spectrum which is thought to be beneficial to plant growth, and often use white individual LEDs along with some reds and purples. These new full-spectrum LEDs may or may not list lm/W rating. Most reputable vendors should at least list PAR output. For example, UK company Budmaster's 410W full-spectrum LED system (the "Budmaster II 675 G.O.D") lists PAR output at various distances (as distance increases, PAR output reduces as fewer photons will fall on a square metre). At 1 foot (0.31m), its PAR output is listed as just over 2,000 µmol/s.
Theoretically, LEP's luminous efficacy should exceed a HPS source by 15-20%, as no power is wasted on heating electrodes. In practice, light source efficacy of LEP (also known as "HEP"  (high-efficiency plasma) or even simply "plasma") grow lights range from 80 – 100 lm/W.
LEP lights may also list their efficacy in µmol/s. For example, the Luxim GRO-75-01 LEP light has 45,000 initial lumens and draws 500W (giving it a source efficiency of 90 lm/W) and has a PAR output of 550 µmol/s. The Stray Light 400W Greenhouse Luminaire produces 72 lm/W, and does not list PAR output in µmol/s.
Spectrum
Although improvements have been made in HPS lighting technology, they are still generally considered poorer in their replication of daylight than other modern lighting systems. Without the addition of xenon or mercury, sodium vapour gives off an intensely reddish-yellow light. However, new "full-spectrum" bulbs now exist, and often actually consist of a dual-arc system comprising both a metal halide and an HPS component. For example, the Hortilux Super Blue HPS/MH lamp comprises a 600W HPS and a 400W metal halide arc, to give 110,000 initial lumens and a far more accurate representation of daylight than HPS alone.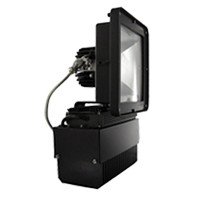 LEDs are probably the best contenders in terms of spectrum at this stage, with newer full-spectrum models offering up to 11 bands of light wavelengths most needed by plants. For example, the US-made Platinum P450 274W LED grow light (which is listed as equivalent to a 600W HPS) offers 11 bands ranging from ultraviolet to infrared.
LEPs are often sold as full-spectrum and the closest approximation to daylight of any indoor light, but the spectrum is limited by the composition of the gases inside the chamber. Early LEP technology took decades to get off the ground for the precise reason that their colour rendering was so poor, with little coverage of the red areas of the spectrum. Now, fine-tuning of variables such as the gases used, the coatings (such as metal halide salts) and even the pressure of the chamber can create far more precise replications of daylight (and they also have the advantage of emitting some light in the UV spectrum), but the jury is still out on whether they are truly superior to "full-spectrum" LED systems.