Cannabis is an annual plant—wild plants germinate, grow, flower and die within the course of one year, in response to seasonal variations in daylight; the next year, new plants grow from seeds produced by the previous generation. However, it is possible to rejuvenate a plant after flowering, and 'trick' it into producing again.
How to do it
When harvesting a mature cannabis plant, the uppermost 1/3 of the plant, comprising all leaves, flowers and stems, should be removed entirely. The middle 1/3 should be selectively trimmed to remove the colas while leaving the majority of the larger fan leaves in place.
From the lowermost 1/3, the larger terminal flowers should be removed, but all smaller buds and all leaves should remain untouched. Many of these smaller buds are inconsequential in terms of dry weight, but are crucial in stimulating the regeneration process; thus, it is advisable to leave as many small buds on the lower branches as possible. Contrary to the cannabis plant's normal growth pattern, during the process of regeneration new growth occurs more rapidly at the lower branches.
The concept behind it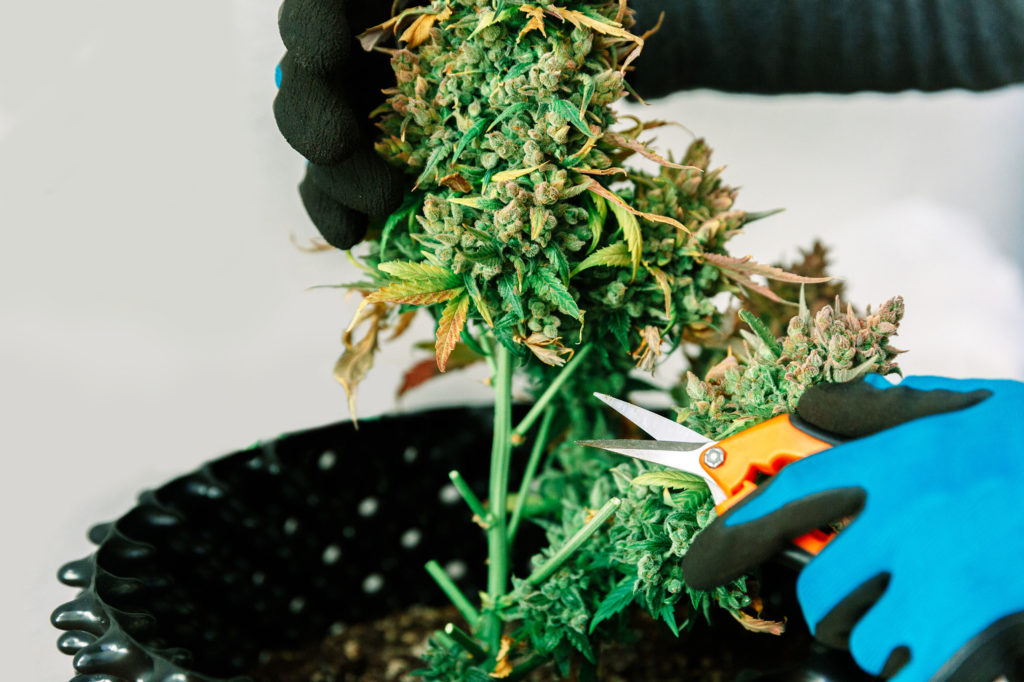 Once a plant has flowered, it must return to a short period of vegetative growth. This allows the plant to regrow more branches and leaves in preparation for a new round of flowering. In order to revert to vegetative growth, growers typically switch the lighting from a 12/12 back to an 18/6 (up to 24/0) schedule, while simultaneously switching the nutrient regime back to vegetative feeds.
A large dose of nitrogen is usually administered immediately after harvesting, to send a clear signal to the plant to recommence vegetative growth. An important point to remember is that as much of the plant is now missing, its water requirements will not be as high as immediately prior to harvest, and should be reduced to around two-thirds of that amount. After two weeks of vegetative growth, new growth should be well-established and the plant should be ready to revert to its next round of flowering.
There are several steps that can be undertaken to enhance the rejuvenation process beyond switching the lighting and nutrient regime. If growing in pots using soil, transplanting the plants to larger pots and replenishing most of the soil will encourage new root growth and vigorous vegetative growth.
Advantages of the technique
The most readily apparent advantage of regenerating cannabis plants is the time saved. As the root and stalk system is fully formed and some branches are retained, much of the time spent on vegetative growth can be avoided for subsequent flowering rounds. Thus, as just two weeks vegetative growth is sufficient to rejuvenate the plant, a second harvest can usually be completed in as little as eight weeks.
Another reason to rejuvenate a plant is to preserve genetics. If growing from seed, it is not always possible or convenient to take clones of every single specimen. Furthermore, when the plant flowers, far more can be learned of its characteristics and potential value than in the early vegetative period. Hence, it makes a great deal of sense to rejuvenate plants post-flowering, as not only can the plant itself be coaxed into producing more bud, but clones can then be taken during the two weeks of vegetative growth prior to the second round of flowering. It is also possible to keep the plant in vegetative growth indefinitely and continue to take clones.
It may even be possible to achieve increasing potency and flavour with successive harvests if certain steps are applied. According to some reports, pollinating the plant during alternating flower periods is the key to this increase in quality—for the initial flowering period, the plant should remain unpollinated, but during the next flower period after the plant has been reverted back to vegetative growth, the flowers should be exposed to male pollen. After a few cycles, the plant should achieve great size and produce excellent clones and flower. However, this technique is not widely known, and it is not clear how this process occurs, if indeed it even does.
Potential disadvantages
The biggest disadvantage of regenerating plants subsequent to flowering is that each successive harvest will yield less overall. It is also reported that there can be a reduction in quality with each harvest, although some argue that this is due to improper techniques (for example, nutrient build-up in hydro systems accumulating over time).
Regenerated plants are also subject to intense amounts of stress that can take several weeks for the plant to fully recover from. Often, signs of stress such as reduction in number of leaflets per leaf, shrivelled leaves, and generally slow growth can occur.
Clearly, regenerating plants is not suitable for everyone. In hydro systems, there are more potential disadvantages, and vegetative growth from clones occurs so quickly in hydro systems as to render any potential time savings all but negligible.
Regenerating outdoor plants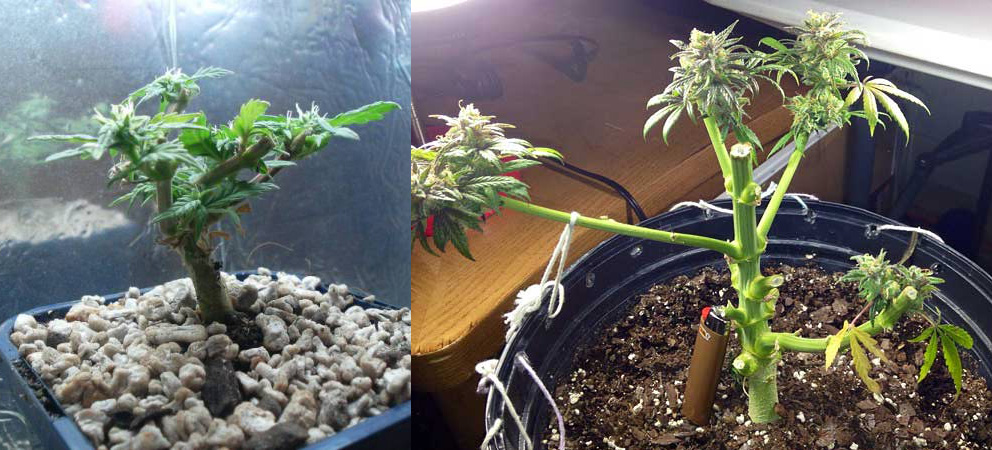 Although regenerating cannabis is far easier indoor, where precise control of lighting and other environmental variables is possible, it is also possible to regenerate outdoor cannabis plants. This is usually only possible in regions with long growing seasons, or little seasonal temperature and photoperiod variation. For example, in subtropical regions such as Hawaii, there are reports of growers maintaining plants for several years, and producing multiple harvests.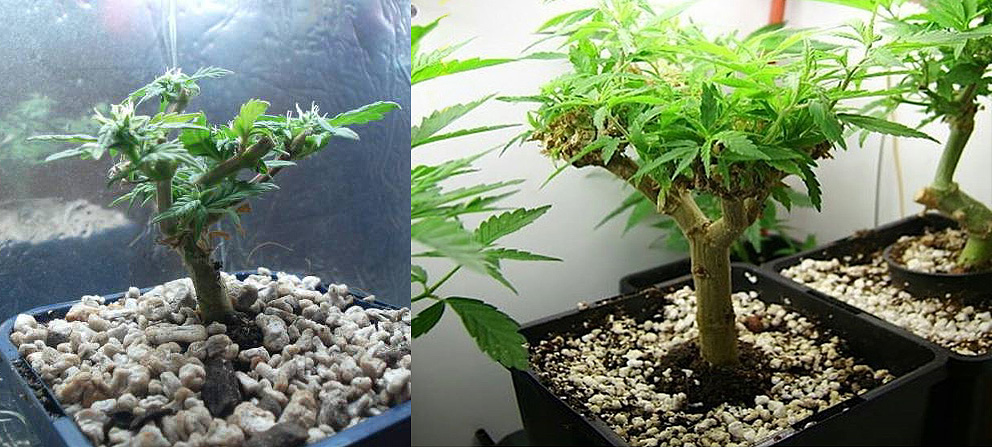 Basically, the key to successful outdoor rejuvenation is long day length. If it is possible to harvest your plants in June (in the northern hemisphere), then there will be sufficient time to allow the plants to re-vegetate for several weeks before the light level drops enough for flowering to recommence naturally. As with indoor plants, the upper 1/3 should be fully removed, the middle 1/3 should be selectively trimmed and the lower 1/3 should be left mainly intact save for larger colas. Make sure the plant receives plenty of nitrogen and sun, and the plant should resume vegetative growth within two weeks or so.
Regenerating autoflowering plants
Although reports of successful regeneration of autoflowering plants do exist, there is significant controversy and confusion surrounding the subject. Many people have successfully removed central colas from autoflowering plants, leaving the smaller buds behind, and have subsequently witnessed growth of new flowers.
However, the plants have not been demonstrated to revert back into the vegetative state, which is a crucial part of the regeneration process. Furthermore, most reports acknowledge that the new growth is slower and lower-yielding, and that the process is probably less effective than simply growing new plants from scratch.
Overall, it appears that regeneration of plants can have benefits in certain situations, for example when seeking to preserve genetics that were not cloned during the initial vegetative period; however, for many typical growers, the effort and complexity of successfully regenerating plants renders the process unfeasible.
Disclaimer:

Laws and regulations regarding cannabis cultivation differ from country to country. Sensi Seeds therefore strongly advises you to check your local laws and regulations. Do not act in conflict with the law.