Mixing cannabis with tobacco is a commonplace activity in Europe, but almost blasphemed in the USA. Why do people mix cannabis with tobacco in the first place? We explore this phenomenon and give alternatives to tobacco for those wanting to kick the habit!
In the USA, Canada, and South America, it's almost blasphemous to mix cannabis with tobacco. In Europe, mixing is much more commonplace, and is even considered to be the "normal" way to use cannabis.
At the end of the day, cannabis users mix with tobacco for a number of reasons. It may be because they prefer the taste, the effect, or simply because they don't want to put 1 or 2 grams in a single joint.
The advent of the cannabis revolution brought to the world an infinite number of ways to consume cannabis. The more that consumers become aware of the health risks associated with smoking, the more they are turning to edibles, vaping products, and extracts for oral consumption.
Despite these new ways to use cannabis, smoking is still many people's preferred method of administration. In this article, we're breaking down the pros and cons of mixing cannabis with tobacco, and we will share some alternatives to tobacco for mixing.


The cannabis vs. tobacco debate
There is a common school of thought that cannabis smoke is well tolerated by the body, while tobacco smoke leads to all kinds of cancers — lung, colon and rectal to name a few. But this is only partially true.
Most academic literature on the topic confirms that pure cannabis smoke does not cause lung cancers. Donald P. Taskin's 2012 research is one such example, corroborated by previous studies as demonstrated in this 2008 literature review.
However, while cannabis smoke is not directly linked to lung cancer or chronic obstructive pulmonary disease (COPD), it still damages the bronchioles of the lung. In fact, cannabis smoke is still carcinogenic, although not equally to tobacco. In this way, the argument that cannabis smoke is well tolerated by the body is a myth.
Habitual cannabis smoking (such as a joint on the weekends) is not considered to be of any great danger for the general population. In the studies mentioned above, however, it is clearly indicated that things become more complex in heavy or chronic cannabis smokers. The likelihood of developing a respiratory disorder increases in long-term cannabis smokers.
Regular cannabis users — especially those who use cannabis medicinally — are urged to consider the alternative methods of cannabis consumption. It may not be as dangerous as smoking tobacco, but it is nonetheless linked with dangers of its own.
Smoking cannabis with tobacco vs. smoking pure cannabis: the pros and cons
If you don't smoke tobacco at all, it seems like there are no pros to mixing cannabis with tobacco. But for the lover of the spliff (the mixed joint), there are just as many pros as there are cons. We're breaking them down, one by one.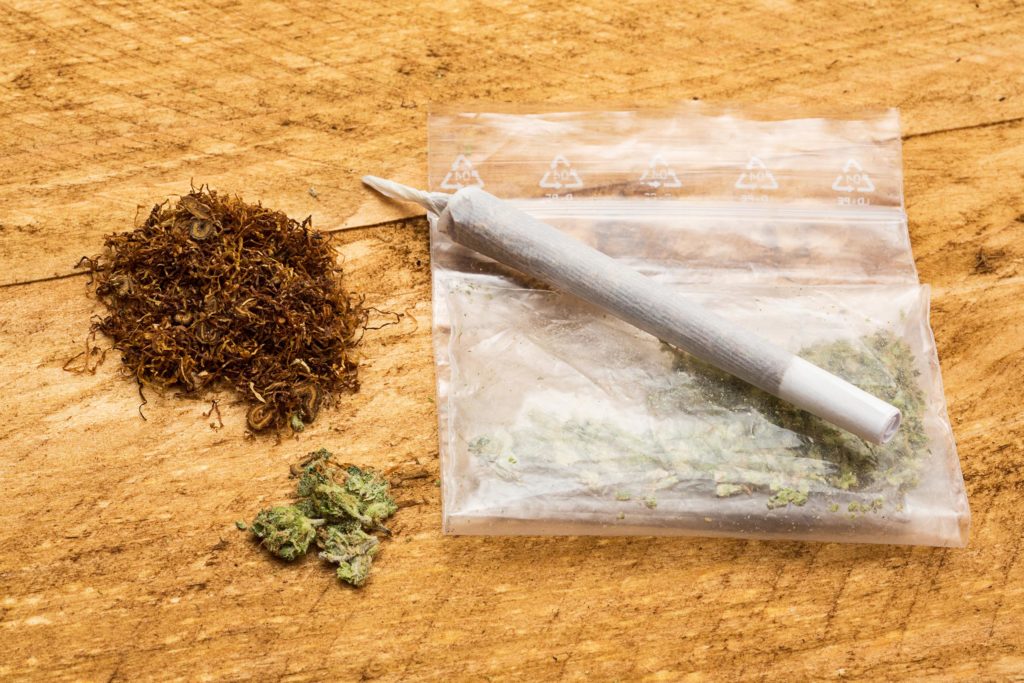 The benefits of mixing tobacco with cannabis
1. Your cannabis lasts longer
To virtually everybody that mixes, this is one of the most obvious benefits. For most people, ¼ to ½ gram is enough weed for a joint, and anything more is excessive. Most pure joints contain at least one gram, which to spliff smokers, is a complete waste of weed. Plus, nobody likes relighting a joint that they've already put out.
2. A spliff burns better than a joint
Arguably, the reason tobacco mixing became so popular in Europe was because for a long time, hash was the main commodity (not flowers). To smoke hash pure, it required a special pipe for hashish. However, it could be smoked in a joint providing there was tobacco or some other herbal mix.
Europeans still see cannabis flowers the same way: without a pipe, it's almost impossible to smoke a pure joint without having to relight it before every puff. Tobacco helps the joint burn much more smoothly, mitigating the issue of it constantly going out.
3. The taste
This pro is arguably a con, too. To lovers of tobacco, the taste of a spliff is unmatched. Of course, to haters of tobacco the opposite is true. There are many spliff smokers out there who believe there's no greater marriage than tobacco and cannabis, like peanut butter and jelly or strawberries and cream!
4. Mixing with tobacco intensifies the effect of cannabis
There's no doubt that mixing with tobacco somehow alters the effects of cannabis. Nicotine and tobacco have cerebral effects of their own, and when used in conjunction with cannabis, it seems that tobacco potentiates the effects of cannabis. The high is less "clear" and more "cloudy", giving the feeling that the high is intensified.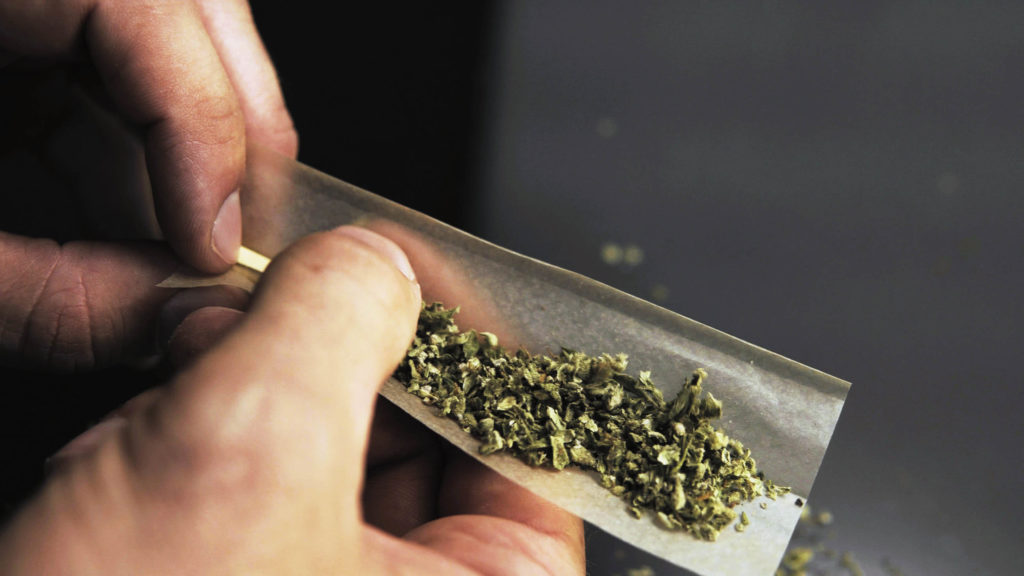 The benefits of smoking pure cannabis
1. You can enjoy the taste of pure cannabis
The smell and taste of cannabis are among the most important aspects of the cannabis experience. In fact, the smell and the taste tell a person a lot about the quality of the cannabis they are smoking. When you smoke pure weed, you get the full aromatic experience of weed without it being hindered or interfered with by any other plant (such as tobacco or other smoking mixes).
2. There is less chance of addiction
Typically, cannabis is considered far less addictive than tobacco. However, one 2016 study identified a higher risk of dependency for those who mix cannabis with tobacco. While this "addiction" may be to the tobacco inside the joint, the result is a dependency on the whole joint. Smoking pure cannabis reduces the likelihood of developing a cannabis dependence.
3. A pure cannabis joint means a pure cannabis high
Lovers of cannabis want the effects of cannabis — not the effects of cannabis mixed with tobacco. The experience of pure weed is different to the experience of mixed weed in multiple respects. We already mentioned the taste and smell, but the high itself is also much clearer when smoked pure. For some, this clear-headed high is preferable to the sometimes-too-intense high that can be had when mixing.
4. Smoking pure cannabis doesn't damage your taste buds or olfactory senses like tobacco does
It is common for tobacco smokers to report a lacklustre sense of smell and taste. On the contrary, cannabis heightens taste and smell sensitivity. Pure cannabis does not interfere with these senses. It doesn't take long after tobacco cessation to regain full faculty of the nose and taste buds.
The safest way to use cannabis is to abstain from smoking it
Despite the benefits and disadvantages of mixing cannabis, the fact still remains that inhaling any burning material is a risk factor — to any lungs. Lungs were made for breathing in air so that oxygenated blood can circulate around the body.
Even for those who can't step away from inhalation, vaporizers have made it much safer to use this route of administration. Cannabis can be inhaled without having to burn it, reducing the negative effects on the lungs.
And for those who are ready to kick the inhalation route entirely, edibles and orally-consumed cannabis products make this possible. This is especially true for those living in Canada and the USA, where THC-rich or CBD-rich gummies, fruits and candies can be found in dispensaries.
The bottom line is: smoking is the least safe way to consume cannabis. For users who want to receive the medicinal benefits of cannabis while minimizing the risk, oral consumption or vaping are the best administration routes.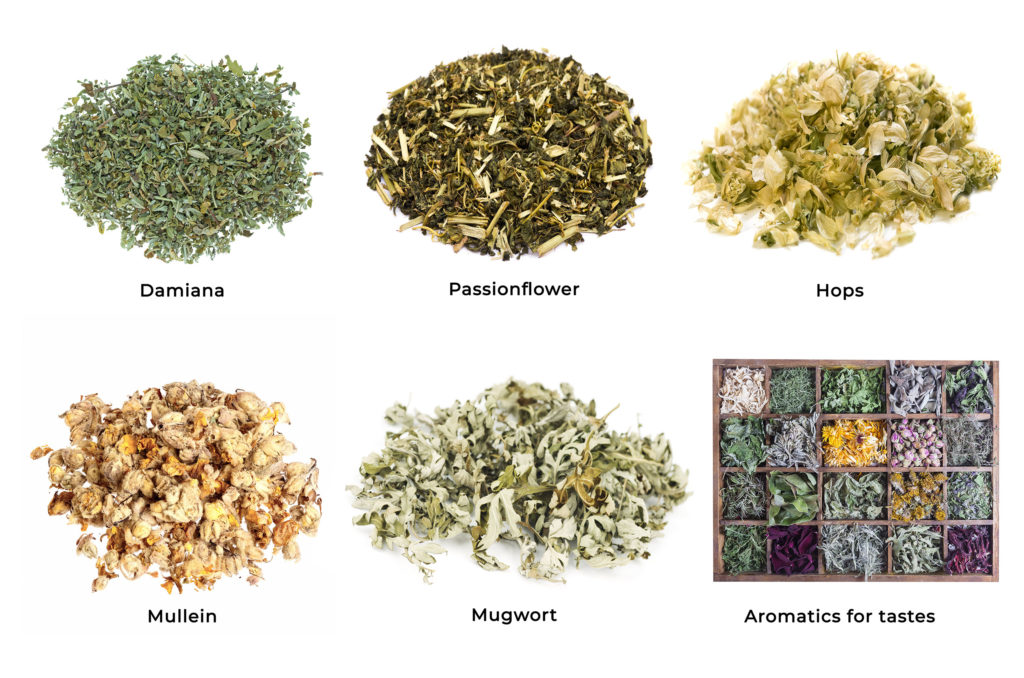 Alternatives to tobacco for the smokers who like to mix
We live in the era of free choice. Our parents and grandparents would have been imprisoned in their youth for using cannabis, while many of us in the modern age can use cannabis freely and legally. We all value that free choice, and the same should be afforded to each and every individual about how they use cannabis. That includes whether or not they want to smoke it with tobacco.
The thing is: every tobacco smoker knows the dangers associated with that habit. Their choice to continue doing so is completely out of free will. The same is true of cannabis smoke. So with all of that in mind, these recommendations are simply for those who are seeking an alternative to tobacco for their rolling mixes.
A disclaimer
When it comes time to buy your herbs for smoking mixes, it's always better to choose organic herbs. The lungs are not equipped with the same defence mechanisms as the stomach, for example. Plants that have been heavily sprayed propose a real danger to the lungs, and most of the time, they are not grown with inhalation in mind. This is the responsibility of the user, so choose organic herbs that haven't been sprayed.
1. Damiana
Damiana is included in many herbal smoking mixes that can be found in headshops. It has a rich history as a medicinal plant — especially for its aphrodisiac effect. It has a mild psychoactive effect (nothing in comparison to cannabis), is uplifting and increases libido. It burns well in a herbal mix and doesn't have an overpowering taste.
2. Passionflower
Passionflower is a common herb used in herbal medicine to minimize anxiety. It has a very relaxing effect on the user, and for those using cannabis to combat anxiety, this is a good herb to add to the smoking mix.
3. Hops
Hops is one of cannabis' distant botanical relatives. It is also used to induce sleep, minimize restlessness and reduce nervousness and irritability. Hops and passionflower would make the perfect smoking mix for the person who uses cannabis before bed.
4. Mullein
Interestingly, mullein is used in herbal medicine as a therapy for conditions of the respiratory tract. Needless to say, it isn't smoked for that purpose! In a herbal mix, mullein adds thickness and texture, smokes well, and doesn't have a strong flavour.
5. Mugwort
If there was ever going to be a single herb to use in a smoking mix, mugwort would be it. Its flavour blends perfectly with cannabis and it's the perfect filler for a joint. However, users should beware that mugwort intensifies dreams and may even induce lucid dreaming. So don't use mugwort if you like to have a dreamless sleep!
6. Aromatics for taste
If you're making a blend of herbs for your own herbal mix, consider adding aromatics like rose petals, sage, or peppermint for taste. It can be quite the journey finding the correct ratio of herbs for a smoking mix, as you don't want to completely overpower the taste of cannabis.
If you've made the switch from tobacco to a herbal blend, or from mixing to pure cannabis, we would love to hear about your journey. Let us know in the comments!
Disclaimer:

Laws and regulations regarding cannabis use differ from country to country. Sensi Seeds therefore strongly advises you to check your local laws and regulations. Do not act in conflict with the law.