The current existing literature demonstrates a very clear connection between the endocannabinoid system and liver cirrhosis, all the way through to end-stage liver disease. However, there is no consensus as to whether cannabis use can lead to liver cirrhosis, or whether it's a potential treatment for the condition.
The liver can be thought of as the human body's giant detoxifying organ. It plays an important role in the metabolism of drugs, alcohol, medications and toxins arriving from the gastrointestinal tract. Unhealthy lifestyle factors, excessive alcohol or drug consumption or certain hepatic viruses (such as hepatitis) all contribute to the degradation of the liver. The final result of such degradation is liver cirrhosis: the irreversible and extreme scarring of the liver.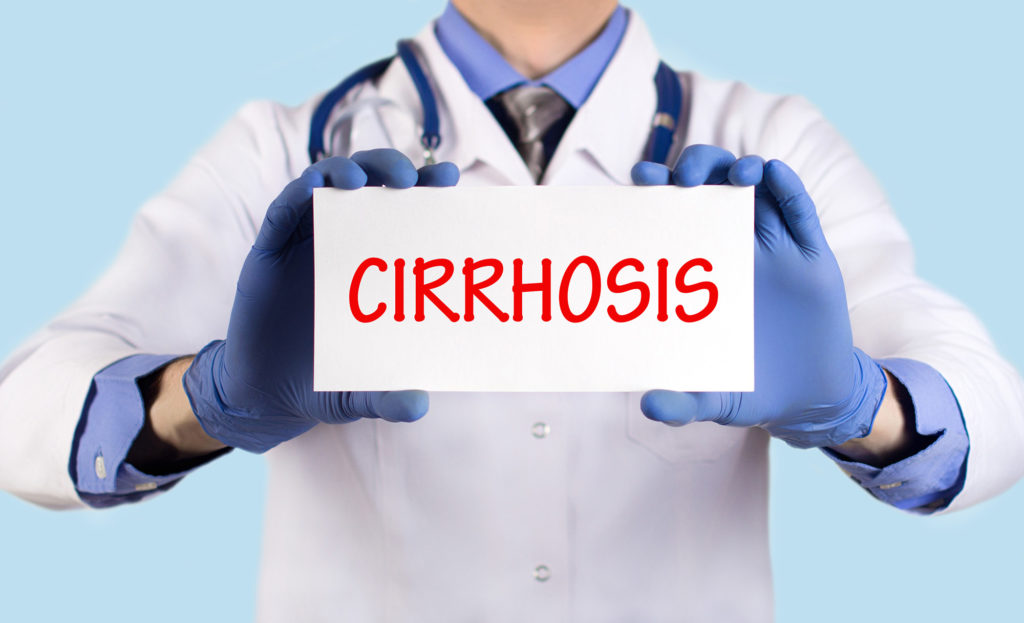 There is a lot of controversy surrounding cannabis use and liver cirrhosis. The endocannabinoid system is heavily implicated in liver cirrhosis as modern medicine as confirmed. The distribution of CB1 and CB2 receptors in the liver and their activities are thought to play a major role in the progression of liver disease, fibrosis and cirrhosis. Despite this understanding, there is conflicting evidence about how phytocannabinoids (such as THC and CBD) affect this physiological process and whether they are beneficial or a contributing factor. Let's investigate.
What is liver cirrhosis, what causes it, and what are the available treatments?
Cirrhosis refers to the late, chronic stage of scarring of liver tissue. In the initial stages, the scarring is called liver fibrosis. It results from persistent, chronic insult to the liver, causing the liver to undergo constant wound healing, and finally leading to permanent scarring. Cirrhosis ensues when scarring of the liver has become so severe that aspects of the liver's function become compromised. Chronic liver cirrhosis results in disruption of the liver's structure, and can ultimately lead to liver failure.
Liver disease is responsible for up to 2 million deaths per year, 1 million of which are directly linked with liver cirrhosis complications. Liver cirrhosis is currently the 11th most common cause of death worldwide.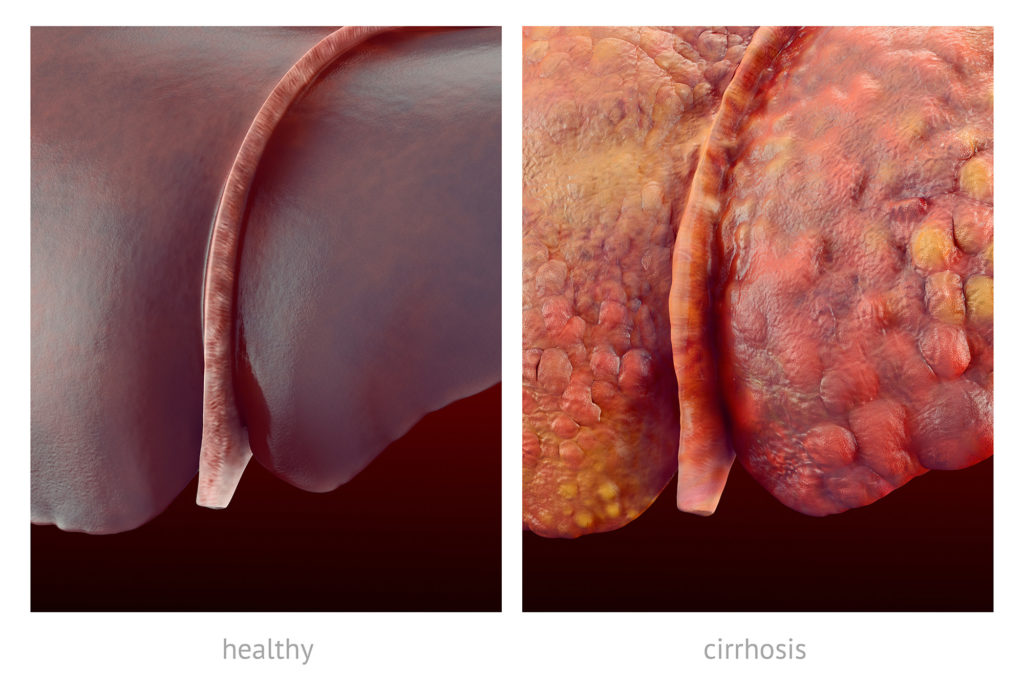 The global most common causes of liver cirrhosis are alcohol abuse and hepatitis C, although other liver conditions can also lead to cirrhosis. One such condition is fatty liver disease, which is most commonly caused by obesity or excessive alcohol consumption.
Until now, there are no known cures for liver cirrhosis. The condition is characterised by scarring, which is typically irreversible irrespective of where it happens on the body. Just like any other scarring, advanced liver scarring is considered irreversible, although removing the causative factor can slow down the progression of the disease.
Because of the worldwide prevalence of liver cirrhosis, it is a highly researched condition. More recently, the endocannabinoid system has been under close scrutiny as a potential treatment target. This is because cirrhosed livers display different behaviour with respect to endogenous cannabinoids and cannabinoid receptors when compared to normal livers. Herein drives the major controversy about whether cannabis is a causative factor for liver cirrhosis or whether it is a potential treatment opportunity.
The endocannabinoid system and liver cirrhosis
Quite a considerable amount of experimental studies and clinical observations have noted altered activity of endocannabinoids and cannabinoid receptors during liver cirrhosis. It has been found that the endocannabinoid system (EC) is highly active in cirrhosed livers, with extremely high cannabinoid receptor expression during the progression of the disease. However, cannabinoid receptor expression is very low or completely absent in normal, healthy livers.
In a 2011 study published in the British Journal of Pharmacology, researchers demonstrated that both CB1 and CB2 receptors are up-regulated in samples of cirrhotic liver. The researchers found that CB1 receptor activation (agonism) intensifies fibrogenesis (creation of scar tissue), while CB2 receptor activation inhibits the progression towards fibrosis. During the same study, the researchers also demonstrated that the CB2 receptor is integral in the regenerative process after acute liver injury.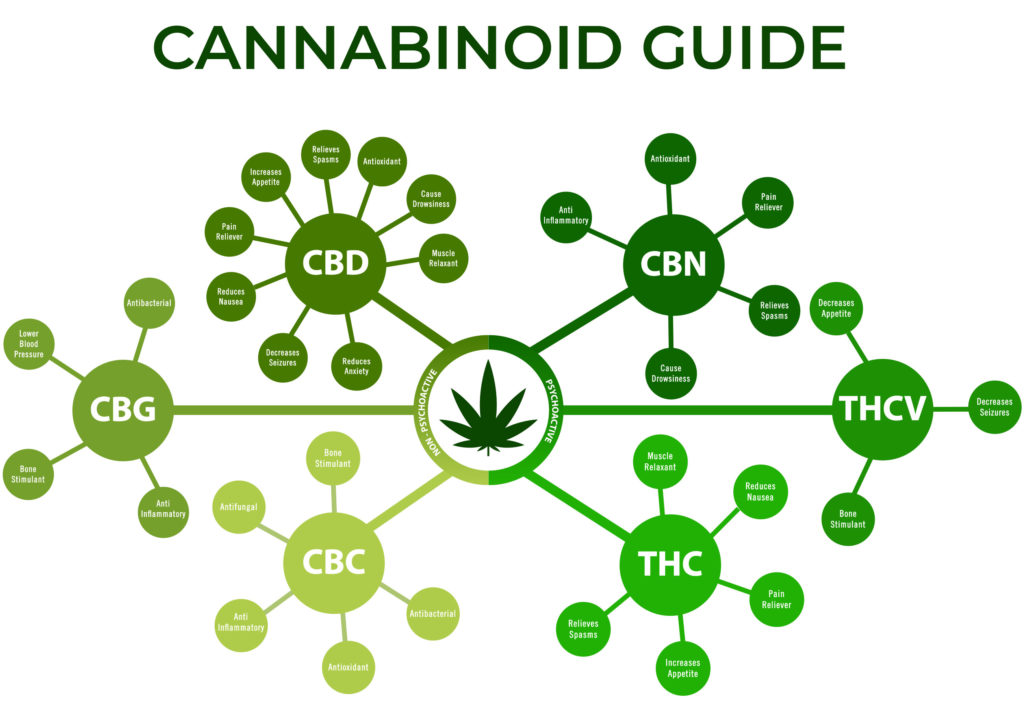 These findings seem to be supported by other academic literature. In rodent models, CB1 and CB2 receptors were deleted entirely from cirrhosed liver cells to assess the effects of complete deletion. Appropriately, deletion of the CB1 receptor demonstrated a marked improvement of liver fibrosis and deletion of the CB2 receptor increased inflammatory scores, increased collagen deposition and liver fat.
These findings were again supported by another study by Julien et al. in 2005. The team showed that activation of the CB2 receptor resulted in antifibrogenic activity, supporting the importance of the CB2 receptor in the regeneration process following liver fibrosis.
Aside from cannabinoid receptors, endogenous cannabinoids also have an important mechanistic function in liver cirrhosis. Endogenous cannabinoids such as AEA and 2-AG naturally contribute to the behaviour of CB1 and CB2 receptors. In this way, they may instigate some of the antifibrogenic and profibrogenic activities of the receptors themselves.
AEA has been demonstrated to reduce fibrogenesis in liver cirrhosis. Conversely, 2-AG potentially mediates fibrogenesis completely independently, without interaction with CB receptors. However, at higher doses, 2-AG induces cell death of hepatic stellate cells (HSCs), and might therefore inhibit fibrogenesis. Heightened HSC activity is thought to promote fibrogenesis and fibrosis.
The aforementioned research demonstrates that the endocannabinoid system is implicated in just about every stage of cirrhosis pathology. This includes potential complications of cirrhosis, such as hepatic encephalopathy. This is a neuropsychiatric condition specifically caused by damage to the liver's function. Modern research is beginning to show that exogenous cannabinoids such as THC and CBD interact with the endocannabinoid system in such a way as to treat symptoms of hepatic encephalopathy. However, this will be discussed in greater detail later on in this article.
Cannabis and the progression of liver cirrhosis
The research surrounding cannabis' potential to increase the risk of liver cirrhosis has been varied and controversial. For the most part, results are completely conflicting.
At the beginning of 2019, Dr Igor Koturbash and other researchers at the University of Arkansas tested for the hepatotoxic dose of CBD. The models were rodents, to which CBD was administered first in an acute toxicity phase and secondly in a sub-acute toxicity phase. In the first phase, mice were administered a single dose of up to 2460 mg/kg of CBD. During the sub-acute phase, mice were administered lower doses (up to 615 mg/kg) over 10 days. Interestingly, in the sub-acute phase of testing, 75% of mice died or were dying within 72-96 hours. The result was profound liver hepatotoxicity.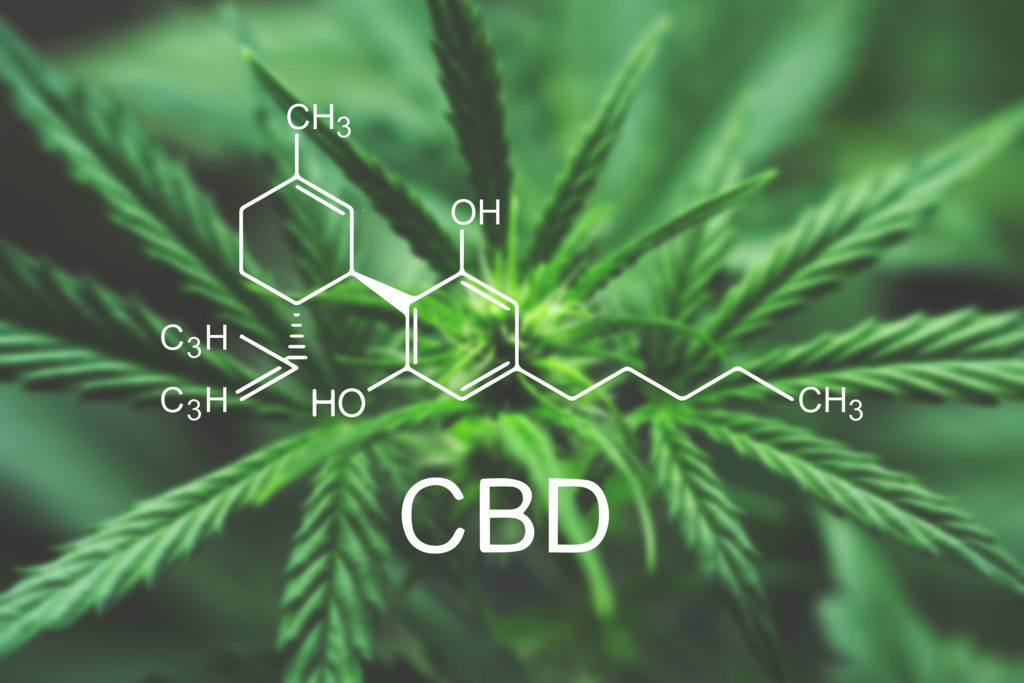 It's important to remember that these are considered the levels of hepatotoxicity of CBD, and does not suggest that all CBD consumption is hepatotoxic. The media's response to this research was that "CBD could cause liver damage", but in fact, researchers were simply looking for which maximum dose may lead to liver toxicity. Essentially, researchers concluded that CBD interacts with the same metabolic pathway as many other substances and drugs, and this may contribute to its hepatotoxicity. Finally, the researchers suggested a standard by which dosage could be calculated for each person to mitigate any chance of hepatotoxicity.
In 2005, French researchers investigated the effect of cannabis smoking on the progression of fibrosis in chronic hepatitis C patients. The researchers included a total of 270 patients and included in their analysis other factors such as excessive alcohol intake, tobacco smoking, age at the time of liver biopsy, and steatosis. The researchers concluded that severe fibrosis was predicted by daily cannabis use, independent of the other factors. They advised that patients with chronic hepatitis C should refrain from using cannabis regularly.
These findings were supported by another 2008 study including 204 patients with hepatitis C. The study was conducted at the University of San Francisco and used baseline data from a prospective, community-based cohort study. The primary predictor was cannabis use and the results were calculated using a fibrosis score on biopsy. The team also concluded that daily cannabis use was strongly associated with moderate to severe fibrosis for patients already diagnosed with hepatitis C.
In 2013, at McGill University in Quebec, Canada, a team of researchers revealed results contradictory to those mentioned above. In this study, the team evaluated 690 individuals who were diagnosed with HIV and hepatitis C coinfection who did not have significant fibrosis or end-stage liver disease. This was the baseline. At the baseline, 53% had smoked marijuana in the last 6 months, and were consuming an average of 7 joints per week, while 40% were daily users.
Researchers found that each additional 10 joints per week slightly increased the risk of progression towards end-stage liver disease or cirrhosis. However, they also found that when the exposure to cannabis was lagged to 6-12 months before the HIV/hepatitis C diagnosis, cannabis was no longer associated with progression of fibrosis or cirrhosis. Similarly, they found that whatever higher risk of cirrhosis was associated with cannabis use was attenuated after exposure to cannabis was lagged.
The researchers credit the findings of other studies to a possible reverse causation mechanism due to self-medication with cannabis. They found no associated risk between cannabis use and progression of liver fibrosis or cirrhosis.
Hepatic encephalopathy and phytocannabinoids
Chronic liver disease can lead to hepatic encephalopathy, a decline in brain function. The liver's most important role is to take contaminated blood from the gastrointestinal tract and detoxify it, along with metabolising drugs and other toxic materials that enter via the gastrointestinal tract. If its function becomes too heavily impaired, toxins begin to accumulate in the body, including in the brain.
There is not an overwhelming amount of data available about the endocannabinoid's role in hepatic encephalopathy. It is nonetheless reliable and promising for further investigation of treatments.
In a 2006 study, researchers observed elevated levels of endogenous cannabinoid, 2-AG, in the brains of mice with fulminant hepatic failure. The team of researchers used this as a biomarker that the endocannabinoid system was responding to liver dysfunction. The mice were treated with exogenous 2-AG and another CB1 receptor antagonist, SR141716A and their neurological scores improved. Their scores improved again when treated with CB2 receptor agonist, HU308. The researchers concluded that modulation of the endocannabinoid system by exogenous cannabinoids, either as CB1 antagonists or CB2 agonists, shows potential for future treatments.
In another study, researchers reported that stimulation of AMPK (a cerebral enzyme and major intracellular energy sensor) is a response to liver failure. This enzyme is regulated by the endocannabinoid system. Administration of THC to hepatic encephalopathy induced mice augmented AMPK levels and restored normal brain function. This is because in hepatic failure (as discussed earlier in the article), the CB2 receptor is strongly stimulated and responsive.
There also exists a body of research relating to the endocannabinoid system's role in hepatic vasodilation and other circulatory changes during cirrhosis. These matters are equally pertinent for the growing body of research surrounding the endocannabinoid system and its response during cirrhosis.
What we know and what we don't know about cannabis and cirrhosis
The existing research shows a clear connection between the endocannabinoid system and liver cirrhosis. At the very least, research confirms that the endocannabinoid system acts like a recovery response team for a person with a degenerating liver. When the condition becomes severe, such as with liver cirrhosis or hepatic encephalopathy, the endocannabinoid system is a promising target for treatment.
However, when it comes to treatment with cannabis (and whether or not it's actually a contributor to an already existing liver condition) remains somewhat controversial. High amounts of cannabis use likely will lead to more liver fibrosis in those with existing liver disease. Further investigation is needed to better understand the role of cannabis as a medicine in some forms of liver disease.
Disclaimer:

This article is not a substitute for professional medical advice, diagnosis, or treatment. Always consult with your doctor or other licensed medical professional. Do not delay seeking medical advice or disregard medical advice due to something you have read on this website.