Italy In February 2014 the Italian Constitutional Court ruled that a 2006 law, which saw penalties for possession of cannabis triple, was illegitimate. The Italian approach to cannabis is very inconsistent, but in recent years steps towards liberalisation have been taken. In 2013, Italy's government voted to allow medicinal cannabis.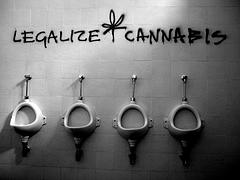 Cannabis policy in Italy
Italy has traditionally upheld strict laws and penalties for drug-related offences. However, drug use in Italy has also been among the highest in Europe for many decades, and authorities have begun to realise that pursuing harsh policies does not equate to a reduction in usage. In the past, even first-time possession offences were subject to harsh penalties including compulsory rehabilitation orders; now, possession of personal amounts is decriminalised throughout the country.
However, the Italian government's approach to cannabis legislation has been inconsistent. In 2006, the conservative administration of the disgraced former Prime Minister Silvio Berlusconi implemented a massively unpopular law, the Fini-Giovanardi, that saw penalties for possession, sale and cultivation of cannabis triple, from a maximum of six years' imprisonment to twenty years' under the new law.
On February 12, 2014, Italy's Constitutional Court overturned the Fini-Giovanardi, ruling that it had been improperly approved and was unconstitutional. Since then, Italy has returned to its previous laws, which imposed lighter penalties on drug users. As a result of these policy changes, up to 10,000 individuals could be released from Italy's sorely overcrowded prisons.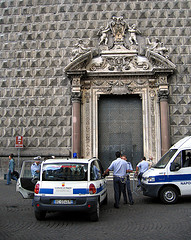 Cannabis law in Italy
Cannabis and cannabis-based products are classified as Schedule II drugs under Italian law. According to Italian law, use of cannabis and other illicit drugs is not considered an offence. On the other hand, possession of small amounts of cannabis intended for personal use is generally not subject to criminal charges, but is illegal and may be punishable by fines, suspension of identity documents, or treatment orders. The maximum limit for possession of cannabis is set at 1.5 grams of herbal cannabis and 0.5 grams of hashish, and is based on average daily usage rates for regular consumers.
The first offence for cannabis possession is almost always subject to a warning and no further action. From the second offence onwards, or for possession of more than the maximum daily allowance, an escalating series of penalties are applicable. The penalty for sale, traffic and possession of cannabis now stands at two to six years' imprisonment and a fine of up to €75,000.
Italy's prison system
In 2012, it was reported that Italy's prisons were in a severe state of overcrowding. At the time, prison rights group Antigone stated that prisons were at 142% occupancy, with almost 67,000 prisoners in cells built to house 45,000.
Since the introduction of the 2006 drug laws, it is estimated that the proportion of prisoners serving custodial sentences for drug-related crimes grew to around 40% of the total prison population, and largely accounted for the overcrowding problem. 38.4% of convictions in 2012 were due to violations of the 2006 drug law, which punishes drug producers and traffickers. Of those convicted, 6,136 violations were related to major trafficking, while 19,891 were related to possession or dealing
In January 2013, the European Court of Human Rights ruled that overcrowding in Italy's prisons was in violation of the basic rights of inmates. The Italian authorities were fined €100,000 and ordered to solve the overcrowding issue within a year. As a result of the recent amendment to the 2006 laws, it is expected that up to 10,000 drug prisoners will be released in the near future.
Cannabis arrests & sentences in Italy
In August 2012, police in Rome discovered a large illicit cannabis crop in a disused Mussolini-era metro tunnel. According to reports, around 1,000 plants were being cultivated in a 4,000 square metre strip of tunnel. The find was reported to be among the biggest ever seizures of cannabis in Italy—a total of 340kg, with an estimated street value of €3 million. A man in his fifties, alleged to be the owner of the farm, was arrested.
In September 2013, Italian police acting on a tip-off intercepted a ship crewed by nine Syrian and Egyptian individuals and sailing under the Tanzanian flag in the waters between Sicily and Malta. The traffickers set fire to the ship in an attempt to avoid arrest, but the blaze was contained and the ship impounded. It was found to be carrying thirty metric tons of hashish.
In March 2014, police in Rome stopped a van that was found to contain over 160kg of cannabis. A 31-year-old man of Albanian nationality was arrested. Also in March, a 53-year-old Greek national was apprehended at the southern seaport of Bari and his vehicle subjected to a thorough search. He was found to be transporting almost 32kg of cannabis.
Cultural use of cannabis in Italy
In certain Italian cities, such as Bologna, Firenze and Milan, smoking hashish or cannabis is generally accepted and unlikely to attract negative attention, even from police. Due to the decriminalisation policy for personal quantities, open consumption of cannabis is widely tolerated; however, it is advisable to keep amounts small just in case a random search should occur.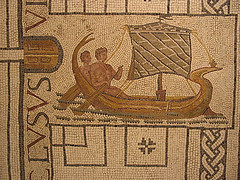 The Italians are among the heaviest cannabis users in Europe. The European Monitoring Centre for Drugs and Drug Addiction (EMCDDA) estimated in 2011 that 32% of the population aged 15-64 had consumed cannabis in their lifetime. Past-month usage stood at 6.9%, the second highest in Europe (after Spain, at 7.6%).
Hence, use of cannabis is remarkably common in Italy, and is almost a rite of passage for Italian youth. Cannabis is used by a broad section of society, encompassing all social classes, and although it is more common among the youth, a significant proportion of users retain the habit into adulthood. On the other hand, Italian society remains strongly influenced by the Catholic right, whose heartland is the Vatican City, and swathes of Italians retain a moralistic, disapproving attitude towards cannabis and other drugs.
History of cannabis in Italy
Pollen records have indicated that Cannabis and Humulus (hops, cannabis' close relative) have been present in the region since at least the late Pleistocene period, around 13,000 years ago. By the later Holocene period, cannabis and hops were widely cultivated, particularly in the north of the country. Pollen dated to around 1,500 BCE has been sampled from a Bronze Age village in the Po Plain region of northern Italy, which was known for cultivating hemp in historical times.
By around 300 BCE, the Ancient Romans were importing hemp for rope and sailcloth from Gaul; by the time of the Roman Empire (27-476 CE), hem
p was being cultivated all over Italy, although cultivation remained particularly concentrated in the north. It appears that early cannabis cultivation was primarily intended to produce fibre and seed crops; intoxication from the plant or its by-products was of secondary importance.
Along with their knowledge of the uses of fibre and seed, Romans were aware of hemp's efficacy as a medicine, particularly as a cure for earache. The plant's psychoactive properties were also known to the Romans, who did not make extensive use of it as an intoxicant but were occasionally known to offer it to guests, to increase their feelings of hilarity and relaxation.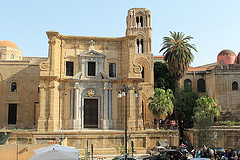 The modern cannabis trade in Italy
Today, Italy is one of the largest markets in Europe for cannabis resin, which is primarily imported from Morocco and Afghanistan. Herbal cannabis is primarily grown within the country, but may also be imported from Albania and the Netherlands. Hashish is preferred as a commodity, as it is more profitable than herbal cannabis by volume—a freight container full of hashish comprises far more weight than the same container filled with weed.
The illicit cannabis trade in Italy is controlled by organised criminal syndicates including the notorious Sicilian Cosa Nostra. The Italian authorities are actively seeking to reduce the influence of organised crime in the country, although the insidious effects of decades of corruption at the highest level render the task extremely challenging.
In September 2013, police in Palermo (the capital city of the autonomous Sicily region) arrested eight men alleged to be Cosa Nostra members; this operation followed on from another the previous April which saw thirty-eight arrests of suspected mafia members.
Cultivation of cannabis in Italy
As awareness of the nature of the illegal trade grows, Italian consumers are less inclined to fund organised crime, as it is associated with other illegal activities that are seen as less morally justifiable, such as prostitution, hard drugs and the trade in weapons.  As a result, more and more Italian smokers are beginning to grow their own cannabis, both to break the cycle of dependence on criminals and to ensure the product they consume is safe, uncontaminated and of high quality.
Cultivation of cannabis has been occurring in Italy for thousands of years, and in the south of the country, where climates are favourable, the majority of the recreational crop is grown outdoors. In the cooler northern regions, drug cannabis is usually grown indoors, while hemp cultivation often occurs outdoors.
According to the head of Italy's anti-drug department, Giovanni Serpelloni, illegal cultivation of cannabis in Italy has "increased vertiginously" in recent years. Seizures of illegal crops have apparently increased by 1,290%, although the time period in which this occurred was not specified.
Purchasing cannabis in Italy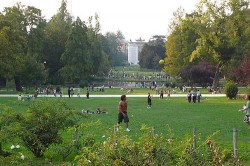 Hashish is abundant in Italy; herbal cannabis is less widely available, but is becoming more common as domestic commercial cultivation becomes more widespread. There are several cities in which cannabis is smoked openly, and can be procured with ease: in Bologna, the Piazza Verdi is a known hot-spot, while in Milan, the Parco Sempione commonly plays host to groups of young smokers.
For both hashish and herbal cannabis, prices and quality vary enormously. Expect to pay around €10 per gram of hashish, which may range in quality from extremely low-grade, 'soap-bar' quality to fine, sticky Moroccan varieties. Herbal cannabis too is available in varying grades—some high-grade indoor strains grown from Dutch and Spanish seeds are available, as are various outdoor Albanian and Italian crops which may be of varying quality.
High-grade indoor cannabis, either domestically-produced or imported from the Netherlands, may cost as much as €15-20 per gram. Outdoor Italian-grown cannabis typically costs around €10 per gram, and low-quality Albanian imported cannabis usually costs around €3-6 per gram.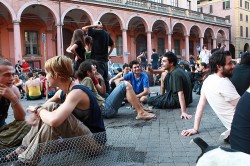 What next for cannabis in Italy?
As the rest of Europe continues its inexorable march towards legalisation and acceptance of cannabis, it is likely that Italy will follow suit and continue to liberalise its own laws. There are various arguments in favour of regulating and decriminalising the industry, of which one of the most compelling is the need to wrest control from the grip of organised criminals, who still retain far too much influence in the country.
It is important to document the history and current events of the ongoing drug war that continues to affect the lives of so many people throughout the world. For this reason, Sensi Seeds and the Hash Marijuana & Hemp Museum in Amsterdam aim to provide the most accurate, up-to-date and unbiased information on the present situation, country by country. We welcome your comments, feedback and corrections.