Mr Nice Howard Marks died peacefully in his sleep on April 10th, 2016 at his home in Leeds, surrounded by his four children. He was 70. Sensi Seeds remembers this extraordinary writer, campaigner, raconteur and cannabis smuggler, a counterculture legend who was charming and funny to the end.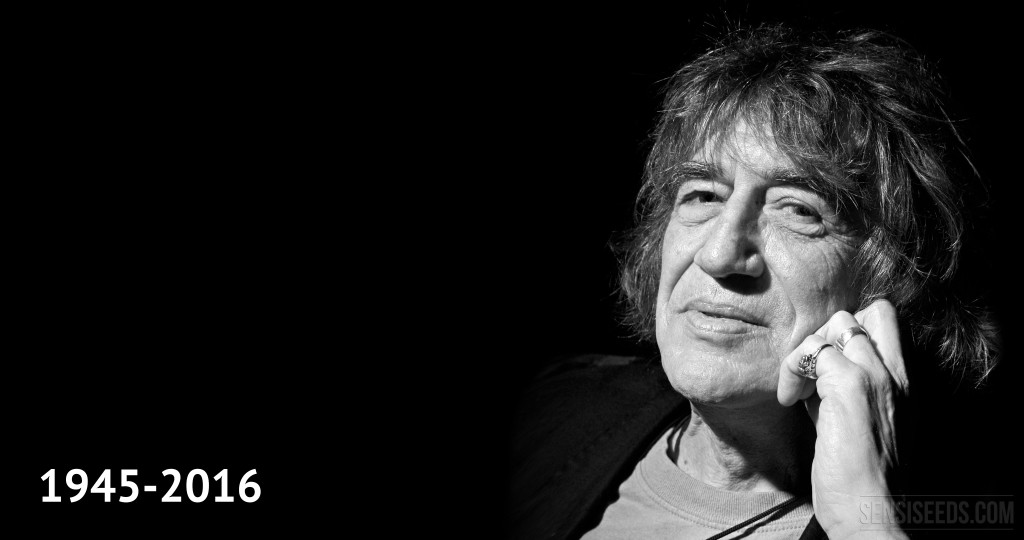 So many articles about Howard Marks cover the same ground that you can practically play Howard Marks Bingo with them. Yes, he was an Oxford Don, graduating with a degree in Physics. Yes, he was Welsh (Welsh people are understandably proud of this). Yes, he was the world's most notorious, most successful, and arguably best-loved cannabis smuggler up until the point he was busted and jailed; and yes, he went on to write best-selling autobiography Mr Nice, which was turned into a film. Yes, he stood for UK Parliament in four different constituencies (simultaneously!) on the single issue of cannabis legalization, and yes, he toured the world with a one-man show that was a combination of lecture, stand-up comedy, manifesto, and that person you know with all the best, funniest, most outrageous drug stories.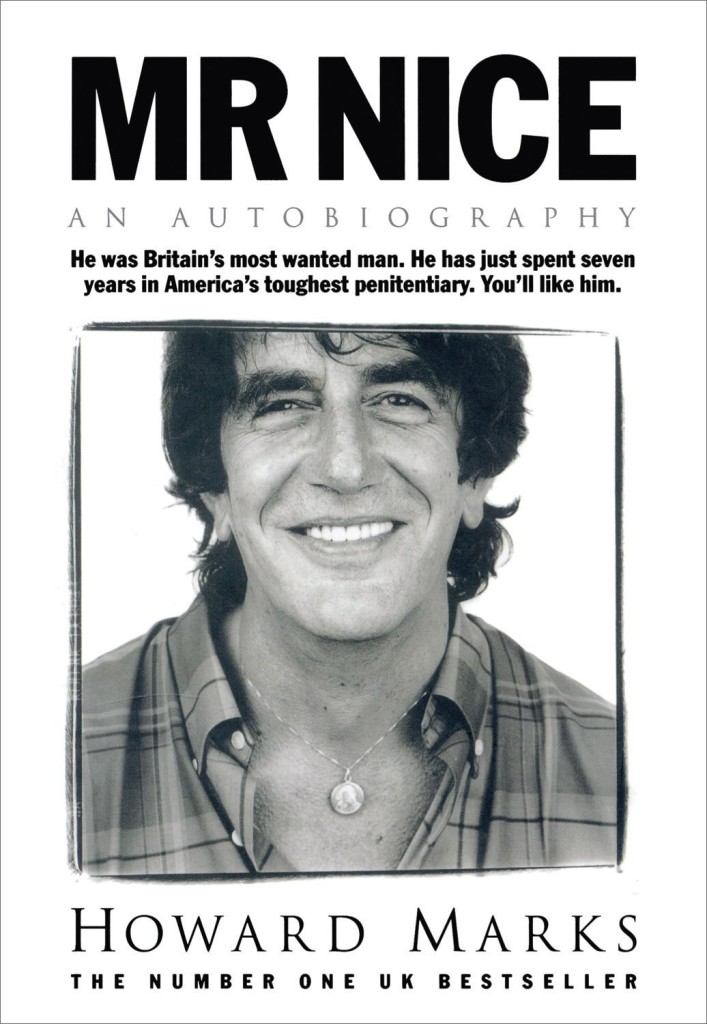 And now, he's left the stage.
Sensi Seeds has written about his life with these details too; as a close friend of founder Ben Dronkers, and a big fan of Amsterdam, he visited here on a regular basis. When the book Mr Nice was published, Ben was so enthusiastic about this epic tale of his friend's adventures and misadventures that he ordered multiple copies in every language. Sensi Seeds may well have had the only shops in Amsterdam where it was possible to purchase the book in Hindi. One of our most potent, pungent and popular strains, the legendary G13 x Hash Plant, is named Mr Nice in his honour. He donated his prison ID card to the Hash Marihuana & Hemp Museum, where it is proudly displayed to this day. In 2014 he received a Cannabis Culture Award for his lifelong dedication to cannabis.
Howard Marks: Drug Story Kingpin
But upon hearing of his death, it is not the milestones of his unquestionably remarkable life that come to mind. It is the stories. The ones he told came from a seemingly inexhaustible supply (some of them are detailed in the Howard Marks Book of Drug Stories). He was a skilled and charming raconteur. He loved a good punchline, a twist in the tale. Having repeatedly stated right up til 2015 that he had only ever smuggled cannabis, he then wrote Mr Smiley: My Last Pill And Testament, which opens with him smuggling MDMA (for personal use) through an airport in 1996. By this time, news of his diagnosis with terminal bowel cancer had been released. It is typical of his humour that he would twist a pun, a confession, and a gentle mockery of death out of the title of his last book.
There are the stories about him, too. In the 21st century manner of online community, today social media is full of people sharing their own stories, grief, and condolences; at the time of writing, 'Howard Marks' has been trending on Twitter for the last ten hours. For this piece – part obituary, part remembrance – it seems fitting that rather than complete the Howard Marks Bingo scorecard, we should also share some stories of the man himself.
Hello, old friend
I – and I must break the fourth wall for this part, so please forgive me – first met Howard Marks at the Cannabis Cup Celebrity Dinner in 1999, back when the Cannabis Cup still had celebrity dinners. So high that I was quite bewildered by the proceedings, I was queuing for the buffet when I recognized the man queuing beside me from somewhere, which was true of almost everyone in the room at that point. He smiled at me in a familiar way. As I had been doing for most of the evening, I gave him a big smile back, said hello, and asked him how he was doing, since I hadn't seen him for ages. (In my mind, there was something different about his appearance. Perhaps he had had a haircut? Or not had a haircut for some time, which seemed more likely.) He was well, he replied, and yes, it had been a while. We continued to chat and pile food onto our plates, in the manner of the THC-enhanced confronted with a free buffet, until we were interrupted by one of the servers basically telling off my friend for taking too many tiger prawns. Unabashed, he turned a massive, beaming smile on her. We began food negotiations. Could he have my share of prawns, since I didn't want them, we asked her? If he saved up five grilled mushrooms, could he swap them for an extra prawn? What if the prawns had danced their way onto his plate of their own accord, as so often happens?
At some point in this increasingly silly and giggly exchange, I finally realized why he looked really-familiar-yet-different. It was because he was in colour, not black and white, and because he wasn't on the cover of a book. I was brokering prawns for Mr Nice. I had inadvertently given him the impression that we were old friends. And he had gone with it.
The Cannabis Culture Awards
We continued to meet at two or three cannabis events a year from then on, and continued to greet each other as old friends. Truth be told, I was too embarrassed to admit what had happened the first time, and the more time passed, the less important it seemed. It wasn't until the very last time I saw him, at the Cannabis Culture Awards in 2014, that I finally told him. To my astonishment, he recalled our initial meeting, and burst into the remains of his big warm raspy laugh. "I remember. That's so funny, I was sure I must know you from somewhere, you were so sure you knew me."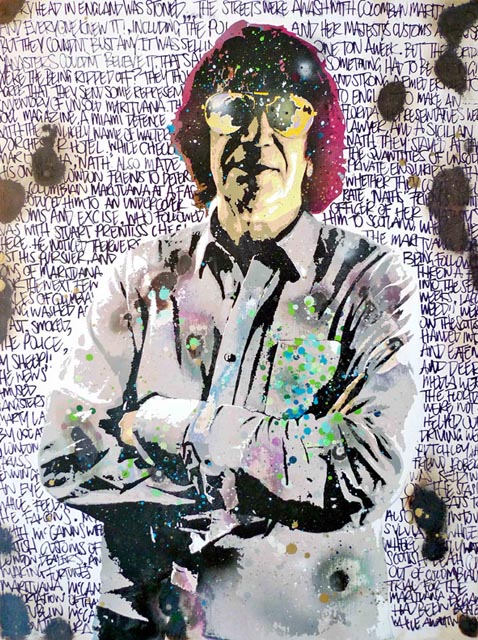 The Cannabis Culture Awards that year were held in the Hemp Gallery, just down the canal from the museum. Marc and Jodie Emery were the other recipients of this annual prize. They had managed to fly in from Canada without problems. Howard, however, was refused permission to board a flight from Leeds. With an eye on the clock, as the ceremony was tightly scheduled to dovetail with the Cannabis Cup that evening, Ben Dronkers scrambled the cannabis equivalent of the A-Team. Howard was driven to Manchester airport, boarded a swiftly-rented plane, and flew to Amsterdam in time to make a typically charismatic entrance to a standing ovation. News of his illness was not yet public knowledge, but his distinctive mop of hair was gone, and there was a fragility to him that had never previously impeded his vigour. Despite this, he requested a brandy, rolled a joint, and then spoke with his hallmark wit, consideration and wisdom to a rapt audience.
His generosity was also unstinted. Ben presented him with a portrait by the artist and DJ Goldie, created in 2010 as part of The Mr Nice Project; Howard thanked him warmly and immediately donated it to the Hash Marihuana & Hemp Museum so it could be seen by more people than would pass through his flat in Leeds. Afterwards he made time for everyone who wanted a brief chat, a photo, a handshake. Rather than remaining in Amsterdam he flew back to England; his priority was to spend time with his family rather than bask in the glow of his impact on the world of cannabis.
"I don't have any regrets"
That he had an impact is undeniable. He did more to cement the image of cannabis smuggler as loveable charmer than anyone else in counterculture, although both he and his family suffered dreadfully as a result of his activities. Despite this, he never seemed bitter. In an interview with The Guardian from January 2015, as the news of his condition broke, he said, "It's impossible to regret any part of my life when I feel happy and I am happy now, so I don't have any regrets and have not had any for a very long time."
Howard will be sorely, deeply missed by the global cannabis community. We send our sincere condolences to all his family and friends.