Humans have been making fabric out of hemp for millennia. Once the world's most ubiquitous fibre crop, hemp has largely been replaced by cotton and other fibres, both natural and synthetic. However, as modern techniques improve, advanced new textiles are being produced that are generating renewed interest in the industry.
Humans have been making fabric out of hemp for millennia. Once the world's most ubiquitous fibre crop, hemp has largely been replaced by cotton and other fibres, both natural and synthetic. However, as modern techniques improve, advanced new textiles are being produced that are generating renewed interest in the industry.
Basic Textile Types

The three basic types of weave from which most woven fabrics are derived are plain weave, satin weave and twill weave. Examples of plain weave fabric include chiffon, organza and taffeta; twills include denim, gabardine and chino, and satin weaves include charmeuse, sultan and baronette.
Plain weaves are the most simple, strong, and hard-wearing, and are used for fashion and furnishing basics. Plain weaves may be lightweight and sheer, as with chiffon, or heavy, as with canvas, and are formed by weaving together perpendicular threads in an even crisscross manner.
Twills are formed by adding a permutation to the plain weave: instead of 'one under, one over', a twill is more typically 'two under, one over'. When woven with two or more colours of thread, one can discern the diagonal patterns that characteristically appear with this technique. Twills can be lightweight, such as flannel, or heavy-duty such as denim or gabardine.
Satins are usually lightweight, and are formed by leaving wider gaps ('missed interfacings') in the weave, so that the weave pattern could be up to 'five under, one over'. This pattern forms a textile that is typically smooth and lustrous on the foreside and dull on the reverse side.
Textiles Made From Hemp
It has always been possible to make a variety of high-quality, durable fabrics from hemp, either alone or in combination with other natural fibres such as flax or silk. Although the traditional image of hemp fabric is of rough, scratchy burlap and canvas, the variety of delicate textiles that can be produced from it is remarkable.
Linen is a good example of a lightweight textile that can be made from pure hemp. Although 'linen' strictly refers to cloth made from flax fibres, the standard linen weave is used with other fibres; the resulting textiles are all generally known as linens. Such cloths, when made from hemp, are lightweight, durable and breathable, and are excellent in hot, humid conditions.
Hemp is also widely used to make terrycloth, the tufted material that may be either woven or knitted and is primarily used for towelling; it can even be used to make French terry, a particular variant used in garment-making. Due to hemp's remarkable absorptive properties, it is considered very suitable for this application.
Hemp fibres are also very suitable for various types of twill, including denim, herringbone, and flannel, and for several types of knitted textile including jersey and velour.
Blended Hemp Textiles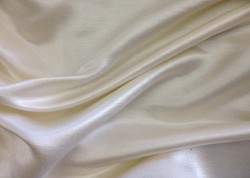 When used in combination with silk, hemp can be used to make taffeta, a stiff, shiny fabric used in ball-gowns and wedding dresses, or charmeuse, a lustrous satin used to make figure-draping lingerie and flowing evening dresses. Even complex Jacquard-woven fabrics—in which a raised pattern is woven into the cloth—such as damask and brocade can be made with blended hemp and silk.
Hemp is often blended with cotton to make cloth diapers (nappies); it is thought to have superior absorption and durability than cotton, which is usually added to increase the softness of the fabric. Hemp also has antibacterial and antimicrobial properties, which may help to prevent nappy rash and related skin conditions.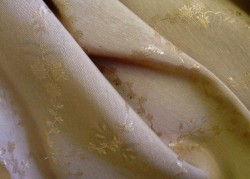 Hemp is also blended with cotton to make fine muslin or cheesecloth, some of which can be exceptionally light and strong with excellent absorptive properties. As well as this, most knitted fabrics made with hemp are blended with cotton to improve softness.
Hemp Fibre's Antibacterial Properties
Recent lab tests showed that hemp fabric can kill the common staphylococcus aureus bacteria (often known simply as 'staph'): researchers studied the growth of the bacteria on a textile made from a blend of 60% hemp fibre and 40% rayon, and discovered that 98.5% of the bacteria had died by the time of first testing. The same textile was also infected with Klebsiella pneumonia, and was 65.1% effective in killing the bacteria at first testing.
This is exciting news for the healthcare industry, as staph infections are often transmitted by touching towels, sheets or clothing previously handled by an infected person. Methicillin-resistant staphylococcus aureus (MRSA) is estimated to kill 19,000 people each year in the USA alone; global prevalence is difficult to establish.
EnviroTextiles, an Emerging Industry Leader
The company responsible for manufacturing the fabric used in this test was EnviroTextiles, whose lead textile engineer Barbara Filipponne began working with Chinese hemp in the early 1990's. Now, EnviroTextiles has over a hundred different pure and blended hemp textiles on sale, several of which have been added to the USDA's BioPreferred Program (a preferred procurement program for Federal agencies and contractors).
Such textiles are thought to be of great potential use to the military; whether or not proponents of hemp would ideally wish to see hemp used in a military capacity, this fact sharply illustrates hemp's rapid shift to mainstream and acceptable.
Hemp in the Mainstream Fashion Industry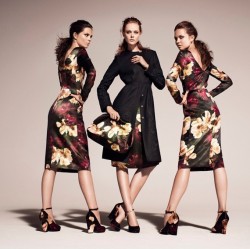 The fashion house Ralph Lauren has made extensive use of hemp-silk charmeuse produced by EnviroTextiles to make various garments including evening dresses and a military-style jacket.
Ralph Lauren has used several different hemp blends in recent collections: hemp, acrylic and cotton to make jerseys, hoodies and sweatshirts; hemp and cotton to make shorts, shirts and trousers, and linen, cotton and hemp for curtains, bedclothes and upholstery.

The fact that hemp has become a mainstream fashion item is borne out by the dozens of hemp-based garments now available in high street stores such as H&M, as well as by the proliferation of high-end designer pieces, such as an Hermès cashmere, silk and hemp scarf retailing at over $1,000.
As well as Ralph Lauren, EnviroTextiles fabrics have also been used by Donatella Versace, Behnaz Sarafpour, Donna Karan International, Isabel Toledo and Doo.Ri; the New York Fashion Week 2008 was a landmark year, in which many of these designers showcased their new hemp designers for the first time.
Hemp Textile Companies to Watch
As well as EnviroTextiles, there are various other companies producing high-quality hemp fabrics: Clothing Matters, Dash Hemp, Hemp Elegance, Hemp Traders, Hempy's, Livity Outernational, Mountains of the Moon, Satori Movement, Sweetgrass and Two Jupiters, to name but a few.
Of course, fabric is just one of the few items that can be made from hemp; advances in composite plastics, building materials, foodstuffs and healthcare products are being made daily. Make sure to check back next week for the Sensi Blog's update on hemp construction materials, brought to you in conjunction with HempFlax.