Northern Lights #5 x Skunk #1 was the first High Times Cup winner ever in the mostly indica category. Later on, Sensi Seeds renamed this strain as Shiva Skunk. We put this legendary strain to a cultivation test in celebration of its 30-year cup victory jubilee.
The year is 1988. In Amsterdam, the very first High Times Cannabis Cup ever takes place, with only a small circle of US Americans and Dutchmen.
Among the winners is Northern Lights #5 x Skunk #1 from "The Seed Bank", brought to the cannabis market in 1987. The judges chose this combination as best strain in the mostly indica category.
Renamed as Shiva Skunk for good reasons
The renaming of Shiva Skunk didn't come as a surprise as both parental plants were already enjoying a great deal of popularity. Back in the 80s, Northern Lights #5 x Skunk #1 had already been winning harvest festivals on the USA West Coast for many years. In those early years, the term "Amsterdam gene pool" was coined, which included Northern Lights #5, Skunk #1 and Haze.
These "Amsterdam gene pool" strains served as genetic building blocks for countless other varieties, thus playing a crucial role in modern cannabis breeding. In 1990, The Sensi Seed Club took over genetics and breeding from The Seed Bank, calling itself "The Sensi Seed Bank" from there on.
Shortly after that, Cannabis Cup champion Northern Lights #5 x Skunk #1 was renamed as "Shiva Skunk" – a somewhat cumbersome, technical working title is replaced by a catchy strain name with a mythical appeal. Sensi Seeds chose the name "Shiva" for good reasons of course:
Legend has it that Hindu god Shiva discovered the mind-expanding properties of cannabis when he meditated in the middle of a ganja field. Of the many bynames of Shiva, "Lord of Bhang" (bhang is an Indian cannabis preparation) and "The Destroyer" are particularly appropriate in the context of cannabis.
While Shiva's byname "The Destroyer" should not be taken literally when it comes to Shiva Skunk, it illustrates very well how potent and powerful this indica dominant hybrid is.
This strain's effect may vary depending on the user, often causing an indica-typical knockout, but sometimes also a state of deep contemplation and meditation. Then again, it sometimes makes people giggle, energized or particularly adventurous.
The strain's popularity has led Sensi Seeds to also create a feminized and an autoflowering variety. The grow report below is about the feminized version of Shiva Skunk.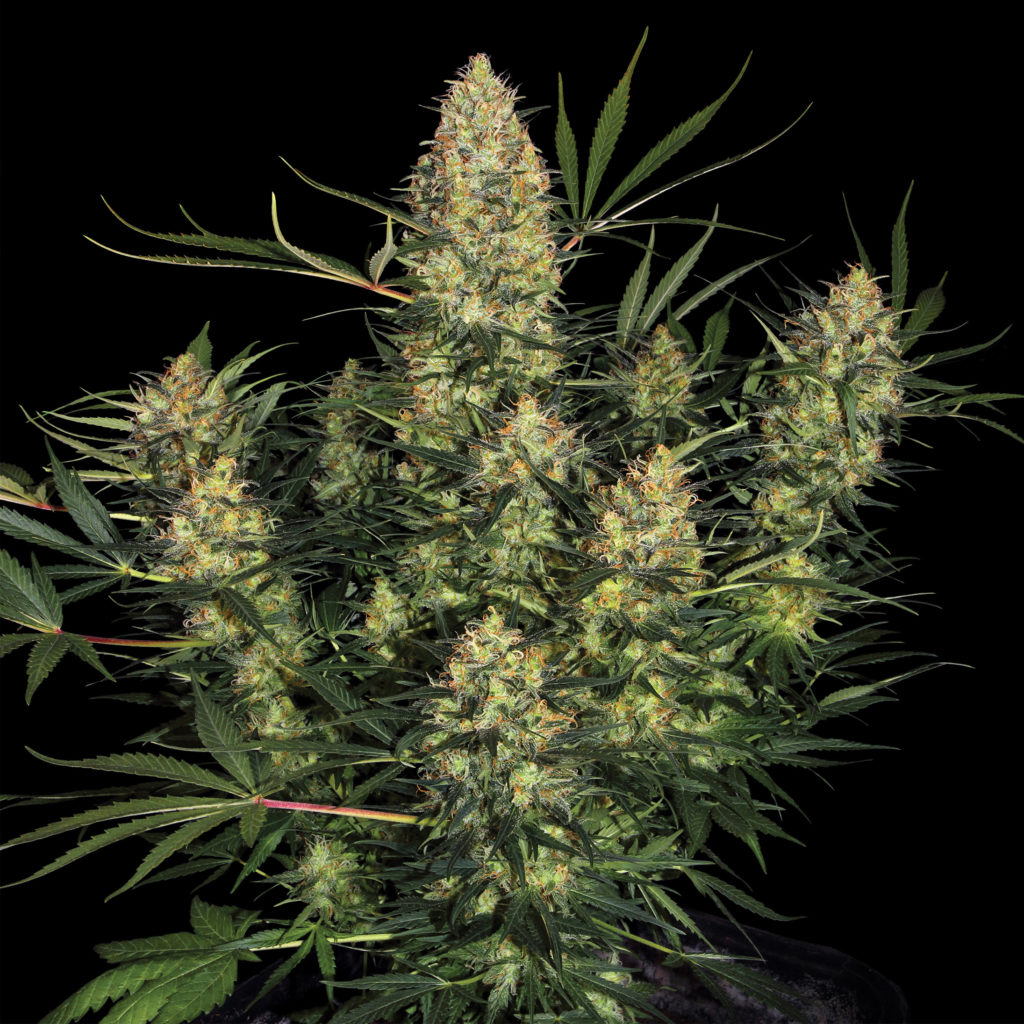 Shiva Skunk phenotypes
As is the case with many hybrids, Shiva Skunk can exhibit both sativa and indica qualities. Depending on a multitude of factors, a seed of Shiva Skunk can grow into one of two phenotypes: indica-dominant and sativa-dominant. The latter, however, is quite rare.
The two phenotypes are easy to distinguish, as the sativa phenotype is much slower to grow than the indica one. When the indica phenotype manifests itself, get ready for a darker plant that does not lack assets;
"Right from the beginning she stood out, slower growing than her skunk type sisters with shorter internode gaps and broader leafs on short fat leaf stems." – by sicklehand, forum.sensiseeds.com
"You can almost throw those scissors away"
Shiva Skunk manages to produce copious amounts of buds within a swift flowering time of only 45-55 days (note that the more rare sativa phenotype can take much longer to flower). Seedlings develop into compact growing plants with thick and highly resinous buds, courtesy of its particularly resinous parent, Northern Lights #5.
The buds are especially lacking in leaves, but are very "hairy". In former Sensi catalogues, the phrase was thrown around, "You can almost throw those scissors away as very little manicure is required".
Shiva Skunk also performs well in a greenhouse, reaching maturity in the second half of October under natural light. Its rich aroma is characterised by a musky spiciness, countered by sweet citrus notes which add even more complexity. Experienced users describe its thick smoke as "creamy", whereas novices tend to perceive it as rather "heavy" and "oily".
Cultivation data:
| | |
| --- | --- |
| Genetics | Shiva Skunk Feminized (Northern Lights #5 x Skunk #1) |
| Vegetative stage | three weeks (after germination) |
| Flowering stage | 54 and 56 days / 45-55 days in general |
| Medium | Plagron Grow Mix soil, 11 litre pots |
| pH | 6.2-6.6 |
| EC | 1.2–1.8 mS |
| Light | up to 12 x SANlight S4W = 1680 watts |
| Temperature | 18-28°C |
| Air humidity | 40-60% |
| Watering | by hand |
| Fertilisation | Organic Bloom Liquid from Green Buzz Liquids |
| Additives/stimulants | Living Organics, More Roots, Humin Säure Plus, Big Fruits, Fast Buds und Clean Fruits from Green Buzz Liquids |
| Height | 58 and 76 cm |
| Yield per plant | 79 and 104 g |
An almost holy feeling
Although I am not a Hindu, it felt like an almost holy experience to put this history-charged variety to a cultivation test on its 30 year Cup victory jubilee. Another epochal strain legend in my grow room – that sends a pleasant shiver down my spine!
But after what seems like an eternity, would Shiva Skunk still have those outstanding qualities that once made it so popular? Well, I wanted to check it out… And so I made two feminized seeds germinate. It took the seedlings less than 2.5 days to rise above the ground and reach towards the LED light.
I kept them in the vegetative stage for three weeks, and this period saw them grow to heights of 23 and 26 cm, both showing a very stable growth pattern.
The two plants looked the same: six internodes, stocky bush-like growth with an early onset of side branch development and dark green leaves that turned out to be more thin-fingered than expected. So far so good! These two Shiva Skunks are giving the impression of being very vigorous and a sheer delight to grow.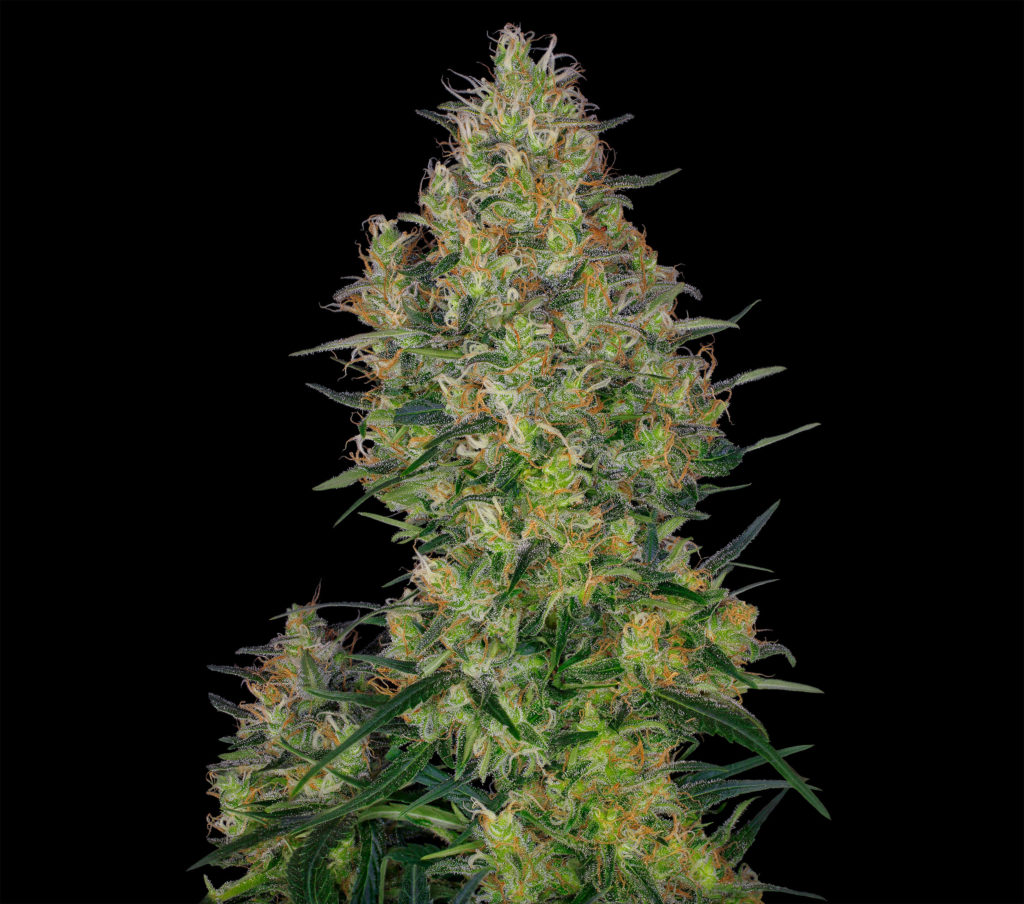 The two Shiva Skunks put the flower pedal to the metal
Two weeks after the photoperiod switch to 12/12 (the plants had transitioned into flowering within ten days), it became evident that one of the plants had a stronger instinct to stretch, leaving the other one behind in terms of height.
Flowering got going equally fast with the two, however. After three weeks, numerous white pistillate hairs protruded from the young buds. One week later, my two Shiva Skunks were putting the flower pedal to the metal, seemingly flowering more rapidly than I had ever seen.
By this stage, buds were puffing more and more and becoming very shapely. After a mere four weeks, the plants were perfectly fulfilling a prolific blooming scenario. The buds were covered with plenty of resin glands and smelled sweet and spicy.
A magnificent head of curls and a "fattie" with ample yields
Six weeks into flowering, the taller plant developed extremely hairy buds like a magnificent head of curls. It was one of the highest calyx/leaf ratios I have ever witnessed in my growing career.
Sensi Seeds's proverbial advice to "throw away the scissors" almost came true in this grow. The main cola was gloriously elongated, towering from the centre of the plant and surrounded by ten similarly voluminous buds. All of the buds were sheathed in sticky trichome formations. Although the smaller plant was less hairy, it displayed the same budding patterns, boasting large resinous buds with little foliage.
The intermodal stacking of Shiva Skunk is tighter than most, making it look like a true "fattie". The buds are dense and hard on both plants. These are two bona fide flower factories! Meanwhile, the aroma given off by the buds was potent with a heavy musky scent with citrus notes, perfectly matching the description. Delicious!
The taller plant achieved ripeness after 54 days while the smaller one matured two days later. The final heights were 76cm and 58cm respectively. Just as expected, it was easy to trim the buds in next to no time, especially the particularly hairy plant.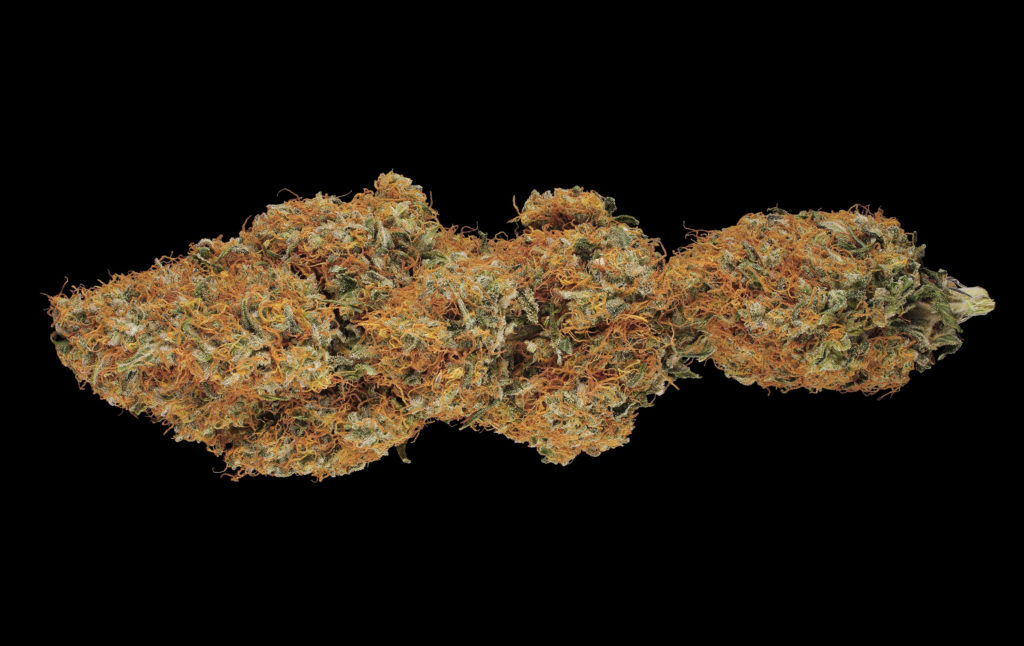 For this plant, the scales tipped in at 104 grams dry yield for the bigger plant and 79 grams for the smaller, an excellent outcome for both. Drying and fermenting the buds resulted in a more fine-tuned aroma, with increased prominence of those citrus notes while the musky nature had declined a little.
Vaporising Shiva Skunk: Sent into a trance and a trip down memory lane
Being in a festive mood, I then took the first hit of Shiva Skunk from a "Mighty" vaporizer. The feeling was very inspiring, feeling as if I'd just vaporized 30 years of strain history. I felt as if I was wandering down memory lane, recalling my own longstanding grow career.
So it was only fitting that the intense taste of the weed was very much old-school, primarily sweet on the inhale and somewhat savoury on the exhale. The tastes were just like patchouli oil aromas, ergo earthy, woodsy and mossy. Definitely wonderfully organic! Already the first cloud of vapor had put me in a meditative mood that after a few more hits segued into a kind of trance.
I closed my eyes and indulged in a colourful world of cannabis images passing through my head:
For example, I recalled Jamaican ganja fields I once visited, my own giant outdoor plants from the early 1980s, and sieving hashish with local farmers in the Moroccan Rif Mountains. I recalled going seed hunting in Nepal, and the faces of many grow pals and the crazy cannabis related adventures I shared with them.
This gave me the happy feeling of already now having lived a fulfilled cannabis life. Yes, I sensed those deeply contemplative effects typical of Shiva Skunk. After I travelled back in time for about an hour, I was suddenly overcome by the munchies. Naturally, I raided the fridge. The effects lasted for more than an hour, leaving me in a state of deep relaxation and blissfulness.
Closing words
Shiva Skunk – this is what winners look, taste and smell like, then and now. This strain is a true green fountain of youth and strength, simply fascinating and highly potent until today. I am absolutely sure that also in the next 30 years, Shiva Skunk will keep its fame in the Sensi Seeds range of strains and in the gardens of many enthusiastic growers.
Green Born Identity – G.B.I.
Disclaimer:

Laws and regulations regarding cannabis cultivation differ from country to country. Sensi Seeds therefore strongly advises you to check your local laws and regulations. Do not act in conflict with the law.