In 1996 California became the first state in America to legalize medicinal cannabis. This step slowly but surely created a domino effect, as 17 years later around 20 states have followed suit, two of which have even legalized recreational use. The latter appears to now also be in the pipeline for California.
California can definitely be seen as the catalyst for this domino effect which has led to almost half of all American states legalizing medicinal cannabis. In addition, California was almost the first state to legalize recreational use. In 2010 it seemed as though Proposition 19 would achieve a majority vote and thus open the way for total legalization. Alas, the results fell just short of passing the proposition.  53 percent voted against it.
65% of Californians in favour of cannabis legalization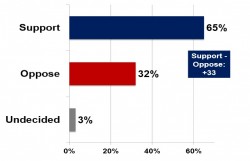 A great deal has occurred in the last three years in terms of the normalization of cannabis use in the USA, with, as a high point, the recent announcement from the federal government. This statement confirmed that the federal government will no longer intervene with local (state) cannabis legislation. After so many developments, Tulchin Research has begun an opinion poll to assess the current feasibility of a new proposition to legalize recreational cannabis use in California. The results are promising: 65 percent of the 1,200 respondants are in favour of legalization!  Click here to read the report.
The California Lieutenant Governor Gavin Newsom presented the results of the poll on Thursday October 17 2013 during a press meeting, together with representatives of the American Civil Liberties Union. Newsom also announced a two-year study in which 16 experts will investigate legal policy and technical issues involved with this legalization. "This is about real people," Newsom said to The Huffington Post. "Communities are devastated because of this abject thing called the drug war. Forget the politics. This is the right thing to do."
"Legalization of marijuana in California is going to happen"
The focus point of the new Proposition in which the entire state can vote is 2016. This year will also see presidential elections, and the past has shown that the number of voters for legislative proposals is higher during election years. However, there are also a number of groups such as the California Cannabis Hemp Initiative and the Marijuana Control, Legalization and Revenue Act, which are aiming for 2014 with a proposition to regulate and tax marijuana in the same way as alcohol.
Amanda Reiman, manager of the Drug Policy Alliance is also convinced that it cannot be long. "This is not a matter of 2014 or bust, or 2016 or bust," Reiman said. "Legalization of marijuana in California is going to happen."
Sensi Seeds continues to watch all the developments in California and the rest of the United States closely, and report on further news events as and when they occur.