Although smoking any substance would at first consideration seem to be a deeply counter-intuitive treatment for asthma, there is a widespread belief that smoking cannabis can relieve the symptoms of this common and often highly debilitating condition.
Although smoking any substance would at first consideration seem to be a deeply counter-intuitive treatment for asthma, there is a widespread belief that smoking cannabis can relieve the symptoms of this common and often highly debilitating condition. Indeed, cannabis is not the only traditional medicine that can be administered via the method of smoking—Black Cohosh (A. racemosa) is another herb that is occasionally smoked to provide relief for asthmatic symptoms.
The bronchodilatory effect of cannabis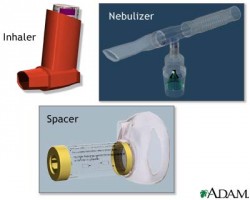 Although research into the subject is not exhaustive, studies dating as far back as the 1970s have determined that THC has a bronchodilatory effect. This effect is found with various methods of ingestion, such as sublingual application and consumption of "medibles", but smoking cannabis appears to yield the most immediately effective results.
However, there are individuals who report experiencing a worsening of existing asthmatic symptoms. This could occur for a number of different reasons: sensitivity to a particular compound or allergen contained within the plant, contaminants such as tobacco or traces of fertiliser from cultivation, or simply lower-quality cannabis. Attempting to medicate with cannabis of lower quality may necessitate consuming a larger quantity, which may cause irritation due to the increased level of non-cannabinoid material such as carbon monoxide, hydrogen cyanide, and nitrosamines.
What is asthma?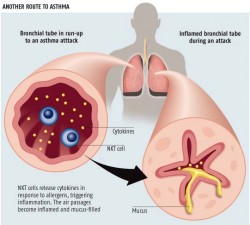 In order to gain deeper insight into the possible role of cannabinoids in the respiratory system and how they may be effective against asthma, it is first advantageous to take a brief look at asthma itself—what it is caused by, and which processes in the body are dysfunctional in those that suffer from it.
Asthma is a chronic inflammatory condition that has rapidly increased in prevalence throughout the world since the 1970s, possibly due to the rise of urbanisation and the tendency toward monoculture in agriculture. Symptoms include shortness of breath, coughing, wheezing, and a sensation of tightness in the chest. Acute attacks can occur after long periods of stability in many sufferers, and can be fatal if bronchodilatory treatment (such as use of a nebuliser) is not urgently sought.
Environmental and genetic factors
It is thought that asthma is caused by a combination of environmental and genetic factors. Environmental triggers are thought to include pollutants, allergens such as dust mites or mould, smoking tobacco, and exposure to potentially-harmful substances such as formaldehyde or phthalates found in PVC. Asthma usually develops in childhood, and cases diagnosed after the age of sixteen often arise in response to environmental or occupational factors.
It has been demonstrated that there is a hereditary aspect to asthma, and various studies have isolated genes or groups of genes that are thought to be significant. 25 genes have now been linked to asthma, many of which are related to the immunological response, particularly the regulation of inflammation.
The complex nature of the relationship between genetics and environment is highlighted by the following example: a known gene variant associated with asthma is the single nucleotide polymorphism found in the CD14 gene; however, this variant only leads to asthma when coupled with exposure to an endotoxin such as tobacco or animal dander.
The significance of epigenetic change
As well as variants affecting genes encoded in the DNA such as CD14 (which is located on chromosome 5), it is thought that epigenetic change may be an important factor behind the increase in world prevalence. Epigenetics refers to hereditable but non-genomic changes to the human cellular phenotype; i.e. those not affecting the DNA sequence itself.
Epigenetic mechanisms have been shown to exert an influence on T-cell differentiation; it is possible that inherited changes to such cells are crucial to the development of asthma as they play a critical role in the immune response. This could explain why asthma has been inconsistently prevalent throughout human history: the phenotypic expression of changes to the genome are unlikely to disappear and reappear over time, but epigenetic changes can be more easily explained as they can occur and recur in response to environmental changes.
DNA methylation
DNA methylation (whereby a methyl chain is attached to either the cystocine or adenine base of the DNA) is one well-known example of epigenetic change, and one which is found in the majority of eukaryotic species. DNA methylation occurs during normal development in mammals, and plays a crucial role in determining the nature of new cells, their role in the body and the expression of genes contained within them. Extrinsic environmental factors such as alcohol, tobacco or asbestos may lead to hyper- or hypomethylation, either of which may affect the cell's ability to divide normally.
Cytokine, and T-cell division and differentiation
It is thought that in humans, DNA methylation of genes crucial to T-cell division and differentiation may either preclude or directly lead to the development of an allergic phenotype. Until further research is done, however, our comprehension of this phenomenon will remain patchy. The role of the T-cell in asthma is widely known but still not fully understood. It is believed that hypersensitivity of the T-cells (which have a crucial role in the regulation of inflammation) is greatly responsible for the development of the disease.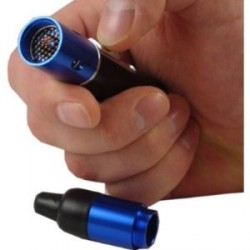 The role of the endocannabinoid system in asthma and general immunological response is of great interest to researchers, yet much still remains to be done in order to accurately describe the individual processes at work. It has been demonstrated that both THC and CBD inhibit the production of interleukin 10 (an anti-inflammatory) cytokine production in T-cells in vitro, which may be highly significant in the development of inflammatory lung conditions such as asthma.
Variable individual response to cannabis
As some individuals have experienced a definite allergic response from cannabis, it is clear that the biochemistry at play is variable between individuals. For asthmatics wishing to experiment with medical cannabis, it is advisable to seek out a skin-prick test to determine any underlying sensitivity. In order to safely smoke cannabis to relieve symptoms of asthma, it may be advantageous to opt for high-potency strains, so that the amount of smoked material is lower overall and the risk of lung irritation minimised.