California The US state of California, the fifth largest economy in the world, legalised cannabis on 1 January 2018. Although other US states had already created a regulated cannabis market before California, the Golden State intends to grow its sales market for cannabis, which already was the largest in the world, even faster. Currently, the annual sales of medicinal cannabis, which was legalised in California in 1996, is set to reach $7 billion this year.
Since 2009, cannabis has been the best-selling agricultural product in California, which has the highest population of all American states. Regulating recreational cannabis became a societal necessity when the prohibited plant wasn't purely cultivated and sold for medicinal reasons any longer.
It was a public secret that the market for medicinal cannabis was increasingly progressing into a grey area, as many Californians aspired to the status of cannabis patient in order to indemnify themselves from prosecution for possession, consumption or growing cannabis for personal use.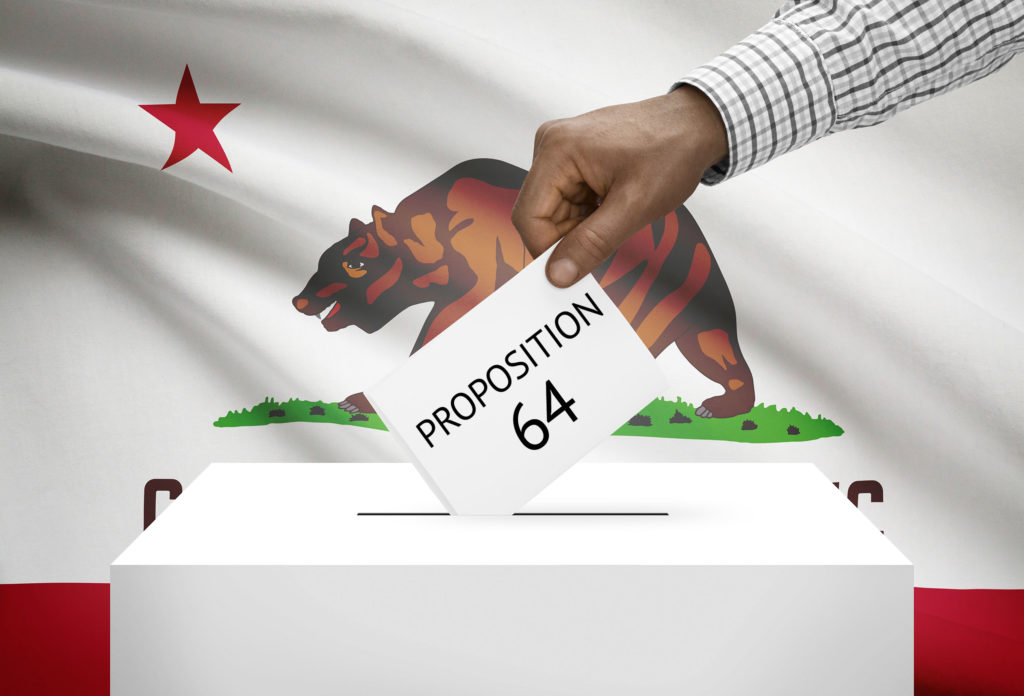 For that reason, the passing of Proposition 64 on 8 November 2016, the day of the most recent US presidential elections, was nothing more or less than a confirmation of the status quo and the 57.1% majority came as no surprise.
And while this result was to be expected, the responsible judiciary and politicians were better prepared than their counterparts in Colorado and Washington State some time earlier. Based on the wording of Proposition 64, numerous laws and decrees were formulated before Senate Bill No. 94 took effect on 1 January 2018.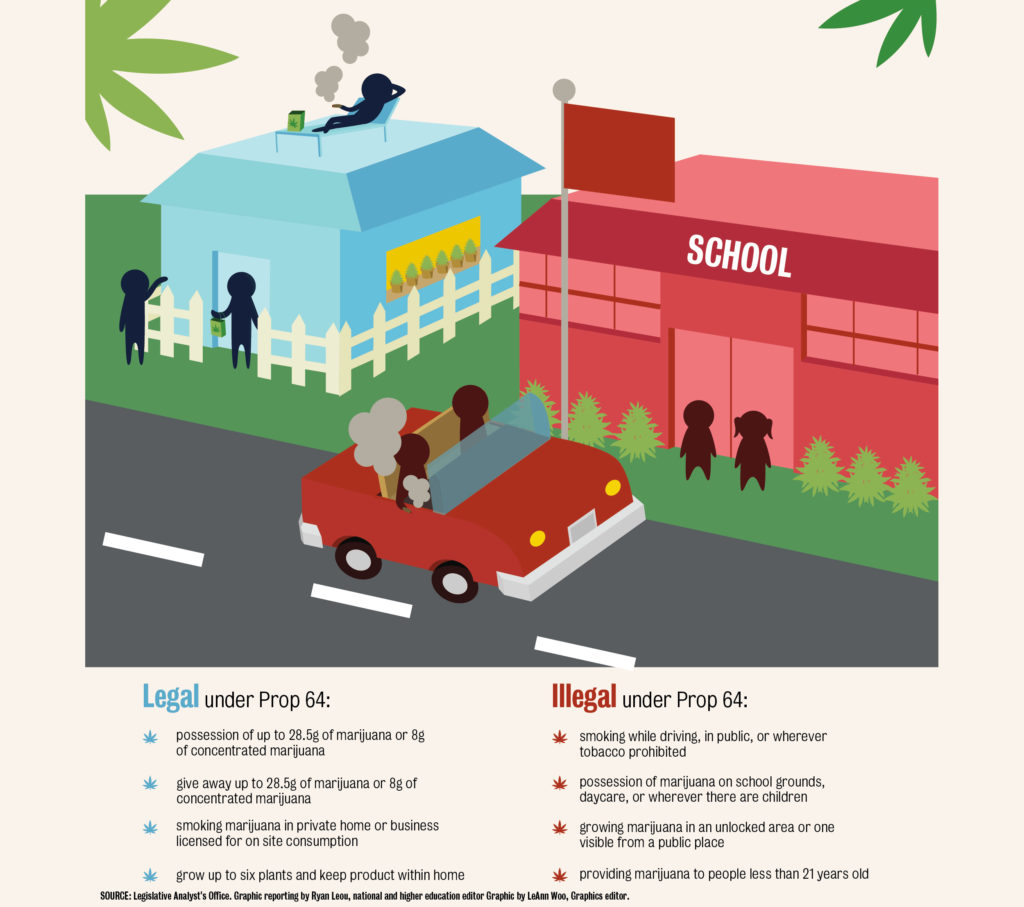 It looks like California has prepared itself well; the new rules not only take into account the concerns regarding youth protection and prevention, they also cover the demands of the users, as well as the scientific interests of producers and shops.
What is permitted?
Senate Bill 94 permits individuals aged 21 and over to possess and use 28.5 grams of marijuana, and up to 8 grams of cannabis concentrates. Adults are allowed to possess a maximum of six living cannabis plants and the cannabis that they yield.
Private individuals are prohibited from using volatile solvents to produce cannabis concentrates unless they possess a state licence to do so. However, mechanical separation processes are permitted, as is extraction using non-volatile solvents like alcohol.
The medicinal cannabis program remains in place. In order to receive medicinal cannabis, patients must be 18 years or older, be in possession of a valid doctor's recommendation or a valid ownership card for medicinal cannabis, or they must appoint a so-called Caregiver. A Caregiver in California is allowed to grow cannabis for a maximum of five patients and sell it to them.
What remains prohibited?
1. Consumption in public remains prohibited. Cannabis may only be consumed on private property. Homeowners and home lessors are entitled to prohibit the use and possession of cannabis on or in their properties.
2. Exporting cannabis from California remains prohibited as well. This also applies to those neighbouring US states that have legalised cannabis. Although it is legal according to Californian law, cannabis may not be consumed or possessed on state-owned land such as national parks, a number of highways, and airports.
3. Earlier convictions for consumption, possession, cultivation, sale and trafficking of cannabis can be reassessed and retrospectively 'down-penalised' to an administrative offence. The maximum penalty for possession, sale or transgression of the maximum amounts set is six months in prison and is subject to substantial fines. Should they violate the rules, producers and shop owners run the risk of losing their licence.
4. More than a handful of municipalities or counties exercise their right to prohibit the establishment of any cannabis shops. Burbank, Pasadena, Glendale and a few smaller municipalities remain hostile towards cannabis.
5. In those places where the local authorities were able to prevent the establishment of medical dispensaries for the past 22 years, there will be no cannabis shops, not now and not in the future.
Cultivation
Cultivation licences are issued by the California Department of Food and Agriculture (CDFA) and are subject to a one-time fee of between $135 and $8,655 according to the size of the operation and the type of licence. As soon as a grower has been issued a licence, the rates are adapted to reflect the annual production of the cultivation acreage, amounting to anywhere between $1,205 and $77,905.
Anyone who already has a licence to cultivate medicinal cannabis and wishes to start cultivating recreational cannabis straightaway will have to apply for new licences. Until the new licences have been issued, the grower will receive a temporary licence.
In order to ensure that existing companies have enough time to get their new licences sorted, the transitional scheme will apply until 1 July 2018.
In view of the gigantic energy demand of traditional indoor cultivation techniques, the legislator considers it important to establish a standard set of rules for waste management processes and the use of renewable energy. In order to enable a sensible transition in this field as well, producers must have adapted their CO2 emissions and water consumption to the "average greenhouse" by 2023.
Trade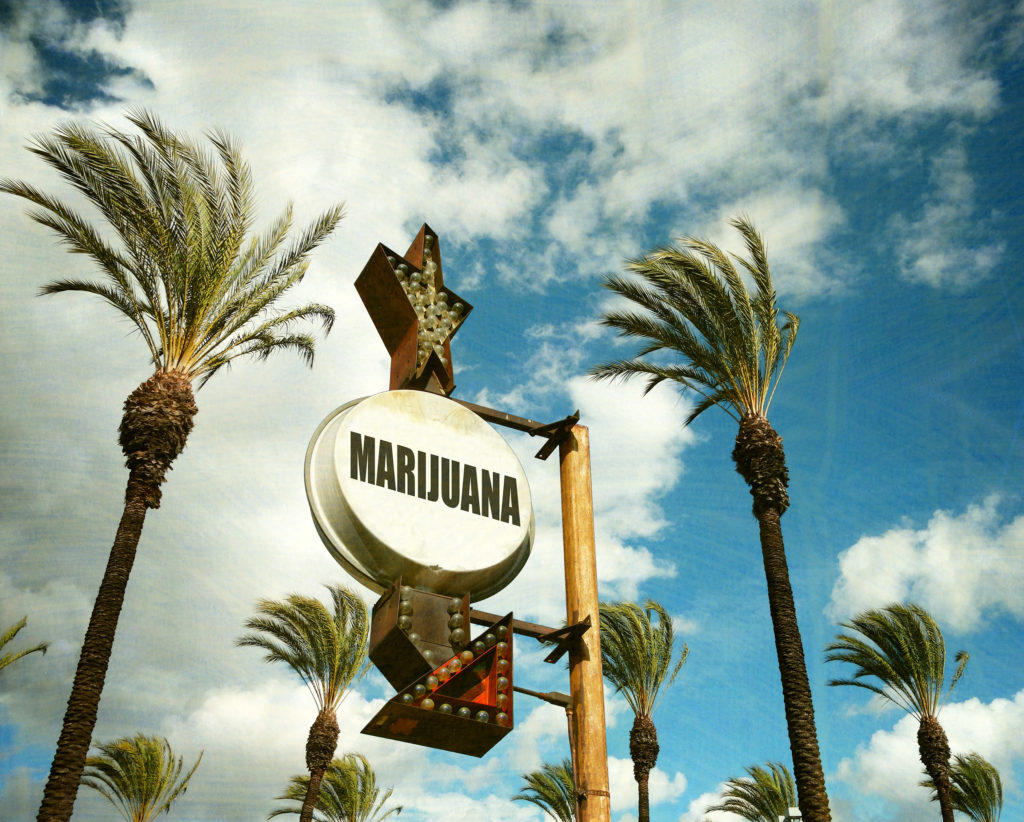 As of January and using a transitional licence similar to the one growers use, medical dispensaries are allowed to:
– Continue their business irrespective of the licence applied for and to sell to recreational consumers as well;
– Sell cannabis products that do not yet conform to the new regulations, provided they make this known in the form of an additional label;
– Sell cannabis products whose original package is not child friendly, provided the product is packaged in an extra, child-friendly container;
– Sell cannabis products that contain more THC per sales unit than is allowed under the new law, provided they make this known in the form of an additional label.
As of July, several licences will be issued for wholesalers and retailers:
– An 'A' licence for sales to adult recreational consumers;
– An 'M' licence for sales of medicinal cannabis to registered cannabis patients;
– A business may deploy both the 'M' and the 'A' licences at the same establishment, provided sales are conducted from separate rooms.
In addition to the sales licences, there are also licences for the further processing of cannabis products:
– The Type 7 licence authorises extraction using volatile solvents, such as butane, hexane or pentane;
– The Type 6 licence authorises extraction using non-volatile solvents (butter, oil, water, ethanol or carbon dioxide of food quality) or using mechanical methods;
– The Type 'N' licence authorises the manufacture of foodstuffs, drinks, e-liquids or lotions containing cannabis.
– The Type 'P' licence authorises packaging and labelling.
The government does its bit
Furthermore, John Chiang, the California State Treasurer, has announced that he will make it possible for businesses in this industry to deposit their money with banks. As a result of current federal laws, US banks in all states that have legalised cannabis are reluctant to do business with the industry.
Bankers are afraid that they will be prosecuted by the federal government if they accept cannabis dollars. In November 2017, Chiang announced the establishment of the Cannabis Banking Working Group. This body was tasked with finding a solution for the significant discrepancy between state and federal laws and with enabling the companies access to the banking system.
In January, the government also decided that cannabis companies would be able to secure trademark rights and advertise their products, subject to the same youth protection conditions as breweries and winemakers.
Unlike in Oregon, Colorado or Washington State, the Californian cannabis industry is getting a lot of support from political and governmental circles. In Denver and Seattle, producers and retailers experienced more pointless rules than support when establishing their businesses.
But even though California seems to be better prepared than other states, something elementary is lacking in all cannabis-friendly US states: Only in Oakland and San Diego are cannoisseurs entitled to enjoy a joint with friends outside their own four walls.
Local referendums in both these metropoles have enabled the establishment of this type of club. Elsewhere, there is no legal foundation for coffee shops, cannabis clubs or weed bars such as in the Netherlands and in Spain. In short, despite the almost heavenly conditions in these US states, there is still room for improvement.