Since the 1970s, the Pyrenees have served as a refuge for marijuana growers. The arrival of the hippies – back-to-the-land people who rejected the Capitalist system – and their marijuana seeds, obtained on trips to Kathmandu and Morocco, totally changed the Pyrenees, to the point where these mountains were nicknamed 'the Pyrenees Rif Mountains'.
Since the 1970s, the Pyrenees have served as a refuge for marijuana growers. The arrival of the hippies – back-to-the-land people who rejected the Capitalist system – and their marijuana seeds, obtained on trips to Kathmandu and Morocco, totally changed the Pyrenees, to the point where these mountains were nicknamed 'the Pyrenees Rif Mountains'.
Today, these growers are not just marginalised people or hippies living up in the mountains, but people who are integrated into society – farmers, teachers, nurses, bus drivers, computer scientists, etc. The use and consumption of marijuana spans the social divide, and its cultivation has become so popular that for some people it is no longer just a passion or a hobby but a business. The most unusual places have been used to grow the plants, and cannabis is not only cultivated in remote mountainous areas, but also in urban zones.
Recently, in the south of France, while carrying out a vehicle stop at a roundabout, police officers noticed a 'strange smell'; the roundabout itself had been used to grow cannabis. In apartments and basements, in public parks or in any urban space… cannabis is now grown everywhere. Each year sees its cultivation in more and more plots and flower beds across France. According to drug-control specialists, the plantations are most numerous in the south of France, in particular the Midi-Pyrénées, Languedoc-Roussillon and Provence-Alpes-Côte d'Azur regions.
An increasingly profitable illegal activity
Nicolas, a teacher by profession, confirms: "I'm not a drug dealer, I just grow cannabis in my small garden for my own use. I sell any I don't need to my friends. This keeps them happy and, in these times of crisis, it helps me make ends meet." It's simple: the average citizen cultivates their secret garden for personal use, but also obtains financial rewards from this activity. Benoit, an artisan, explains: "This year I have work, but it's not enough. I stopped smoking two years ago, but continue to grow marijuana; this year, I want to build a swimming pool with the profit I make from the cannabis I'm growing." And Marcel, who has been growing cannabis for over 15 years, adds: "I've been trying to give up planting cannabis for two years now, but life has become so hard that I can't live properly without this extra illegal income."
The hippies, those who live in communes in the Pyrenees, have professionalised their activities. Some have formed mafia-like networks, investing in abandoned hangars and greenhouses, while others do not hesitate to train new sea captains, paying them for their permits and sailing boats, for example, in order to ensure the continuity of the supply of goods from Morocco. Some cultivators say they have travelled to Morocco in order to learn from the Moroccan farmers in the Rif Mountains. They learn to grown hybrid varieties and thus prepare better hashish for the European market.
In France, the prices of weed and hashish are constantly going up; since oil prices are rising, transport is becoming more expensive for the drug traffickers, and the risks are increasing too. However, this activity is not affected by the crisis. On the contrary, when French people are hit by pessimism, they use more drugs. Typically, one will pay between 4 to 6 euros for a gram of hashish, and 5 to 10 euros for a gram of weed. In some cities such as Toulouse and Montpellier, with large student populations, the price per gram of weed can be as high as 14 euros. The dealers rub their hands in delight, and it is not unusual to read in the press about the dismantling of indoor cannabis growing operations in young people's homes.
However, according to the law, small-time French cultivators are regarded as dealers, and are subject to a maximum sentence of 10 years in prison, or a fine of up to 7,500,000 euros. Since the centre-right Union for a Popular Movement (UMP) party came to power in France, fines have increased, especially regarding driving offences. In 2003, as a result of a traffic accident in which a 9-year-old girl was killed, the minister D. Perben decided to tighten up the law. At the same time, random tests for cannabis began, made obligatory in accidents involving personal injury, and with sanctions of two years in prison and 4,500 euro fines for driving under the influence of cannabis.
Democratisation of cannabis growing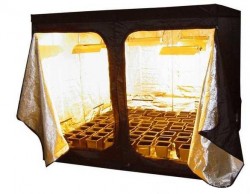 Michael, aged 34, comments: "You know, in the 1990s, few people grew Dutch seeds, the Internet was in its infancy, and growing techniques and other information on weed came from people who travelled to Amsterdam to obtain seeds and had to translate texts in English on cultivation methods. Today, you cross the Spanish border and in under an hour you can buy the seeds you like, or even cuttings ready to plant." And then there are websites, where any young person with a credit card can buy cannabis seeds with a simple click. In recent times, 'grow shops' have opened in France, despite administrative difficulties. They managed to find loopholes in the law in order to open shops in big cities. There are now around 400 shops specialising in the sale of materials for 'growing plants in an apartment'. These shops are so popular that long queues form outside. Christophe, a sales assistant in a grow shop in southern France, told me that all kinds of people grow cannabis indoors – from parents with young children to students, for whom cannabis cultivation is a new hobby: "What's most absurd are these bearded guys who live in a neighbouring city; they boast that they don't smoke but they invest massive amounts of cash in professional cultivation materials in order to grow cannabis in the basements of their houses."
Part of an initiatory ritual, young people smoke their first joint and grow their plants far from prying eyes. These days this ritual can take place at an increasingly young age. Whether they use guerrilla outdoor cultivation techniques or grow their plants in cupboards indoors, increasing numbers of people are refusing to buy hashish from dealers in dodgy districts. Michel, a 38-year-old musician, says: "I try not to buy it on the street now. I don't want to give my money to these people; when I run out of weed, I prefer to stop smoking." Cannabis cultivation is thus becoming democratised, and more and more techniques are being used. Some people, like Jérôme, prefer to plant cuttings they buy from a friend: "At least the quality is guaranteed, no degeneration linked to poorly stabilised seeds, I give him 5 euros for each cutting, and with 20 plants I've got enough cannabis to last me all year." Others regularly cross the border and go into raptures over the new annual seed catalogues. José, sales assistant in a grow shop, says: "Before, they just used to come to buy cigarettes and Ricard. Nowadays they add cannabis seeds and fertilisers to their basket."
Guerrilla cultivation
Every year, between March and April, each person prepares their cultivation strategy, looking for a plot of land next to a river, or a friend's garden or balcony. Even in the driest areas and those that are hardest to access, cultivators come up with lots of ingenious systems in order to obtain a good harvest using water bags or building water tanks, for example. The climate in the Pyrenees allows cultivators to start planting in March. Some prepare cuttings in a cupboard and take them out in mid May, in order to stop the plants flowering. Others germinate their seeds in order to transplant them later in the month. For two years now, cultivators have been able to buy autoflowering seeds. According to Jean, who is 33 and has been growing cannabis for over 10 years: "In the future, we'll be able to have two harvests or even three. We plant autoflowering seeds in March and harvest the plants at the end of June. Then we plant the normal marijuana seeds in April and harvest it in October. And, finally, the late strains such as Super Silver Haze or the Hawaiian Haze, which are harvested in November."
However, guerrilla outdoor farming is an increasingly risky business, since there are growing numbers of thieves about. Some cultivators take the precaution of guarding their plants during the last month of flowering. This year, a farmer who saw two men entering his plantation, shot one of the thieves, killing him, and left his body on the hard shoulder of a motorway. Even indoor cannabis plants are being stolen. Recently, two disguised and armed people visited Thomas in his apartment. They stole his entire harvest, which was worth around 20,000 euros.
Indoor plants are becoming increasingly common. This is proven by the fact that for two years now, very large crops have been found in southern France. In 2011, over 600 plants were found in a hanger in Nîmes and 700 plants in Montpellier. Each of the plantations corresponds to a production of over one tonne of weed per annum, or almost 1.5 million euros income per year. According to one analyst from the French Central Office for the Suppression of Illicit Drug Trafficking: "It is not expensive to set up to these cannabis factories and they generate profits of 40 times the investment." The police are always amazed at the degree of professionalism shown by these cannabis farms. It appears that growing cannabis for personal use is giving way to something verging on industrial farming, organised by criminal means.
According to David Weinberger, from the Institut National des Hautes Études de la Sécurité et de la Justice (INHESJ): "This new 'made in Europe' variety of marijuana is becoming firmly established in France, and is starting to compete against the Moroccan resin." French weed is the type most commonly found in our market, as approximately 47.7% of users reckon they consume weed grown in France. Weed now represents 40% of French consumption, whereas, up to the mid 1990s, resin constituted 90% of the market.
From a political point of view, the debate over legalisation in France is included in the left-wing party's discourse. This year, ex-minister Daniel Vaillant published a study on controlled legalisation of the seizing and production of marijuana, in which he criticises the failure of the repression policy and its cost to society (3 million euros per year). According to Vaillant, legalisation would be the best way of fighting against organised crime and guaranteeing high-quality products. We shall have to wait until the next elections to see whether the left agrees to sort out this issue.
Author: Vincent Basset
Disclaimer:

Laws and regulations regarding cannabis cultivation differ from country to country. Sensi Seeds therefore strongly advises you to check your local laws and regulations. Do not act in conflict with the law.