Fewer pain impulses, better concentration and a clearer head. In this interview, Thea, who is married and a mother of three, shares her personal experiences with CBD oil from Sensi Seeds. A family member gave it to her hoping that it would do her good. You can read the whole report here.
Thanks very much Thea for taking the time and sharing your story with us and our readers.
Can you tell us something about the history of your illness?
I suffer from various ailments. I suffer from rheumatism, from a complex local pain syndrome, a metabolic disease called homocysteinemia, and I carry the BRCA1 gene, a form of aggressive breast cancer.
If a healthy person breaks a leg, it usually heals by putting it in plaster cast and taking some time. Not me, though. At the spot where I break a bone, circulatory disorders, oedema, or skin changes may occur. People who suffer from post-traumatic dystrophy are faced with functional restrictions to the affected limbs. You are simply incapable of doing anything. It could even lead to amputation. The healing process takes ages. For me, things have gone relatively well so far, but the pain remains. My limbs are still thick and swollen.
Because of the homocysteinemia, my body doesn't absorb folic acid, vitamin C or vitamin B12. As a result, I have nerve pain, I suffer from recurring flu symptoms and I simply don't feel well. Because of all this suffering and the metabolic disease, I lack the euphoric hormone. I became depressed; at least, that's what everybody thought until my metabolism disease was diagnosed.
Last September, my breasts were amputated because I carry the BRCA1 gene, the breast cancer gene. Type I is the aggressive form. The breast and ovary cancer risk for women carrying this gene is 80%. As a preventive measure, my ovaries and Fallopian tubes were removed two years ago. In September, my breasts were amputated and the procedure was followed by an immediate reconstruction.
Which medication do you take?
I take a lot of medicines, including Paracetamol with codeine and Celecoxib, which takes away the stinging pain that the rheumatism causes. I take four 500 mg tablets of Paracetamol with codeine a day, so 2000 mg in total.
To combat the metabolic weaknesses, I get vitamin B12 injections, after which I always feel as if I'm coming down with the flu. I need the injections every two weeks.
When you're going in for an operation, first, you get sleeping tablets, followed by other medication that clams you down, Oxazepam in my case. You become weak and somehow experience everything differently. After the operation, I received morphine, both the fast-working and slow-working variant, but that made me feel very sombre and sleepy.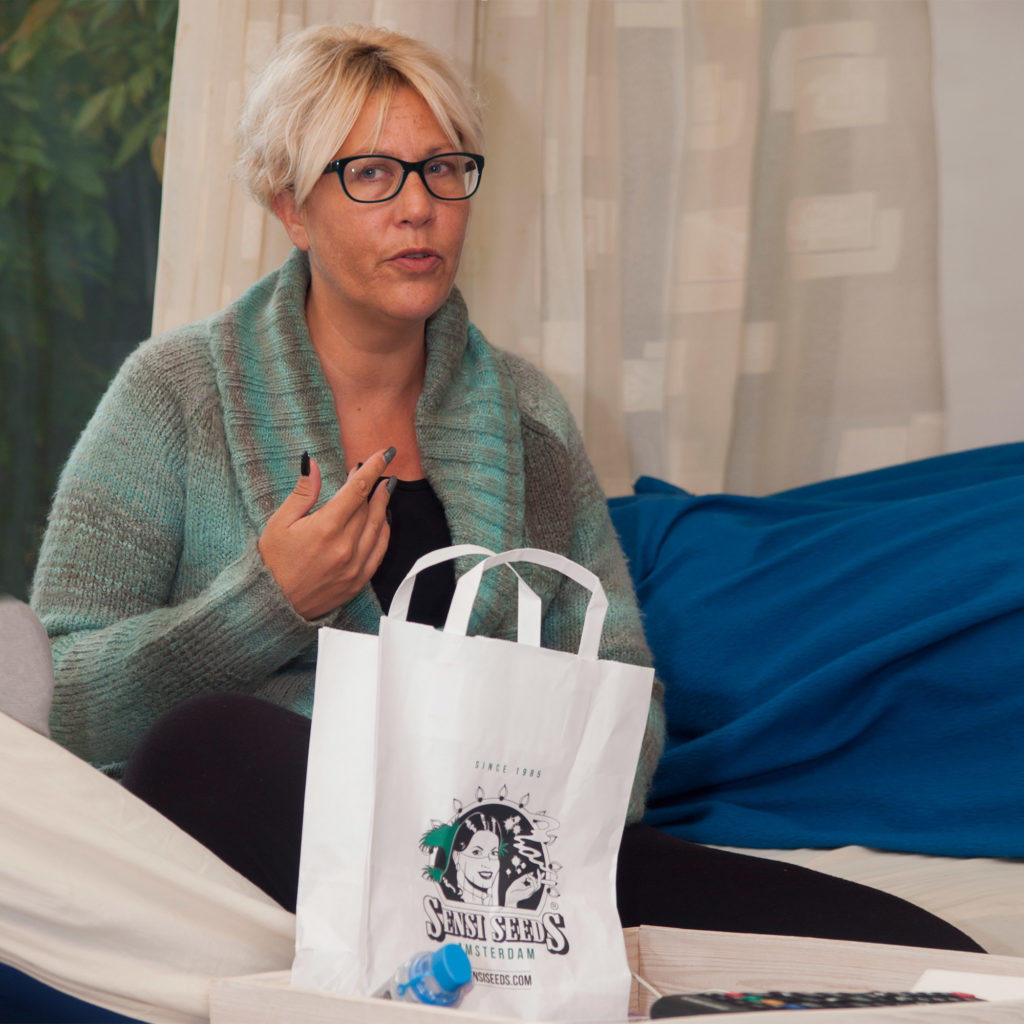 Why CBD oil?
My brother gave me a bottle of Sensi Seeds CBD oil. He had read about it and wanted to do something positive for me.
How does the CBD oil work for you?
Because of the oil, I was able to reduce my intake of morphine after the operation in September quite quickly and the stinging pains stayed away. This enabled me to partake in conversations again, talk to my children and I felt much clearer mentally. The morphine made me sleep a lot and that was not a nice situation to be in. Also, morphine carries a risk of addiction, which of course I don't like at all. After all, I'm already taking a lot of medication.
Everything simply goes well with the CBD oil. It also influenced other things. My nerve pain has decreased. Normally, I needed a vitamin B12 injection in my muscles every two weeks, after which I always feel as if I'm coming down with the flu within a week. And then it's about time for the next injection. It struck me that, because of the CBD oil, I was able to postpone the injections and the flu symptoms were gone. I had less pain and could concentrate better.
All in all, I feel calmer and better with CBD oil. I have always slept a lot but with CBD, I am able to carry on for much longer.
There is a clearly noticeable difference between taking CBD and not taking it. After the operation in September, I took the CBD oil straight away, which I didn't do after yesterday's operation.
What happened?
There were problems with my prosthesis and I needed emergency surgery to my right breast. The operation was carried out in the outpatients' department, as no operation theatre was available. I was operated on polyclinically without anaesthesia and I felt everything. The pain was enormous. This morning, I called my GP for help because I had hardly slept as a result of the pain last night.
At present, I can clearly feel the difference between not taking the CBD oil and taking it. Because I didn't expect the operation, I didn't have a bottle on me. Right now, I'm in real pain, the sutures are misbehaving badly and I have hardly slept.
How many drops do you take daily?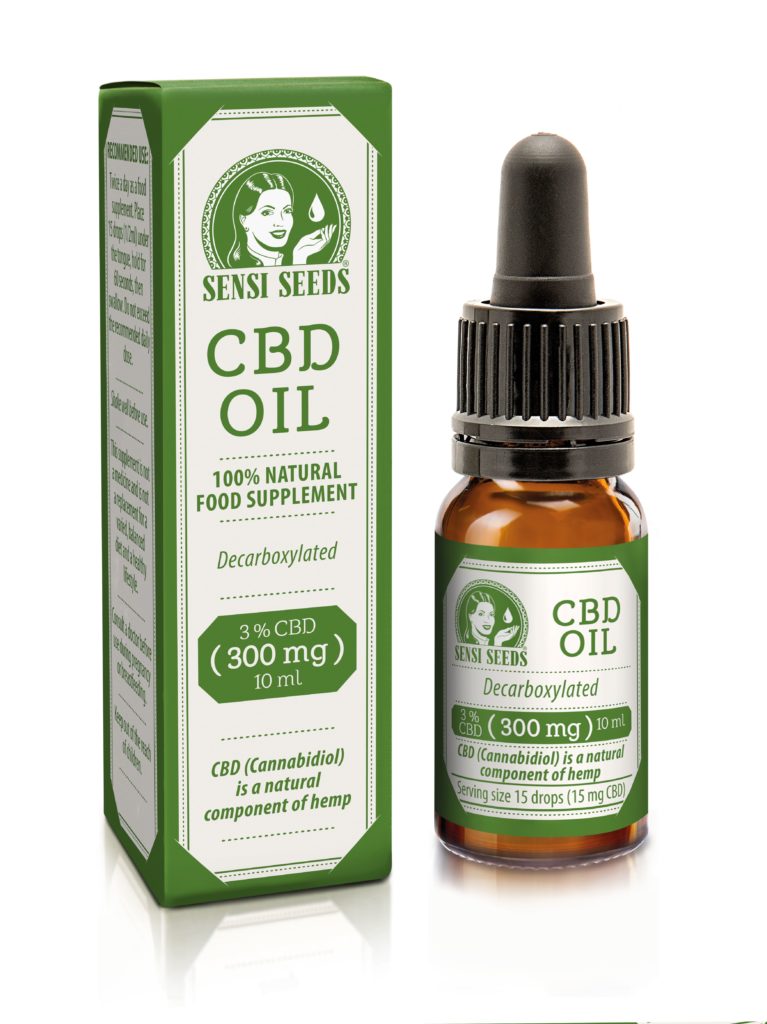 I take 20 drops when I wake up in the morning. It's the first thing I do. I put them under my tongue, where they dissolve. That is enough for the whole day. I don't need more, not even in the afternoon. When I go to bed at night, I do take Paracetamol with codeine.
How quickly does the CBD oil start taking effect for you?
After 20 minutes.
After the very first time I took it, I noticed that things changed within two days. I had secretly smuggled it into the hospital when I had the breast operation in September. I was operated on Thursday and on Friday morning, I started taking the oil straightaway. When I came home on the Sunday I noticed that I wasn't feeling too bad, I was able to concentrate better and had less pain. I decided then and there to reduce my morphine intake. So it happened quite quickly.
Any final remarks?
More people should have access to CBD oil, whether over-the-counter, in dispensaries or via hospitals. It can be a blessing as a supportive treatment.
Thank you Thea.
If you want to know more about the topic of CBD in medicine, you can read about the possible applications here.
A general overview of cannabinoids in medicine can be found here.
Do you want to share your experiences with CBD?
If you have had positive experiences with Sensi Seeds CBD oil and want to share these with us, then please leave a comment below this article.
We are looking forward to it.
The Sensi Seeds Team
Disclaimer:

This article is not a substitute for professional medical advice, diagnosis, or treatment. Always consult with your doctor or other licensed medical professional. Do not delay seeking medical advice or disregard medical advice due to something you have read on this website.