One of cannabis consumers' biggest obsessions is purple buds, renowned for their high quality, bold terpenes, and extreme potency. Purple strains have been around since the introduction of cannabis into Western society, and to this day, their popularity has never faded.
What are anthocyanins, and how do they affect purple strains?
Anthocyanins are water-soluble pigments that produce a wide variety of red, blue and purple hues throughout the flowering stage. They are from the family of compounds called flavonoids. So when you look at Blackberry Cake and see purple hues in the flowers, or look at Panama Red and see reddish colors on the leaves, it's because of anthocyanins. Many fruits like blueberries, blackberries, and strawberries, also have high concentrations of anthocyanins.
Multiple factors influence the anthocyanins in cannabis plants. However, climate and genetics are the two most important. Simply put, the colder the temperature during a cannabis plant's flowering stage, the more prone the plant is to produce purple-hued leaves and buds.
However, not all cannabis plants can thrive in cold weather. This is a big reason why the majority of purple cannabis strains are indica-dominant. Indica strains can always be traced back to Afghan landrace genetics, and as every cultivator knows: Afghan genetics love a continental climate.
If you want to cultivate some outstanding purple genetics, we have composed a list of the nine best strains for you!
1. Purple Bud
Purple Bud is a world-renowned indica-dominant strain created from crossing an Afghan-Jamaican with California Purple Kush. It was bred to honor the iconic indica genetics of the Hindu mountain range.
With an iconic terpene profile that features an abundance of myrcene and caryophyllene, your taste buds can pick up sweet pine and sandalwood notes with fresh berry undertones. Before being overcome by deep earthy notes reminding you of other classic indicas! The effects of this iconic purple cultivar start with a cerebral high, with an uplifting euphoria that dissipates into a long-lasting full-body stone, leaving consumers feeling cerebrally energetic and focused while soothing the body.
This strain is ideal for indoor and outdoor cultivation and can even thrive in a colder continental climate. Due to its heavy indica lineage, plants are short and stocky with short internodal gaps. Growers can expect an average flowering time of 63 days, with the potential for yields of over 600 grams outside. In classic indica form, the bud structure is dense with purples, hues scattered throughout and darker foliage.
Purple Bud is an ideal low-maintenance strain and perfect for beginners!
2. Granddaddy Purple
Granddaddy Purple (GDP) was created by breeding Purple Urkle with Big Bud. It's a world-famous indica that has dominated numerous cannabis cups, taking first place at the Green Cup and Denver High Times Cannabis Cup. With its outstanding THC levels, it was bred for the American medicinal market in the early 2000s and is often credited as the granddaddy of purple cultivars.
When you smell fresh Granddaddy Purple, you get a staunch earthy aroma with a vibrant sweetness. The lusciously sweet aroma comes from a terpene profile dominant in myrcene, pinene, and caryophyllene, with flavors reminiscent of fresh grapes and sweet sugary candy dominating your palate. A deliciously sweet aroma takes over the senses, and Granddaddy Purple cannot be forgotten!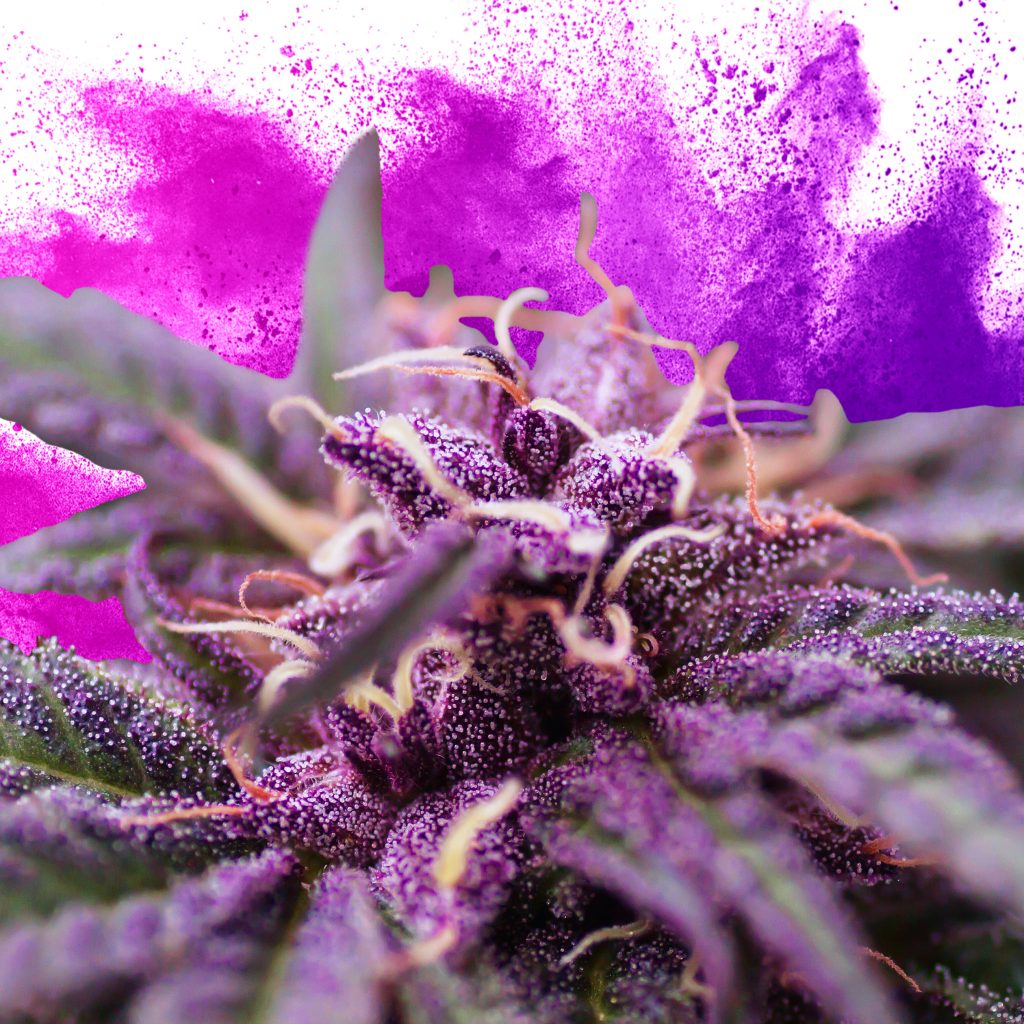 The effects of this strain will leave even the most experienced cannabis aficionado feeling its potent effects. A soothing body stone will overcome the user and leave them feeling both relaxed and lethargic.
Like most indicas, Granddaddy Purple's plant structure is short, compact, and bushy. It is most suitable for indoor growth but can thrive outdoors in a Mediterranean climate. It has tight internodal gaps and towards the final weeks of flowering, expect a wide range of purple hues. It has a long flowering time of up to 63 days, and growers can expect a yield of up to 500 grams per meter indoors and substantially larger harvests outside.
Granddaddy Purple is your classic purple cultivar and is ideal for those looking for potent indica!
3. Purple Haze
Few strain names are recognizable as Purple Haze. It's an 80% sativa, 20% indica hybrid named after the legendary Jimi Hendrix song of 1967. Even after all this time, this iconic cross of Purple Thai with Haze remains a staple in Dutch coffeeshops.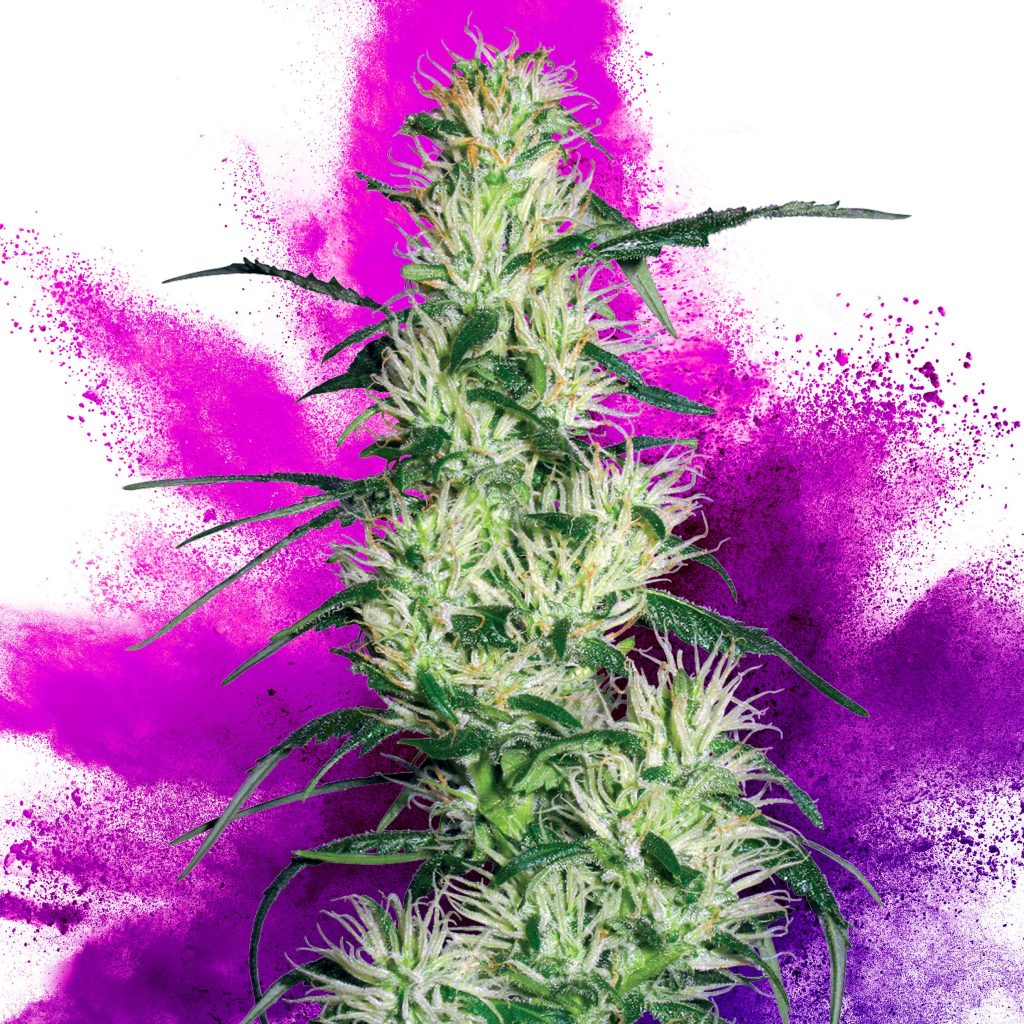 This strain's aroma typically carries earthy notes with sweet berries and lavender undertones. The flavor coats your mouth with a sweet and sour aftertaste, all thanks to high amounts of myrcene, caryophyllene, and limonene. Purple Haze is renowned for its uplifting cerebral high, with users reporting a sense of increased happiness and enhanced creativity. It's the ideal strain for socializing with the effects making you feel both energetic and talkative.
With a relatively quick flowering time between 50 and 65 days and the potential to grow tall and slender with elongated branches and heavy foliage, Purple Haze thrives in a Mediterranean climate. Buds have a very dense and compact structure, with growers reporting yields of over 550 grams per plant outside.
Its high yield and quick flowering make this cultivar the perfect choice for any grower wanting some old-school purple genetics in a world of "exotics".
4. Blackberry Cake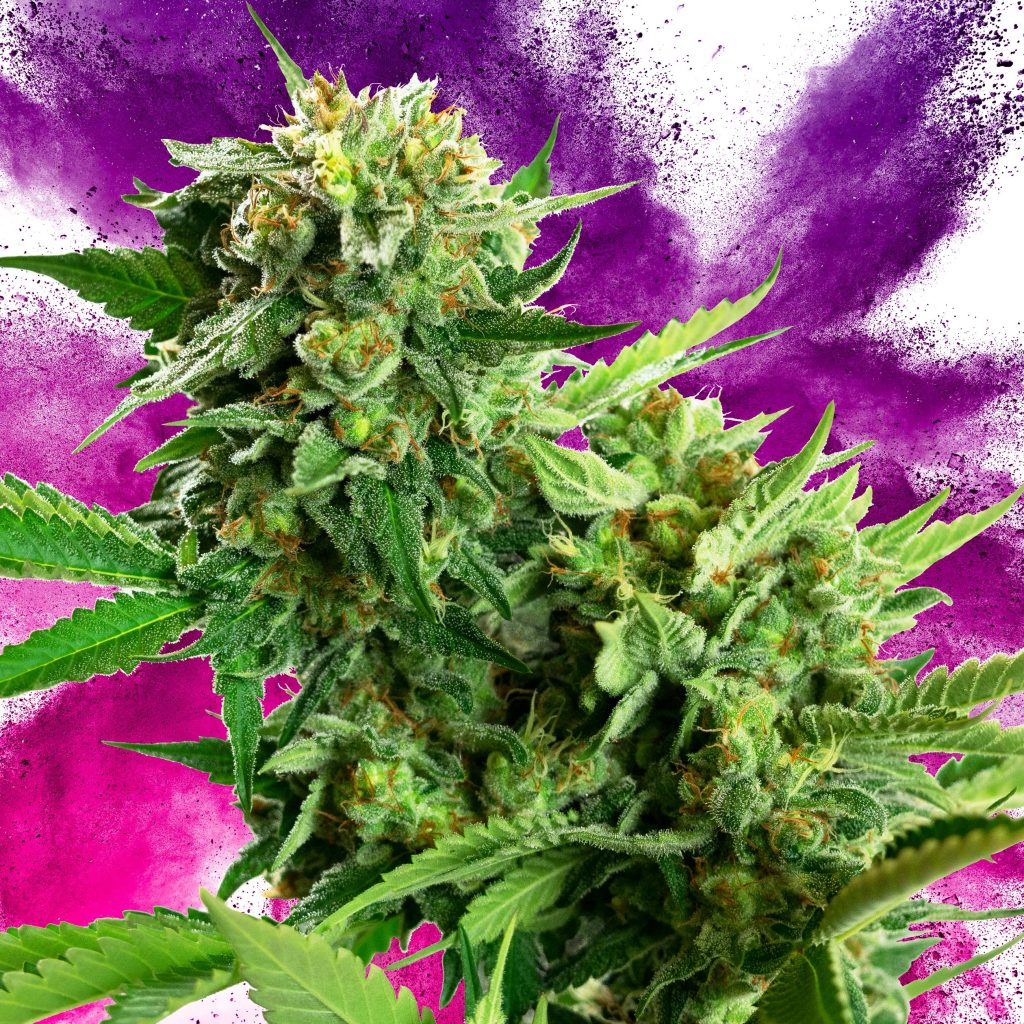 Blackberry Cake is an indica-dominant hybrid born from the 2021 Sensi Seeds Research series. It was created by crossing three prize-winning genetics: Wedding Cake, Durban, and Black Domina.
This hybrid has undeniable sweet and sour citrus notes, with hints of cream and spice. The citrus accents become more apparent upon consumption, making Blackberry Cake an extremely unique cultivar.
Most people are left in a state of relaxed euphoria when they vaporize Blackberry Cake. The initial high boosts creativity in the mind, and as time passes, the high spreads through the body. It's an excellent purple strain for those looking to boost creativity and perfect for those artistic personalities!
Seedlings mature into a compact plant with a typical indica structure; thick stems, dense buds, short branches and redundancy of bushy foliage. With a flowering period between 55 and 70 days, this strain flourishes outdoors in Mediterranean climates with long summers and has the potential to produce an extraordinary yield!
With its vast yield, unique flavor, and uplifting high, Blackberry Cake is one of the best purple strains out there!
5. Mendocino Purple
Mendocino Purple is a strain renowned for its exceptional quality and has been a cannabis connoisseur favorite for years. It has dominated many cannabis awards, including High Times' Strain of the Year in 2007, and has become the backbone of many American genetics.
This legendary strain is expected to have an earthy terpene profile typical of Afghan genetics with dessert-like berry sweetness that coats your mouth with terpenes.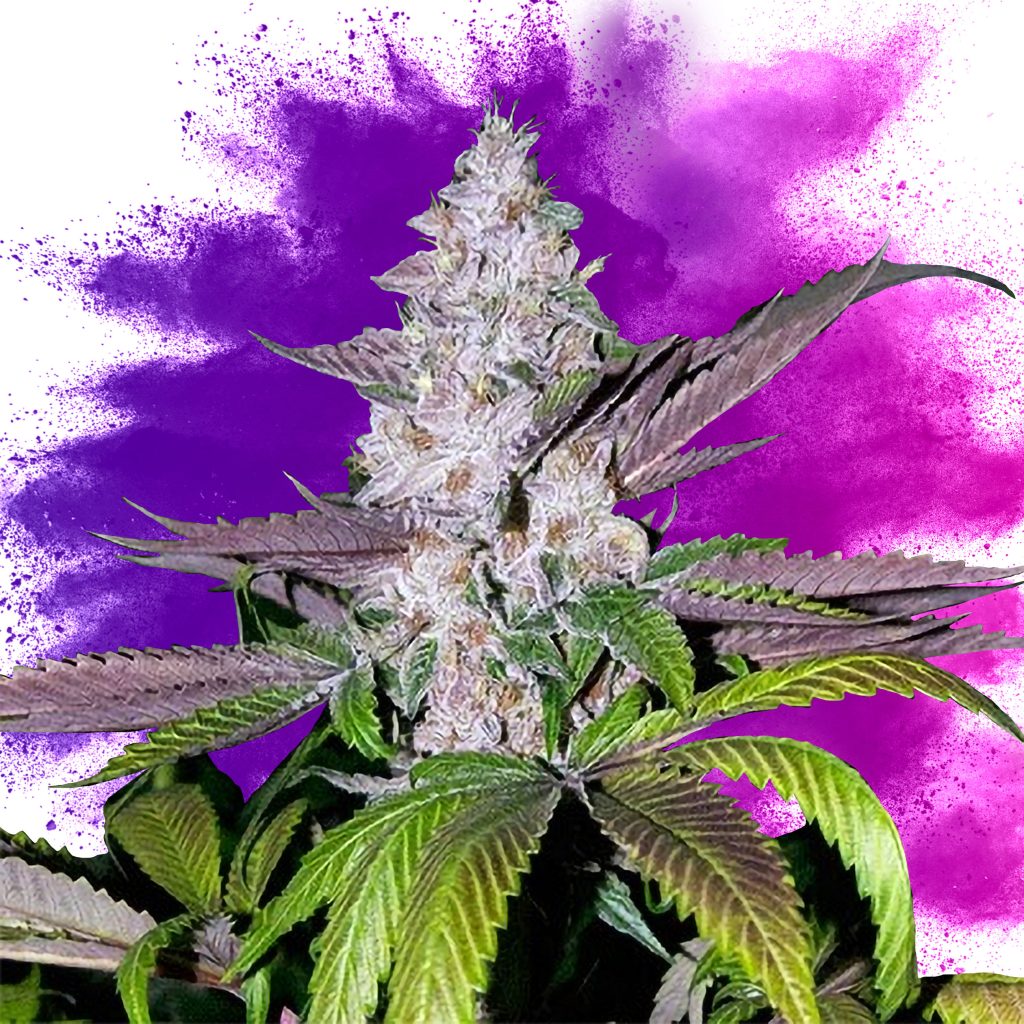 The initial effect brings forth a cerebral high, giving the user a boost of focus and enhanced creativity. The energizing high dissipates into a full-body relaxing stone and is an ideal cultivar for those early evenings.
This cultivar is short and stocky with a compact bud structure. During flowering, this plant's dense flowers are flooded with dark green and vivid purple hues, and it's an extraordinary trichome producer. This strain flourishes in temperate and continental climates and has a flowering time between 60 and 70 days. Growers should be aware this cultivar requires lots of maintenance and isn't ideal for first-time growers.
Mendocino Purple is historically one of the best purple strains to ever exist. It is an OG as far as purple strains go, so anyone who wants to celebrate the history of purple cannabis will find pleasure in Mendocino Purple's unique terpene profile and extravagant harvests!
6. Purple Skunk
Purple Skunk was created by breeding three Sensi classics; Skunk #1, Shiva Skunk, and Hindu Kush Auto. It was developed as part of Sensi Seeds' Research strains in 2021 and has remained a favorite!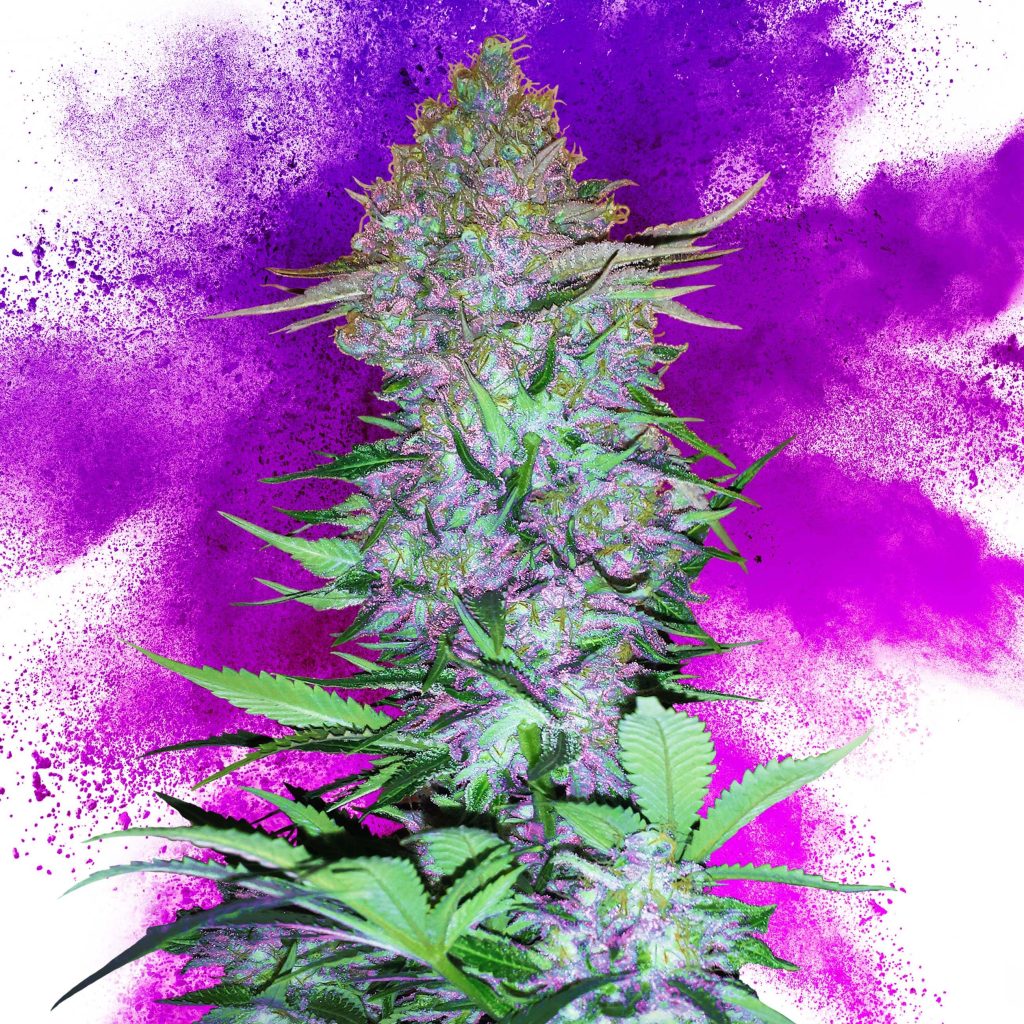 You can expect a range of skunky and earthy terpenes from this classic purple cultivar. As plants mature, there is an added touch of sugary sweetness that truly makes Purple Skunk shine. These flavors all combine to produce a dominant earthy sweetness that will satisfy the palate of any cannabis consumer.
You'd expect sedative effects from any purple cannabis but rarely is this strain couch-locking. Instead, Purple Skunk's high is relaxing and soothing. Initial onset begins in the head with a slowing down of the thoughts. Not long after the head high sets in, the effects will expand to your body, ultimately leaving consumers feeling uplifted and energized with a claiming body-stone.
Plants have a short and compact structure making this strain ideal for indoor cultivation. Thick, cone-shaped buds form on Purple Skunk's short internodal branches. With an average flowering period of up to 65 days, this newly born purple cultivar thrives in a colder, continental climate.
This strain is excellent for daytime use as it won't sedate you as you'd expect from most purple strains. Instead, Purple Skunk will keep you uplifted and motivated throughout the day!
7. Purple Urkle
This purple cultivar has been around since the 1980s, and Purple Urkle is renowned for its full-bodied flavor and potent effects! It's a multiple cannabis cup winner, and, although, its genetics have never been confirmed, it is believed to be a phenotype of Mendocino Purple or possibly Granddaddy Purple.
Dank, musky notes give-away to sweet undertones of fresh grapes and berries. However, the cultivar's effects are just as lovely as its terpene profile! Purple Urkle is an evening strain, and its effects induce a lethargic and soothing body-stone.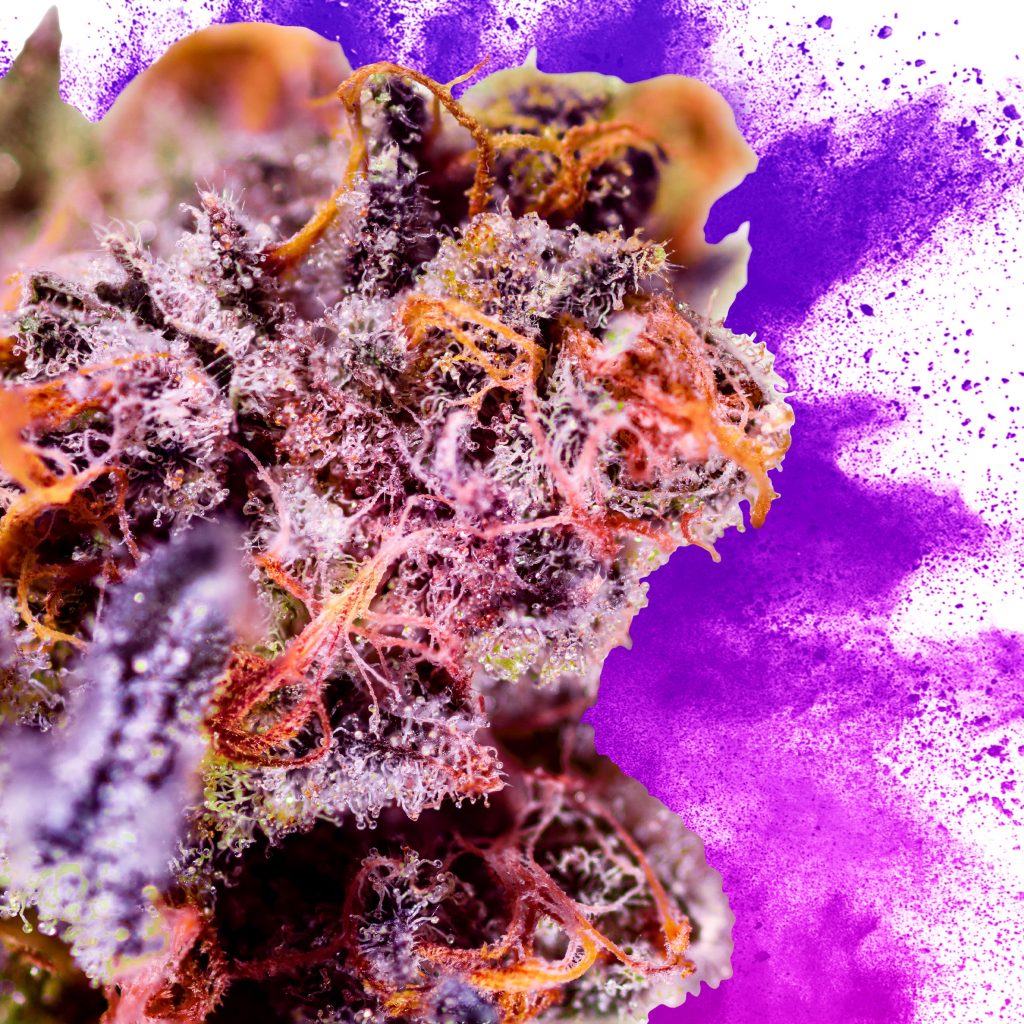 Purple Urkle has a short stature with broad fan leaves and bushy foliage. It has thick short stems and tight internodal spacing. The buds start developing on the central main stem and form large, dense colas, which start turning purple throughout the flowering stage. This strain has more prolonged flowering of up to 70 days and prefers a warmer, Mediterranean climate.
If you're looking for an old-school strain with big, bold flavors, look no further than Purple Urkle!
8. Lockdown Kush
Lockdown Kush is a new heavy-hitting indica-dominant strain from the Sensi Seeds Research collection. This 60% sativa and 40% indica is a cross of San Fernando Valley OG and Afghani #1.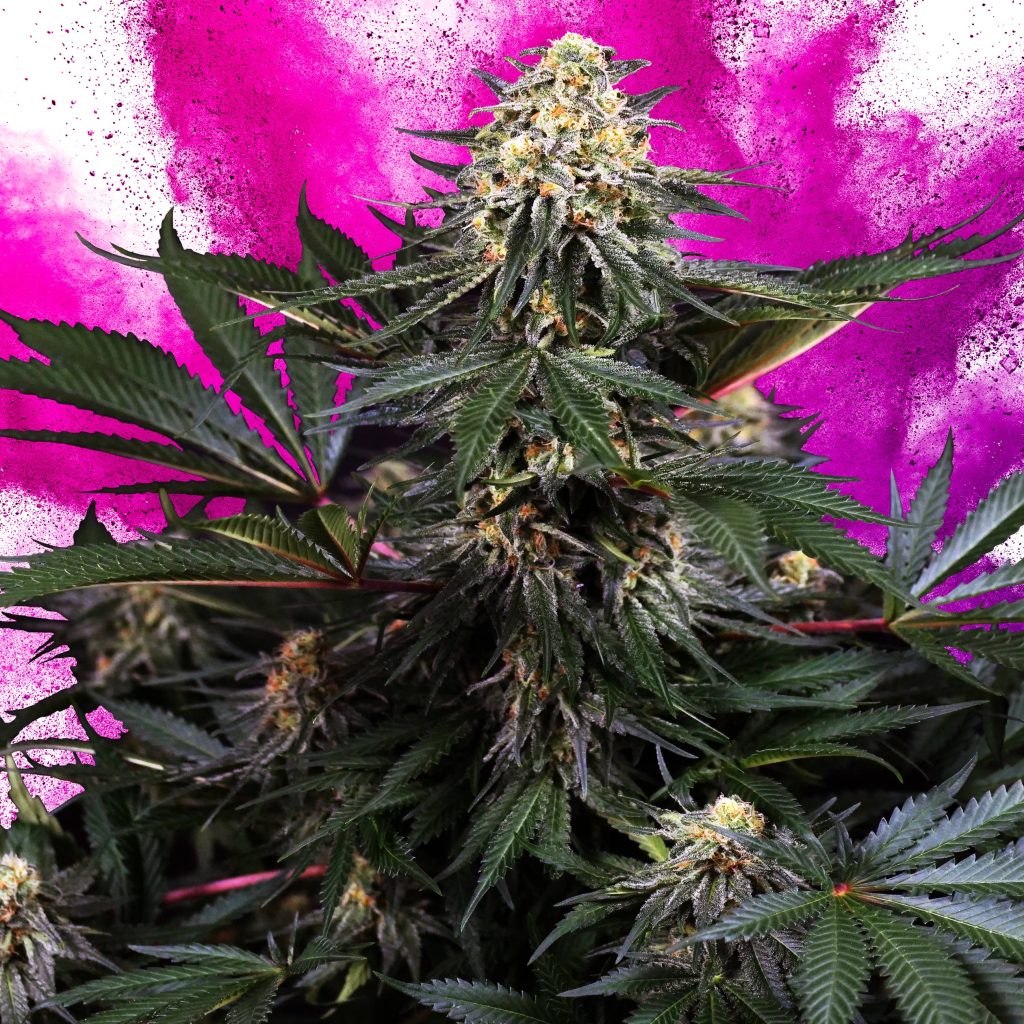 This freshly-bred Kush has a sweet profile with subtle notes of fresh lemons that will remind your sense of luxurious deserts and creamy ice gelato. Expect highly potent and full-bodied effects after consuming this cultivar. The initial onset of the high will induce an uplifting euphoria, which will spread to your entire body, ultimately ending in a muscle-relaxing body stone.
This strain has short internodal spacing with study branches, broad fan leaves and dense foliage with a highly dense bud structure. It can flourish indoors and outdoors but prefers a colder, continental climate with the potential to reach over 1.5 meters in height. It has an average flowering period of up to 65 days, and growers are guaranteed lush purple harvests!
When people consume purple cultivars they expect a heavy-hitting high, and Lockdown Kush delivers every time.
9. Black Harlequin
Black Harlequin is a cross of two award-winning genetics, Black Domina and Harlequin. Harlequin is a renowned high CBD cultivar, and Black Domina is an indica-powerhouse. As a result, Black Harlequin has a balanced THC: CBD ratio of 1:1 and is ideal for those looking for the benefits of the entourage effect.
Floral notes, with earthy undertones and hints of sweet pine, create this strain's lush terpene profile. Despite having high amounts of CBD, users will still feel "high", and Black Harlequin will bring forth a clear-headed, cerebral high before dissipating into a soothing body stone. Expect this cultivar to grow to average heights, with a dense bud structure and the potential for huge yields.
Black Harlequin is a fantastic purple cultivar as the 1:1 THC to CBD ratio offers balanced effects that are very approachable for beginners looking at trying cannabis, but without the heavy psychotropic high.
The future of purple strains?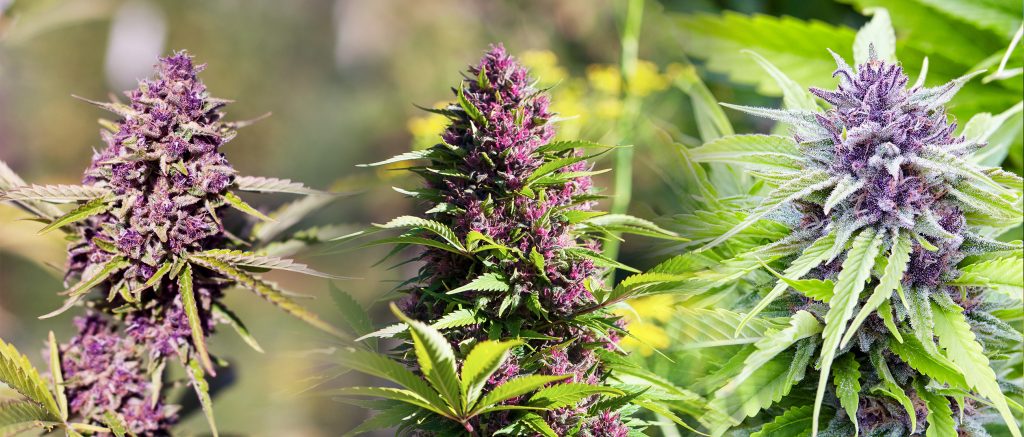 Purple cultivars will always be in high demand as cannabis enthusiasts will always be looking for the most aesthetically pleasing strain due to the large number of anthocyanins found within the cannabis plant.
There are so many excellent purple genetics these days, and anyone can find the strain of their dreams! If you want something with a unique terpene profile, strains like Blackberry Cake and Lockdown Kush could be a great option. If you're a grower and want something heavy yielding, Purple Bud and Purple Skunk are ideal choices.
As you are well aware, choosing the best strain from above will always be about personal preference; the only wrong answer is trying none of them!
Please let us know in the comments below if you feel we have missed out on any classic strains! Head to the Sensi Seeds online shop to buy your favourite purple strains today!
Disclaimer:

Laws and regulations regarding cannabis cultivation differ from country to country. Sensi Seeds therefore strongly advises you to check your local laws and regulations. Do not act in conflict with the law.