AIDS I have known Andreas for almost 20 years and since then I have visited him at irregular intervals in the context of my work. We most recently met at the beginning of 2014. Andreas is in his early fifties and has had AIDS since 1994, which was two years after he became infected with HIV in 1992. Even back then, Andreas noticed that consuming a hash joint brought back his otherwise very poor appetite and relieved the side-effects of the antiviral medication. The medication in those days was allegedly much more intolerable than it is today and without hash he may have starved to death.
"Without cannabis life would be agonising"
After the breakout of the virus, Andreas, at 1.70 metres tall, weighed just 50kg. Even back then his doctor – long before the inauguration of cannabis for medicinal purposes in Germany – recommended to his patients the appetite-enhancing properties of THC.
The second highly beneficial property is the suppression of nausea. Which still sometimes overcomes Andreas today when he has to take his "handful of colourful pills," as he refers to his AIDS medication, first thing in the morning. Although the antiviral medication has become more tolerable and effective over the years, even today they often do not stay in his stomach for long without a drag on a joint.
"The third reason that I take cannabis to relieve my symptoms is its mood-lifting properties. After all, in 1992 I didn't know whether I would survive the next few years. At the time, being HIV positive didn't exactly make for a bright long-term life plan. In the early days in particular, and today too, THC helped me through my low mood and the sleepless nights it brought with it."
Work, sport, AIDS and weed
Andreas is pretty fit for his age, is sporty and very active, and continues to hold down a small job. He doesn't experience any negative side effects of his cannabis consumption; he has more complaints from his nicotine addiction.
Of the almost twenty long-term HIV patients treated by Andreas' doctor, he is by far the fittest. Of course, that cannot be attributed only to his regular cannabis consumption, he also eats well, has a regular daily routine and an intact social network.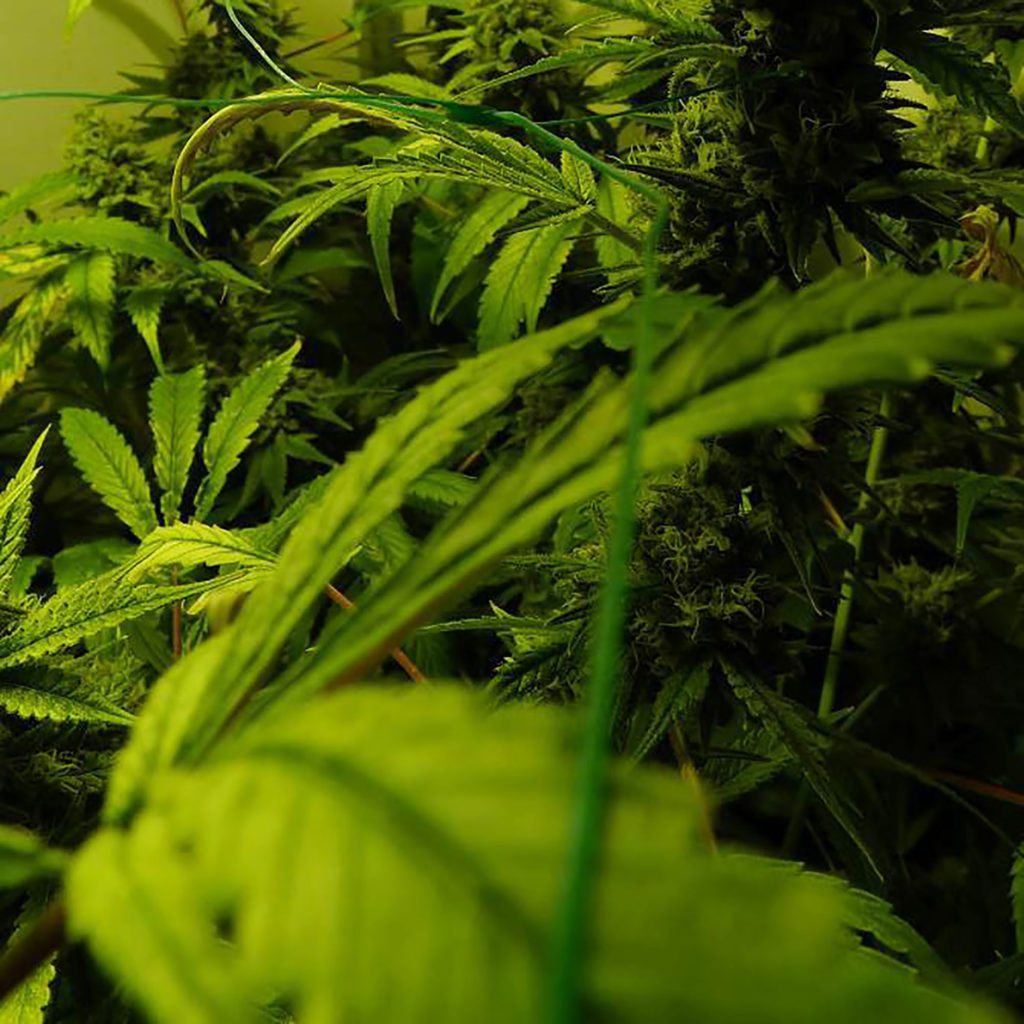 Over the years I have gained some insight into Andreas' situation, and this time the secret cannabis grower told me about an incident that is worth a mention. His doctor, who has been treating him since 1994, recently took him to one side and told him that his viral load was inexplicably low. He said that he had never seen such a low value in a long-term patient and he intended to discuss the phenomenon with his colleagues. The prescribed medicines alone could not explain it.
This observation is in line with a study by the University of Louisiana, which recently determined that hemp flowers not only relieve symptoms, but also attenuates the progression of the virus itself. But speculation is out of place here. As the fields of medicine and research are increasingly being called upon to finally take matters into their own hands here in Europe too.
Much more tangible than medicinal studies, however, is Andreas' botanical self-help unit which – well disguised as a wardrobe – has decorated the corner of his living room for years now. The unit is a brilliant invention by a Dutch indoor specialist, enabling the cultivation of up to nine cannabis plants in just half a square meter.
Wardrobe sunshine
When Andreas opens the door to his box, there appear six beautiful hemp ladies in rude health living off artificial daylight, which appear to be nearly ready to harvest. After some experimentation, Andreas opted for Jack Flash, because it has a similar taste to Jack Herer, which is one of his absolute favourites. The effect, however, has many more Indica properties than Jack Herer, the Sensi Seeds classic, which he prefers for relief from his symptoms.
"I heard about the whole CBD hype. I have no idea about it, I don't have any clue how much CBD is in my weed, but I think I primarily use the THC. When I started taking cannabis against the virus, CBD wasn't one of the reasons and the cannabis was helping me even back then. Much more intensive research should be done, because CBD certainly has a lot of potential. But above all one shouldn't forget the THC."
I look a bit closer into the box, the female residents of which are in their eighth week of flowering and therefore have about ten days before they will be ripe. Then this closet gardener will cut down his six ladies, trim them and hang them upside down in the box with the lights out for a few days. Once the stems snap, Andreras' medicine is kept in a half-open Tupperware box for a few days before it is stored in his fridge in a sealed glass.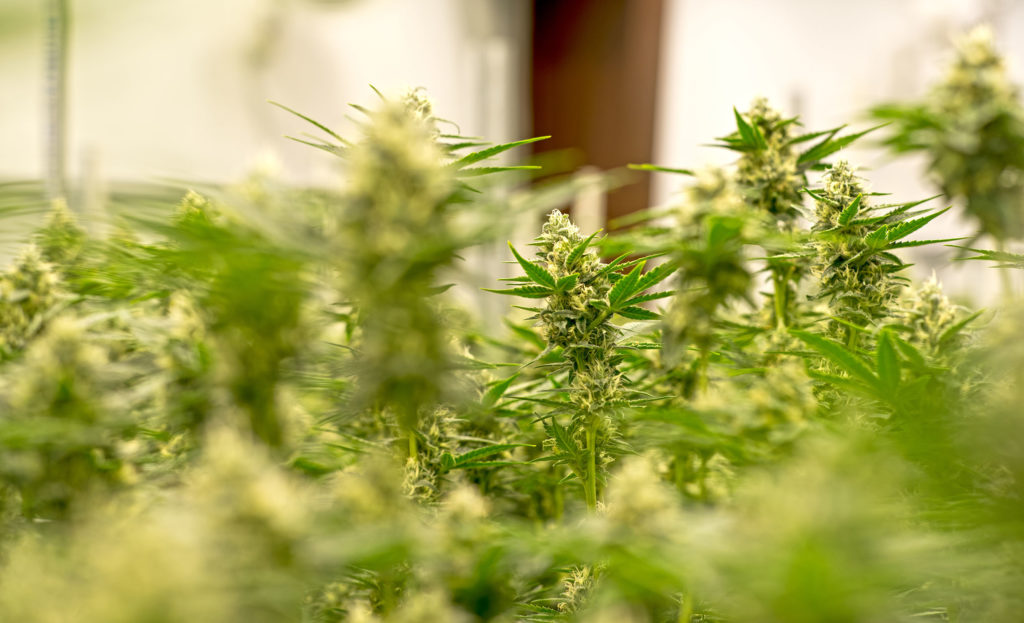 The equipment consists of an activated carbon filter to eliminate the smell, a circular in-line fan for air exchange, a high pressure sodium vapour lamp (250 Watts) and a few other bits and pieces. Andreas cultivated his six ladies from regular seeds, because – as a self-confessed 'Old Style Grower' – he believes this is the best way. Andreas' wardrobe does not include small LED lamps, a hydrosystem or any of the other features of modern indoor gardens.
Of the original ten seeds, which he germinated in 2.5 litre pots, six were identified as female during the course of the second week of flowering. For the last six weeks, these plants were repotted in 6 litre pots. All medicinal plants are planted in organic soil. Once a week they are given organic manure. Little time and effort is wasted with matters such as EC and pH values.
When Andreas started, the high costs on the black market and the poor quality of illegal goods for cultivation meant that he had to improvise in his local DIY store using what he had learnt to achieve good results with unconventional methods and poorly translated literature. These days, he has a well-equipped Grow Shop close by, which has everything he needs in stock.
Cannabis from Dutch pharmacies
With Andreas' diagnosis, it would also have been possible to receive a Dronabinoal* prescription in Germany or special authorisation to import Bedrocan flowers from Dutch pharmacies. On this point too, Andreas can give sound and comprehensible reasons why, despite his 'fitting' diagnosis, he has not yet put in an application.
First of all, there is his doctor who despite being a strong advocate of cannabis therapy, is not prepared to partake in the complicated application procedure in Germany. Andreas would therefore have to change doctors and having built up a relationship of trust of many years, that is something Andreas is not prepared to do.
Nonetheless, even if he were to make an application, in the current state of affairs, Andreas would not be granted permission to cultivate and at a German pharmacy he would therefore have to pay €15 to €20 for each gram of his life-saving medicine. For his usage, that would be approx. €1,000 per month, which he simply cannot afford.
He is also afraid of his application getting into the hands of pencil pushers that want to disturb his peace. "Never touch a running system, because a life without cannabis is agonising," is his motto when it comes to his illegal medicine.
€150 or €3000 per quarter?
His box costs no more than €50 per month for electricity and additional costs and provides him every three months with his medicine for the next quarter. Usually there is a small amount left, which he then gives away to other long-term patients who usually have to buy their weed on the black market.
The last harvest, however, was small due to the high outdoor temperatures, meaning Andreas had to carefully distribute the rest of his stock, from which had produced a single flower.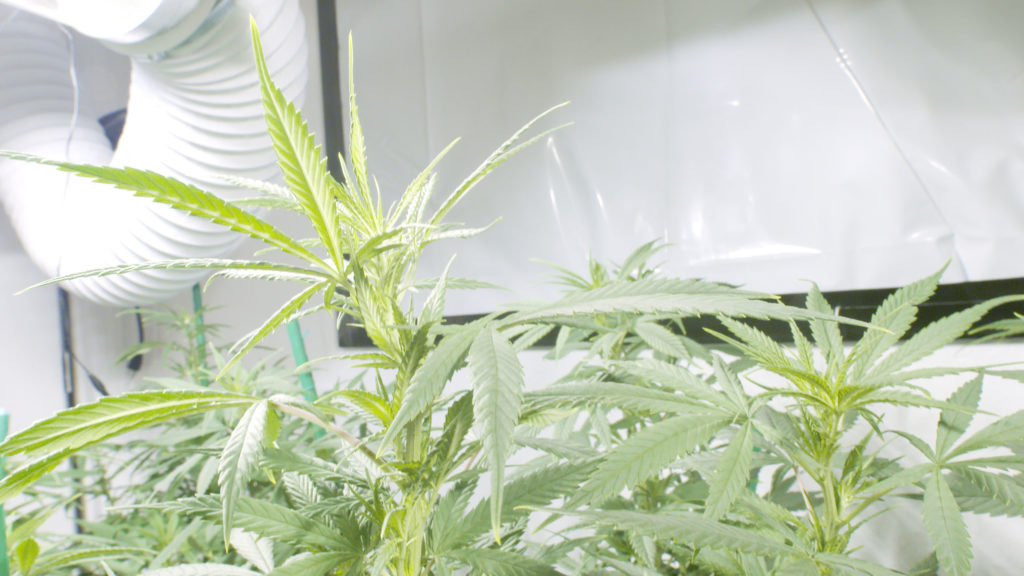 Bearing in mind the €150 per month for illegal, home-grown weed is compared to the €1,800 for a comparable mix on the illegal black market or even €3,000 for roughly the same amount of legal flowers, Andreas decision to leave things as they are is even easier to comprehend.
Even if he and his six weed plants were discovered, the consequences would not be as bad as they would have been if flowers for medicinal purposes had been banned. With the words, "Time for dinner. I'm going to take my appetite enhancers now," we end our quick visit to the illegal subtenants of my host.
I say goodbye to Andreas and leave him with his freshly rolled joint, his "handful of colourful pills" and a delicious curry, to enjoy the fruits of his labour and life itself. Until next time.
*THC drops in sesame oil – or an alcohol base (costs approx. €180/g THC, which is equal to approx. €25/g indoor cannabis).