Skunk #1 Automatic When a strain legend such as Skunk #1 is launched as an automatic version, the bar is set very high of course. So Ellis D. was almost bursting with curiosity when he conducted an indoor grow test with Skunk #1 Automatic to check how close it would come to the original Skunk #1 in terms of quality. In this article, you'll learn about all the relevant strain facts and the grow test's outcome.
A 40 years old evergreen gets remodeled into a fast auto version
When a strain legend such as Skunk #1 is launched as an autoflowering version, the bar is set very high of course. After all, the auto descendant shall be a credit to its famous mother and be of likewise outstanding quality. Thus the Sensi Seeds breeders spared no effort in creating a worthy automatic version. Needless to say much about the original Skunk #1 here – this strain legend, bred almost 40 years ago in California, was the force behind the birth of modern cannabis cultivation under artificial light and in greenhouses, fueling the Dutch coffeeshop and grow business that started to boom in the mid eighties. One of the early Dutch skunk pioneers was Sensi founder Ben Dronkers whose Sensi Seeds Club and later on Sensi Seed Bank made a major contribution to spreading the Skunk genetics all over the country. Skunk #1, bred from 25% Afghani, 25% Mexican Acapulco Gold and 50% Colombian Gold, was one for the first true-breeding varieties and as such evolved into the worldwide most frequently used crossing plant.
Most easy plant management
One of the hallmarks of Skunk #1 is the fact that it's easy to grow, and with the creation of Skunk #1 Automatic, Sensi Seeds has further simplified the cultivation of this famous classic. Because thanks to automatic flowering, growers don't have to pay attention to the light period length and targetedly induce flowering any longer, but can simply put a seed into the ground and let it work from start to finish. About three weeks after germination, Skunk #1 Automatic automatically starts to bloom and then produces big resinous buds within 45-50 days that live up to the high standard of its famous mother. Also in terms of aroma, as the plants give off that typical sweet pungent skunk fragrance. And Skunk #1 lovers won't be disappointed by the punch of the automatic version either since it delivers that oh-so-popular skunky mix of body stone and up-high, physical relaxation combined with cerebral enhancement. Skunk #1 Automatic is an excellent choice for an indoor grow room, but will also do well in an outdoor set up. Thanks to its fast life cycle and the onset of flowering being independent of day length, it's possible to have multiple harvests during one outdoor season.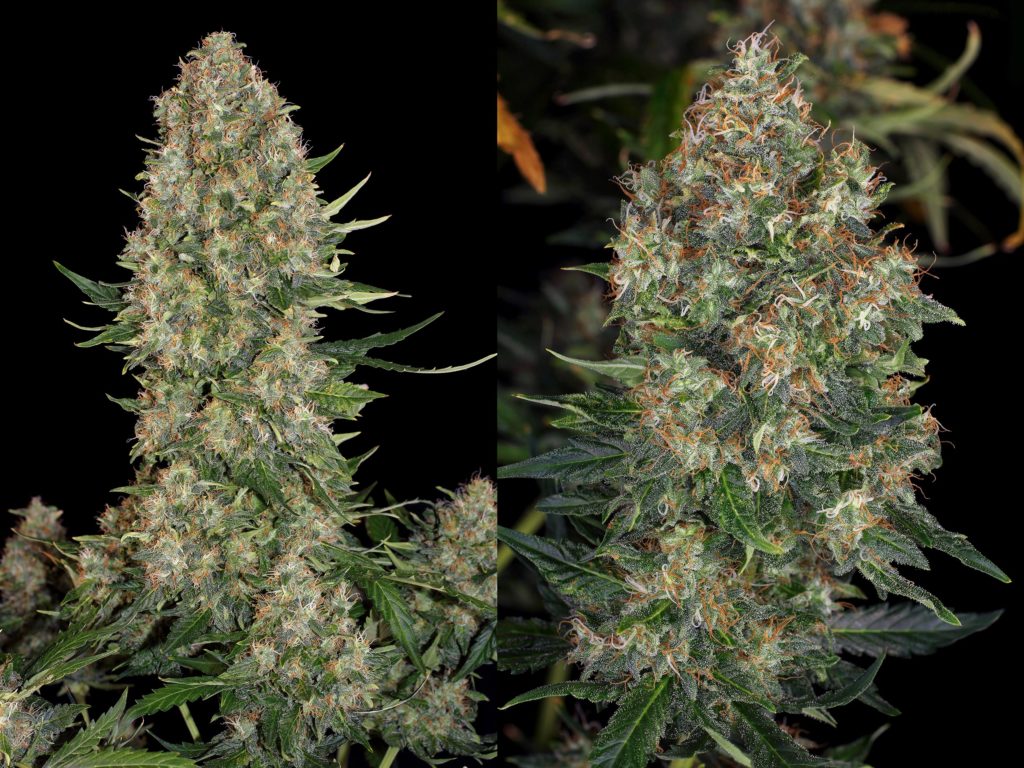 Ellis D. puts Skunk #1 Automatic to the test
German master grower Ellis D., well familiar with skunk genetics, conducted an indoor test grow with Skunk #1 Automatic, striving to find out how close it would come to the original Skunk #1 in terms of quality. He germinated two feminised seeds for that purpose, and they shot out of the ground like racing cars, already after about two and a half days. Enjoying a daily light period of 20 hours (throughout the whole cultivation cycle), the two plants soon exhibited bushy growth with lots of strong side branches and dark green, fairly thin shade leaves. Approximately at the time stated by Sensi Seeds – after three weeks – they automatically started to flower. One of them even a few days earlier, presenting its first female preflowers already after two weeks and four days. Growth was pretty homogeneous, with the plants measuring 34 and 38 cm in height on the onset of flowering.
Full steam ahead into flowering
One week later they put the pedal to the metal, shifting their flower production into high gear. Whilst shaping astoundingly vast amounts of flower clusters, the plants kept on stretching significantly. When stem elongation had come to an end after about three weeks into flowering, one of the plants had revealed a more open and more expanding branching pattern than the other, unalteredly very bushy specimen. But Ellis D. still considered it to be nicely compact and most easily manageable. He was deeply impressed by the 'high-octane' flower development performed by Skunk #1 Automatic: "This strain packs tremendous blooming power! Within six to seven weeks of flowering, lots of big fat buds have appeared on those numerous branches that are on a par with the original Skunk #1. It's particularly impressive that these buds are blessed with an incredibly high calyx-to-leaf ratio – I've rarely experienced auto buds with such a low leaf count. An absolutely 'hairy' affair! Also, their hardness and tightness is formidable, these buds don't give a single millimetre when being gently pinched. While they have a beautifully dense resin coat, it's interesting and striking that Skunk #1 Automatic produces very short-stalked trichomes. Which, however, doesn't affect potency at all, as it is well known that THC accumulates in the trichome heads and not in their stalks. As for the aroma – with its very sweet and savoury, slightly penetrative smell, this auto version again is reminiscent of Skunk #1."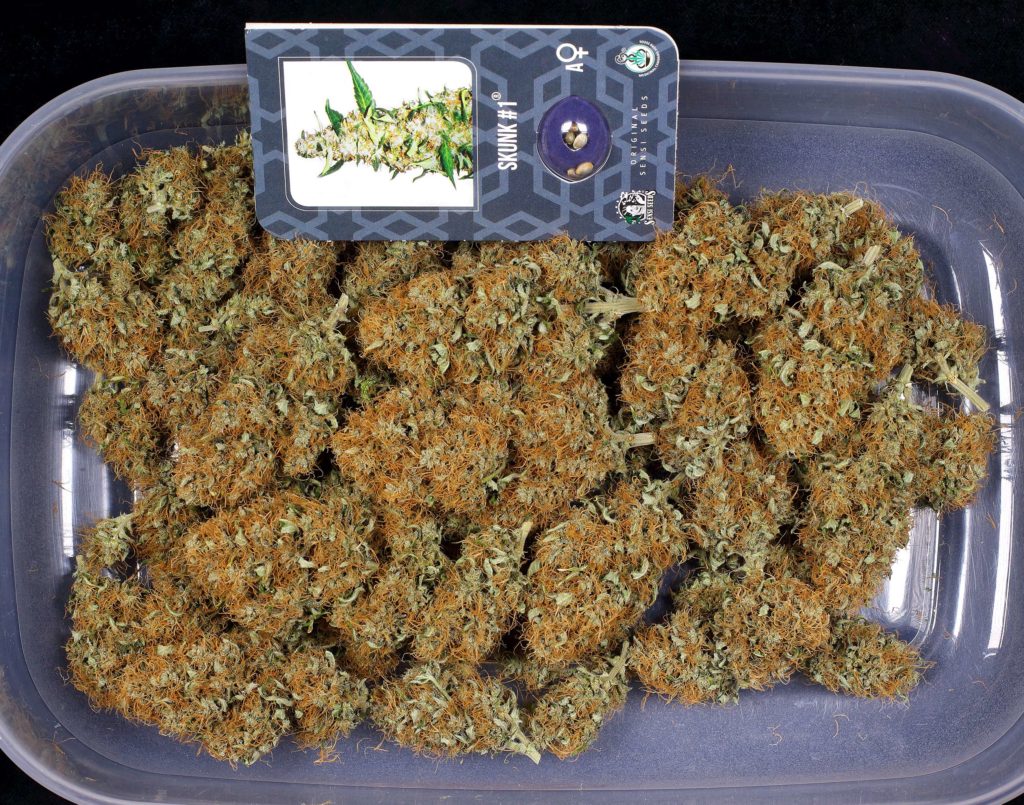 An ideal indoor grow room companion with plentiful yields
The plant that had started to flower a bit earlier then also finished sooner, after a life cycle of 65 days, Ellis D. could pull out the scissors and harvest it. Having grown to a height of 68 cm, in proportion to one another it had produced a massive central cola and lots of lovely side tops, whereas the side tops of the bushier plant had almost become as big and fat as the head bud they were surrounding – quite a spectacular view. This plant arrived at a height of 61 cm and was fully ripe after 69 days. So both Skunk #1 Automatic plants hit the home stretch on time and with their short and compact growth pattern had proven to be ideal indoor grow room companions. Looking at the dried buds later on, full of densely set orange-brown hairs, reminded Ellis D. of a fox fur and made him think of the two plants as some real foxy ladies… the buds weighed in at 59 and 72 grams which Ellis D. regarded as a magnificent result: "For auto plants, this is truly remarkable and copious, undoubtfully the skunk genes have done a good job here!" Still smelling sweet and spicy, the fragrance of the dry buds revelead a wider aroma differentiation, namely a touch of frankincense and something woody that Ellis D. identified as juniper.
Relaxing body and mind like a long sauna session
Sitting in his wing chair, after having taken a first huge hit off a Skunk #1 Automatic joint, Ellis D. tilted back his head and quickly felt that familiar marijuana euphoria come upon his mind. Two tokes later, the THC had locked into every single cell and he had a constant smile on his face, thanks to a funky sativa head buzz that felt like a shot of electrifying mental energy. About half an hour later though, that kind of tingling buzz started to give way to a full blast mind and body stone, soon making Ellis D. feel as soft as wax, but also ravenously hungry, so with his last ounce of strength, he got up and grabbed himself a sandwich from the fridge. The full effect lasted about one and half hour, before it started to gradually fade away, leaving him as deeply relaxed as after a long sauna session. Said Ellis D., "this is some seriously potent stuff, with the powerful heritage of Skunk #1 being most obvious. And this automatic version produces a smooth, well-rounded sweet smoke with a bit of toothsome spiciness that lingers on the palate. Thumbs up for this strain that fully lives up to its famous mother Skunk #1, without a doubt, the Sensi breeders have successfully transferred it into an autoflowering version. Equipped with a new automatic flowering gearbox and herbal HP in abundance, Skunk #1 Automatic has dashed out of the breeding garage of Sensi Seeds and instantly moved into the fast lane!"
Green Born Identity – G.B.I.
Cultivation data:
| | |
| --- | --- |
| Strain | Skunk #1 Automatic |
| Genetics | indica-dominant |
| Life cycle | 65 and 68 days |
| Medium | Compo potting soil, 11 litre pots |
| pH | 6.4-6.7 |
| EC | max. 1.6 mS |
| Light | vegetative: 1x SANlight S4W = 140 Watt flowering stage: 2x SANlight S4W = 280 Watt |
| Temperature | day: 23-28°C, night: 18-20°C |
| Air humidity | 60% (vegetative), 40% (flowering) |
| Watering | by Hand |
| Fertilisation | Organic Bloom Liquid from Green Buzz Liquids |
| Additives/stimulants | More Roots, Humin Säure Plus, Big Fruits and Clean Fruits from Green Buzz Liquids |
| Height | 61 and 68 cm |
| Yield | 59 and 72 g |