Only one more day to go and for the 17th time the Hanfparade is going to take place in Berlin on Saturday, August 10th, for the legalisation of cannabis.
Only one more day to go and for the 17th time the Hanfparade (Hemp Parade) will take place in Berlin. On Saturday, August 10th 2013 cannabis activists will march for the legalisation of the plant as resource, medicine and stimulant.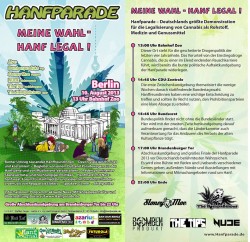 The organisers have chosen the motto of this year's parade deliberately, because in Germany the Bundestag elections will take place in September. They state: "We want to show those who apply as a candidate for the German Bundestag that we do not tolerate a policy which stigmatises users, destroys health and work places as well as steals people's freedom."
The goal is ambitious: 10,000 participants (twice as much as in 2012). For this, the team of organisers has worked tirelessly over the last few months. Amongst other things, flyers and posters have been distributed, press releases written and sent, calls for participation spread. Numerous patients and cannabis supporters have put their video messages for the event online.
Everyone who wants to send a signal and is no longer willing to accept the drug policies in Germany is invited to join the demonstration for the legalisation of cannabis.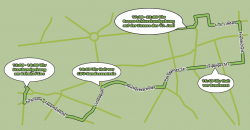 It begins at the train station Bahnhof Zoo with the intention to symbolically move away from a place that stands for negative and failed drug history, particularly because of the movie about the life of Christiane F and "We Children from Bahnhof Zoo".
The participants, accompanied by two dozen parade wagons, will move to the Federal Centre of the CDU (Christlich Demokratische Union = Christian Democratic Union), where at around 2:45 pm the first speech will take place, addressing the Bundestag elections being held a few weeks later. The organisers call for "Hemp friends have to come to a decision, use their right to rebuff and reject the prohibition parties and deny them their vote!".
At around 3:45pm the march stops for the second time in front of the Bundesrat (the upper house of the German parliament, which makes the laws together with the lower house). The aim here is to call attention to the responsibility of the Bundesrat for the ongoing cannabis prohibition.
Then the rally will move on to the Reichstag (where the German Bundestag resides), along the Brandenburger Tor, ending at the Straße des 17. Juni, where the closing program with speeches, various live bands, and hemp and cannabis information can be attended.
"Hence we will be able to call many people's attention to the negative consequences of the cannabis prohibition – with the Hanfparade we will convey this problem to the public, we call upon the sensibility of the people and encourage them to question cannabis prohibition. " A clear call, which Sensi Seeds gladly supports!