Hemp Parade 2018 The Hemp Parade (Hanfparade) is one of the oldest demonstrations for the legalisation of cannabis. This year, 6,000 people joined the demonstration against the ban on cannabis and its consequences. The demonstrators are calling for 'Education, not prohibition'.
On Saturday, 11 August 2018, the Hemp Parade drew 6,000 people to demonstrate around Berlin's governmental quarter in a call for 'Education, not prohibition'. And so, at the Neptune Fountain, where the march began, lots of demonstrators gathered in the brilliant summer sunshine.
"We're currently hearing how one G7 country (editor's note: Canada) is facing social realities and has legalised cannabis. At the same time, the number of cannabis users being persecuted in Germany is reaching new records year after year; there were over 200,000 prosecutions for cannabis in 2017. This is a fatal mistake that we finally need to put a stop to!" says Georg Wurth, founder and CEO of the German Hemp Association.
Great encouragement from passers-by and visitors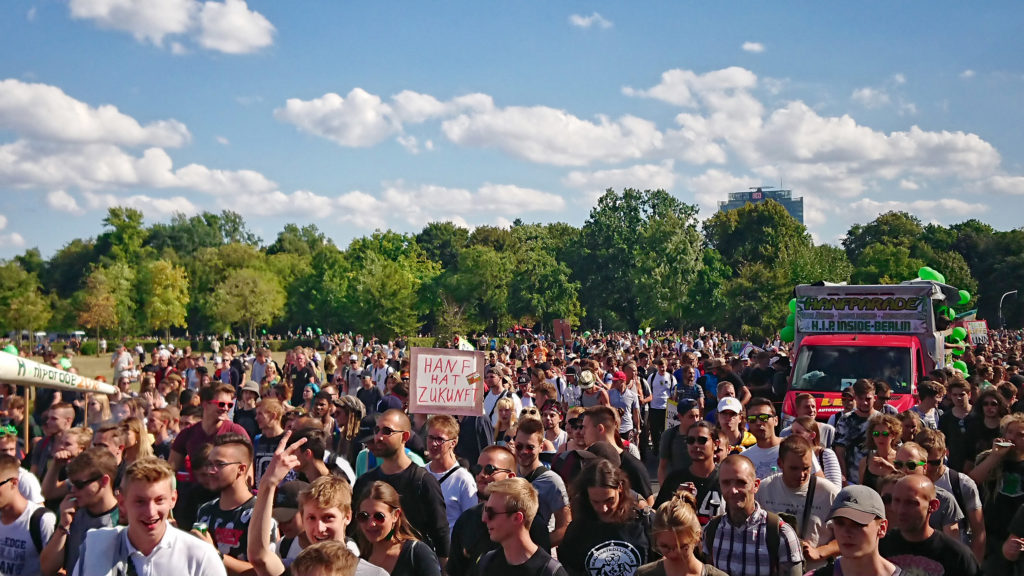 Wurth was followed by speakers such as the juvenile court judge Andreas Müller, the Left Party's drugs policy speaker Niema Movassat, and the chairman of the Berlin Green Party, Werner Graf.
Unfortunately, this year there was once again no food or drink on sale at the event site during the demonstration. Although they had zero ambitions for the legalisation of cannabis, this meant an unexpected boost in profits for the surrounding fast food chains and discount stores during the opening and closing rally.
The demonstration, which was also attended by various associations and political parties, set off at around 3:00 pm. The demonstrators marched from Alexanderplatz towards the Bundestag building and then past the Federal Ministry of Health for the next round of speakers and music.
Many passers-by and tourists expressed their solidarity with the movement, or spontaneously joined in with the march and so the 22nd Hemp Parade grew in numbers between the first half of the route and the second part of the rally in front of the Ministry of Health.
For the first time in the history of the Hemp Parade, a 'Green Block' formed the heart of the rally. Activists dressed completely in green, supporters of legalisation and voluntary supporters from various organisations all called for the controlled regulation of cannabis in Germany.
The movement of 6,000 people marching through the narrow streets of Berlin to the final rally was an impressive sight. Back at Alexanderplatz, the demonstration concluded with live music and speakers taking their turn until late into the evening.