At Oktoberfest 2015 the German Hemp Association, DHV, took the opportunity for a clever campaign for the decriminalization of cannabis. Wiesn beer lovers heading to bed after Oktoberfest celebrations were offered a ride home from DHV Square in a velotaxi.

DHV campaigns for a more relaxed attitude to cannabis
Yesterday, 4 October 2015, marked the end of the 182nd Oktoberfest in Munich. This year, around 7 million visitors were drawn by the promise of Wiesn beer to this city on the Isar River in Germany. In just 14 days, some 6.5 million Maß beer glasses – that's 6.5 million litres – of beer were consumed during this festival in Theresienwiese, Munich.
For the German Hemp Association, DHV, this was occasion for a clever campaign for the decriminalization of cannabis. Wiesn beer lovers heading to bed after Oktoberfest celebrations were offered a ride home in a DHV velotaxi, which had been brought from Berlin to Munich, the capital of Bavaria, especially for the occasion.
 Cannabis is normal – not criminal
This smart move was used by DHV to enter into a dialogue and encourage a relaxed attitude towards cannabis. Fully in style, the velotaxi bearing the slogan "Schluss mit Krimi – Cannabis normal" ("Cannabis is normal – not criminal") transported the predominantly drunk passengers from A to B. The association campaigned for tolerance.
"Live and let live, that's our message," explains Georg Wurth, the spokesperson for DHV. "Just as friends drinking beer and not causing trouble are left to celebrate in peace, so too should friends smoking pot and not causing trouble be free from persecution by the police.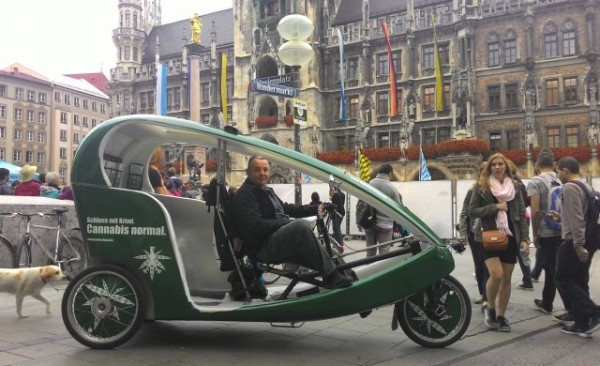 "Bavaria is proud of its beer culture, but is an extremely repressive state when it comes to cannabis. This two-faced approach is acutely obvious during Oktoberfest."
Cannabis in Bavaria
While drug use is not banned in Germany and is considered self-harm exempt from punishment, the German government prohibits possession of cannabis. Some German state governments do, however, desist from prosecutions at their own discretion, for example, if the offender is guilty of a minor offence, if prosecution is not in the public interest and if the found narcotic was ascertained as being for personal consumption in a small quantity. In Bavaria the limit for personal consumption is 6 grams of cannabis. By way of comparison – in Berlin the same limit is 10-15 grams.
Bavaria is by all means repressive when it comes to cannabis. Our expert Micha recently described in his article about this year's Cannabis XXL hemp fair in Munich that there, in the lion's den, simply wearing a hemp-leaf T-shirt can be reason enough for a body search.
All the more respect we, at Sensi Seeds, have for DHV's courageous campaign.
Cannabis vs. alcohol
Lots of people, including politicians, who happily pose for photos clutching a Maß glass of beer at Oktoberfest, consider cannabis to be very dangerous, in comparison to other legal intoxicants such as alcohol and tobacco. Research, however, begs to differ. Allow us to give two examples.
Alcohol has a much higher addictive potency than cannabis. One study reported that 23% of all people that have consumed alcohol develop an addiction to alcohol. Yet, only 9% of those who have ever smoked a joint develop an addiction to cannabis.
The cases in which alcohol consumption proves fatal are not few and far between. Last year alone, 15,000 people in Germany were killed by alcohol. And this figure is probably much higher, because the national statistics agency only counts fatal casualties for which the doctor established a connection with alcohol and reported it on the death certificate. Germans, incidentally, drink twice as much as other nationalities. The number of fatal casualties of cannabis: NONE!
These two examples alone question the cannabis ban in general, not just in Germany. Scientifically speaking, it would surely only be logical to give alcohol, tobacco and cannabis equal legal footing.