Cannabis microdosing is all about taking the lowest possible effective dose. It means taking just the right amount to have positive effects, but without reaching an actual high or suffering from undesirable side effects. What recreational users are increasingly discovering could be even more interesting for medicinal users.
KIVA Confections calls its sweets Petra. The list of ingredients leaves no doubt that this is a lifestyle product: Matcha green tea, eucalyptus oil and the plant-based sweetener Xylitol.
Foods produced that don't contain sugar or additives are certainly in line with the latest trends, but that's not why consumers buy Petra. It's because of cannabis: Each fingernail-sized mint contains exactly 2.5 mg of THC, which amounts to 100 mg of THC per pack.
The next big thing is tiny
Cannabis varieties with a high THC content have long been an industry focus. There was a clear maxim: the stronger the better.
These days, in a time when terms such as 'minimalism' and 'mindfulness' have become commonplace, the discussion is increasingly taking a different direction. People are interested in the healing effects of cannabis. They want its benefits, without the high, which accounts for the CBD boom of recent years.
Products containing THC in easily recognisable doses are finally coming to the market. Edibles such as Petra, for example. "The trend is moving away from extremely open-minded recreational users, who will form more of a niche in the future, to parents, pensioners and people who integrate cannabis as part of a healthy lifestyle, or who use it to relax at the end the day," Christie Strong of KIVA Confections tells Global News.
Could it be that cannabis products, vitamin tablets and nutritional supplements will soon all be lumped together? There is plenty of evidence pointing in this direction.
How much cannabis is considered a microdose?
The answer is: it depends. The minimum effective dose (MED) varies enormously from individual to individual. The amount of THC that will result in a high is greater or lesser depending on the genetics of the cannabinoid receptors, previous use, body weight and an individual's metabolism.
Generally speaking, 2.5 to 10 mg THC is considered to be a microdose. Michelle Ross, who looks at medicinal cannabis from a neuroscientist's perspective, advises new users to start at the lower end of this spectrum.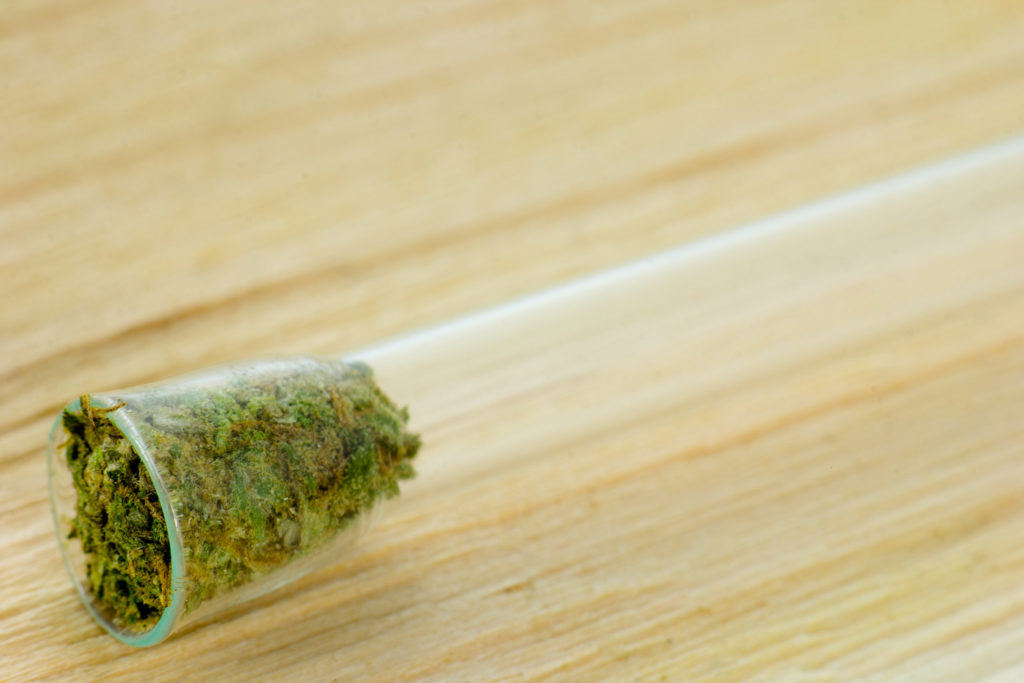 You may be wondering at this point how much THC there is in an average joint? If we take 0.4 grams of cannabis with an active ingredient content of 18%: that equates to 72 mg of THC. Because some of the active ingredient is lost during the combustion process, the end effect is more like 35 mg of THC inhaled.
Small dose, big effect
The idea behind a microdose is nothing new, and originates from the world of medicine. A medicine is always administered in the minimum dose needed to be effective. Just like medications, cannabis and alcohol have a biphasic effect. This means that low and high doses of the same substance have reciprocal effects.
Most of us are familiar with the feeling of drinking a glass or two of alcohol and feeling more relaxed and laid back. But carry on drinking, and you get undesirable effects such as nausea and vomiting. Cannabis works in just the same way. While lower doses act more as a stimulant, higher doses can lead to feelings of anxiety and other side effects.
We have good news for everyone who uses cannabis for medicinal purposes. Here too less is often more. In a study published in the Journal of Pain, cancer patients responded better to low doses of THC and CBD. To be precise, the group that was administered the lowest level of active ingredient felt the least pain.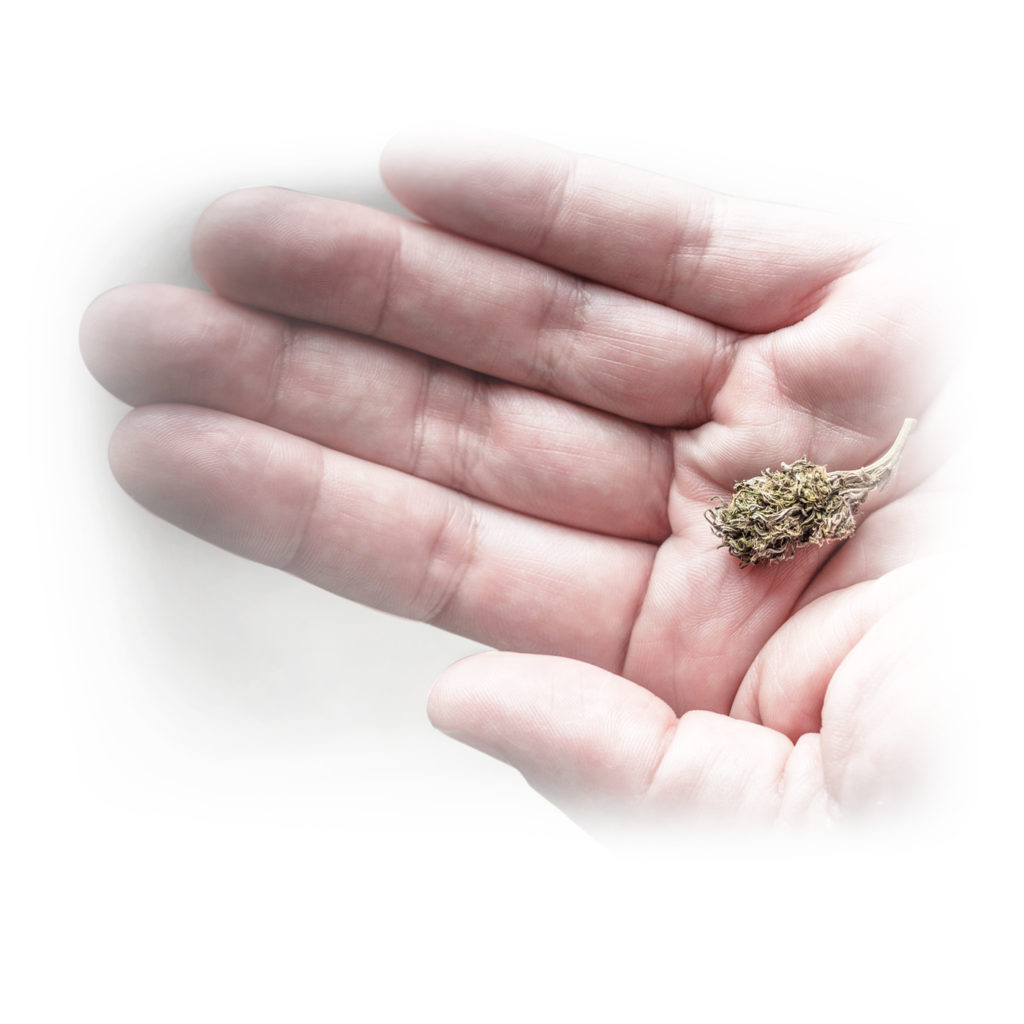 According to another study, even very small quantities (4 mg) of nabilone were successful in treating post-traumatic stress symptoms. Nabilone is a synthetic THC cannabinoid.
The benefits of a microdose are also evident among healthy subjects. A study has shown that small amounts (7.5 mg) of THC reduce subjective feelings of acute psychosocial stress, while a higher dose (12.5 mg) is counter-productive. This result is also relevant for another reason: this is one of the few clinical studies to draw a parallel between cannabis use and reducing stress.
Which methods of consumption are suitable for microdosing?
Everyone has their own preferences when it comes to cannabis use. When it comes to microdosing, not all methods of consumption are created equal. Let's take a closer look at the three most popular methods of cannabis use:
Smoking cannabis continues to be very popular. It is hard to manage how much of the active ingredient is actually inhaled, however, and too much THC could be taken in a single drag. Because the combustion process produces tar and carcinogens, smoking is not recommended for health reasons. A large amount of the active ingredient is also burned off. To summarise: Smoking is unhealthy, inefficient and difficult to dose.
Many people believe that vaporizing cannabis also triggers a combustion process, but that's a myth. The cannabinoids are maintained because they are not burned off. Instead, they are carefully heated and extracted via dehydration. A further benefit of vaporization is that the dose is easy to control. There are now a number of vaporizers on the market that offer a healthy, discreet and efficient alternative to smoking.
From chocolate and jellied sweets to mints and cookies, there is a trend for foods containing cannabis. Precise information about the THC content means that these foods are now also suitable for microdosing. Unlike smoking or vaping, it can take up to one and a half hours for the dose to take effect. So take your time and don't overdo it.
In summary

Have you tried microdosing cannabis? What are your thoughts? Would you recommend it? We'd love to hear from you in the comments!
Disclaimer:

This article is not a substitute for professional medical advice, diagnosis, or treatment. Always consult with your doctor or other licensed medical professional. Do not delay seeking medical advice or disregard medical advice due to something you have read on this website.