Cannabis Patients For a number of years now, German cannabis patients have been allowed to purchase cannabis flowers from the Netherlands via German pharmacies using a special permit. From the end of August, they will also be able to buy four strains from Canada.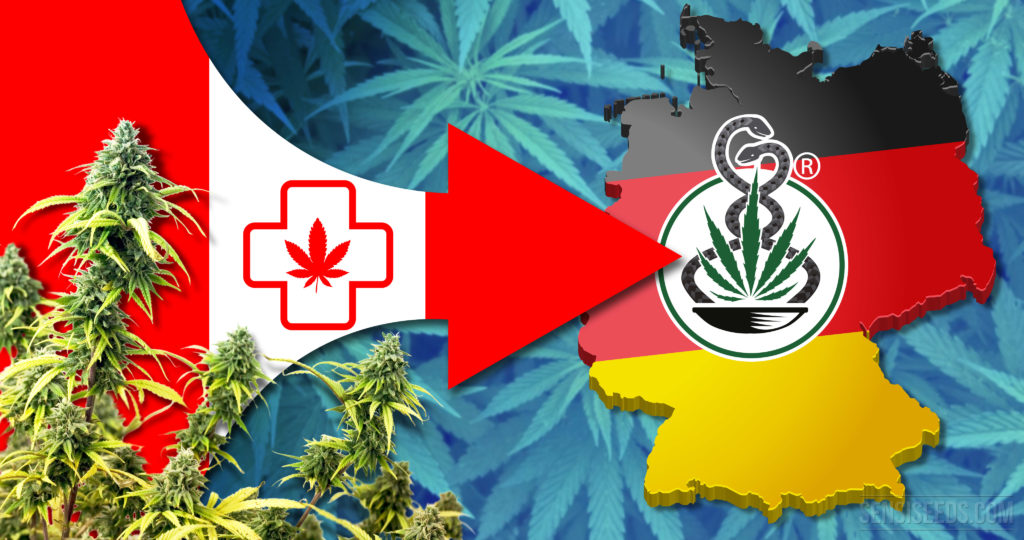 The number of cannabis patients in Germany is increasing rapidly and imports from the Dutch cannabis programme do not cover patients' requirements. Medicinal flowers from Canada are soon set to be available in Germany. Nevertheless, this can only be a temporary solution until such time as Germany itself undertakes to cultivate cannabis as a medicine.
German cannabis patients have been allowed to purchase cannabis flowers from the Netherlands via German pharmacies using a special permit for the past few years. The imported medicine is fairly expensive and because it is not covered by the health insurance company, at €15.00 + x/gram, the official "medicinal cannabis flowers" are very costly. Consequently, despite their permit, many of the just under 800 other cannabis patients in Germany depend on the cheaper black market or their growbox. In Germany, there is still a long way to go before there are effective standard provisions for care in place, no matter whether patients are suffering from "only" a painful, chronic illness or if their disease could progress, or is even be fatal, without cannabis. For many years, the German government has failed to introduce an appropriate policy for medicinal cannabis; current imports from the Netherlands were approved only under judicial pressure from large numbers of patients and the arrangement was patchy and far too expensive from the outset. What you can get for €7.00 in the Netherlands costs upwards of €15.00 here. Many of the 800 patients are involved in the SCM (cannabis medicine self-help network) and for years, they have had far better suggestions when it comes to standard provisions for care for cannabis patients. Self-production, for instance. In April 2016, after 17 years and a string of legal proceedings, MS sufferer Michael F. was entitled by way of exception to grow his own cannabis Gras@home. This, however, was solely a decision in an individual case which does not apply to anyone else. Moreover, while F. does admittedly have the valid judgement from the Federal Administrative Court in his possession, the corresponding document from the state, in this case from the Federal Institute for Drugs and Medical Devices (BfArM), is still lacking. This is why MS sufferer F. is still unable to grow his own medicine, four months after the Supreme Court ruling.
Even state-controlled cultivation in Germany, something the German Ministry of Health has recently been planning, has been on the patients' wish list for many years but was only instigated after the ministry had lost several legal cases and therefore saw no other option.
Even so, with the import of Canadian cannabis flowers, a long-standing proposal has been met. From the end of August, "Argyle" and "Princeton," two strains from the Canadian state cannabis programme, will be available. Two other strains, "Penople" and "Houndstooth," are set to follow on. In legal US shops and on the Canadian black market, which is set to disappear, the four strains are known as "Nordle," "Ghost Train Haze," "CBD Skunk Haze" and "Super Lemon Haze."
But before being allowed to buy the new strains, cannabis patients must arrange for an extension to their special permit to include the four strains by asking their doctor to fill out this form. As soon as it has been given the German federal emblem "eagle," which is expected at the end of August, the barriers to smoking the first legal "medicinal" joints from abroad will disappear
Canada offers its patients more than 200 strains
In Canada, patients can choose from more than 200 strains, whilst in Germany there are a mere six. More importantly, in Canada the capacity, which is lacking in the Netherlands and which still has to be developed in Germany, is available.
In Vancouver, Toronto and Montreal there is far greater focus on methods of analysis too. There, not only the two principal active substances, THC and CBD are measured; some firms are voluntarily creating a "cannabinoid profile" and are thus able to use other constituents such as THC-V more effectively. As such, the availability of a variety of strains that include the most diverse array of cannabinoids and terpenes is immensely important in the case of medicinal cannabis. In Canada, unlike in the Netherlands or in Germany, this has already been realised by "Health Canada," the authority responsible for cultivation. Yet, even if all of the more than 200 Canadian strains were soon to become available in the pharmacy, they would still be far more expensive than medicinal cannabis that could be grown here under the same conditions.
In the meantime, in Canada 34 firms produce cannabis and some of them are listed on the stock exchange. In California, "medicinal" cannabis has been the top crop for years – that is to say, the nation's biggest selling agricultural product. Now the German Ministry of Health has decided to go ahead and import something that by now could already have been in production domestically, with a little bit of flexibility, vision and an understanding of economics. In Munich, there was once a firm, "Suedhanf," that had produced medicinal cannabis for research purposes. It was not allowed to provide its product to patients, though, and had to close because it was unable to sell its product.
Patients in Germany look forward to the shipped-in buds from abroad; perhaps they might even be a little bit cheaper, more flavourful and even more effective against chronic pain, ADHS or countless other symptoms than Dutch medicinal cannabis. But German flowers would definitely be just as good, far cheaper, would create jobs, generate taxes and save a whole lot of CO2. Current demand by the permit holders equates to half a ton* already and its rising. As soon as the complicated special permit procedure is replaced by a simple narcotic prescription with effect from 2017, all the experts expect an accelerated increase in the number of patients. In Canada, where this is how it is already, there are currently 54,000 patients out of a population of 35 million. Translated to Germany, that would be almost 100,000. The Canadian government even assumes that there will be up to 400,000 Canadian medicinal users by 2024. Canadian producers know this, and as of right now, they are calculating and acting a little faster than the German authorities.
*The average permit holder has a recommended dose of 1.8 grams of cannabis/day.