medicinal cannabis Six months after legislation was passed for its medicinal use, there is a massive shortage of cannabis in Germany's pharmacies. The five Tweed strains sold out weeks ago, and the earliest delivery date is a week away.
Numerous media reports confirm that shortages mean supply to cannabis patients cannot be guaranteed, a good six months after medicinal cannabis was legalised. Currently, only small stocks of the Pedanios 22/1 strain remain available. However, the current batch contains seeds, and so has only 19.5 rather than the standard 22% THC. The Dutch medicinal cannabis producer Bedrocan cannot meet total demand either, and some of its six strains are simply not available. Patient forums say that only pharmacies that have pre-stocked cannabis have any chance of supplying to patients.
Bedrocan states that supply shortages are not because of lack of availability of their products, but for bureaucratic reasons:
"The German Federal Government has asked the Dutch government to supply 700 kg of cannabis this year. The Dutch Office of Medicinal Cannabis (OMC), which is responsible for the export of Dutch cannabis, will supply the volume requested in accordance with this contract. It seems that demand from Germany is higher than the Federal Government anticipated. We recommend that German patients contact their MP to discuss the issue. Unfortunately, we are unable to do anything from our side. We will supply what the Dutch OMC has requested,"
says the organisation's press office.
Rapid increase in number of cannabis patients
"Demand for cannabis has naturally increased, because doctors are prescribing it more frequently. But the weed doesn't grow any faster just because that's what the politicians would like to happen," Mathias Arnold, Chairman of the National Pharmacy Association Saxony-Anhalt, told the Mitteldeutsche Zeitung as far back as last summer.
That is only partly true: The weed wouldn't need to grow faster if the import quotas were immediately corrected upwards. The estimated annual demand from German patients was calculated on the basis of demand from 1,000 former holders of a certificate of exemption. The BfArM (Federal Institute for Drugs and Medical Devices) had to react quickly to the decrees issued since March 2017 if they were to at least calculate anything approaching realistic demand.
Patient feedback from the DHV and SCM (cannabis self-help network) forums express concern that the supply situation is unlikely to improve in the short term. Anyone who didn't order a long way in advance will go away empty-handed. For now, before they visit their doctor, patients need to call their pharmacy and ask which of the few strains are even available in sufficient quantities, and then ask to have their medicines placed on reserve. Because if the pharmacy is unable to supply a specified variety of medicinal cannabis, the whole prescription expires after seven days. The patient would then have to go back to the doctor and ask for a prescription for one of the strains available.
The pivotal question – reimbursement of costs
There are two reasons for the shortage. On one hand, patients whose health insurance has already agreed to pay for medicinal cannabis can finally get their full monthly supply from their pharmacy. Previously, if they didn't have enough money, these patients legally bought only a fraction of what they needed, and the rest on the black market – or just grew their own. Additionally, since the legislation was passed, many people for whom the process of applying for a certificate of exemption was previously too laborious can now get a prescription for cannabis buds. Historically, doctors have been very hesitant in issuing receipts for reimbursement for fear of recourse from the health insurance companies. This means that cannabis is generally prescribed privately at a cost of up to €25 per gram, which is paid by the patients themselves. Yet, after years of illegality, even the high cost hasn't deterred a lot of people from obtaining their medicine legally for the first time.
At the same time as the new legislation was passed, cannabis prices increased exorbitantly. The pharmacies justify the current price of around €25 per gram with complicated fee regulations under the German healthcare system. Under the new legislation, cannabis has become a prescription substance. This means that the raw material has to be repackaged, labelled in accordance with German standards and prepared as doses (i.e. ground) before being handed out to patients. If the treating doctor writes 'not ground' on the prescription, at least the pharmacy doesn't have to grind it, but the fee remains the same. The fee payable for this process is just under €10 per gram sold. The same medicine is a quarter of this cost in the Netherlands.
Health insurers dodge reimbursing costs of medicinal cannabis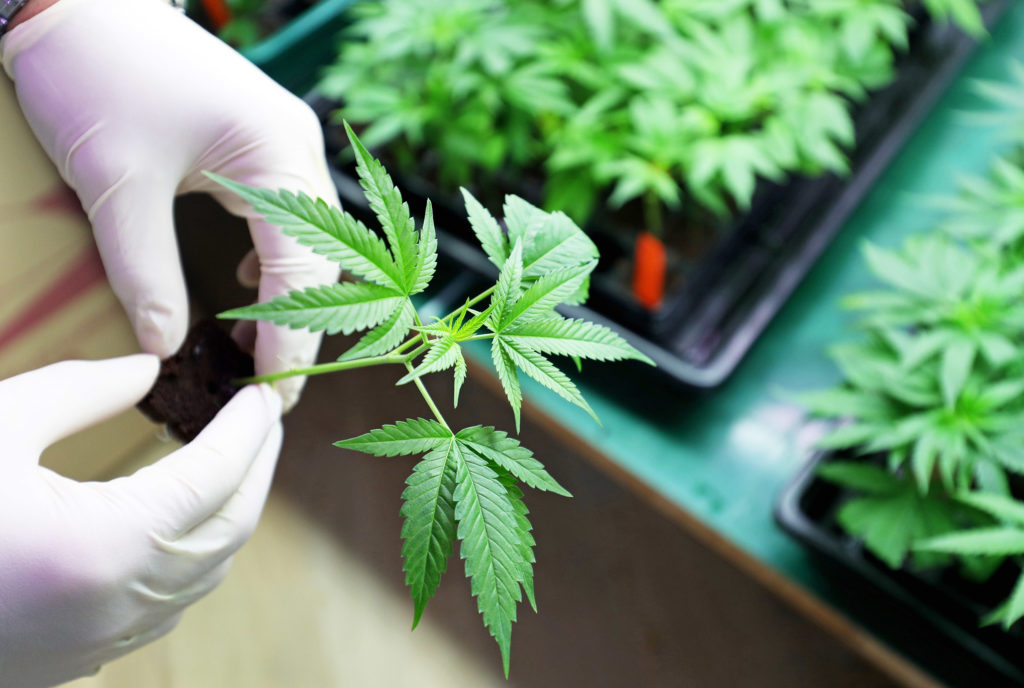 Before the legislation came into force there were just over 1,000 people in possession of a certificate of exemption. But between March and the beginning of July, the Techniker Krankenkasse (TK) and AOK alone received almost 3,200 applications to fund medicinal cannabis. By 7 July, the TK had processed precisely 863 such applications, of which 522 were approved and 341 were refused. Germany's biggest health insurer, the AOK, had received around 2,300 applications by the same date, and says that "approximately half" of them were approved. The Barmer Ersatzkasse received 1,420 applications, of which 46% were refused. And so even with a doctor's prescription, half of the patients are currently turned down and either have to pay for this extremely expensive medicine themselves, or obtain it illegally.
The true number of applications received by the other three big health insurance companies, and many small ones,  is not yet clear. Nor, as yet, are there any statistics on patients who have paid privately for a cannabis prescription after the legislation came into force, without requesting reimbursement of the costs. Since only two health insurance companies have disclosed their figures to-date, and the Federal Ministry of Health is saying nothing, it's hard to say how many cannabis patients there even are in Germany since the new legislation was passed.
12,500 cannabis preparations were prescribed in the first three months of legality
Experts estimate that the number of patients has now multiplied, given the total number of people insured in Germany. As an expert in medicinal cannabis in the German Federal Government, Maximilian Plenert is a regular adviser to them. On the basis of the figures and feedback available to him, he estimates that between the beginning of March and the end of July 2017 alone, around 10,000 patients obtained cannabis buds from a pharmacy in one way or another. The Apotheker-Zeitung magazine reports that a total of 12,500 cannabis preparations were prescribed in the first three months of the legislation being introduced.
No one predicted such a big increase. Pedanios calculated generously in advance, and bought up all the medicinal weed that Holland and Canada had to offer. But German patients were also told that there would be enough cannabis available in the pharmacies again within six to eight weeks. There will be no more shortages in the future, Pedanios told the tageszeitung in August.
But the Berlin company has not always had sufficient stocks since then. Pedanios isn't happy with the current situation either, but hopes to see an improvement soon. Production in Canada has been relocated from Ontario to Alberta. The authorities there were not familiar with the export procedure, which led to delays with the previous deliveries. But that is all now in hand, and the next big delivery will be received in November, according to the Managing Director of Pedanios, Patrick Hoffman, in a telephone interview. With the last delivery, there was the choice of importing seeded buds, or being unable to offer patients anything at all for weeks. Given the current supply shortages, it was decided that for the patients, it was better to import the products despite the clear deficiency. That isn't supposed to happen again, either.
Because of the numerous seeds, the strain this time had to be called 'Pedanios 19.5/1' because the according to the label, the current batch contains only 19.5% THC.
Patients again forced to prosecute
Six weeks after the introduction of the new legislation, it also became clear that the health insurance companies were going to refuse many of the cost reimbursement applications. Even former holders of the government certificate of exemption were turned away in their droves when they submitted an application. The introduction of the new legislation thus leaves many people no longer able to finance their treatment at a cost of €23 to €25 per gram. Numerous patients are currently bringing similar lawsuits. If they win their cases, which most observers expect them to, it will send demand for medicinal cannabis buds sky-rocketing once more.
The only ones celebrating the new cannabis legislation are the pharmacists
While many doctors and health insurance companies are opposed to cannabis, the pharmacists appear to be relishing their new role. As Deutsche Apotheker-Zeitung reported recently, the majority of German pharmacists welcome the new law. Three out of ten pharmacists say the new legislation has had a positive effect on demand. They have sold more cannabis since it was introduced. However, 98% complain that the additional testing represents a considerable investment. This is probably why they are charging almost €10 per gram to compensate for all their efforts. 30% of pharmacists are undecided about the new regulation, while one in five oppose it.
German patients will be dependent on Canada and the Netherlands until 2019
German patients currently receive only what is not needed by the Dutch and Canadian cannabis programmes. If demand in Canada or the Netherlands increases, German pharmacies will again experience cannabis supply shortages. National requirements under the cannabis cultivation programme naturally take precedence, and only what is truly surplus is exported. The assumption in Canada is that when cannabis is legalised there in July 2018, there will be shortages which only the large medicinal cannabis producers will be able to make up. In any case, it would be far easier and less bureaucratic for them to serve the domestic recreational market instead of struggling with lengthy export and import licensing procedures. Conversely, the first cannabis cultivated in Germany will not be available until 2019.
Yet there is still something positive to take from the shortages and failure to reimburse. Cannabis patients currently taking legal action to take the cultivation of their medicine into their own hands have a greater chance of success if regular supply cannot be guaranteed soon.