Germany On 9 March 2017, the long-awaited legislation on the use of cannabis as a medicine entered into force in Germany. Now that this legislation has come into effect, doctors in Germany are able to use a simple narcotic prescription to prescribe cannabis buds and products. This article examines the matter in detail.
Patients who, until now, have been in possession of an exemption certificate for self-treatment with cannabis buds, must relinquish these within the next two-and-a-half months. Initially, the intention was that standard medical care should replace them, but shortly after the new legislation entered into force, cannabis medication matters became rather muddled.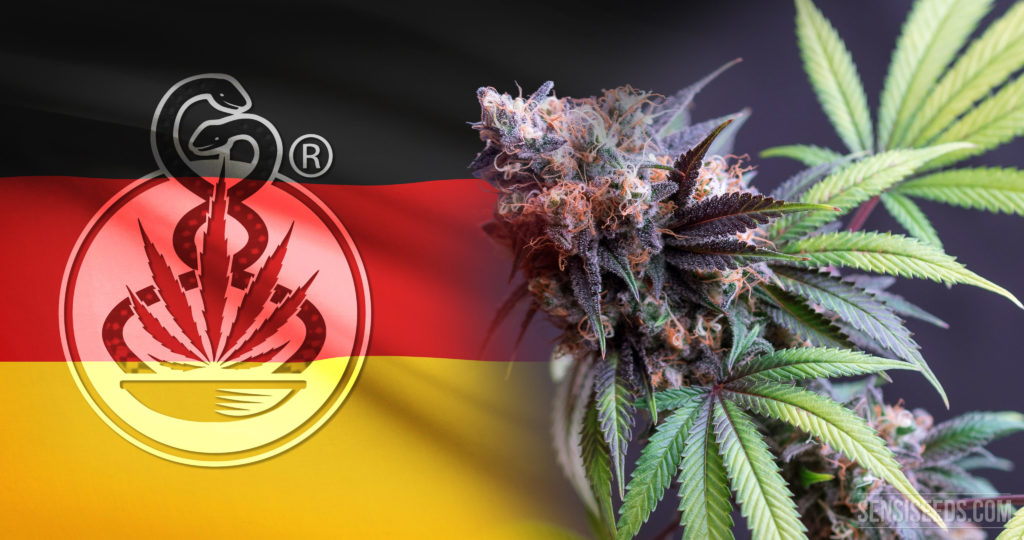 Cannabis suddenly costs €9.00 more per gram
Because many doctors are still prejudiced against medicinal cannabis, it isn't always easy to find a doctor who will prescribe cannabis on a prescription covered by public health insurance. Many are worried about health insurers making recourse claims, as they might refuse to accept the costs when conducting the case-by-case review, or that the costs of the far too expensive cannabis buds will exceed the medication budget they have been granted. In this case, the doctor would have to resort to prescribing cannabis that had already been supplied. At the moment, many doctors' practices are therefore only issuing private prescriptions, meaning that patients must pay for their medication themselves. But if you want to purchase cannabis flos in a pharmacy with one of these types of prescriptions or an exemption certificate that's still valid, you will be unpleasantly surprised. Instead of the previous price of €15.00 per gram, five grams of medicinal cannabis buds now cost €118.00, i.e. almost €24.00 per gram. Pharmacies say that this is due to their new legal status, because medicinal cannabis buds now fall under the § 4 of the Ordinance on Pharmaceutical Product Pricing (Arzneimittelpreisverordnung) "Pharmacy Margins for Substances". As cannabis can now allegedly be prescribed, but does not constitute a finished medicinal product, it is up to the pharmacy to provide the correct dose of buds. The buds are therefore ground in the back room of the pharmacy and divided into daily rations. All this costs the patient more money and allegedly makes the drugs safer. Should pharmacies fail to do so, they say they would be breaking the law and risking a fine.
But the desired prescriptions, i.e. those covered by public health insurance, will only exist once health insurers have finished their case-by-case reviews. If in doubt, the Medical Service of the Health Insurance Companies (Medizinischer Dienst der Krankenkassen, MDK) will be brought in. However, this process takes five weeks on average and currently, two weeks after the new legislation entered into force, only very few of the over 1000 patients already receiving cannabis treatment have been accepted into the scheme. Without the green light from health insurers, the necessary medication can still be obtained legally, but at an even more extortionate price than before. So at the moment, the choice is to either pay €24.00 per gram and wait patiently for your documents to come through, or, if you are unable to wait, you could interrupt your treatment or purchase the cannabis from the far cheaper black market. Health insurer Die Techniker Krankenkasse (TK) seems to be adopting a somewhat unbureaucratic approach in this regard, however, and has already promised a few patients undergoing treatment that it will reimburse them.
As things currently stand, it will take until at least mid-April 2017 for the new legislation to guarantee the treatment of already recognised patients and to enable the legal supply of medicinal cannabis to new patients. However, the number of patients and to what extent costs will be covered can barely be predicted at the moment. For palliative patients, health insurers allegedly need to decide within a few days.
The following is a summary of the most important aspects of the new legislation.
For which diseases can cannabis be prescribed?
Doctors are now able to prescribe medicinal cannabis for chronic pain, multiple sclerosis, depression, anxiety disorders, ADHD, neurodermitis and many other diseases, as long as they are able to promise that the treatment offers medical benefits and are able to demonstrate these benefits. Medical magazine Ärzteblatt writes that the way in which the legislation is formulated enables "a patient to start cannabis treatment even if, in theory, other treatments are available that have yet to be used and the patient is yet to exhaust all treatment options."
Which doctors are able to prescribe medicinal cannabis?
As of 9 March 2017, all doctors from all specialisms are allowed to prescribe cannabis buds and extracts on a narcotic prescription.
What can be prescribed?
In addition to the finished medicinal products Sativex and Canames (Nabilon), there is the prescription substance Dronabinol, as well as imported cannabis buds from the Netherlands or Canada.
What does a gram of THC cost?
1000 mg of THC in the form of Sativex mouth spray costs €456.80
The same quantity of active substance in the form of the prescription substance Dronabinol costs €880.00
In the form of "Pedanios22/1" or "Bedrocan"-strain medicinal cannabis buds, 1000 mg of THC costs €68.20 (or €15.00 per gram) at a German pharmacy.
At Dutch pharmacies, the same quantity of THC offered in the form of Bedrocan buds only costs €28.18.
When do health insurers pay for medicinal cannabis?
In order for the costs to be covered, the following conditions must be met:
the patient must suffer from a serious disease;
generally recognised, non-available, medical-standard treatment or non-applicable forms of treatment;
a chance of a positive outcome;
where a first prescription is concerned, an application for the coverage of costs must be attached, which will take between three and five weeks to process. The responsibility of health insurers to cover the costs was expressly not linked to the existence of certain symptoms.
Buds or finished products?
The doctor and patient decide together in what form cannabis will be dispensed. Pharmacists are only allowed to sell the exact drug or strain of cannabis named on the prescription.
Is there an upper limit?
The highest quantities for prescriptions of 30 days are 1000 mg for Sativex and 500 mg for Dronabinol. For cannabis buds, an upper limit of 100 g per month applies. For the finished medicinal product Canames, no maximum prescription limit was established.
Where is medicinal cannabis available?
From all pharmacies. According to the President of the Federal Pharmacy Chamber (Bundesapothekerkammer), Andreas Kiefer, "any pharmacy is now able to produce and dispense prescription drugs containing cannabis upon production of a doctor's prescription."
Is it possible to grow your own?
No. In patient circles, the legislation is also known as the Cannabis Growing Prevention Law. Patients who have already applied to grow their own cannabis were asked to retract their application shortly after the legislation entered into force, because according to the new legislation, the supply is allegedly now guaranteed. If they fail to retract their application, they can expect to pay for a rejection. Should the legislation fail to, or inadequately, guarantee the controlled supply of the cannabis because health insurers are failing to cover the costs and patients are unable to fund their own drugs, many will turn to growing their own cannabis as a last resort. Then, in the event that perpetrators are charged, they will have to plead a legitimate state of emergency like before and hope that the courts soon put an end to this farce.