Worldwide, there is progress every day on the legalisation and normalisation of cannabis, mainly in the Americas and in Europe. Nevertheless, a third continent is heading in the same direction: Oceania, and in particular Australia, one of the 14 independent countries which comprise this region.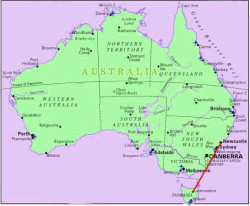 Worldwide, there is progress every day on the legalisation and normalisation of cannabis, mainly in the Americas and in Europe.
Nevertheless, a third continent is heading in the same direction: Oceania, and in particular Australia, one of the 14 independent countries which comprise this region.
In this second part, we are going to conclude by finding out a little more about the current situation of cannabis in the remaining Australian states and territories, as well as look at the latest developments in medicinal cannabis and Australia's cannabis culture.
Current legislation on cannabis in the Australian states and territories
South Australia
This state is located in the South central part of the country, and includes some of the driest parts of the continent. The state capital is Adelaide, Australia's fifth biggest city. South Australia was the first state to depenalise minor cannabis-related offences in 1987.
As of August of 2011, residents caught with up to 100 grams of marijuana, 20 grams of hashish (resin), a non-hydroponic cannabis plant or smoking paraphernalia will be fined $50  to $150 which they must pay within 60 days and will receive a Treatment for Cannabis Recommendation notice to attend a compulsory guidance session. Greater amounts will result in a fine of around $2,000 or two years in jail, or both. Individuals caught in possession of more than 100 grams of cannabis will be deemed as intending to distribute this amount, and as such could be fined $20,000 or sentenced to two years in jail. It is also illegal for cannabis smoking paraphernalia to be displayed or for sale in shops, with fines of up to $10,000 for individuals caught selling to adults and a jail sentence of up to two years, or a fine of up to $24,000, for those caught selling to minors.
Tasmania
Tasmania is separated from mainland Australia by the Bass Strait and is Australia's smallest state. Its capital is Hobart. According to Tasmania's laws, offenders caught with up to 50 grams of cannabis may be cautioned up to three times within 10 years, with different procedures in place for each caution. Upon the first caution, offenders must provide information and references and upon the second, treatment is provided. With the third and final caution, offenders will be assessed to determine their level of dependency and they are then included in a treatment programme.
Victoria
Victoria is the smallest of the mainland states. Its capital is Melbourne, Australia's second most populous city. Cannabis is illegal and constitutes a penal offence in Victoria, but drug-related offences are not heard in a different court. As is the case in other states, cannabis has not been depenalised, and it is up to the police to decide whether to arrest drug users or whether they should be placed in a programme to assess or help them.
Any individual caught with less than 50 grams of cannabis in Victoria may be sent to an educational programme, but as in New South Wales, this option is only available to those who have committed two offences before charges are brought against them.
Western Australia
Western Australia is the largest state by land area. Around three quarters of the state's population live in the capital Perth, Australia's fourth most populous city. Together with New South Wales, Western Australia has the toughest measures in the country with regard to drug-related offences. In 2004, civil penalties for the possession of cannabis were introduced, but were repealed with the change of government in 2008.
Since the reforms of 2011, offenders who have not committed any previous cannabis-related offence, but who have been caught with no more than 10 grams of harvested cannabis and/or any smoking equipment must attend a cannabis treatment programme within 28 days or they will be convicted.
Medicinal cannabis in Australia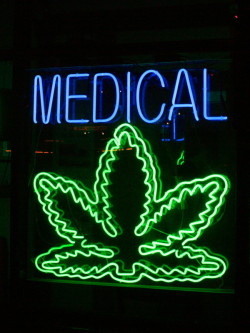 Australia has become the latest country to conduct clinical trials on medicinal cannabis. Although the intention is not at all to legalise it just yet, which is what Australian activists want and have been campaigning for, a huge step forward has been taken. The debate in favour of the legalisation of cannabis for medicinal use in Australia is a current issue.
As we have already mentioned, it is illegal to cultivate and use cannabis in the country without a permit, good grounds or whenever it is not covered by any recognised exceptions as per current legislation. Medical necessity has also been used as a legitimate defence in some cases in Australia, such as the cannabis clinical trials recommended by various governments.
Support in favour of a change in legislation which would allow the use of cannabis for medicinal purposes was relatively stable between 2004 and 2007. In the 2007 survey, conducted by the NDSHS, the data showed that two thirds (68.6%) of those polled supported "a change in legislation to allow the use of cannabis for medicinal purposes" and almost three quarters (73.6%) were in favour of "conducting clinical trials so that patients may be given medicinal cannabis as treatment for their illnesses." Women's support for both measures was slightly greater than men's.
On 16 May 2013, news emerged in the media that a parliamentary commission in New South Wales (NSW) recommended the use of cannabis as prescription medicine for patients with terminal illnesses and supported legislation in favour of pharmaceutical products derived from cannabis for such purposes. As part of the recommendation, the committee requested the cooperation of the Australian federal government in coming up with a plan that would allow patients to have up to 15 grams of cannabis. Moreover, both the patients and their caretakers must obtain a certificate from a specialist, registered with the Department of Health, and a photo ID card.
Although the report of the committee, which included members from different political parties, was unanimous, the document acknowledged that New South Wales had limited jurisdiction over the matter, given that federal laws and bodies, such as the Therapeutic Products Agency are the ones that regulate narcotic substances. Furthermore, it should be pointed out that the committee did not recommend the use of cannabis for chronic pain or the depenalisation of marijuana cultivation for personal use.
In February 2014, Tasman Health Cannabinoids (previously TasCann, now AusCann) proposed clinical trials for the cultivation and processing of medicinal cannabis in Tasmania, together with the University of Tasmania. This project was initially approved by the then Labour Minister for Health, only to be subsequently shelved by the incoming liberal government.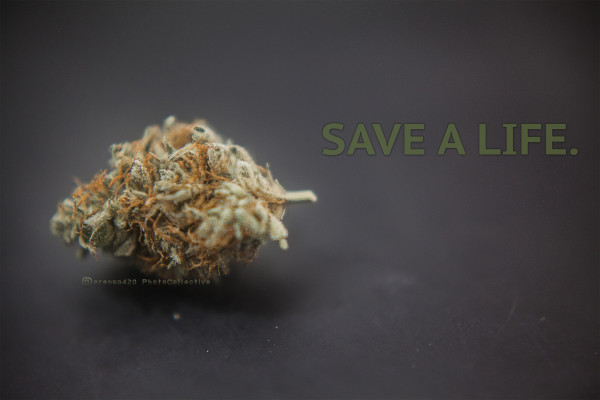 In spite of this setback, the Australian company AusCann reached a historic agreement in May 2015 with the government of Norfolk Island, which granted it a licence to grow and produce varieties of high quality medicinal cannabis from November 2015 onwards. The independent Australian territory of Norfolk Island is regarded as an ideal place for cannabis production due to its climate and the safety afforded by its geographical location. The intention is to export the entirety of its first harvest to Canada in the middle of the following year. This will include sativa and sativa dominant varieties which are not suitable for cultivation in farms in the interior of Canada. However, this licence was granted after the Australian government had passed a law abolishing Norfolk Island's parliament and replacing it with a local council, which jeopardised this export agreement for medicinal cannabis.
At present, the only state which has started clinical trials is New South Wales, which conducted the first of three trials in January 2015, for the treatment of drug-resistant epilepsy, chronic pain relief and for the treatment of the numerous side effects caused by chemotherapy which thousands of cancer patients endure. More recently, the states of Victoria and Queensland have also joined this trial, likewise with a focus on treatment for children with severe epilepsy. Both states look set to follow New South Wales in depenalising cannabis oil for the treatment of nausea caused by chemotherapy and for severe, drug-resistant epilepsy, as well as palliative treatment. The new agreement means that Victoria and Queensland residents who suffer from potentially fatal or terminal diseases may participate in the clinical trials conducted by the New South Wales government.
Last March, the South Australia opposition parties called on the state government to join the national research effort on medicinal cannabis so that it may take part in clinical trials being conducted in New South Wales.
Nimbin, the cultural capital of cannabis in Australia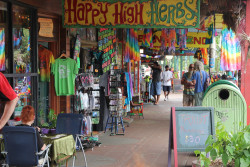 Nimbin is a small town located in the northern part of New South Wales, in the mountains, near the east coast. The history of this purely hippie town has its roots in 1973, when a festival of counterculture arts and music was held, the Aquarius Festival, organised by the Australian Union of Students. The festival was aimed at an audience passionate about alternative ways of thinking and sustainable lifestyles. It is usually described as the Australian equivalent of the Woodstock Festival and the birthplace of Australia's hippie movement. It is estimated that between 5,000 and 10,000 people attended. The festival had a permanent effect on the economy of Nimbin, since many of the participants decided to remain and settle there, setting up communes and communities in pursuit of an alternative lifestyle, clearly influenced by the 1960s youth movement, which seems to have ignored the passage of time in this small and colourful Australian town.
Since then, Nimbin has stood out for its high-profile environmental initiatives, such as permaculture, sustainability and self-sufficiency, as well as for its cannabis counterculture. In written works and in the media, it has been described as "the cultural capital of cannabis" in Oceania and "a social experiment." Nimbin is pure colour. The rainbow is displayed in every nook and cranny of this small Australian community. It has become an icon of Australia's cultural history and many of the values first introduced by the counterculture have become part of modern Australian culture.
One of the biggest draws and attractions for tourism to this locality is the legalisation of cannabis. Despite the fact that the cultivation, possession or sale of cannabis is illegal in New South Wales, it appears that Nimbin has been spared from this. Cannabis is bought, sold and consumed openly in the streets, and whenever a police car approaches, you will hear shouts of "Taxi!" all over the street, as a warning that law enforcement officers are present. You will find cafés where you can consume cannabis, exactly as in Amsterdam as well as grow shops and stores, where all sorts of hemp products are sold: textiles, cosmetics, foodstuffs and so on, all for medicinal use, of course.
In spite of everything, the level of police intervention against drug trafficking in Nimbin has fluctuated over the years, and has generally leaned towards penalising possession and tough measures for marijuana distribution. However, both the state and federal police have failed to halt or even reduce, in any significant manner, the prevalence of cannabis use in this community.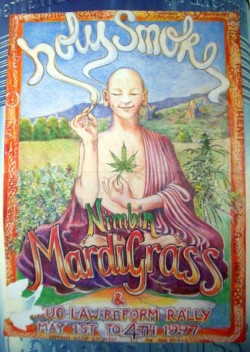 Likewise, Nimbin is characterised by its cannabis activism, and its biggest draw is the traditional celebration of the annual MardiGrass festival, which has been held for over two decades. This festival is celebrated during the first weekend of May, like some of the worldwide demonstrations for marijuana since 1993. The festival aims to mobilise and show support for ending cannabis prohibition in Australia by reforming the country's cannabis laws. On 1 May 1993, members of the Hemp Embassy (previously "Nimbin Hemp") decided to organise this peaceful protest in a non-confrontational manner, where everyone was welcome to join in peacefully. This year's MardiGrass 2015 has focused mainly on medicinal cannabis.
Following the Cannabis Cup which was held in The Netherlands, the Cannabis Cup of Australia is held during MardiGrass where different varieties of cannabis from participants are judged. The Weed Olympics are also held during this festival. Amongst other things, this includes setting up bong competitions, joint rolling contests and an Ironman-style competition where participating growers have to drag big bags of fertilisers.
More cannabis culture in Australia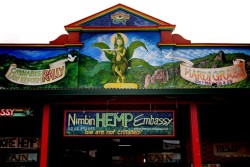 Australia has a very big cannabis community, and this is why there are numerous initiatives of various sorts in the country. The Hemp Embassy of Nimbin is a non-profit association, formed under the name Nimbin Hemp and founded in 1992. The objectives of the embassy include legislative reform on cannabis through a community educational programme on hemp and cannabis products, as well as promoting a more tolerant and compassionate attitude towards people in general. Every year this association organises the MardiGrass in Nimbin, in addition to many other educational, informative and festive activities, the aim being to reform laws on cannabis.
The Help End Marijuana Prohibition (HEMP) Party is an Australian political party, based at Nimbin. HEMP's aims focus on both the depenalisation of the possession of small amounts of cannabis and cannabis cultivation for personal use, as well as the legalisation of cannabis for medicinal use. Its actions are focused on three uses for the plant: personal or recreational, industrial and medicinal. The group was founded in 1993 by Nigel Quinlan, who became a candidate with the name of Nigel Freemarijuana. HEMP has put forward several candidates in the federal and state elections, so far with little success. Moreover, it has encountered problems in complying with the regulatory membership requirements for the registration of political parties in Australia.
If you are looking for information, Australia has online portals and communities, such as ozstoners.com and 420australia.com, as well as online publications and pamphlets, such as the StickyPoint Magazine, which offer updated information on the current situation of cannabis in Australia. They cover a wide variety of news and issues ranging from industrial hemp, the use of medicinal cannabis, prohibition, growing cannabis, ethnobotany, cooking with cannabis, books and films, and so on.
The information and issues discussed by the Australian cannabis community are as varied as those discussed in the rest of the world, and as varied as those featured daily in this blog. The worldwide cannabis community are heading and progressing in the same direction, and there are now three continents where a paradigm shift for cannabis is emerging.