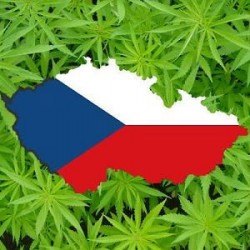 A new bill to legalize the medicinal use of cannabis is currently under consideration by the government of the Czech Republic. A group of experts convened by the Czech Ministry of Health is investigating different ways of putting such a law into practice.
Led by Dr. Zita, the rector of the Medical Faculty at Prague's Charles University, the group is assessing the possible consequences of legalizing medicinal marijuana; their primary concern is that medicinal cannabis could be sold on the black market.
After only two meetings, the future of medical cannabis in the Czech Republic is emerging as a rational strategy formulated by studying the examples of Holland, 15 states in the USA, and several other countries with legalized medicinal use of cannabis.
Dr. Zita seems confident regarding the timetable set by the group, which allows for the implementation of the new medicinal cannabis law during the course of 2012. This, however, is dependent on the Czech parliament voting in favour of the legislative changes suggested by the group of experts, which is expected to happen early in 2012.
Decriminalized possession of all illicit drugs
The Czech Republic decriminalized possession of all illicit drugs in early 2010. Laws passed in 1938 criminalized the possession and production of cannabis, but not its use. The change in legislation to decriminalize possession of small amounts paved the way for the current consideration of legal medicinal cannabis. At the same time, interest in cannabis and hemp became more public, with two large cannabis expos held last year in Prague which attracted tens of thousands of visitors and hundreds of exhibitors, including Sensi Seeds, who were platinum sponsors of Cannabizz, the first Czech expo.
Legal, national production of medicinal cannabis
Dr. Zita and his fellow experts currently favour the Israeli model of producing and providing medical marijuana on a national scale. Put into practice 12 years ago, this system permits cannabis to be produced on eight licensed farms. The cannabis harvested at these locations provides medicine to some 7500 government-registered patients in Israel.
Initially, Dr. Zita's  group considered importing cannabis from abroad, but after further discussion, they agreed that a legal, national production of the drug in its natural form should be allowed.
According to the advisory group, local production should be closely monitored and only permitted for licensed companies or patients themselves. This question remains unresolved at present. Any attempted resale of cannabis for purposes other than those specified in the new law would be prohibited and judged according to the established laws on drug production. Plans also involve the creation of a national registry of patients who qualify for a medicinal cannabis prescription, similar to the Israeli model.