Medicinal Cannabis Germany Since medicinal cannabis was legalised in Germany, there has been constant confrontation between cannabis patients and the police and authorities. Patients need to take medicinal cannabis when they're on the move or away from home. But where is consumption allowed?
In Canada and the USA, the consumption of cannabis in public is basically prohibited whether it is for medical reasons or recreational purposes. However, some open cannabis use is permitted in Germany provided the user is in possession of a valid prescription, because it is seen as a necessary medicinal substance there. This means patients must have the opportunity to take their medicine outside their own four walls and in accordance with precise doctor's orders. The German Federal Institute for Drugs and Medical Devices (BfArM) is, as the competent authority, somewhat vague in its advice about how or where patients may take their medicine. They should not disturb other people and not use cannabis 'ostentatiously', i.e. in a showy way.
What do the law and politicians say about public medicinal cannabis consumption?
Because policing in Germany is at the federal state level, the consumption of cannabis flowers is currently handled quite differently in the individual federal states, as the German Hemp Association discovered when it asked. For example in Berlin, there has been a regulation in place for several years that permits cannabis patients to smoke in public. So if they fall foul of the rules imposed by BfArM, their cannabis won't be confiscated and they won't be charged; they'll just receive a warning. The majority of responses to the German Hemp Association (DHV) reveal that cannabis patients in the majority of federal states can take their medicine discreetly wherever the non-smoking regulations permit.
However, three federal states have announced that they will prosecute patients even if they have a valid prescription. In left-wing Thuringia, patients will still be charged until the public prosecutor can check their status and then drop the case. Rhineland-Palatinate and Brandenburg have announced that they will apply article 163 to cannabis patients who take their medicine in public, and frisk them for other, illegal substances. This repressive approach by the three liberal left-wing German state governments has come as a surprise to observers. Even more astonishing is the response from arch-conservative Bavaria, where possession of a joint can still lead to a search of one's home.
In Bavaria, patients consuming pure cannabis are not legally 'smokers'
The response from the Bavarian Ministry of Health indicated that only the use of medicinal cannabis mixed with tobacco is governed by the non-smoking legislation. Patients consuming pure cannabis there are not deemed by law to be smokers. But given the low awareness and high degree of repression in Bavaria, patients should always remember that ostentatious consumption remains prohibited. If there is any doubt, it is down to Bavarian police officers to decide what is ostentatious.
Medicinal cannabis in daily life. Where is it permitted, and where is it still prohibited?
1. Medicinal Cannabis on the street
It is, generally speaking, possible to consume medicinal cannabis on the street. However, consumption should be as discreet as possible, and only in places where tobacco consumption is also permitted. Patients should, of course, always carry a copy of their latest prescription with them. Even where this isn't mandatory, it will make any checks easier.
2. Medicinal Cannabis At work
Using cannabis as a medicine in the workplace is not generally grounds for dismissal. In 2016, the district court in Hamm/Westphalia ruled that a cannabis patient was still entitled to work, even though retraining could not take place at the vocational training centre in Hamm. The Hamm vocational training centre had previously imposed its own rule and prohibited a patient from taking cannabis during working hours. The individual concerned was forced to stop their training right there and then. What hasn't yet been clarified, however, is whether an employer can insist on oral application being utilised during working hours, or if a patient may take their cannabis using a vaporizer or as a joint.
A soldier in the German army was immediately transferred to desk duties because of being treated with medicinal cannabis, and is no longer permitted to carry a weapon. However, the army had to continue to employ him despite his prescription.
3. Medicinal Cannabis On trains
There is a general smoking ban on German trains. Deutsche Bahn provides smoking areas for its customers at railways stations. The company accepts cannabis patients in its smoking areas, as it told DHV when asked in August:
"[…]. The regulation you refer to in principle also relates to appendix III narcotics as set out in the Narcotics Act. The exception to this are medically prescribed drugs which have been prescribed to the individual by a doctor pursuant to the provisions of clause 13(1) of the Narcotics Act. In our interpretation, this is a case of authorised use as evidenced by the applicable provisions. In practice, this means that as long as pharmacies provide documented proof of the authorisation to issue the Appendix III drug, consumers carry a medical prescription as evidence that they are legally entitled to use the drug, and consumption does not endanger life and limb or the safety of railway operations, it is not prohibited under the house rules of DB railway stations," stated the press office.
4. Medicinal Cannabis In cars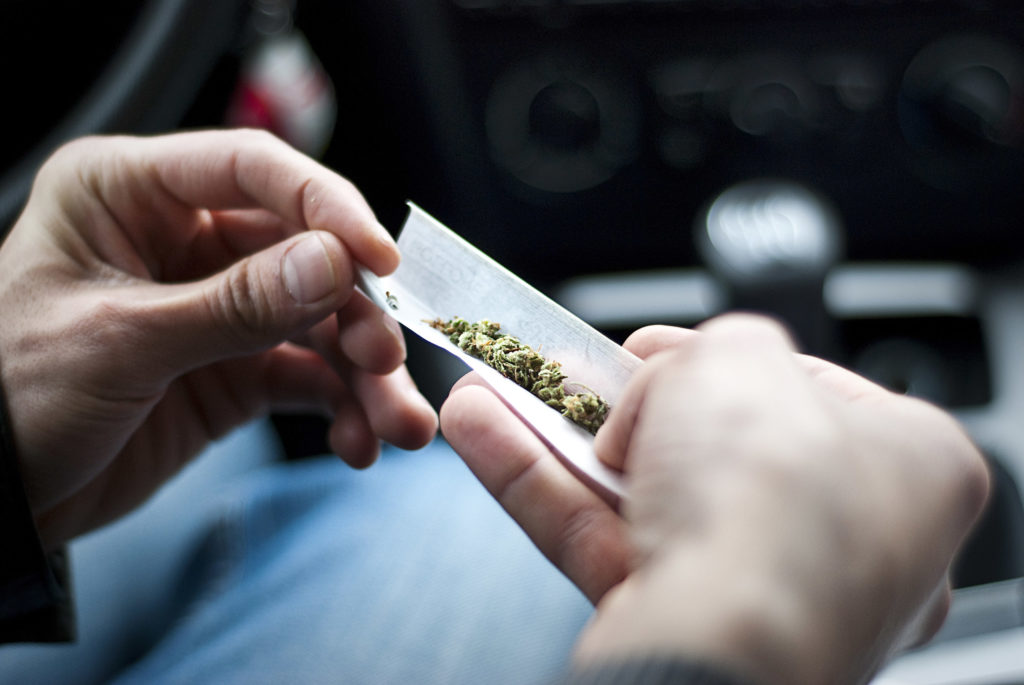 The rules are very clear: even patients are not permitted to consume cannabis while driving. But unlike recreational users, they are permitted to drive as soon as the immediate effects of the medication have abated. This is not dependent on the THC value in the blood, but on the individual patient's so-called compliance behaviour, i.e. his/her perception of responsibility. If the prescribed medications do not cause the individual to function poorly, and any sensory disorientation has passed, they are fit to drive in just the same way as consumers of other prescription drugs, such as opiates or opioids. Doubts about ability to drive are therefore not sanctionable and do not constitute a criminal DUI offence. The police report the individuals concerned to the driving licence authorities where their general driving ability is assessed.
But despite the presence of a cannabis prescription, patients' fundamental ability to drive is repeatedly called into question by the driving licence authorities. Conversely, the use of Sativex, Dronabinol or other standardised cannabis compounds is usually not seen as a problem. Whether or not a cannabis patient is permitted to keep their driving licence despite having a prescription unfortunately still depends on the official's personal assessment.
5. Medicinal cannabis in airports
The German airport operating companies have not yet announced their position. Cannabis patients can simply approach security or a police officer at the airport itself and ask where they can take their medicine without hindrance. In countries such as the Netherlands or the Czech Republic, which have a federal law in place for the medicinal use of cannabis buds, consumption is legal as long as you have the necessary papers with you permitting you to carry prescription drugs in the EU. In the USA, airports are often, although not always, national territory. The possession of medicinal cannabis is prohibited on US national territory, even if the federal state has legalised it by referendum.
6. Medicinal cannabis In cafés/bars
Simply ask whether the place has a smoking area. Patients are increasingly finding that the new legislation is raising awareness.
Persuade, don't provoke
In places where the smoking rule applies, youth protection and the protection of bystanders must anyway be guaranteed. To avoid misunderstandings, first ask bystanders whether cannabis's special aroma might bother them. In case of doubt, it's better to move a few metres than insist on your right. Bongs, buckets and giant joints should be consumed in private only, because outsiders may see it as provocative or ostentatious and that certainly isn't the way to convince sceptics of the need for cannabis as a medicinal product. Spliffs, vaporizers or micro-dabbers are all sufficient when on the go, and are more persuasive than bulging bags or thick clouds of smoke.