Interview Although he was sentenced to a prison term of only five years and eleven months for growing cannabis, Oliver Liermann ended up spending seven years and eleven months inside. In 2008, while he had a suspended sentence running, he was caught growing a kilogramme of cannabis. He was then locked up uninterrupted until May of this year.
Liermann takes his case to the European Court of Human Rights
To get out sooner, Oliver Liermann consented at the start of his imprisonment to serve his term with involuntary commitment. According to German Wikipedia, the involuntary commitment regime is where "mentally ill or substance-addicted criminals are housed under sections 63 and 64 of the German Criminal Code in conditions that are more conducive to recovery and safety". Although an expert in court had certified in his case during remand that there was no drug dependency and Mr Liermann was perfectly healthy, he did agree to the special measures shortly after incarceration, because it held out the prospect of a much reduced sentence.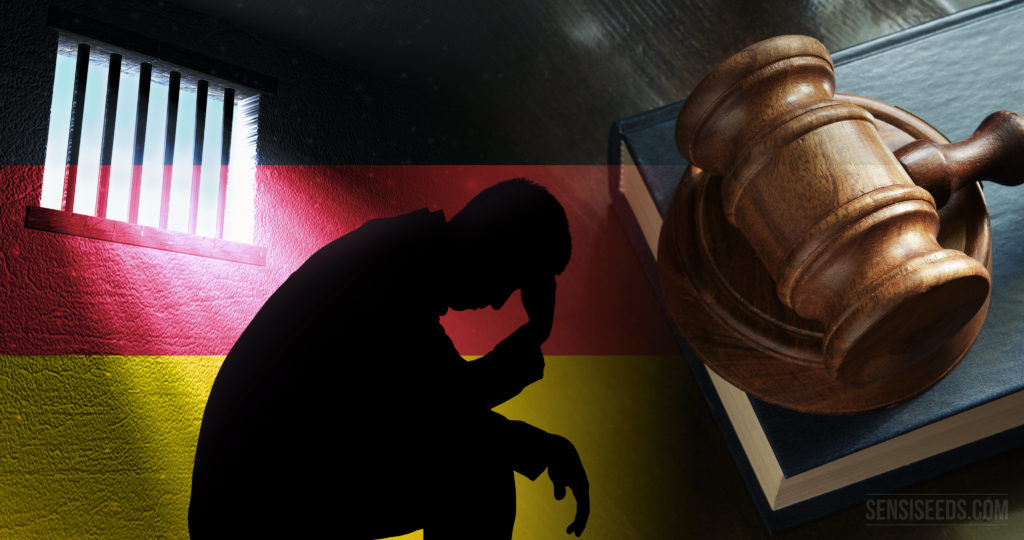 During the treatment, the architect, now 53, was given little information relating to his supposed drug dependency. He resisted what he calls his cognitive reconditioning: "[…] They were very interested in my political views. 'Mr Liermann,' they would say, 'your political views are an illusion resulting from your health condition, and therefore they are the cause of your oppositional [German: 'system-nonconformist'] behaviour. If such and such hadn't happened to you in childhood, you wouldn't have these views now and you wouldn't be a criminal or substance-dependent now. If you fail to see that, there's nothing for it but to put you back in the regular prison system. You will then be written off as untreatable.' I was apprehensive at this, tried to adapt myself and said what they wanted me to say. If I said something wrong, it had consequences. Despite the court report saying the opposite, I was formally declared a drug addict […]," Mr Liermann wrote in Issue 48 of the Lautsprecher – Zeitung für Psychiatrie Erfahrene magazine for those who have undergone psychiatry.
Because he was not prepared to change his political opinion on contemporary drug policies, he was declared untreatable after three and a half years in involuntary treatment behind locked doors, even though he had shown no signs of substance dependency either at liberty or in prison. He thus ended up in a regular prison with an unpromising prognosis. Two of the three and a half years he had spent in involuntary treatment did not count towards his sentence term. Had he simply served out his regular sentence, Oliver could have been free again in early 2015. After the failed involuntary treatment, once he was in Frankenthal Prison, the former hemp grower occupied himself with the setting-up of a prisoners' union and also sought to lay his case before the European Court of Human Rights (ECHR). In the end, he would be locked up for two years longer than the sentence pronounced in his case. Liermann was visited by Corinna Rüffer, a German Green MP, and when stern magazine first reported on prisoners' unions in 2015 and approached the prison governors with an interview request, all Liermann's privileges were suspended and his already planned assistance for rehabilitation into society was cancelled. The interview request was refused.
Liermann and his lawyer have now lodged an appeal at the European Court of Human Rights against this instance of double jeopardy. In parallel with this appeal, Liermann has called upon the Petitions Committee of the Bundestag to consider his case.
After his release in May 2016, Oli, as he is usually known, returned to his chosen abode of Berlin to start the process of looking for a place to live and a job. I met him in a downtown café, where he was already waiting for me with a generously-filled dossier (he has everything on paper; there are no laptops or internet in prison) on the Liermann Case.
Hi, Oliver. How are you doing today?
Quite well, thanks, considering my current housing status and the prospects that that brings, and despite trouble sleeping. I was simply plonked down in front of Frankenthal Prison in May and since then I've had to get by on my own. I now have most of my visits to officialdom behind me, and my urgent priority now is finding something better than couch-surfing, which is how I currently live.
How come you spent so long behind bars?
I was sentenced to a total of five years, eleven months for a repeat offence of cannabis cultivation. The last time they caught me, they found about a kilo of grass. But I never sold any of it. It was my then girlfriend, sick with MS and HIV, who I was growing it for. I took a puff myself occasionally, but never excessively so, and never touched any other drugs at all. So it was no problem at all for me to be totally clean, and in other respects too, I was a model prisoner. I don't even smoke, and my alleged untreatability has nothing to do with positive urine samples. Rather, it's a diagnosis pronounced on the basis of my attitude to cannabis. I even drew up a Hemp Charter in prison.
So you shouldn't be surprised about the negative judgement, really, should you?
Exactly, that's the whole point. I didn't smoke weed, didn't want to, and have absolutely nothing to do with any other drugs. I can cope perfectly well without grass, and that was never called into question in prison. But my political and personal attitude – and not just on drug policy, mind – proved my downfall. How else would I have been marked down as "addictive behaviour", since there was no evidence for that? During my trial, the court expert declined to recommend long-term treatment, because, I quote, there was "no dependency". I assented to a deal because what was dangled in front of me was that "you'll be out again in two years". But what I found during the involuntary treatment was that I was going to have to dissemble and ditch my inmost convictions in order to attain the treatment goal of "self-reflection". I preferred to remain honest, and faced the consequences.
How long did this treatment go on?
Three and a half years, and then it was back in the nick. Once I found out that only two years of the treatment was going to count towards my sentence, I resolved to do something about that, within the scope of what was possible. I started researching the law and determined that I wasn't the only one affected by double jeopardy due to a treatment goal ostensibly not having been met. It's not as extreme in many other cases as in mine. Often, it's just a couple of weeks or months that are not counted. When the 1986 law was repealed, people were perfectly well aware of its shortcomings. Certainly when the German Constitutional Court struck out double jeopardy as unconstitutional in 2012, if not before, parliamentarians ought to have done something. Unfortunately, though, they still haven't. Even if someone does have a drug problem, that can't be used as a reason to lock them up longer than the sentence said. So, with my lawyers, Anwaltsbüro Hembach, I decided to appeal the judgement. I was turned down that many times that Strasbourg was the only option left.
Once you went back into the "regular" prison system, you devoted yourself to the founding of a prisoners' union. Is that really what people need when inside?
Well, I would say there really is a need for action, when you consider that I was paid a wage of less than a euro an hour there. I put myself forward as a local representative in "my" prison of Gefangenengewerkschaft/Bundesweite Organisation (GG/BO), a nationwide body. This earned me plenty of respect from my fellow inmates –  and quite the opposite from the prison governors. Things only got worse for me after stern magazine reported on my efforts to found a local branch of the GG/BO union. Quite apart from the cancellation of all my privileges, I was told that my rehabilitation officer's trust in me had broken down due to my contact with the press. Translating that into plain language, I was not afforded the otherwise customary six-month day release for rehabilitation, during which I would have been preparing for liberty together with an unpaid release mentor. Instead, I sat out my sentence inside until the very last day, even though I hadn't had any disciplinary infractions on my record in the whole seven years. What's more, my release mentor confirmed to me in writing that he would have been perfectly happy anyway to have managed my case, and wrote not a word about a supposed breakdown of trust. I have that letter here. Things never progressed that far right up until the moment of my release. On the contrary, even in May this year, just three days before my release, I was placed before the court in handcuffs. I simply don't accept the length of my sentence, nor why there should have been a risk of absconding three days before the end of a seven-year sentence.
What is it like to run a union in prison?
Well, at first, the GG/BO was denied the status of a union by the prison authorities. Prisoners are not employees, they said, and inmates were able to invoke their right to exercise collective responsibility anyway. In addition, they argued, criminal law in the state concerned, Rheinland-Pfalz, did not allow prisoners to be forced to work. Besides my prison job, running my appeal to the ECHR and my union duties, I was also editor of our prison magazine, in/side. It's very time-consuming to gather your materials day to day. You have books to take out, newspapers to read, a fair bit of contact with the lawyer, phone calls, buying the stamps and sending the letters—all this takes much more time than it would do on the outside.
Is the German Trade Union Confederation (DGB) aware of you?
Yes, Sandro Witt of the DGB in the state of Thuringia has called us "a form of organising that does not amount to a trade union; it is more a commonality of interests".  They're being a bit difficult about us.
So how was being released in May?
When you emerge homeless and unemployed, with a couple of euros in your pocket, all you ask for is that your old friends won't have forgotten about you. And besides, as an ex-con, I had to fill in the forms for the supervision order, one of the requirements of which is that you have to be looking for a fixed address within three days. I'm still looking for one, but at least now I'm on Category 1 unemployment benefit, which is actually an insurance payout in respect of my labour in prison. But it's no more than the lowest rate: it amounts to seven euros a day. My lawyer and I are now working on the ECHR appeal.
What are you hoping will come of the appeal?
If the finding is in my favour, the State will finally have to act, amend the law and in future prevent this kind of double jeopardy. I want compensation for the excess time that I spent behind bars. This could pose a problem for the German government, as my case would set a precedent for many. They would then equally be entitled to damages for the time that was not counted towards sentence length despite being served in a prison-like locked institution.
A measure that was conceived of as an aid to rehabilitation is, when it comes to drug crime, assisting neither with rehabilitation nor with reconciliation with society; quite the opposite. Instead of being obliged to parrot the slogans of state drug policy, people on involuntary treatment should be given the chance to reintegrate into society by fulfilling obligations and coming to terms with their rights. I fulfilled my duties in prison 100%, and there was never cause to complain about my conduct. Even so, I was hampered in coming to terms with my rights, and ultimately they even messed me around. This is a surefire way to produce rejects who sooner or later will inevitably land back on the same wing as recidivists.
Thanks for the interview, and best wishes for the future.