People who use, or would like to use, cannabis for medicinal reasons often have to fight prejudices. In this article, Sensi Seeds aims to demonstrate that medicinal cannabis users are perfectly normal people with life stories to tell. Today, we introduce eight cannabis patients: eight different faces, eight varying fates, and one plant that helps. Read their stories for yourself.
The use of cannabis – whether for recreational or medicinal purposes – and its legal status are the subject of fervent global debate. Legal reform in support of medicinal cannabis is happening all over the world. Medicinal cannabis is now accessible in many parts of Europe, the USA, South America and Australia. Legalisation gives chronically and seriously ill people access to a medicine that was previously unavailable to them.
In this article, we share the real-life encounters of eight different people whose lives were dramatically improved by medicinal cannabis. Through these stories, Sensi Seeds hopes to break down some of the prejudice and stigma associated with medicinal cannabis use to further integrate medicinal cannabis into the modern paradigm.
All of the information provided in this article is based on the personal opinions of cannabis users, and shouldn't be used as or substituted for medical advice.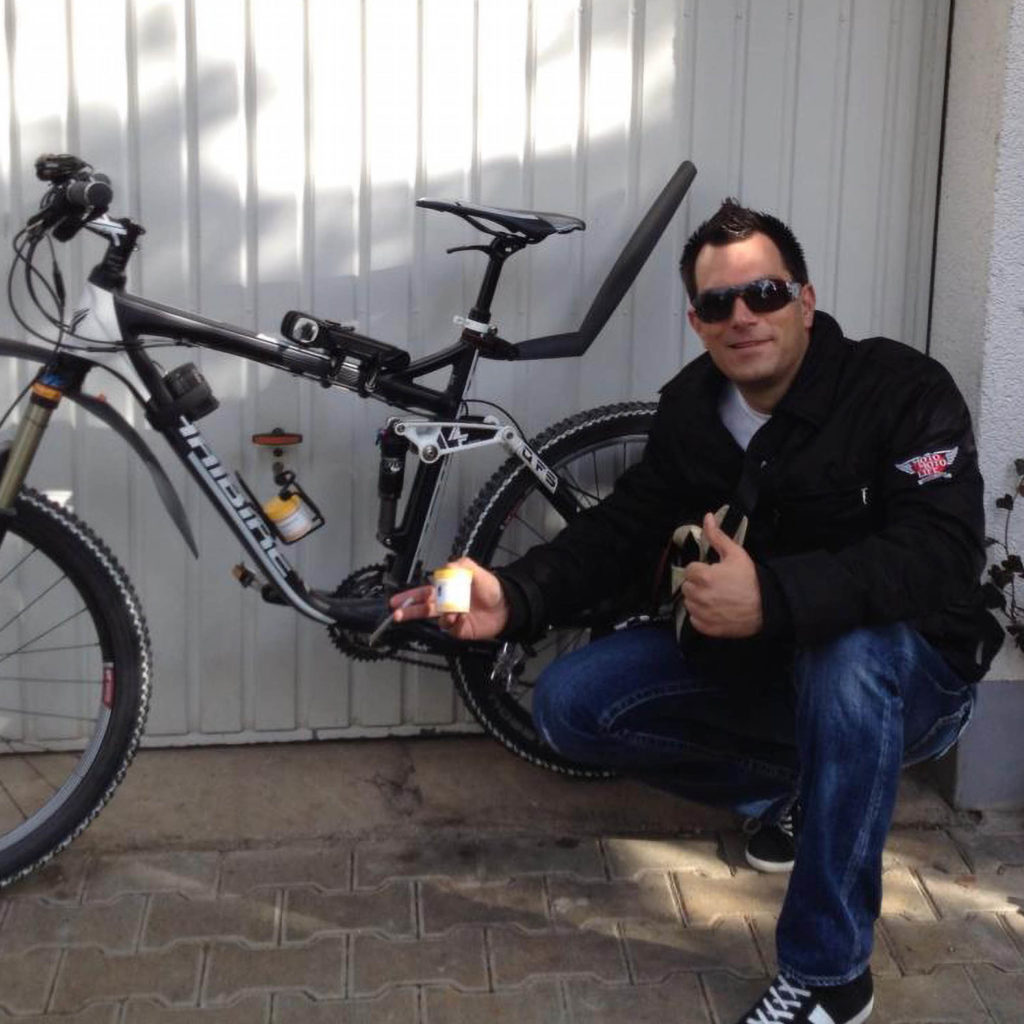 Chris Vrzak
The 36-year-old ADHD patient who lives in Hockenheim has survived two motorbike accidents that have left him with chronic pain in his knee, lower spine and shoulder.
He has been using cannabis since 1994. Chris first became aware in 2009 that it was possible to buy cannabis in Germany with a Certificate of Exemption. However, he never imagined that he would one day be one of Germany's official medicinal cannabis patients. If he mentioned to doctors that the plant helped him and allowed him not to take medications such as diclofenac, and even medications with severe side effects such as tilidine, he was labelled a drug addict and treated as such.
Chris's story started long before his motorbike accidents. After being diagnosed with ADHD as a child, he either was not treated or was treated incorrectly. He was prescribed drops and tablets which a doctor prescribed the then 13-year-old, advising that everything would right itself when he reached puberty. The consequences: an inability to pay attention, an over-stimulated mind, irritability, aggression and poor concentration.
Shortly afterwards, Chris tried cannabis for the first time and noticed that he was able to concentrate and thus complete his secondary school education. His doctor subsequently diagnosed him with a substance abuse disorder – specifically relating to cannabis – and prescribed Chris diazepam, a sedative.
Thereafter, Chris attended endless psychologist visits, and drugs counselling, disrupting his education. After 13 years of heroin and cocaine dependency, two accidents and an extreme burn-out in 2012, Chris managed to get his life back in order. Things started to improve when he changed his doctor, got the right diagnosis, and was offered substitutes.
In 2013, he started the process of applying for a BfArM (Federal Institute for Drugs and Medical Devices) Certificate of Exemption. With the help of the renowned German private doctor, Dr Franjo Grotenhermen – chairman of the Working Group on Cannabis as a Medicine (ACM) and managing director of the International Association for Cannabinoid Medicines (IACM) – Chris submitted his application for access to medicinal cannabis. Without the support of Dr Grotenhermen, says Chris, it would have been completely impossible. Despite the fact that doctors observed an improvement in Chris following cannabis use, the use of cannabis was always categorized as an addictive behaviour.
His application took just seven days from receipt of the documents to the permit being issued. Since October 2013, he has officially been permitted to use cannabis. To date, no other patient's application has been processed so quickly. Chris believes this is because he had prior association with the institute and had been prescribed cannabis substitutes such as L-Polamidon and Subutex.
Chris has a proactive approach to living his life. He's working towards independence with a focus on helping cannabis patients. He's currently building an information platform where visitors can find out all about healthy eating, sustainable lifestyle and medicinal cannabis.
He's interested in how the active ingredients in cannabis and other herbs and oils can be ingested to the best effect. His own personal experiences and love of experimentation have led him to build a new vaporiser, the prototype of which is almost complete. Chris wants to emphasise this message to Sensi Seeds readers, and patients in particular:
"Stay true to yourself! The journey is the reward! Find a doctor you trust and apply for a permit. Only through medicine will cannabis become legal in Germany!"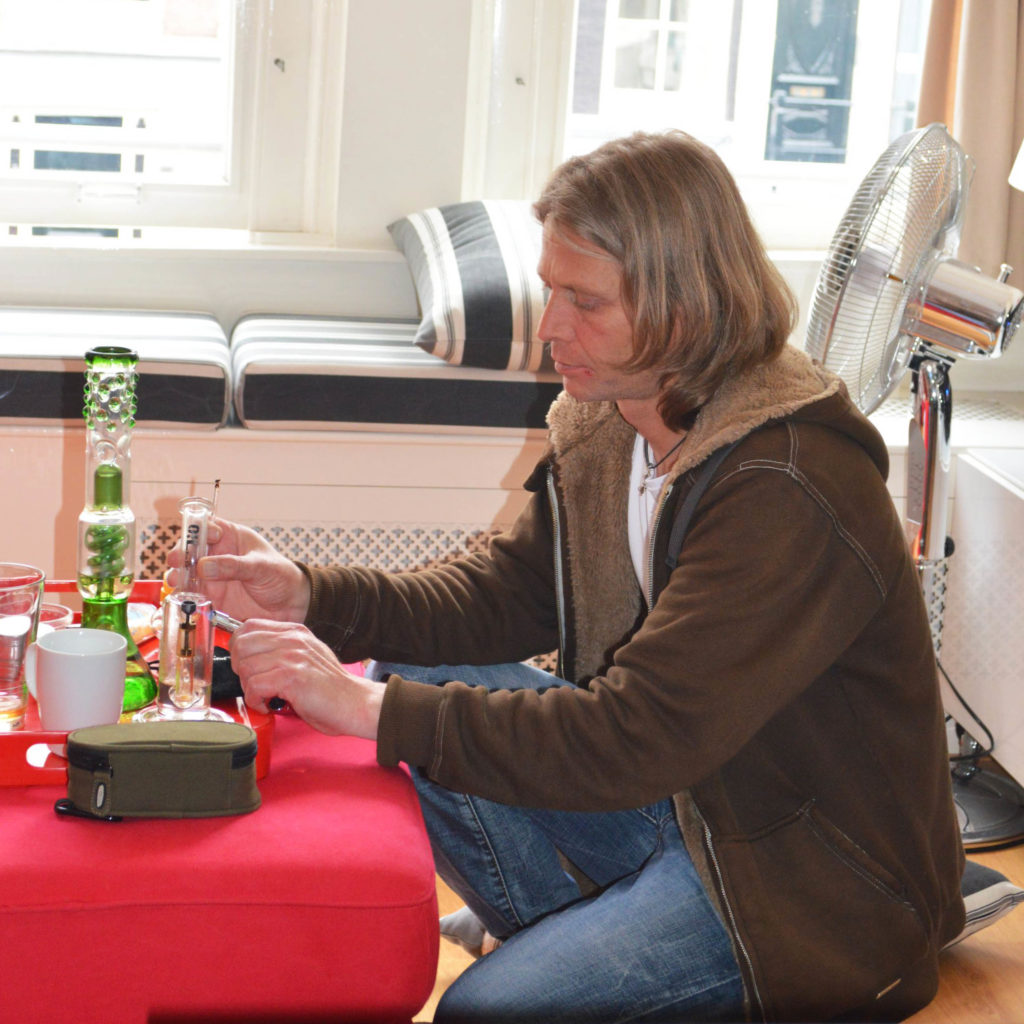 Tilo Clemeur
Tilo was diagnosed with epilepsy when he was 18. Conventional medicines were ineffective, leaving him with severe side effects. The 44-year-old therefore went in search of an alternative therapy. In 2000, he found out that cannabis could offer this alternative. When he told his neurologist about it, he was advised "not to let himself be made a fool of" because cannabis has no medicinal benefits.
Tilo went ahead and tried cannabis anyway. He took it as soon as he started to feel unwell. After a year free from attacks, he took the plunge and stopped taking the last of his conventional medications. Since then he has not suffered a single attack in eight years.
He has had a certificate for medicinal cannabis flowers from his pharmacy since 2012. A resident of Duisburg, he was Germany's first epilepsy patient to be granted a BfArM Certificate of Exemption to obtain cannabis flowers from his pharmacy.
For a year and a half, Tilo has been working as an editor for the magazine Grow!, for which he interviews patients and shares their stories. He also raises awareness by giving talks at events such as the Cultiva Hemp Expo in Vienna and the "Dampfarade" in Cologne. He is highly critical of the medical system that allows doctors to prescribe opiates freely, but doesn't allow doctors to prescribe medical cannabis without prior permission from the Federal Opium Agency. Furthermore, many doctors are simply frightened to deal with cannabis as a medicine, much less prescribe it, because they don't want to come into conflict with the law.
His talks also touch on the immensely high cost of getting cannabis from a pharmacy: €74 for 5 grams, whereas home-grown cannabis would cost €2.20 per gram (for the first crop and the associated initial investment) and €0.35 per gram thereafter! He wants to tell Sensi Seeds readers:
"Fight for your right whether you are a patient or a recreational user. We know that the ban does nothing but harm. Lots of people lose their driving licence simply because they had a drag on a joint three days earlier. Patients are denied the opportunity to grow their own, even though there are constant disruptions to supply lasting weeks and forcing patients to look elsewhere. Make yourself heard and make it clear that we all have a right to cannabis."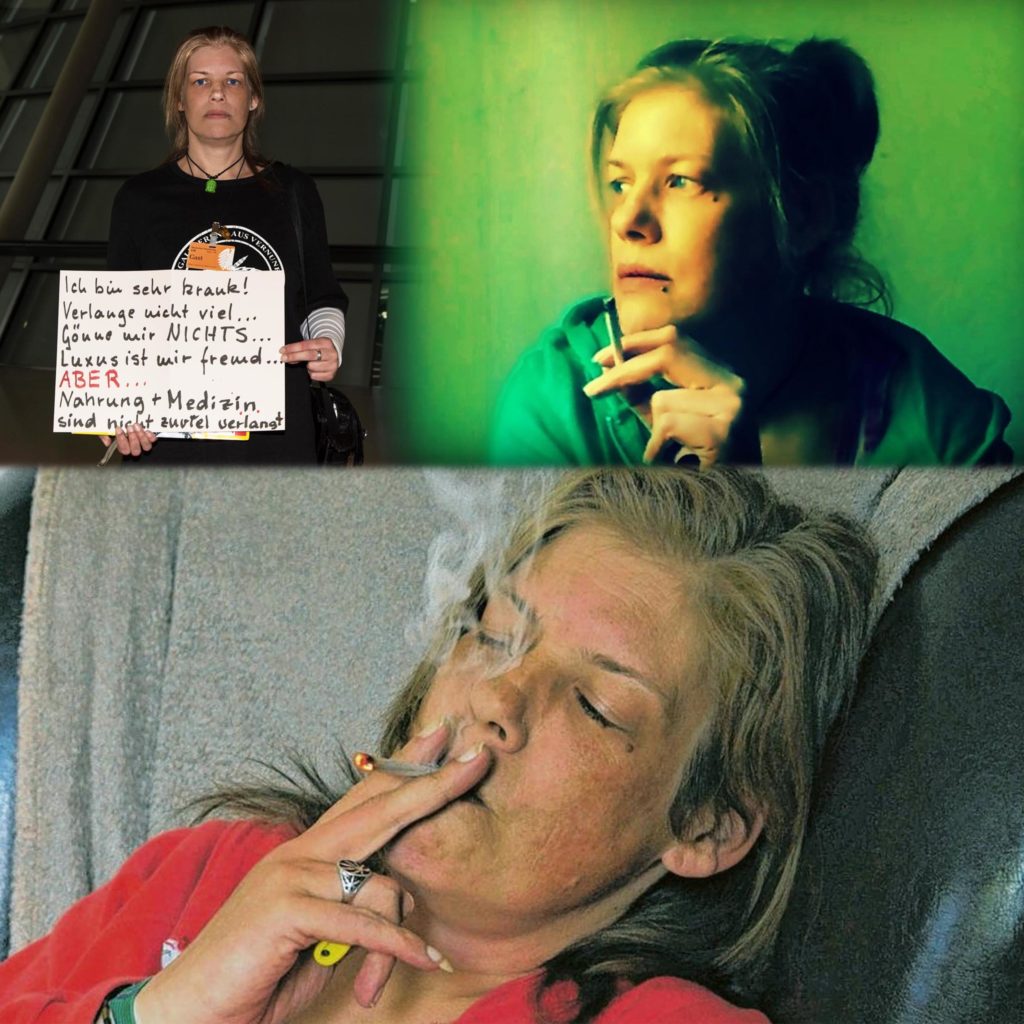 Claudia Russo
Fourty-two year old Claudia Russo from Berlin is a widow with a grown-up daughter. She has a long list of ailments: hepatitis, an irregular heartbeat, cancer, asthma, post-traumatic stress disorder (PTSD), osteochondrosis, poly-directional disc protrusion with vacuum phenomenon, spinal fractures, spinal column syndrome, spondylarthrosis, disrupted sleep due to pain, depression, chronic pain syndrome, and abdominal cancer.
Claudia became an official cannabis patient in March 2014, although she was familiar with the plant before that time. She had been using cannabis for years because it gave her support in many areas and calmed her mind. It took around six months for her to obtain an official permission to use cannabis. "The waiting, the suffering and the never-ending delays with letters made it feel like an eternity," says Claudia.
When she was diagnosed with cancer, she received a stem cell reconstruction treatment that almost killed her. After that, she sought out natural medicine as a final resort. At a certain point, she came across a video about Rick Simpson oil. She looked into it and started to make her own. The results were astounding, but she found the substance unpalatable, so she began to further develop it, making oils for a wide range of uses.
Claudia has a lot to say – to the doctors, to the health insurance companies and to her fellow human beings. Despite her incapacity to work, she stays busy volunteering. Work keeps her alive and distracts her from the pain. Claudia does acceptance-oriented drug work, advises ill people, the elderly, addicts and concerned parents and she has a small shop where she sells her own painted designs. She is very active in drugs policy and helps others in applying for permission to use medicinal cannabis flowers. Her message:
"Hemp is hope… Not only dope."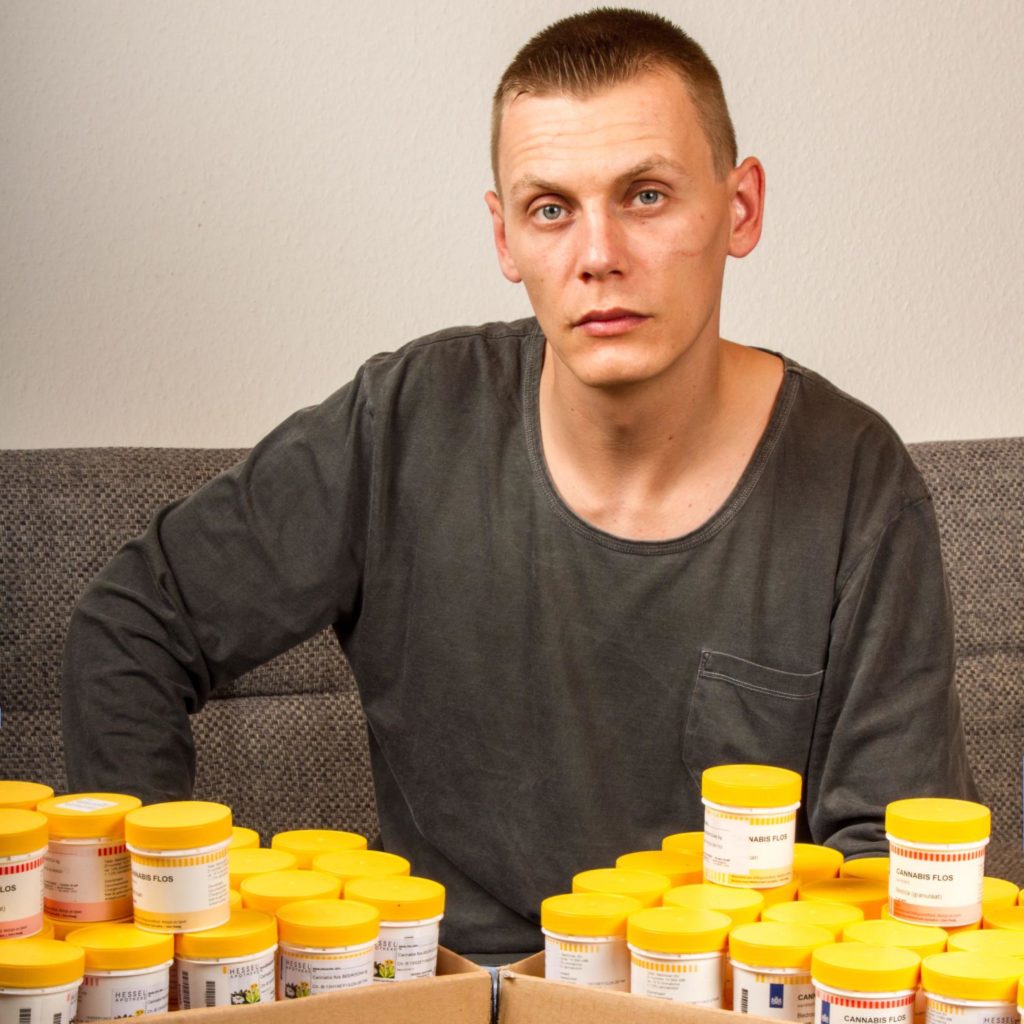 Alexander Jähn
Alexander has been a cannabis patient since 2002 because of pain, paralysis and spastic cramps that came as a result of a serious road traffic accident. Prior to the accident Alexander was a retail salesman, but he is now unable to work. Alexander is married with one child.
Before he was officially permitted to use cannabis as a medicine, the doctors tried to control his pain with tilidine, morphine, tramadol, fentanyl and other medications. After sending in his application, Alexander had to wait for three months before being granted permission to use medicinal cannabis.
He was familiar with cannabis from his youth but it was only after becoming ill that it occurred to him how much it really helps him. His message to Sensi Seeds readers is:
"Herb is the Healing!"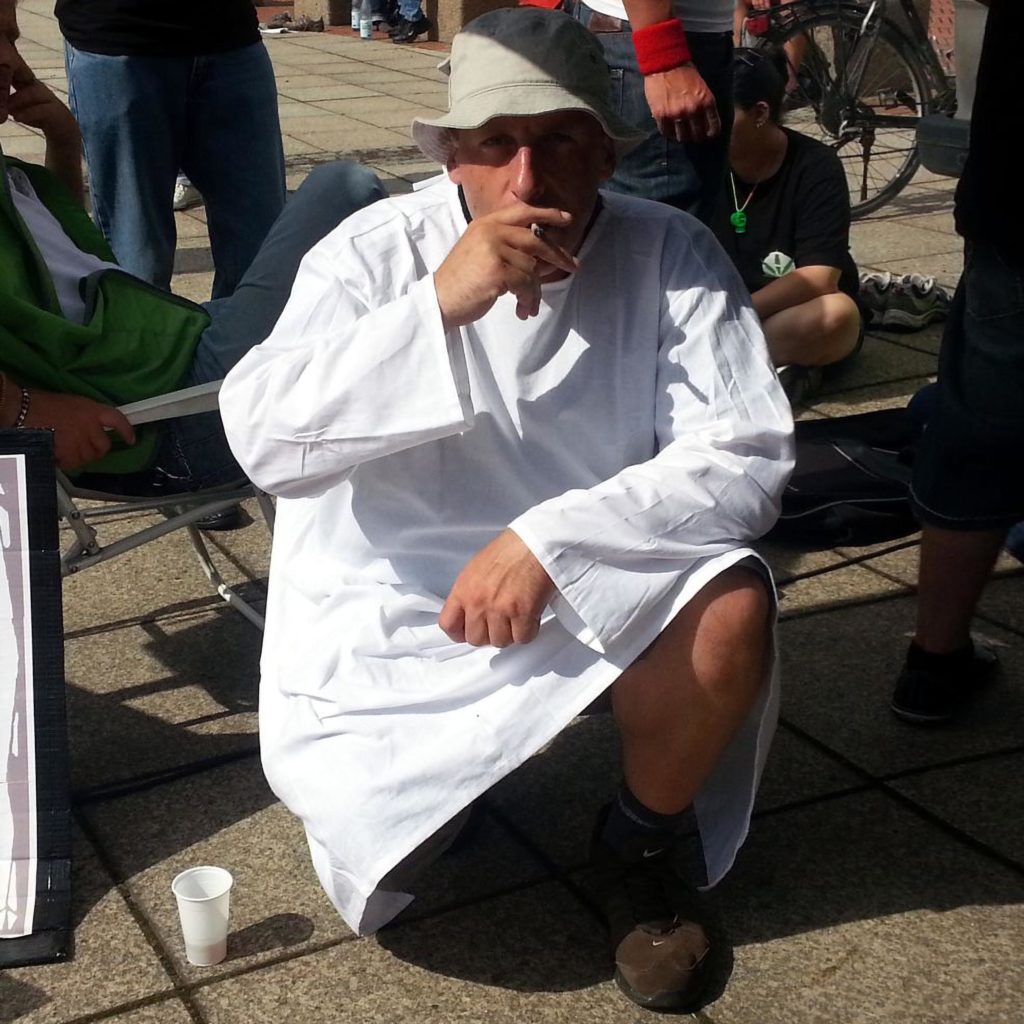 Ralf Herrmann
The 40-year-old from Heidelberg is a single father with a young daughter. Ralf tells us that he takes cannabis for ADHD, a slipped disc and arthritis in his shoulder.
Conventional medicines recommended to Ralf were Ritalin, Vioxx, opiates and anti-depressants. He refused them all. He personally found this cocktail of medicines too dangerous. He smoked cannabis instead, and was labelled an addict. Why did he do it? Simple: Cannabis was what restored him to health and helped keep physical pain under control.
Since 2001, Ralf has been permitted to take dronabinol. His GP at the time prescribed it for him when other medications failed to help him effectively. Most importantly, it had no side effects for Ralf.
In the summer of 2010 he became aware of the availability of medicinal cannabis flowers at the pharmacy via the International Association for Cannabis as Medicine. After finding a doctor prepared to support his application for an exemption, he took the first step. Following endless telephone calls, it took Ralf two months to obtain the BfArM Certificate of Exemption that allowed him to obtain cannabis from the pharmacy in Germany.
However, it took several years before he was permitted to use cannabis. He received his approval for medicinal cannabis flowers in December 2010 and is happy to have gone down the cannabis route. When he was granted his Certificate of Exemption, Ralf felt that he had finally been acknowledged by society.
In December 2010, there were approximately 60 patients considered to be untreatable and permitted to obtain cannabis from their pharmacist. Today there are just under 300 such patients. Unfortunately, no German health insurance companies cover medicinal cannabis, and therefore patients are required to finance their own medicinal cannabis.
Ralf was one of the patients who appeared before the Administrative Court in Cologne in mid-2014 to fight for the right to grow his own cannabis. Unfortunately, he was one of those whose claim to grow his own cannabis was rejected. But Ralf didn't let it rest there – he submitted an appeal. His motto:
"Legalise it worldwide."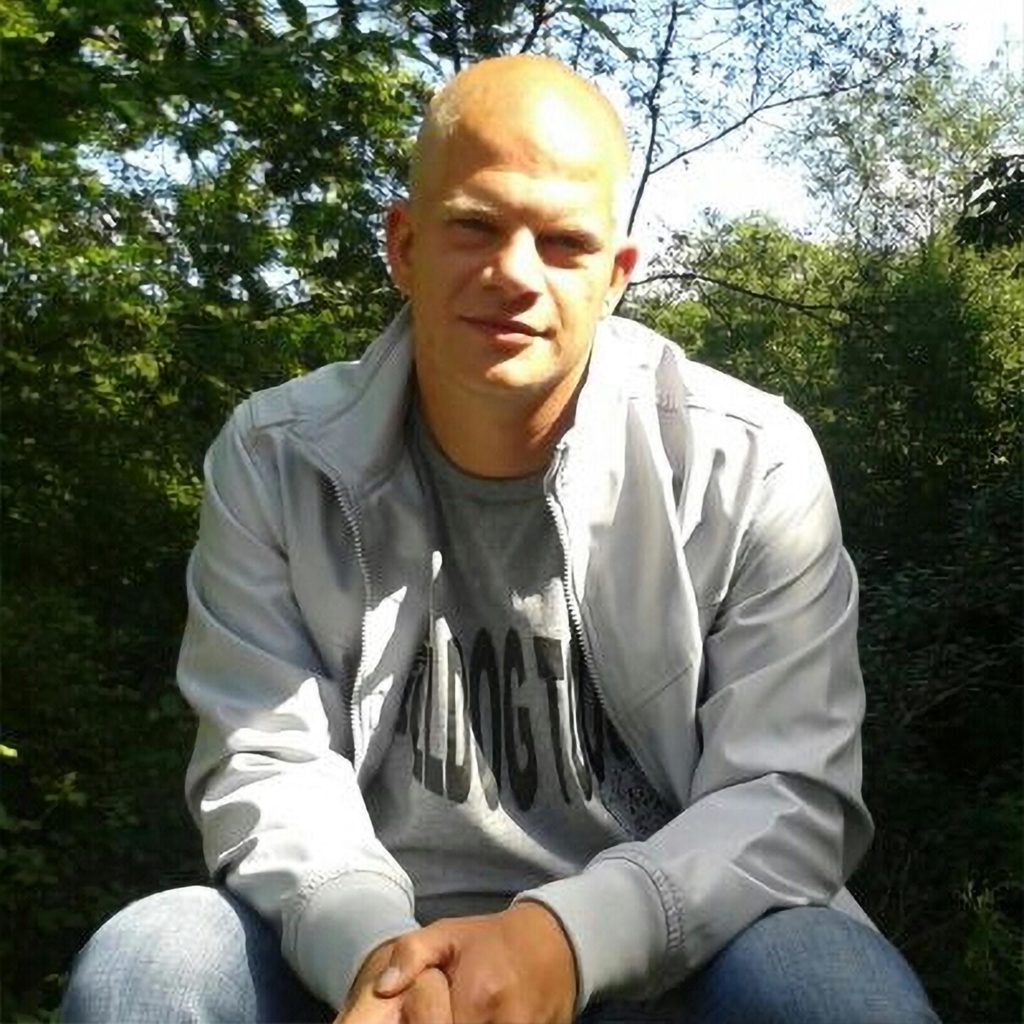 Christian Schulzki
This 34-year-old from Berlin suffers from chronic pain after 4 intervertebral disc surgeries. His symptoms interfere with his family and social life, sometimes not permitting him to participate at all. Even grocery shopping is difficult and associated with anxiety.
In addition, this skilled butcher who is now living in Saarland suffers from cluster headaches, also known as Bing-Horton neuralgia. This disease is unilateral and triggers extreme headache attacks that can last from 15 up to 180 minutes. "I wouldn't wish it on anyone." – Christian's brief, concise comment about it speaks volumes.
When his ailments first started, he could still work as an order picker at a pharmaceutical company. After that, he tried working as a call centre operator, but his illness inevitably led to extended sick leave, after which he was finally fired.
For the past two years, Christian has been at home trying to find the way back into (working) life: "I accept neither my illnesses nor this setback, which seems to be worsening." He should be thinking of retirement, but he simply refuses to do so. Through rehabilitation courses and medical services connected to the Job Centre, he is trying to regain a foothold.
Standard medications with serious side effects
Christian's medication list is long — very long. Christian takes Targin in the mornings and at night, Capros Akut in between. He's also been prescribed Novalgin drops, Omeprazol in the mornings and at night, Verapamil, and oxygen during a headache attack. At the end of 2012, when still using Triptane for his cluster headaches, Christian had to be detoxified at the hospital for 14 days.
Other standard medications were morphine, opiates, anaesthetics, tillidin, gabapentin, Lyrica, Katadolon and others. With cannabis, his medication intake is reduced by 75% and sometimes omitted all together.
Christian tried cannabis for the first time as a teenager. As a medicine, it certainly never came into question for him, since the plant is illegal. In March 2014, Christian became aware of the potential of cannabis as a medicine. He searched for information through media reports and the internet and began investing a lot of time into cannabis research.
In September 2014, he spoke with his pain management specialist after having been treated for three weeks, to no avail. The specialist's reaction was distant and dismissive: "Don't know it, won't do it." Christian's GP responded much more openly, and in November 2014, the application for medicinal hemp flowers from the pharmacy began. He sent his application to BfArM on 1 December 2014 and he was advised by telephone as soon as 8 January 2015 that his request had been granted. Since 30 January, the written approval has been available, yet the supply shortages at Bedrocan prevent him from being able to take his medicine regularly. His message to Sensi Seeds readers is:
"Every patient who has smoked cannabis or has taken it in any other form and who have benefitted from it, should submit an application to BfArM. When a doctor says no, and the first, second or even the third pharmacy does not go along: keep on trying. Enter into forums and get informed. Convince your doctor. Don't get DISCOURAGED! In the sense of… legalise it!"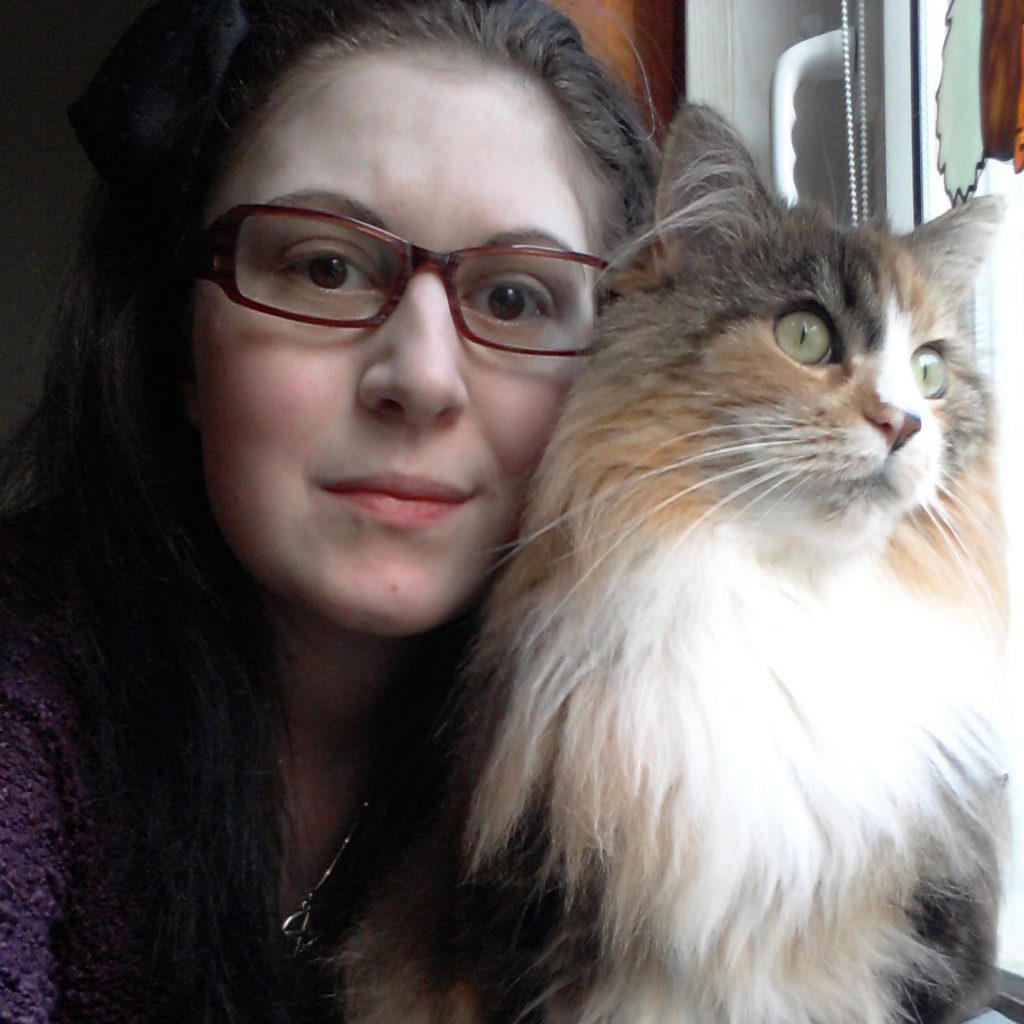 Peggy S.
Meet Peggy from Thuringia. She is only 30 years old and 90% disabled. Her mobility is entirely impaired and requires accompaniment for public transportation. Peggy has been incapacitated for work since 2010. She loves spending time with her Maine Coon cats. Peggy mainly uses cannabis to deal with pain associated with her condition.
Peggy's complex diagnosis
Peggy suffers from Connective Tissue Disease (a group of autoimmune diseases that includes vasculitis, Sjogren's syndrome, and Raynauds), along with exocrine pancreatic insufficiency.
Peggy has also been diagnosed with trigeminal neuralgia, a form of facial pain, and facial paralysis on the right side (Bell's palsy). She also experiences involuntary muscle spasms on the right side of her face. Because of that, Peggy also suffers from post-herpetic neuralgia (extremely severe nerve pains).
She also has gastritis, osteoporosis, endometriosis, celiac disease, lactose and fructose intolerance as well as asthma and allergies. Unfortunately, her list of ailments does not end here.
Less medication thanks to cannabis
Before trying cannabis as therapy, Peggy tried all available opiates, different antiepileptics, antidepressants and sleeping drugs. She was also prescribed cortisone and essential rheumatism medications such as MTX, AZA, Quensyl and immunoglobulin.
Especially for her facial neuralgia, cannabis helps Peggy a lot better than antiepileptics do. Now she uses cannabis, and only takes cortisone and oxycodone, and she has already been able to reduce the dose of the latter.
Support from the pain management specialist
Peggy's pain management specialist prescribed her dronabinol drops after all else had failed. Since 2014, she holds a certificate of exemption for medical hemp flowers. She is quite pleased that her specialist was not only open to treatment with cannabis, but even supported her during the application process.
"Without CBD-rich cannabis, the pains, especially the facial nerve pains, would hardly be bearable."
Non-delivery to Bedica and Bediol does not make it easy
In the last few months, Peggy's cannabis prescriptions (Bedica and Bediol) have been difficult to acquire. Peggy says that each day without Bediol and Bedica sets her back. She immediately experiences an increase in facial pain. Her rheumatism attacks then quickly reappear too. This, in turn, means that she needs to increase her cortisone and painkiller intake.
"Unfortunately, the health insurance company does not pay for cannabis, and it is a recurring monthly struggle to come up with between 245-500 Euro when you only receive a basic income. I wish that cannabis would finally be reimbursed by the health insurance company for those who are ill, and that its poor availability would finally improve as well, since it is no fun having to worry about whether one's medication is available over and over again."
This 30-year-old loves to cook with hemp and cannabis. Due to her many intolerances, she is forced to cook and bake fresh every day. Her allergies have thus helped her find new hobby which she thoroughly enjoys. Peggy uses hemp flour & seeds, and cannabis from the pharmacy.
She devotedly cares for her cats and fish herself.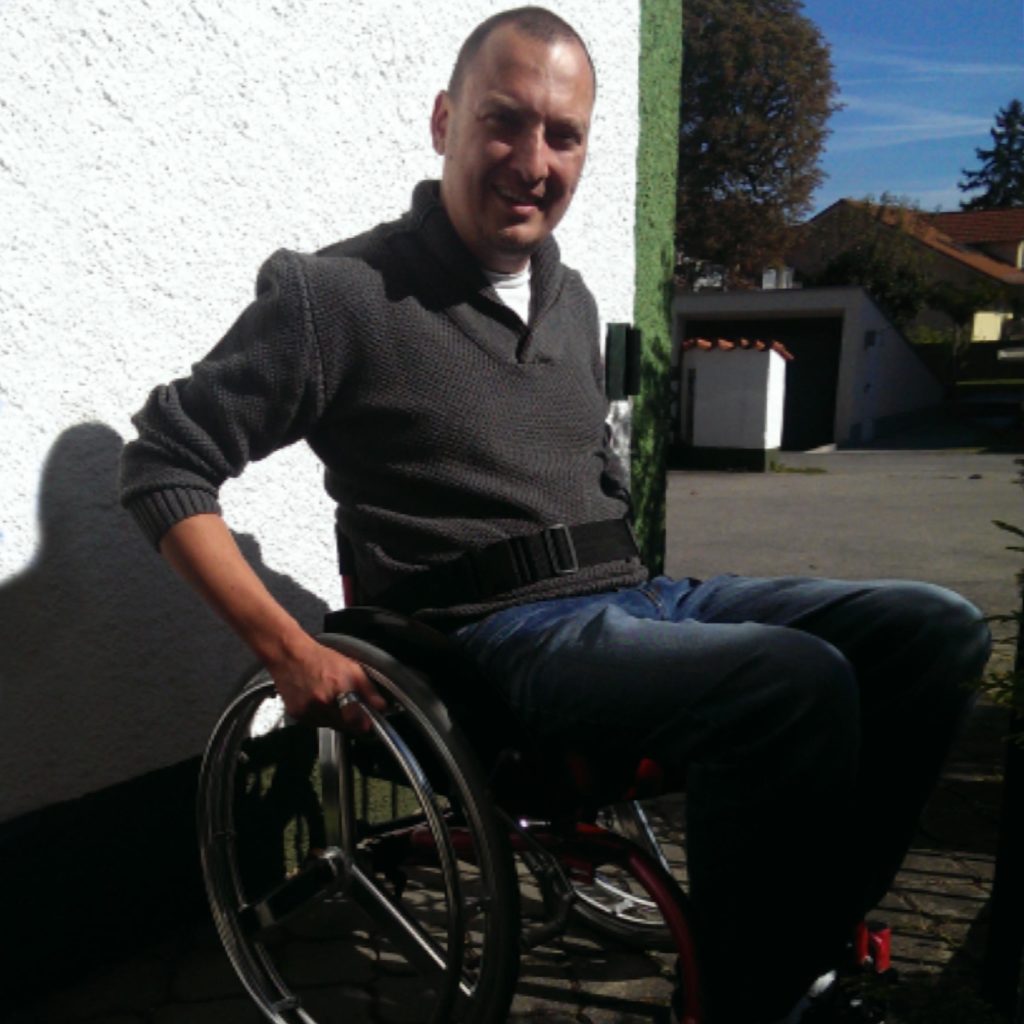 Michael Autrum
Michael is originally from Weisswasser and lives near Starnberg with his bulldog, Tyson.
Michael suffers from chronic pain syndrome, at a grade three according to Gerbershagen. For him, pain is not related to a particular ailment. It forms a separate medical condition altogether. In stage three, even multidisciplinary treatments reduce symptoms in only 30% of the patients. Michael does not pertain to those 30%.
He suffers from chronic pain, allergic asthma, chronic obstructive pulmonary disease (COPD), arthritis, omarthrosis (wearing of the joint in the shoulder) and Barrett's oesophagus (oesophageal lining change due to reflux disease). He has also had his third pacemaker implemented. This trained chef receives a disability pension at the age of 38.
Michael's daily medication included Opiates, Lyrica, asthma spray, Fortecortin, and Prednisolone.
He needs 2 litres of oxygen every 15 hours as treatment for COPD. At night, he is hooked up to a sleep apnoea device. He resorted to sleeping pills to be able to get even minimal sleep, sometimes only 4-5 hours per night.
Thanks to cannabis, he has been able to cut his medication intake by half, and has even omitted some of them altogether. For example, he has reduced his daily opiate intake from 96mg to 12mg. Since his cannabis therapy, he no longer needs sleeping pills, asthma spray or Fortecortin at all.
Michael has held of a certificate of exemption for medicinal hemp flowers since September 2014. Through the media and the Internet, he came into contact with other cannabis patients like Claudia Russo, who was introduced earlier in this article. Dr. Grotenhermen, who is well-known in Germany, invited Michael to come to his practice mid-August 2014, and at the end of the month, the patient held the permitting document in his hands. He was also supported by his pulmonologist. Within ten days of application, Michael was granted permission to obtain medicinal cannabis.
Michael is currently in the process of creating a film, "Lebe dein Leben wie Michael" (Live your life like Michael). In this film, Michael encourages disabled people not to give up. He shares his personal journey with illness, disability and medicinal cannabis.
Michael refuses to be defeated by constraints and by his wheelchair: he plays wheelchair basketball at USC Munich. He very much enjoys basketball, team sports in general and doing activities in a team. He does not let his disability confine him to living between four walls. His motivation slogan:
"Resignation is the beginning of the end!"
Cannabis has immense potential to improve the quality of many lives. The only thing that stands between many people and medicinal cannabis is the law. The more the cannabis movement progresses, the more it becomes clear that medicinal cannabis should be accessible to those in need, especially to those whose lives can be improved so dramatically.
Disclaimer:

This article is not a substitute for professional medical advice, diagnosis, or treatment. Always consult with your doctor or other licensed medical professional. Do not delay seeking medical advice or disregard medical advice due to something you have read on this website.