For 30 years, Sensi Seeds has been involved in numerous projects, most of them dedicated to the democratization of cannabis, and all of them falling within the big picture of activism, medical research, and the industrialization of as many aspects of the cannabis plant as possible. But most people know Sensi Seeds for its core activity: cannabis seeds.
In the context of our 30th anniversary, over the next few weeks we will be publishing a series of articles about the pivotal moments in Sensi Seeds' history. They represent the building blocks of our core values and what we stand for today.
For 30 years, Sensi Seeds has been involved in numerous projects, most of them dedicated to the democratization of cannabis, and all of them falling within the big picture of activism, medical research, and the industrialization of as many aspects of the cannabis plant as possible. But most people know Sensi Seeds for its core activity: cannabis seeds.
In this article, we lead you through the history of the strains that have made us who we are today.
Sensi Seeds strains: a historical beginning
The history of the first Sensi Seeds strains goes back to the early days; back when Sensi Seeds was not yet the seed bank you know, but merely a breeding project thriving in the minds of Ben and his close collaborators, including Alan Dronkers, his eldest son, and other fellow Dutch Master Breeders.
Back in the '70s, Ben Dronkers was travelling the world with the mission of finding and collecting as many seeds as possible, from as many different places as possible: from Central Asia to Southeast Asia, including the precious Hindu Kush mountains, as well as around tropical latitudes.
At the time, Amsterdam was just starting to become a cannabis genetics hotspot. International breeders started converging there to exchange genetics and knowledge and the first stable hybrids perfected by breeders from North America were crossing the Atlantic Ocean, to the delight of the budding Amsterdam cannabis trade. This made for a perfect opportunity to attempt the most daring breeding operations between the carefully selected cultivars and these brand new sensations from the other side of the pond.
Getting access to these American hybrids was a key moment for Sensi Seeds. It led to the decades of hard work that gave birth to some of the world's most sought-after strains, and to the most thorough, advanced breeding programs that were to become the Sensi Seeds standard with regards to handling genetics.
Sensi Seeds Classics: from Skunk #1 to exceptional subset strains
Skunk #1
It is often said that Skunk #1 changed the face of cannabis culture. The original Skunk hybrids brought to Europe by American breeders were based on traditional cultivars from Central and South America, Afghanistan and Thailand, and were already a phenomenal success. This is why it is not rare to this day to hear of exceptionally strong cannabis being referred to as "skunk", regardless of its actual genetic parentage.
Sensi Seeds' Skunk #1 on the other hand, quickly benefited from a reputation of its own. After years of selection and back-crossing, this stabilized version of the aforementioned hybrids was introduced to the world at the end of the '70s, and immediately became the object of unwavering passion from breeders and consumers alike. Indeed, thanks to its rock-solid genetics, Skunk #1 has been the basis for creating hundreds of the world's most appreciated hybrids, including strains such as Cheese, Silver Haze, Orange Bud, and many more.
Skunk #1 remains part of Sensi Seeds' selection to this day, and after more than 50 years of satisfying consumers all over the world, still is one of the most awarded strains ever bred.
Early strains
Back when the first stable early strains were released in the '80s, they became an immediate revolution in the world of cannabis cultivation. Indeed, while Cannabis Sativa L. is known to be a resilient crop capable of thriving in almost any climate, growing it under unfavourable weather conditions can still prove to be a challenge.
Sensi Seeds' original location in northern Europe had a lot to do with our commitment to stabilise the first early strains arriving from America. The Netherlands' climate is a textbook example for "not ideal" growing conditions. Therefore, unsurprisingly, when these early strains were released, they were received with much excitement.
The very first to open the festivities was the Early Girl, closely followed by her sister strain: the Early Pearl, a sativa-dominant strain also designed for short summers.
Finally, Early Skunk, the most-awaited offspring of the already acclaimed Early Pearl and Skunk #1, was a perfect final addition to the Early family, and due to its illustrious Skunk #1 lineage, it became a definite favourite for growers facing climate-related challenges.
Northern Lights #5 x Haze & Silver Haze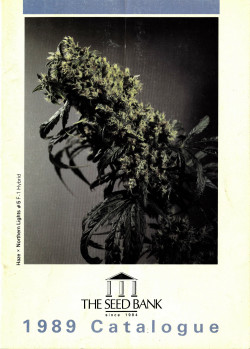 After such an overwhelming first wave of stabilized hybrids, it was important for the following additions to the Sensi Seeds selection to be bold. And said additions did not disappoint. Northern Lights #5 x Haze is one of our most appreciated strains, and at the time of its release back in 1989, started somewhat of a breeding revolution by flawlessly representing the pinnacle of achievement in cannabis growing. To this day, many say that the strain still has not been surpassed. The Dronkers family themselves are absolute fans of it, and have chosen it among their favourite varieties when asked. Read the interviews of Ben Dronkers, Alan Dronkers, Ravi Dronkers and Gio Dronkers to read it for yourselves.
Shortly after the release of Northern Lights #5 x Haze, another then-favourite, now-legend was making its first appearance: the aptly named, shimmering Silver Haze. Almost immediately awarded with its first High Times Cannabis Cup, it is often talked about together with the aforementioned strain, as they both contributed to revive the psychedelic sativa trend.
Giving back to the community: Sensi Seeds celebrity strains
Celebrity never was an endgame for either of the personalities we chose to celebrate over these 30 years of existence. Yet, their passion and dedication to the plant led them to become considered as heroes of the cannabis community. At Sensi Seeds, we have always kept close to the activist world and to teaching the world about the preciousness of the cannabis plant (read about Sensi Seeds and activism here). It therefore seemed a logical step to celebrate these cannabis evangelists by attributing them with their own, new, exotic and revolutionary cannabis strains.
We are proud to have associated with these personalities in the name of this shared cause, and this is why our selection of cannabis seeds was established and bred with great care and the utmost expertise.
One of our "celebrity strains" needs no introduction: our beloved Jack Herer. Released in 1994 during a special ceremony at the Cannabis Castle, it is still revered by millions, and is referenced in pop culture more than frequently, making it a truly legendary strain. Needless to say, we think this is only fair considering that the man, Mr Jack Herer, was a legend himself, and we are proud to count his strain in our current catalogue.
Another legend that inspired a legend story, would be the one that led to Marley's Collie. In 1997, the Cannabis Cup was taking place with Mrs. Rita Marley as a special guest. It is after this event that the Sensi Seeds team of breeders decided to work on an homage to her departed husband, Bob Marley. Thus, Marley's Collie was born in 1998, from our most exceptional Jamaican lady, pollinated with a pure Afghani cultivar from the delightfully sweet Maple Leaf Indica family. As the only Sensi Seeds strain inspired by a major cultural representative of the cannabis community, it certainly bears major importance to us, and we are proud to have witnessed it conquer the hearts and taste buds of our loyal followers.
Our other "celebrity strains" are, on the other hand, inspired by people that have contributed directly to what the Sensi Seeds' legacy represents. Among them: Howard Marks, arguably once the world's most (in)famous drug smuggler now turned writer, entrepreneur, and daring activist. Awarded the Cannabis Culture Awards in 2014 by the Hash Marihuana & Hemp Museum, his dedicated strain is almost as daring as the man himself. The story of the Mr. Nice G13 x Hash Plant says that the original G13 was "acquired" from a government research facility, and coupled with Sensi Seeds' magnificent Hash Plant after years of research to find the perfect match that would preserve its unique qualities. Released under Howard Marks' alter ego "Mr. Nice", it is considered a powerhouse in terms of growing capabilities, as well as for its knock-down 'body-rush' Afghanica stone.
2006 marks the release of our latest celebrity strain (for now!). Ed Rosenthal, our great friend and American cannabis guru, is a definite milestone in our history. Over their shared love for quality cannabis genetics, he and Ben Dronkers have collaborated on many sizeable projects, one of which establishing the basis of what became the Hash Marihuana & Hemp Museum. However, the most ambitious project was no doubt the creation of Ed Rosenthal Super Bud, a process that took close to a decade of meticulous interbreeding, to obtain an exceptional crop, so sophisticated one could call it "gourmet". La crème de la crème, without any doubt!
The world of cannabis activism swarms with exceptional personalities that demonstrate their dedication, open-mindedness, and of course, their love for Cannabis Sativa L. on a daily basis. It is important to us to give back to them and to the community supporting them, to ensure their memory never fades. If you have read our ode to cannabis, or if you are yourself a cannabis enthusiast, you no doubt understand how precious the cannabis plant is to humans, and therefore how precious the works of these revolutionary public figures are.
Stay tuned with Sensi Seeds, for many more decades of small and large revolutions in unique and exceptional strains, and who knows? Perhaps one will end up carrying your name.