Barcelona To those who prefer a nice sunny afternoon to a cozy day indoors while it's raining outside, Barcelona is the new Amsterdam. Plan your next visit and check out the best cannabis social clubs in the city.
In 2001, the Barcelona Cannabis Taster's Club opened, beginning a trend that would make Catalonia's capital city one of the hottest smoke spots in the world. Today, there are more than 300 clubs in Barcelona, each one catering to a local canna-community by providing top shelf bud, hash and concentrates. Here are ten of the best Barcelona cannabis social clubs.
Choko Cannabis Social Club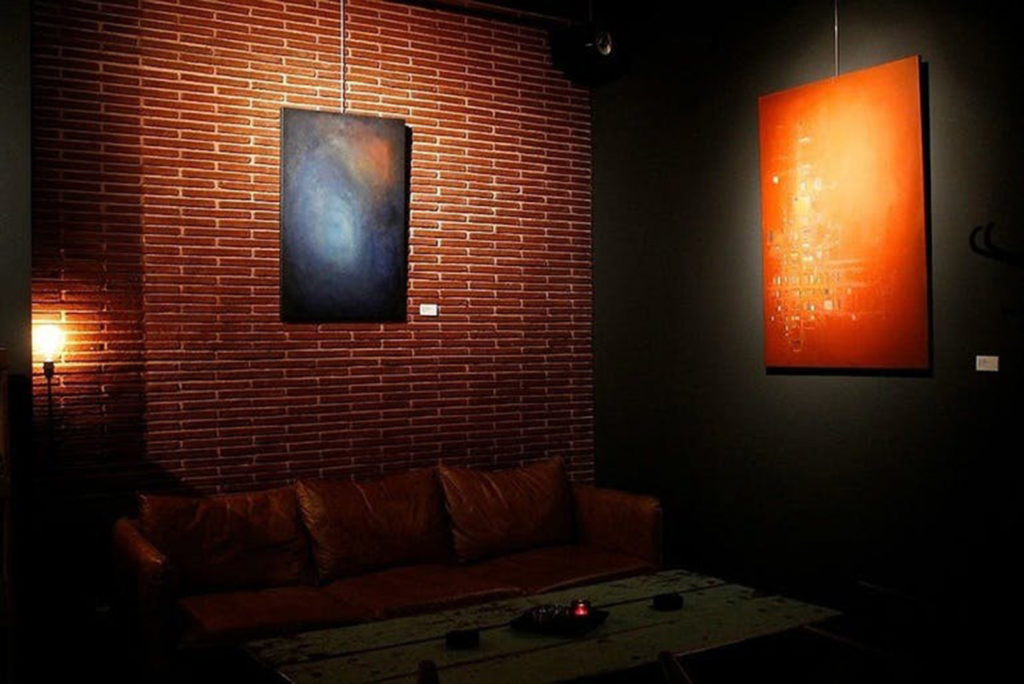 Located in the center of Barcelona, Choko is a spacious club known for its plush décor, arty vibe and cool lounge music. Two factors make it unique. Firstly, they have their own genetics team who has won awards for their strains, the most famous of which is the Choko strain, a potent sativa. Secondly, they serve hot food, which is a rarity for BCN clubs. The staff, who are known for their friendliness, make every member feel like reefer royalty, meaning this club is the perfect place to catch up on some work, hang out with friends, or just chill, smoke and listen to the sounds.
HQ BCN Cannabis Social Club
HQ BCN is one of the city's older clubs, and, just to be clear: HQ stands for "hempquarters." The club was opened by David Madilyan shortly after he moved to Barcelona seventeen years ago. Because David is a hash-smoker, one of his goals was to provide his club members with the best hash, so he bought a press and started making rosins. He has since entered his rosins into various cups, winning lots of first place prizes. Because HQ cares about the wellbeing of its members, the club organizes a regular roster of activities including live music and basketballs tournaments, and monthly meetings were members can make suggestions to keep the club fresh.
The Plug BNC Cannabis Social Club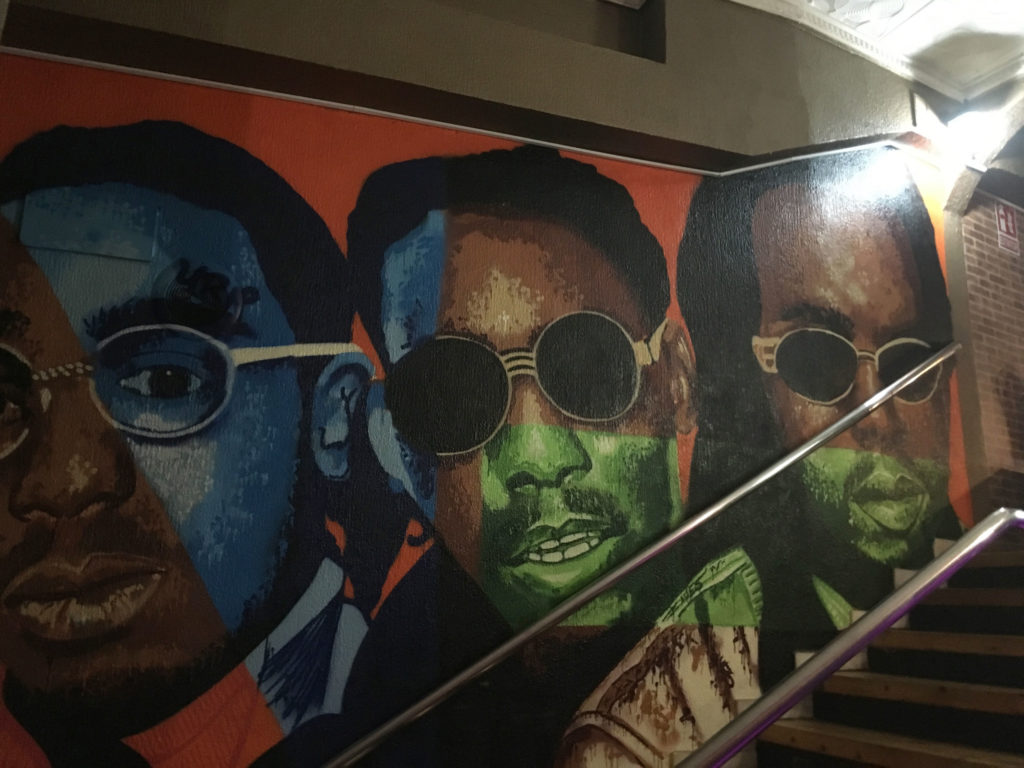 The Plug BCN is one of the city's newer clubs, but despite only being open two years it's built quite a reputation for itself in that short period of time by winning over 50 awards. In 2017 and 2018, it was voted Best Club and Best Extractions by Spannabis, Spain's largest cannabis event, held each year in March in Barcelona. With murals of Tupac and Migos on the walls declaring the club's allegiance to hip-hop, this club attracts a lively crowd, and is a favorite of industry visitors from out of town. One of their in-house cultivators, a lady who goes by the name La Flaca, is cleaning up at cannabis cups around the country, and most recently won all the categories at Seville's ExpoCañamo.
Circulo Cannabis Social Club
Located in El Born, a trendy spot in Barcelona's old town, Circulo is one of the city's newer clubs though the locale has a long history on the cannabis scene. It began life as La Mesa, but the previous owners were bought out after some problems with the law forced them to close. Today, Circulo is one of Barcelona's most chill clubs, and full of light thanks to the large frosted glass window by the entrance. Inside is a mix of workspace tables and comfy sofas where members can catch up on emails or spread out and relax. As well as the standard fare of bud, hash and concentrates, Circulo also provides members with edibles depending on the grow cycle.
El Club Verde Cannabis Social Club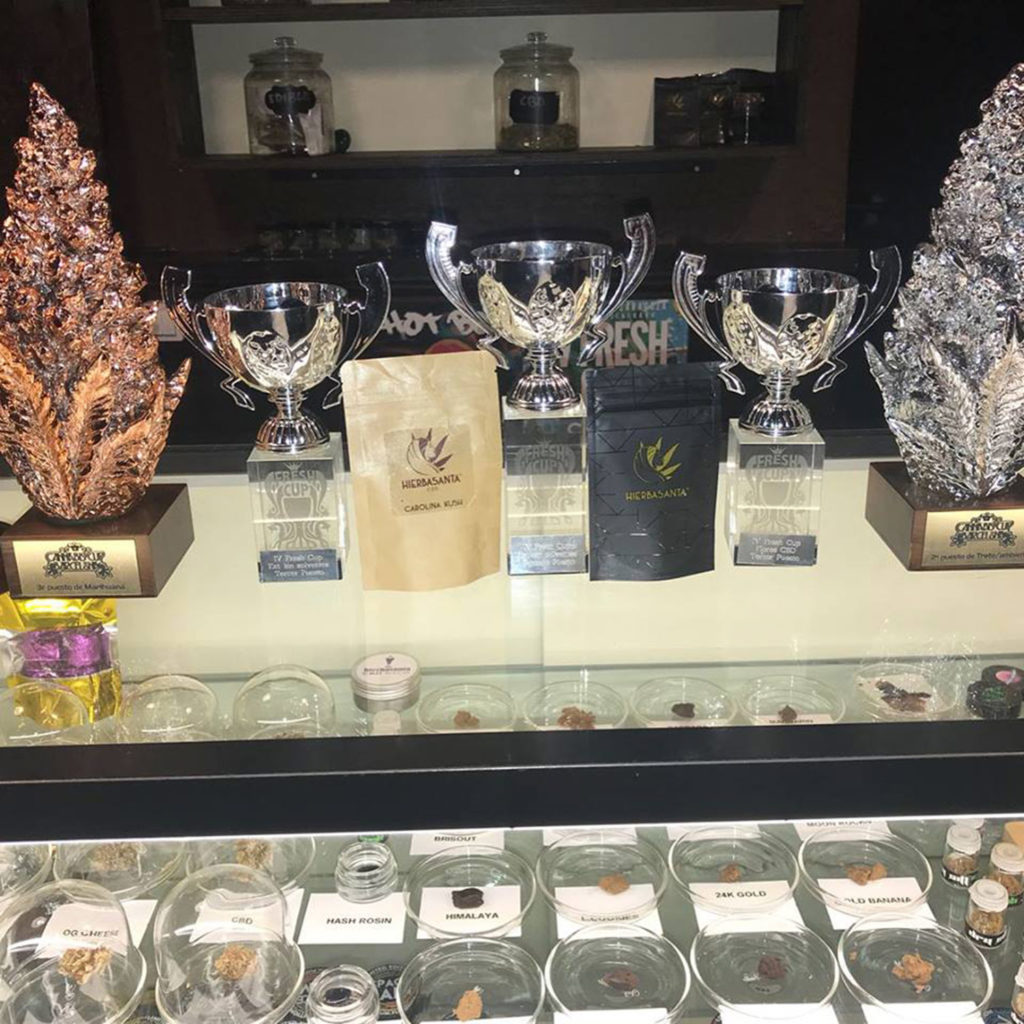 Another recent addition to the Barcelona cannabis scene is El Club Verde. They've also won a bunch of awards, picking up three prizes at this summer's Zaragoza Fresh Cup, and winning 2nd Best Club at Spannabis 2018. Despite being located in the city center, they cater for a select group of cannoisseurs who appreciate Club Verde's award-winning buds and concentrates. The polished oak paneled walls, plush leather seating, and a wall of bookshelves heighten the club's intimate atmosphere.
Zanzi Cannabis Social Club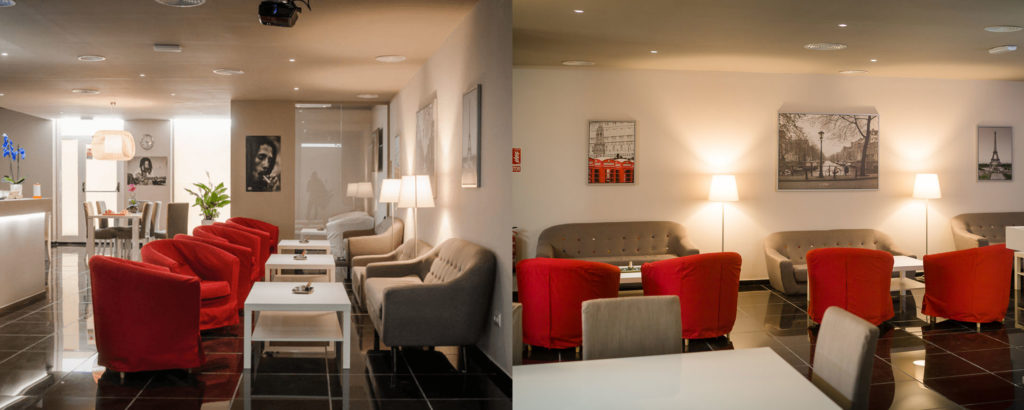 Zanzi is a new club, opening in the second half of 2017, and is set to make a name for itself quickly due its excellent location near the beach in Barceloneta, and its quality cannabis. A mix of seating options, lots of plants and a dispensary backlit with neon blue lighting create an airy space that's both chic and comfortable. Zanzi offers members up to 14 strains of flowers, and hash, as well as California specials including moonrocks.
Chamaneria Cannabis Social Club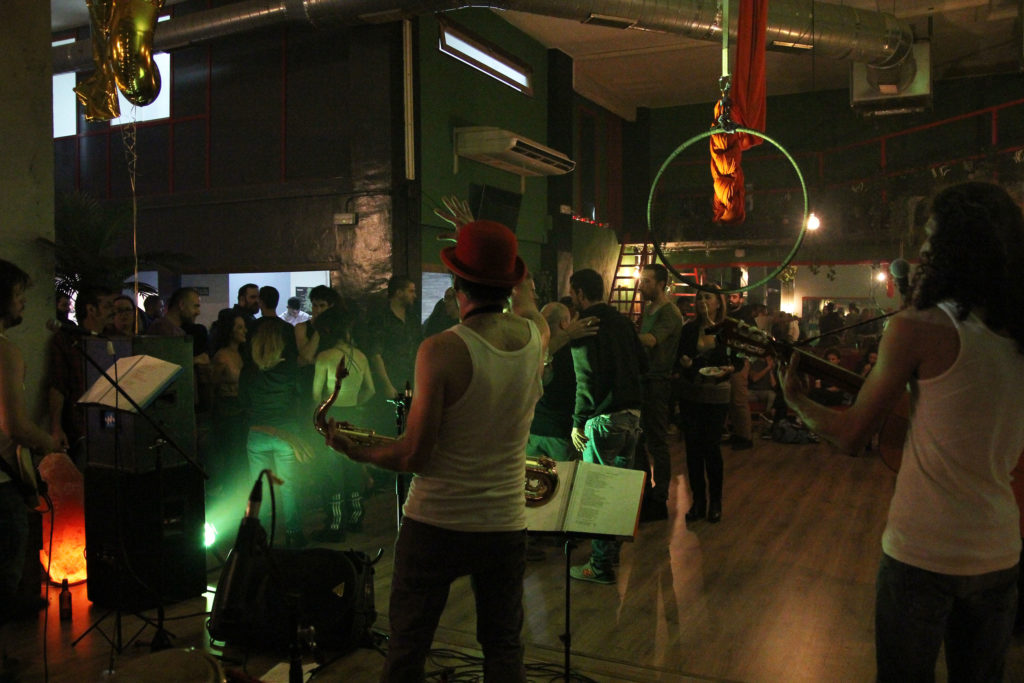 Many clubs call themselves a cannabis oasis but few can own the title the way Chamaneria does. As well as a lush seating area with big leather couches for watching movies, and private tables finished with red velvet two-seaters, there's a garden with swings at the back of the club, and hooks in the ceiling where aerial artists perform on special occasions (rumor has it the private parties are legendary.) They show movies every day at 3 p.m. and have a stage for bands and DJs at the weekend. This club is known for its extractions, and makes some of the best dry sift hash in town. Chamaneria also runs a program to promote responsible use of cannabis, and host seminars throughout the year, inviting various speakers such as doctors and neurologists to talk to members.
Asoma BCN Cannabis Social Club

There are scores of small clubs, little cannabis hideouts, tucked away on side streets all over the city, and Asoma BCN is one of them. It opened four years ago, but a new team bought it in March of 2018, and though they've kept much of the décor the same, they're eager to elevate the club's cozy vibe. The space is small, but lots of cushioned armchairs and sofas make it comfy, and thanks to a small patio out back, there's lots of the daylight flooding in. As well as a pool table, games, and books to entertain members, they've also recently starting hosting free massage workshops. They provide up to ten varieties of indica and sativa strains, as well as hash, and plan to expand the range in coming months.
Stargrass BCN Cannabis Social Club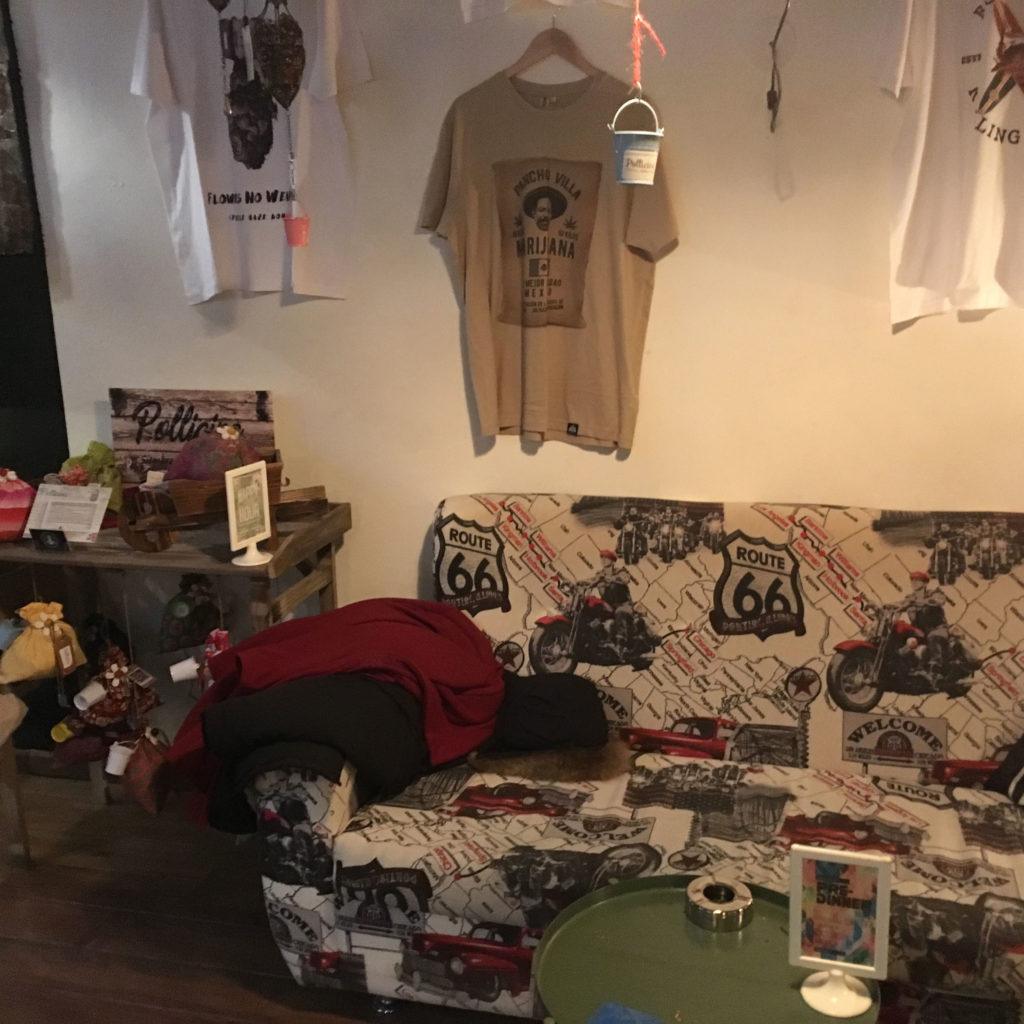 The Stargrass BCN is another of the city's little cannabis hideouts, this time located in the city center near La Sagrada Familia, Gaudi's famously unfinished basilica. Dark and moody inside, this dope nook is known for its diverse range of bud including Bubble Haze, Gorilla Glue 4, Grease Monkey and La Rica while hash varieties include Super Lemon Haze and Blueberry. The enterprising founders are always on the hunt for innovative cannabis creations, and as well as custom-designed t-shirts and comic books, they make stellar edibles. All members are served tapas free of charge.
Dr. Dou Cannabis Social Club
Opened in 2015, few clubs embody classic speakeasy style the way Dr. Dou cannabis social club does. Its mix of exposed stone walls backlit in red light, ceiling wood beams, leather seating, and high stools create an artsy atmosphere that makes this club both relaxing and brimming with boho charm. By the door, are two swings made from large tires, and the dispensary bar is made from recycled green bottles. The friendly and knowledgeable staff serves up a variety of flower such as Ghost Train Haze, Lily, AJ Sour Cookies, and NYC Diesel. Pre-rolled spliffs, vaporizers, and fruit smoothies are also available.