There are many advantages to growing cannabis in a greenhouse. It can provide a sustainable alternative to indoor cultivation while allowing your plants to flourish under natural sunlight. Many strains thrive in greenhouses, and choosing them is all about selecting genetics that prosper within various mediums and environmental conditions.
Greenhouses allow growers throughout Europe to sustainably cultivate cannabis using natural sunlight while protecting plants from varying environmental conditions. For outdoor cultivation, any inconsistencies in weather will be reflected in the harvest. However, inside the greenhouses, conditions are stable and ideal for cannabis cultivation.
The greenhouse walls keep in the heat and humidity, making the temperature warmer than outside in the open air. With the potential to change environmental conditions by increasing air circulation or reducing humidity, growers can control the microclimate to optimize growing. It is possible to yield multiple harvests per year.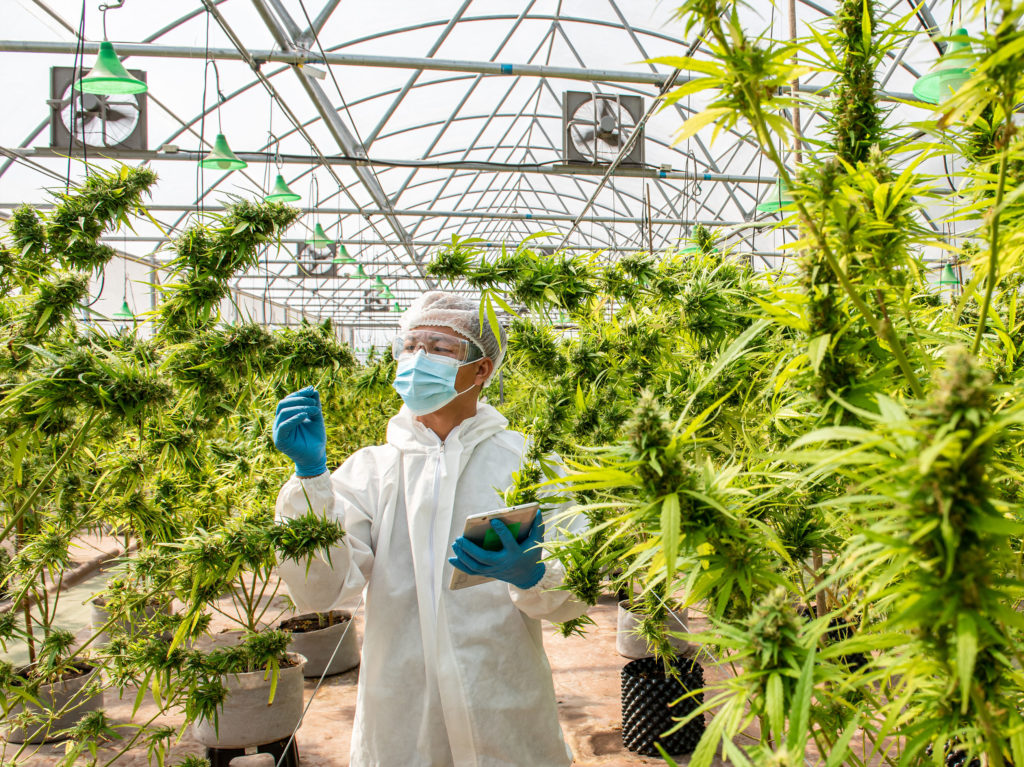 Greenhouse microclimates allow growers to produce aesthetically pleasing cannabis even in the colder temperate climates without the need for heavy utility bills and production costs.
When choosing strains that would be ideal for cultivating inside a greenhouse, look for Sturdy and resilient plants that are low-maintenance. Strains that can thrive under hotter temperatures during the summer and cope with the fluctuation of temperatures throughout the colder months are ideal.
Knowing these factors, here are nine strains that flourish in a greenhouse.
1. Sensi Skunk 
Sensi Skunk is an iconic indica-dominant strain created by breeding Skunk #1 with an undisclosed sweet mother plant. It has won multiple Copa de la Marihuana awards, and a Cannabis Cup.
Sensi Skunk's terpene profile is high in ocimene, camphene, and linalool. Expect sweet earthy notes, with undertones of pungent skunk and hints of fresh lemon. Users can expect a slight sense of euphoria, before a relaxing, full-body stone takes hold.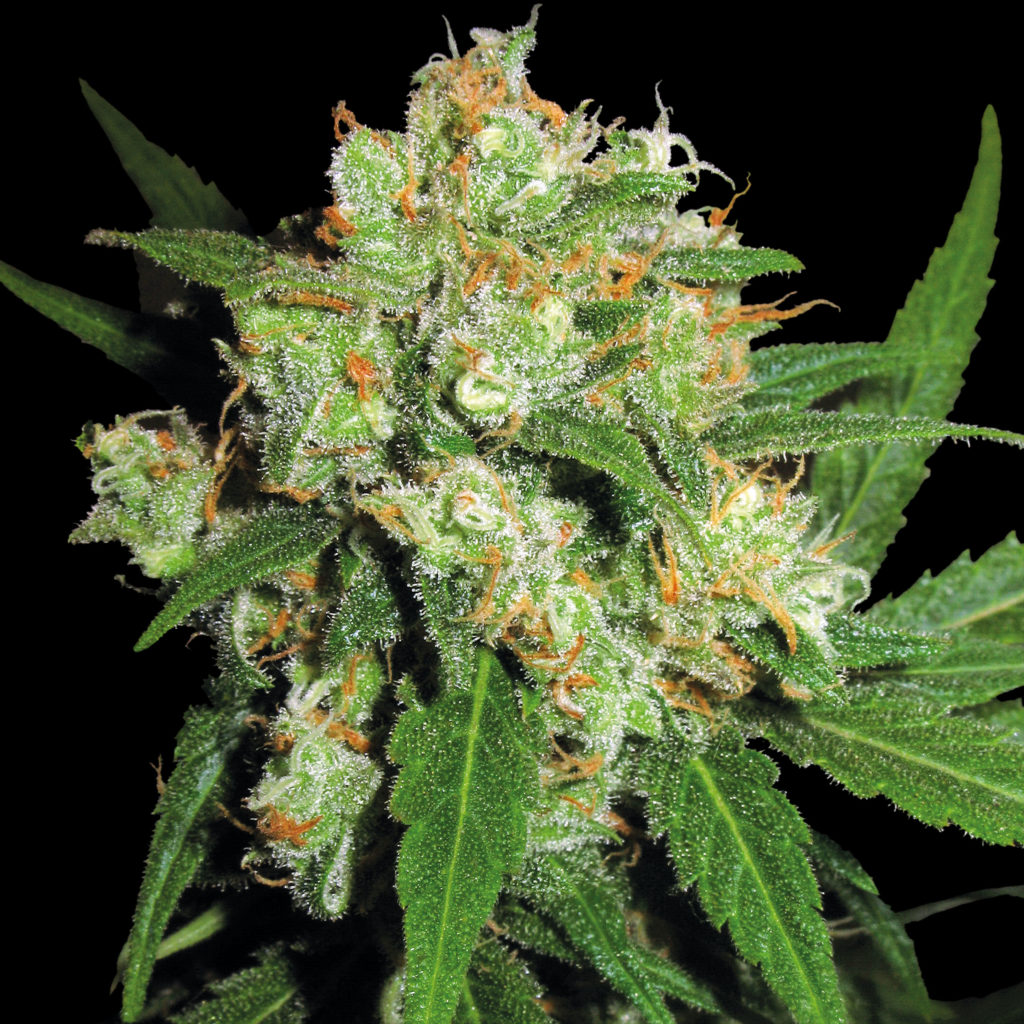 Sensi Skunk has short internodal gaps, with a thick central stem and sturdy lateral branches. It flourishes in temperate climates, and has the potential for large yields between 450-500 grams per square meter. Throughout the later stages of flowering, growers should expect an intense aroma. With a short flowering cycle of 45-50 days, growers can have multiple harvests per year.
Sensi Skunk flourishes in Mediterranean climates, and is ideal for greenhouse cultivation. Sturdy and robust, Sensi Skunk is a low-maintenance strain that requires little to no effort to produce an exceptional harvest.
2. Shiva Shanti
Shiva Shanti is a prize-winning, short and stocky indica-dominant strain, ideal for greenhouse cultivation. It was a classic in the '90s, and its parent strains include Garlic Bud, an unknown Kush, and Skunk #1. The result produces a terpene-rich strain with exceptional levels of THC.
Its terpene profile features sabinene, humulene, valencene, phellandrene, and geraniol. So, expect heavy citrus notes, with undertones of garlic and hints of spice. Due to its indica lineage, most users experience a long-lasting, full-body high. This is an ideal strain for the evening.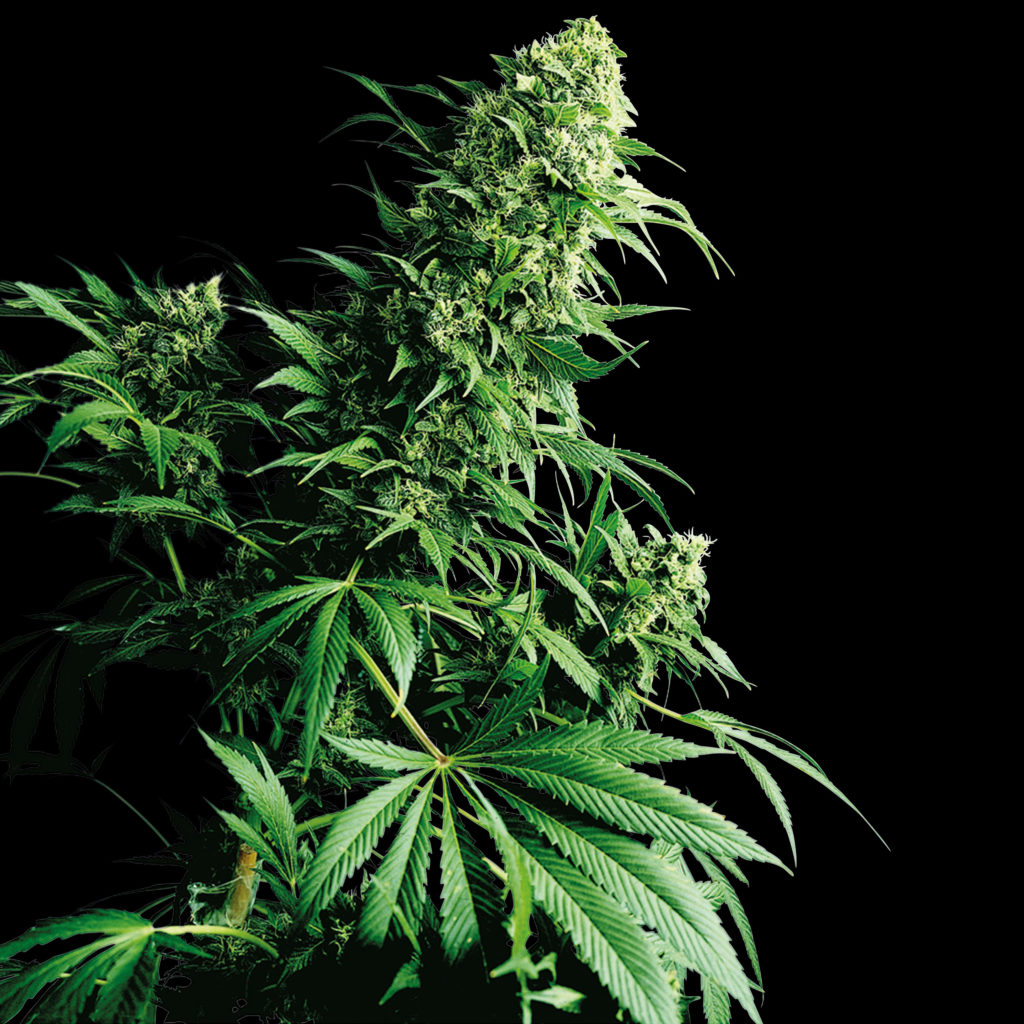 Shiva Shanti usually has a short and stocky structure with sturdy lateral branches. However, in greenhouses, she has the potential to stretch dramatically. Buds have a dense structure, and foliage is dark green throughout flowering.
Shiva Shanti is an excellent strain for greenhouse growing because of its short flowering period. With a flowering period of between 50 and 55 days, growers have the chance for multiple harvests with Shiva Shanti. Growers can expect a yield somewhere around 450 grams per square meter.
Shiva Shanti requires little maintenance to produce a significant yield and is an ideal strain for greenhouse cultivation!
3. Girl Scout Cookies (GSC)
Girl Scout Cookies is one of the most significant hybrids in modern cannabis genetics and were created by crossing Durban Poison with OG Kush. It has become the backbone of many American strains and has been crossed countless times to make many of the iconic USA strains
Girl Scout Cookies has a unique terpene profile, combining a smooth blend of earthy and woody notes with a deliciously sweet undertone. The top three terpenes present are caryophyllene, myrcene, and limonene.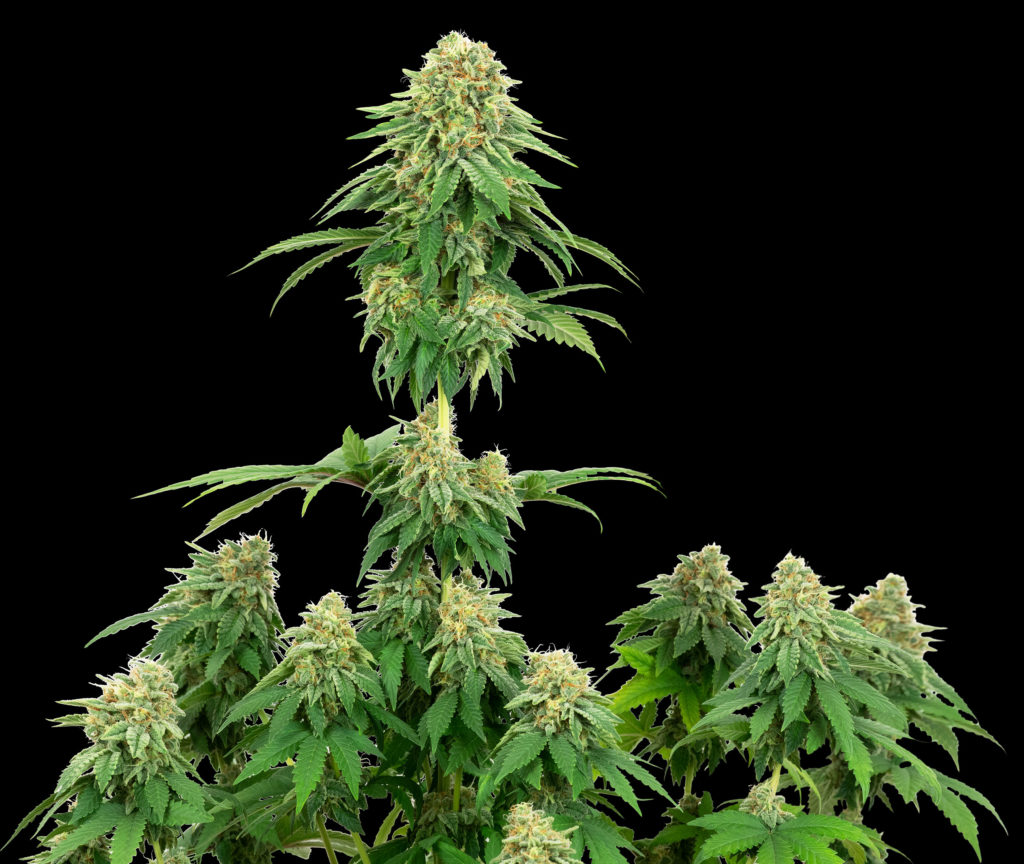 Its effects produce an initial wave of uplifting euphoria followed by a long-lasting, full-body stone. With a heavy THC content, it is a strain suited for advanced cannabis consumers.
This strain can grow quite tall in the greenhouse, and growers can expect a slightly longer flowering time of 63 to 70 days. Experienced growers will be rewarded with a delightful harvest of around 400 grams per square meter. However, beginners might struggle as she can need constant maintenance and care.
4. Blue Dream
Blue Dream is a multi-award winning strain and remains one of the most popular cannabis strains globally. It was bred in Santa Cruz by crossing Blueberry with Haze and is renowned for its sweet, sticky flowers with a classic berry aroma. Many credit DJ Short for the modern-day version of Blue Dream.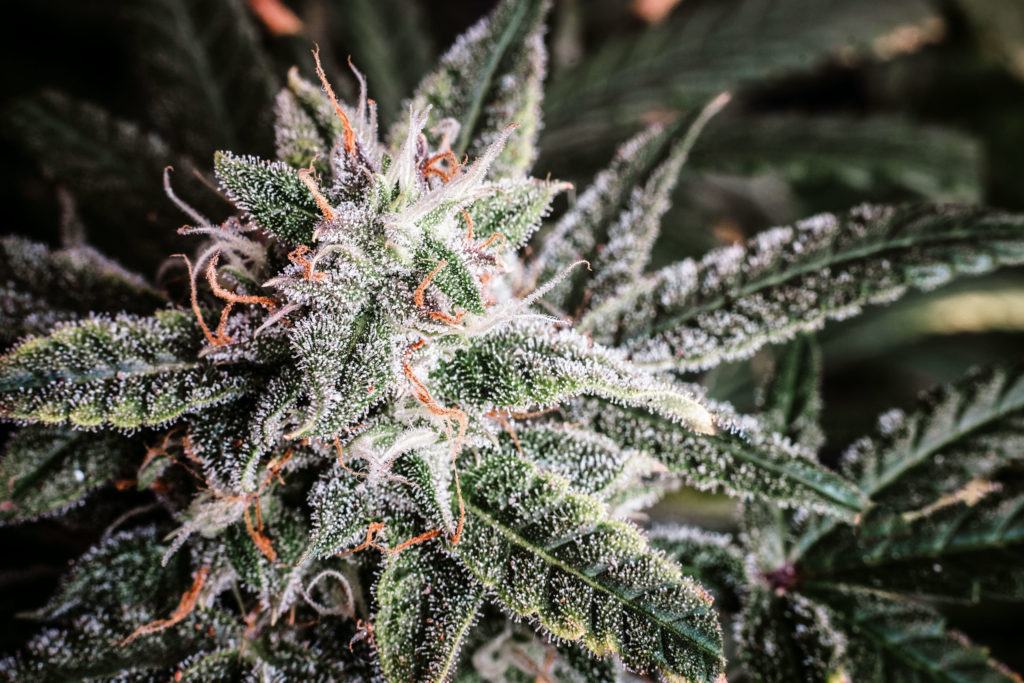 Blue Dream terpene profile is dominant in myrcene, pinene, and caryophyllene, so expect notes of fresh blueberries with undertones of fresh lemons. The effects are both cerebral and psychical, with users commonly reporting an uplifting, euphoric, and relaxing stone.
Blue Dream can grow well over two meters in the greenhouse. It has a broad-leaf structure and a dense bud structure. Growers have reported yields as large as 550 grams per square metre. Although it has a long flowering period of around 65 to 70 days, Blue Dream is a relatively easy strain to grow, and novice growers are guaranteed success!
5. Double Gum
Double Gum is a Bubble Gum backcross that was bred in the 1990s. A backcross is when a strain is crossed with itself, enhancing its characteristics and stabilizing its genetics. In this case, the result is an indica-dominant, sweet-tasting strain that has won many cannabis awards.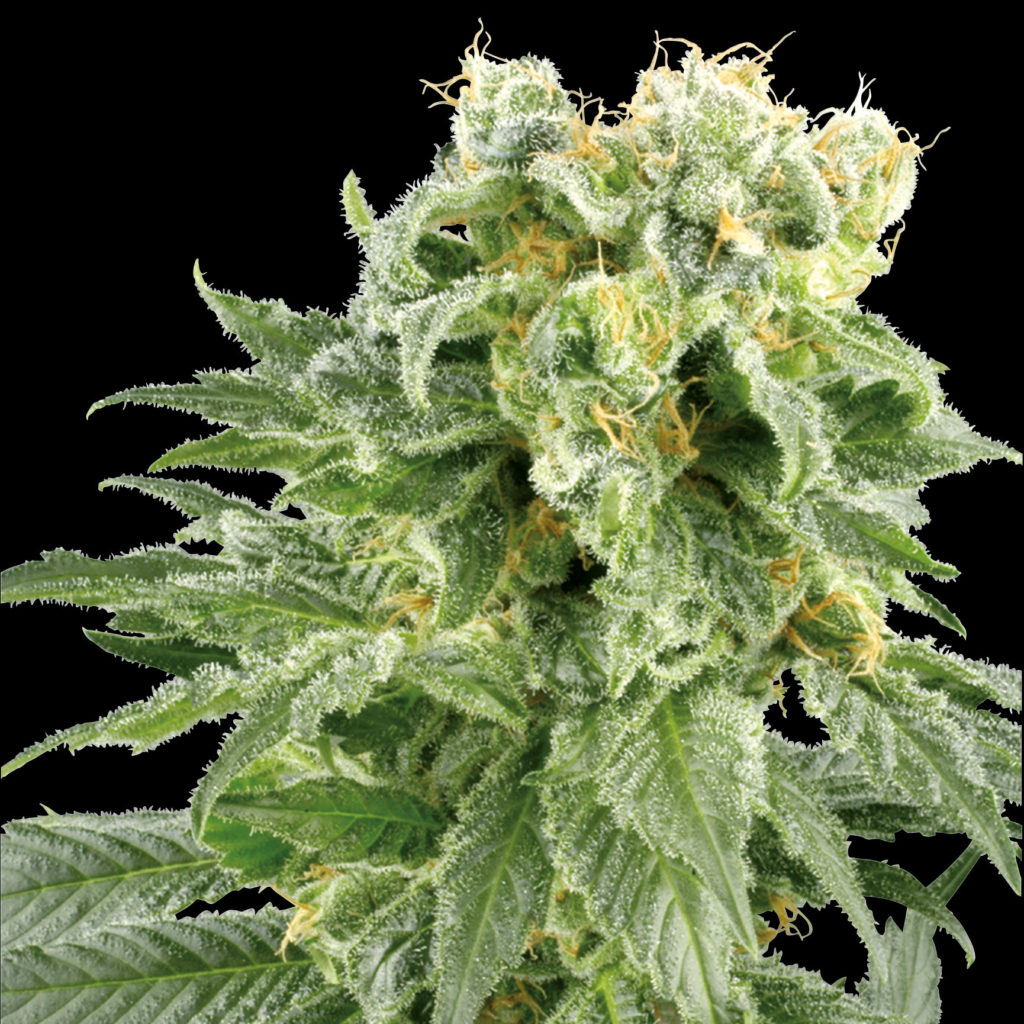 Its terpene profile features an abundance of myrcene, caryophyllene, and limonene. It is renowned for its intense, sweet candy flavour. Consumers can expect Double Gum to produce an uplifting cerebral high, great for a relaxing evening with friends.
Double Gum can thrive in a warm, continental greenhouse, and these plants can grow up to two meters. With a short flowering period of 45 to 50 days, growers can yield multiple harvests per year. Double Gum is an exceptional strain for greenhouse cultivation because it is a fast flowering, low-maintenance strain with the potential for substantial yields.
6. Shiva Skunk
Shiva Skunk is a world-renowned 85% indica strain; it is a cross of Northern Lights #5 and Skunk #1. It dominated the 1989 High Times Cup for Best Indica, and has remained a fan-favourite.
Shiva Skunk's terpene profile is primarily made up of myrcene, caryophyllene, and pinene.
It maintains that iconic, pungent skunky aroma from its skunky parent. Also evident is the delicious aroma of fresh-picked berries and notes of sweet citrus. Users have reported a long-lasting, full-body stone, and Shiva Skunk is most definitely a nighttime strain.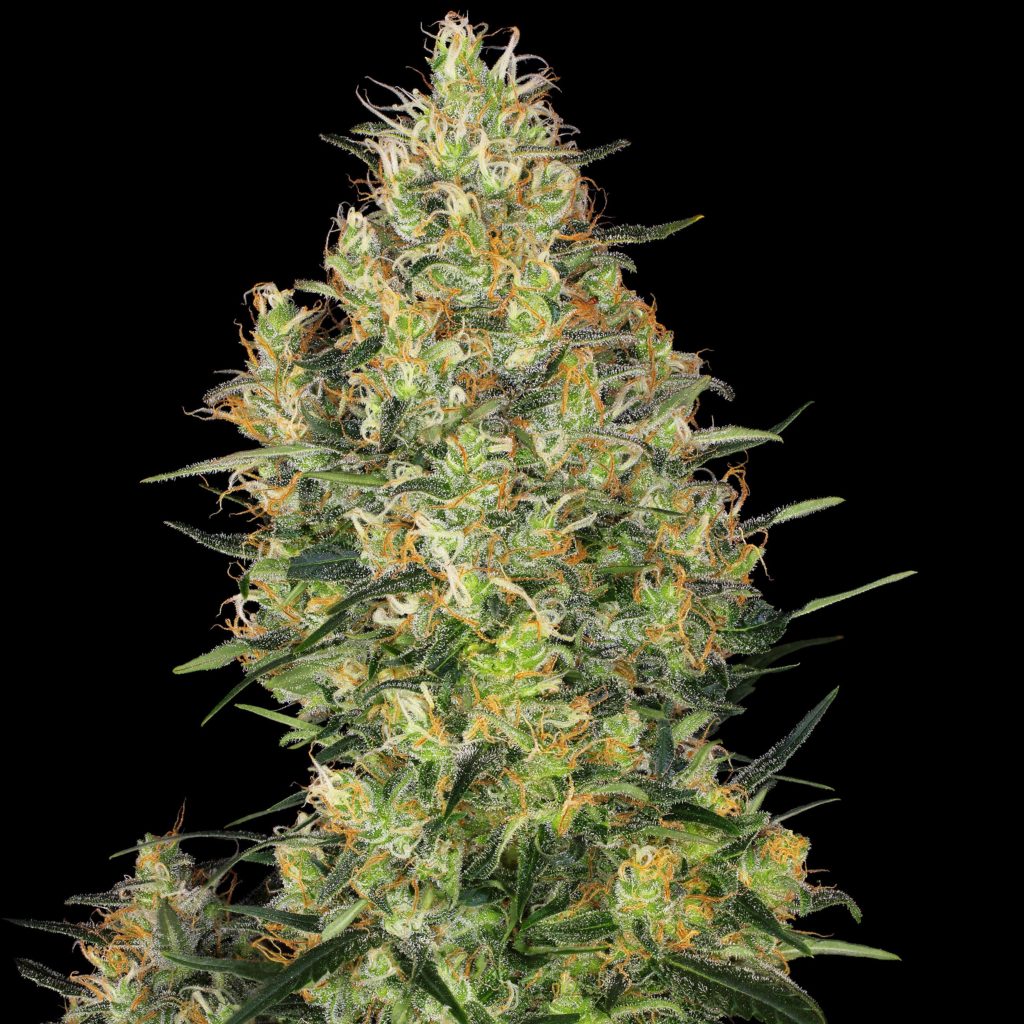 Shiva Skunk flourishes in warm climates, and its short and stocky structure is ideal for the greenhouse. It has shorter internodal gaps with girthy stems and broad leaves reminiscent of its indica heritage. With experience, growers can produce substantial yields of 450g per square meter.
Shiva Skunk's affinity toward hotter temperatures makes it an excellent choice for greenhouses. It is a robust and resilient strain that can withstand the constant heat fluctuations throughout the summer.
7. Skunk Kush
Skunk Kush was bred by crossing Hindu Kush with Skunk #1. It's a 60% indica and 40% sativa hybrid renowned for its high THC levels. Due to its heavy afghan lineage, it is also called Hindu Skunk.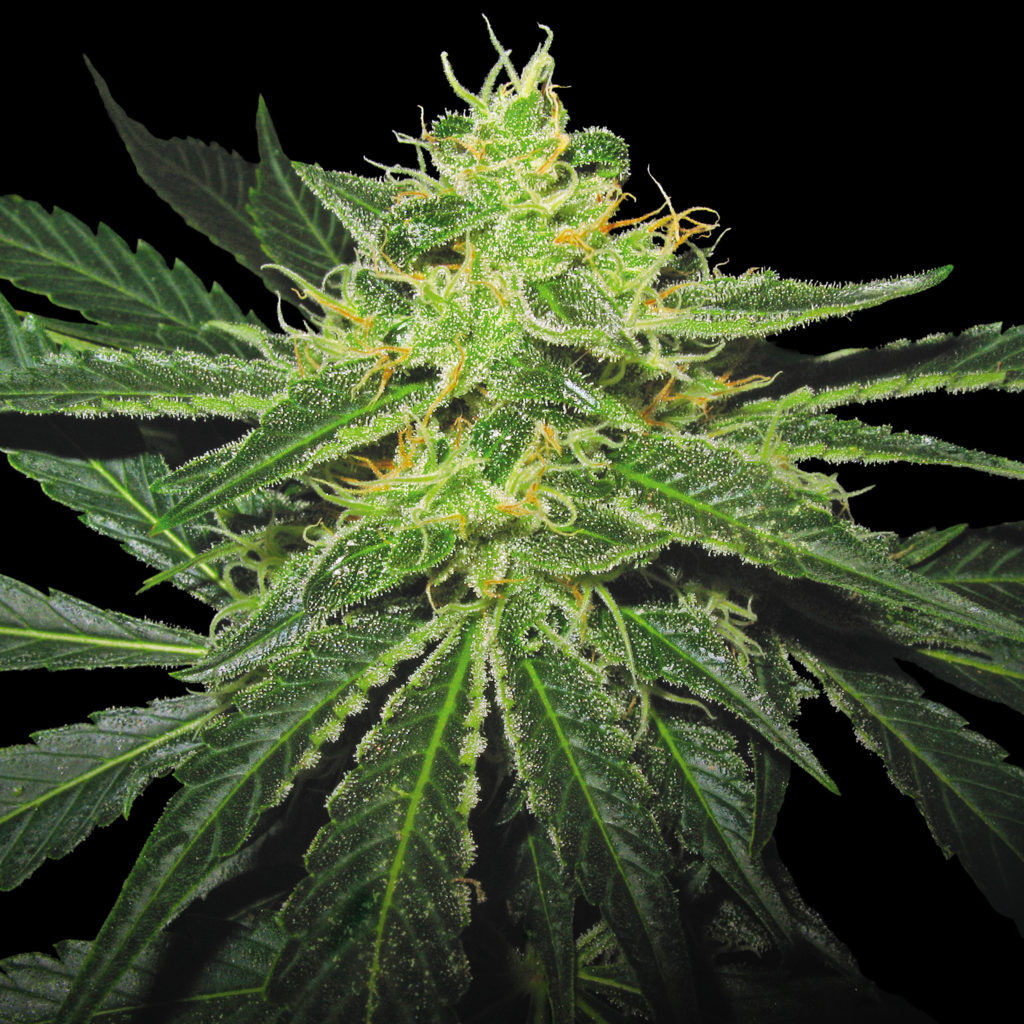 Skunk Kush's terpene profile features myrcene, caryophyllene, and limonene. It has sweet citrus notes with an intense skunky undertone and hints of spice. Its effects are expected to produce a long-lasting, full-body relaxation.
Skunk Kush plants can reach an average height between 100 and 150 cm in a greenhouse, and growers have reported yields as high as 500g per meter square. It flourishes in Mediterranean climates and has a relatively short flowering time between 50 and 60 days. The short flowering period allows for repeated harvests throughout the year.
8. Gorilla Glue #4 (GG4)
Gorilla Glue #4 is an indica-dominant hybrid named after its highly resinous buds. It was created by crossing Chem's Sister with Sour Dubb and Chocolate Diesel. This strain has developed quite a reputation and can be found in many dispensaries and coffeeshops alike.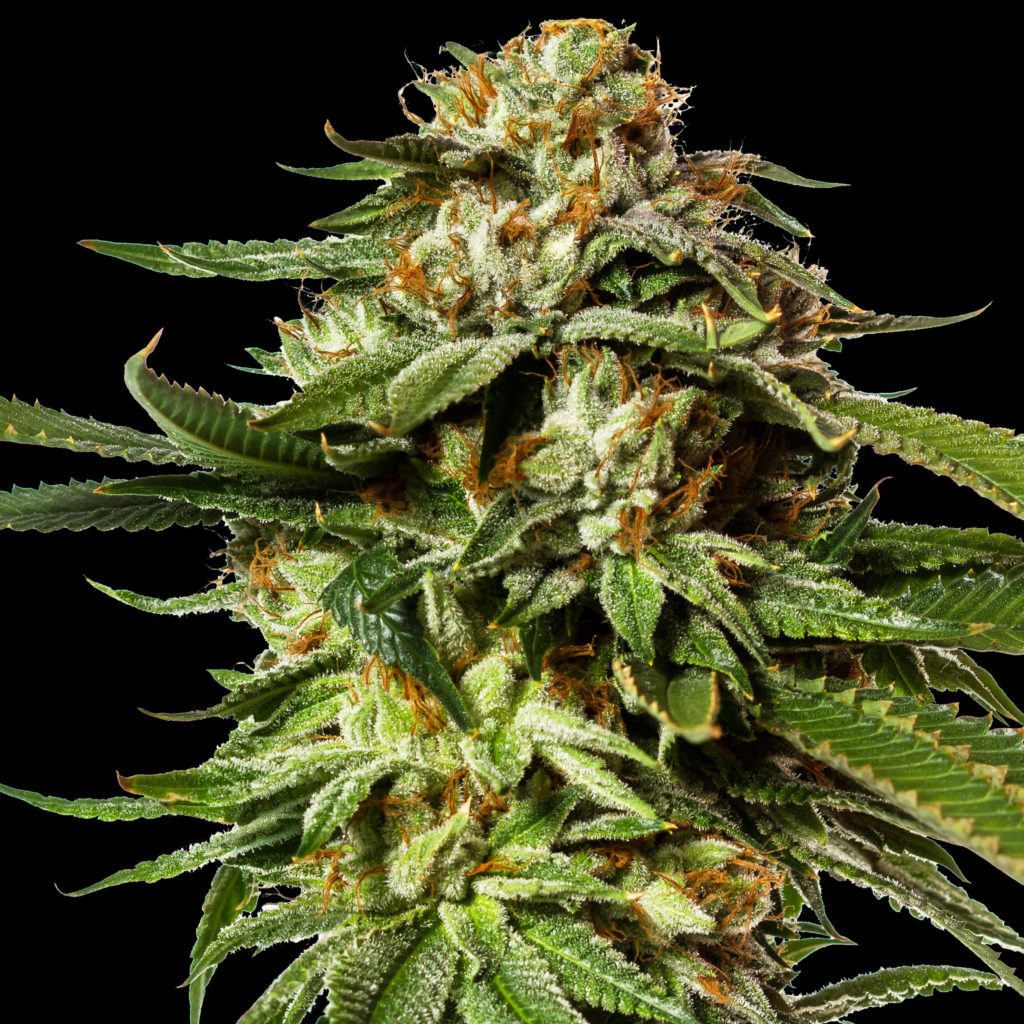 Gorilla Glue has a unique terpene profile and is a delight on the palate. It combines earthy, woody, piney notes with undertones of diesel and chocolate. Users can expect an uplifting sense of euphoria upon consumption, which fades away into a long-lasting, full-body stone.
Gorilla Glue thrives in a Mediterranean climate and will flourish in the greenhouse with an average flowering time of 55 and 65 days. This strain can produce an exceptional harvest when grown in optimal conditions, and yields of over 550 grams per square meter have been reported.
GG4 is an exceptional choice for greenhouses because it is a robust and resilient strain that can thrive in a warm environment and withstand fluctuations of temperatures throughout the growing cycle.
9. Double Banana Kush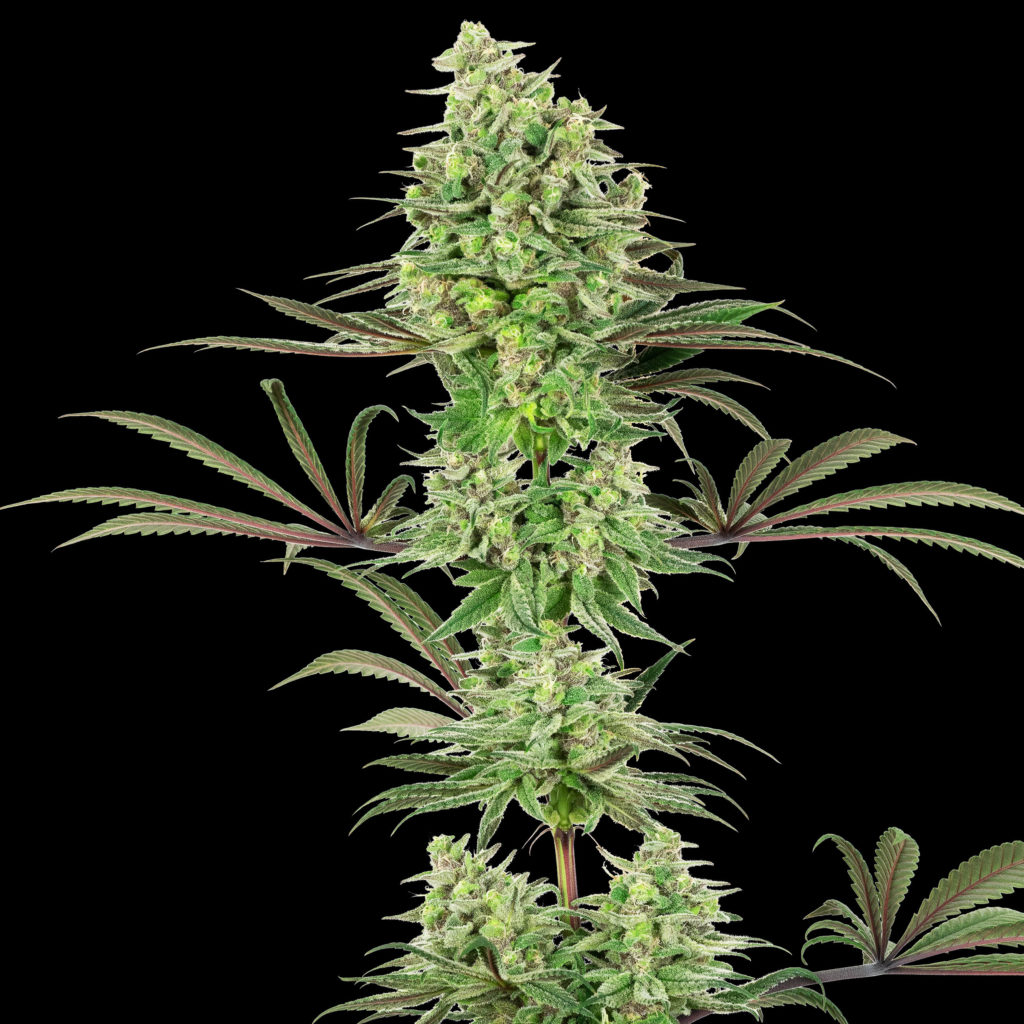 Double Banana Kush is an indica powerhouse created by crossing Banana Kush with OG Kush. It is a strain with a loud terpene profile and highly resinous buds, ideal for the greenhouse!
Flowers have a sweet aroma, with floral notes and undertones of berry. Upon consumption, Double Banana Kush provides consumers with intense full-body relaxation. It is an ideal strain for the early evenings.
Due to its predominantly indica genetics, growers should expect a sturdy structure with short lateral branches and compact internodal spacing. With an average flowering time of 55 to 65 days, there is the opportunity for multiple harvests per year.
The future of greenhouse growing?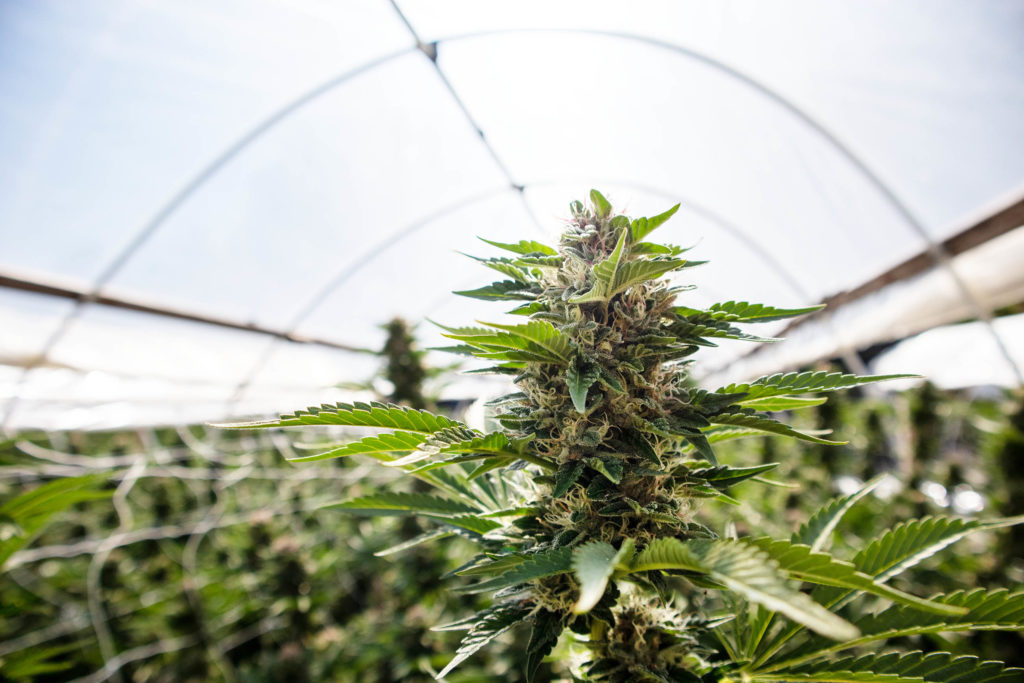 Cultivating cannabis in a greenhouse is an excellent choice. It allows growers to produce high-quality sun-grown cannabis with exceptional terpene profiles without excessive power consumption. Many strains can thrive in the greenhouse, and we have just listed a few strains that do well in greenhouse environments.
We have just listed a few of our greenhouse favourites, so if you feel we have missed out on some of your favourites or have any questions, please let us know in the comments below.
Please head over to our online store to purchase some greenhouse friendly strains today! We have an extensive collection, including regular, feminized, and automatic seeds.
Disclaimer:

Laws and regulations regarding cannabis cultivation differ from country to country. Sensi Seeds therefore strongly advises you to check your local laws and regulations. Do not act in conflict with the law.