Netherlands Based on rising demand, Bedrocan, the sole remaining producer of medicinal cannabis in Europe, tripled its production with the opening of a new production facility in 2015. Nevertheless, the company cannot supply Europe's cannabis patients single-handedly.
Hesitation on the part of other EU states at the expense of cannabis patients
In 1993, the Netherlands was the first country in the EU to introduce a kind of forerunner to its current medicinal cannabis programme. In the early years, it only had to supply Dutch cannabis patients and this was not a problem given the capacities of the state-run programme. Two firms held a licence for cannabis cultivation; then, in 2001 and with the introduction of new rules, the Dutch "Bureau voor Medicinale Cannabis" (Office for Medicinal Cannabis, or OMC) became responsible for distribution. Dutch pharmacies have been providing cannabis flos on prescription since 2003, and until 2013 in Groningen there was even a kind of special pharmacy for cannabis where patients obtained their medicine a little cheaper than at other pharmacies in the country.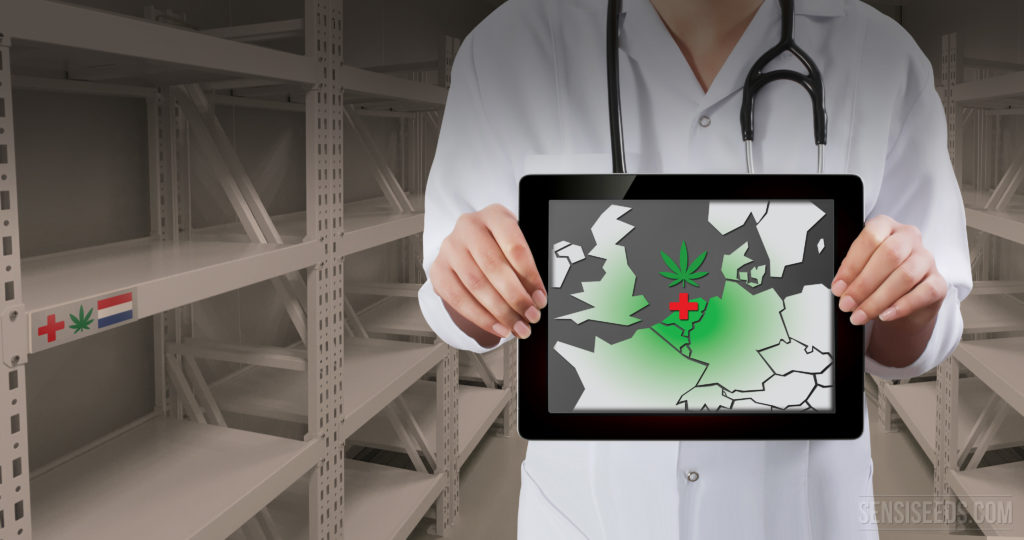 After that, Germany and the Czech Republic were the first countries to sign on. These countries also had a need for medicinal cannabis flowers, but they were unable or unwilling to cultivate them themselves. Since then, Italy and Finland have also been added to the list. These countries joined either because patients complained, or, as occurred in Italy, because the government adopted a medicinal cannabis programme voluntarily without ensuring that patients could be supplied with domestically produced cannabis, however.
Rising demand in the EU leads to supply bottlenecks outside the Netherlands
Due to the rising demand, Bedrocan, the sole remaining producer of medicinal cannabis in Europe, tripled its production with the opening of a new production facility in 2015. The other licensed producer, James Burton, is being dropped. This cannabis pioneer lost his licence because his firm and the OMC had different ideas about how to produce medicinal cannabis.
In Germany in particular, supply bottlenecks are a regular occurrence. Even in Italy, the supply situation is far from ideal; things are still not really working properly with the medicinal cannabis grown by the army, as is illustrated by the volume of Italian cannabis orders to the OMC. Perhaps the knowledge of a few experienced green-fingered growers rather than inexperienced uniforms with "olive green" fingers might have been called for here. Consequently, Italy's army could do with a jump-start from the experienced Dutch, who could provide them with expertise and strains. Likewise, the Czech Republic's cultivation project is flagging, even though producer Elkoplast managed to distribute the first harvest in February after two years, thanks to the know-how and genetics provided by Bedrocan. Since 1993, the Netherlands has been granting licences to people who previously were involved in the illegal cultivation of cannabis, to cultivate medicinal cannabis. All parties concerned could benefit from their previous knowledge and Bedrocan has worked hard to develop a total of five strains for different needs. Relative to the size and the specific obligations of the company in terms of flower production, this is far more than it sounds, as the development of a medicinal cannabis strain takes years. However, in Canada alone, 26 firms are currently working on developing new strains; and in the USA there are even more collectives or cannabis pharmacies focusing on developing special strains. The best example of this is "Charlotte's web," a cannabis strain hybridised by breeders in Colorado to treat the specific form of epilepsy suffered by a now nine-year-old girl by the name of Charlotte Figi. In Colorado, Washington State and other states where cultivation is a legal option, many people who had been involved with the plant before cannabis regulation was in place or cannabis was being offered as a medicine, were no longer treated as criminals in order to allow them to help patients or even supply adult users with pure flowers. Even Sativex would hardly have been possible without the knowledge and assistance of cannabis legends such as David Paul Watson and Robert C. Clarke, who have applied their knowledge about cannabis cultivation in theory and practice on behalf of development firm GW Pharmaceuticals.
Cannabis cultivation experience and knowledge are necessarily illegal by nature in most instances
In Europe, with the exception of the Netherlands, there is a real reluctance to use the knowledge of formerly illegal cannabis growers by getting them involved. In the Czech Republic, a logistics firm, which previously only manufactured plastic boxes and similar items, has been awarded the contract to produce medicinal cannabis from the government. In Italy, it is the army who is responsible and in Germany, the licences are to be put out to tender at some point by a cannabis agency, which is still to be established. However, even here it seems rather unlikely that these countries will even consider their own resources for the development and selection of the strains.
Of course, not every hobby grower using three lamps in the basement can give his weed the state's seal of approval as a medicine and sell the flowers to the local corner pharmacy. In order to produce medicinal cannabis, minimum requirements must be met, which can challenge even the most professional growers: 100% sterility, accounting for every single milligram, a business concept, the acquisition of a large start-up capital, or collaboration with pharmacologists, doctors, government laboratories and authorities are just some of the aspects unfamiliar to most underground hemp farmers, due to their illegal status. However, instead of getting outside help, EU states should find their own ways to produce medicinal flowers with their medicinal cannabis programmes and follow in the Netherlands' footsteps. And this process does not start in the flowering chamber, but in the development of the strains. Because such a process takes years, it is high time that other countries stop letting Bedrocan and the Netherlands do all the work for the next decade, and finally tackle their investment and development responsibilities
Bedrocan has unquestionably been pioneering for all cannabis patients and continues to do so. Yet, without further competitors on the market, there will continue to be supply bottlenecks, as confirmed by the BMC.
"[…] Over the years the number of Dutch and foreign patients increased slowly. From 2013 a strong increase prompted the grower of the OMC to increase the production facility and open a second facility. The second production facility opened about a year ago making it possible to threefold the production. However it was not possible to fully cover the increased demands directly. The growing period takes about 4 months after which the packaging and analysis has to take place. At this moment there is enough medicinal cannabis in stock from all the varieties to cover the Dutch demand and most of the demand in other countries. We already export much more to Germany than last year but as you know the situation in Germany also changed and the number of German patients is growing quickly and so is the demand. The German authorities and the supplier Fagron are close in touch [with us] to talk about solutions. For further information on this topic I advice you to contact your own authorities since they are the most aware of import quantities and developments within Germany,"  according to the authority's legal department.
Competition is good for variety and guarantees fair prices
As the largest EU country, Germany has the most cannabis patients and is therefore hit hardest. Competition stimulates the market and lowers costs; monopolies only benefit their owners. This is true for medicinal cannabis, just as it is for traditional medicines. In Canada, in contrast, patients can choose the strain that best alleviates their symptoms from almost 200 strains, according to its unique cannabinoid profile. Here, and also in the US states where cannabis is legal as a medicine, it is obvious that the introduction of a state-run programme also gives rise to a free market, of course with the necessary limitations in terms of health and youth protection. In Germany, cannabis patients currently have to pay €15.45 per gram on average; Sativex and Dronabinol cost four to eight times as much. Canadian patients pay between €4.00 and €10.00 for one gram of government-certified medicine, and there are no supply bottlenecks. With the exception of the Dutch, European governments appear to be overwhelmed when it comes to introducing a system similar to the one in Canada; one that is secure, offers freedom of choice to patients and keeps costs down. Canada enjoys a virtually ideal situation and according to a recent ruling by Canada's Constitutional Court, in future government approved cannabis patients will be allowed to decide again whether they will grow their own medicinal cannabis, or if they want to procure it from one of the many producers. Regulation governing cannabis for relaxation purposes might be lacking, but even here, work is underway.
Therefore, not just Germany but also Italy, the Czech Republic and all nations that in future will have a medicinal cannabis programme, ought to start focusing right away on the necessary details and become competitive in aiding research and development into new strains and techniques. The hurdles should not be placed too high and leave experienced cannabis growers no opportunity to share their extensive knowledge in any kind of government-monitored production programme. Instead of being perceived as a huge opportunity, medicinal cannabis in Europe is still seen as a necessary evil by many decision makers and is accordingly paid little attention. This is not conducive to the economy, or to health. Only in places where years of knowledge acquired underground can and is allowed to flow into the legal production of medicinal cannabis are there ideal opportunities for a properly functioning, government-monitored cultivation programme to be established.