The Dutch government plans to classify cannabis containing more than 15% THC as a hard drug with an adverse effect on health. This was announced recently by Vice-Prime Minister and Finance Minister, Maxime Verhagen, who indicated that cannabis had "played a role in further damage to public health." THC stands for Tetra Hydro Cannabinol, one of the primary psychoactive ingredients in cannabis.
A political decision with a scientific background
Following a report by the Trimbos Institute on the THC, CBD and CBN percentages in cannabis sold in coffeeshops, the cabinet has decided that a rate higher than 15% THC causes psychological problems ranging from schizophrenia to attacks of anxiety. Despite a link between cannabis and these psychological conditions, no direct causality was demonstrated in the report. The decision to prohibit cannabis with high levels of THC  reflects only the government's interpretation of the nature of this link.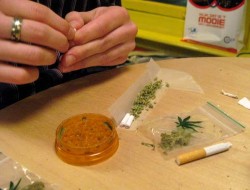 On Target: the coffeeshops
Minister of Justice Ivo Opstelten again displayed his determination to see coffeeshops close, and his antipathy towards coffeeshop owners: "It is their responsibility. If they can not measure it (THC), then they will have to close their shops ."
Ac cording  to the Government, coffeeshops will now have to submit samples of cannabis for testing. This currently costs around € 700 per sample and often the coffeeshops have dozens of different strains of cannabis on their menus. Marjan Heuving of the Trimbos Institute, which researches mental health and addiction in addition to providing drug analysis, explains that the rate of THC can vary even within a single plant. For coffeeshop owners, having to test every variety of marijuana that  might be close to 15% for fear of losing their license will inevitably lead to higher prices.
A black market ready to emerge
There is no doubt that higher prices for cannabis sold in coffeeshops would result in an increase in the black market, as in any model of regulation that increases prices to reduce consumption. Higher prices for tobacco, for example, have resulted in a cigarette smuggling boom that has never paid so well.
Ten Bloomendal, spokesman for the VOC (Association for the  Abolition of Cannabis Prohibition), fears that this prohibition will develop an underground market for stronger strains of cannabis. He considers the implementation of tests difficult, "if not impossible," arguing that the concentrations can vary greatly from one sample to another and that neither the staff, who do not necessarily consume cannabis themselves, nor health inspectors will be sure to know the exact rate.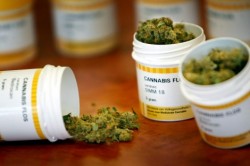 What about medicinal cannabis?
The only cannabis sold in Holland with a guaranteed level of THC is produced by Bedrocan. The company is contracted by the Ministry of Health to produce medicinal cannabis. The four varieties, each with their own concentration, range from 6 to 19% THC. It is not currently clear whether the stronger varieties of medicinal cannabis sold in pharmacies would still be available on prescription, as they are cultivated for the Government with the aim of ensuring a higher rate than 15% THC (Bedrocan Flos has 19 % THC).
Another issue that remains unaddressed is the other active cannabinoids contained in cannabis. In addition to THC, cannabis contains over 85 other cannabinoids including CBD (cannabidiol) which produces the more sedative or relaxed effect. Strong Cannabis Indica varieties may often contain a low rate of THC and a high rate of CBD, meaning that extremely potent weed could still be sold in coffeeshops whilst complying with government regulations.