Acquittal In Switzerland, a law student was acquitted of allegations of possessing eight grams of cannabis by the Zurich District Court. Originally, the defendant was ordered to pay a fine for the eight grams, for which he was summoned to appear in court. The result: acquittal. The entire story can be found here.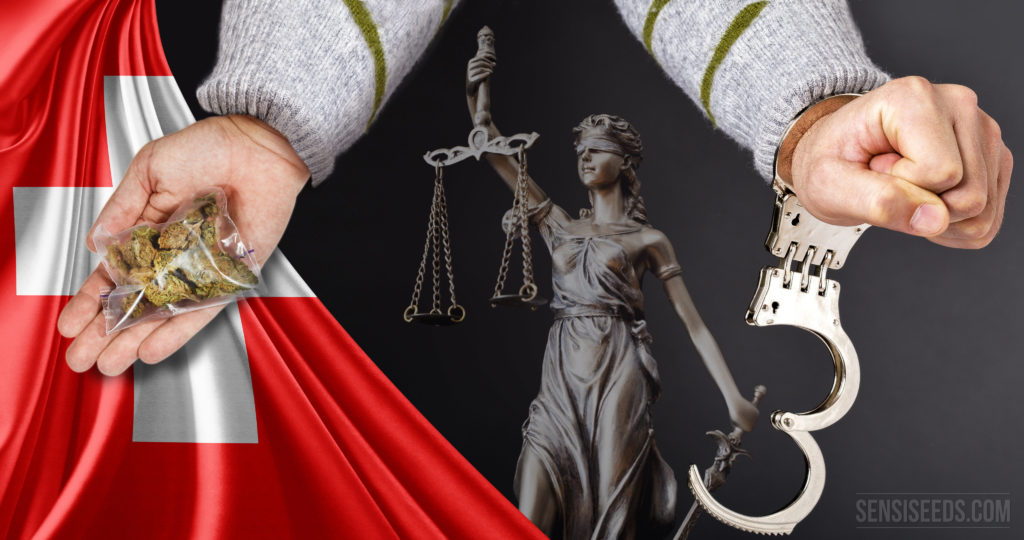 After studying Swiss law intently, the defendant and his legal representative, also a law student, believed that only the consumption of cannabis may be punishable with a fine, but that possession of a small quantity of up to 10 grams for personal use, on the other hand, should be exempt from punishment. Both took a very detailed look at the country's Narcotics Act (BetmG), which was revised a few years ago, and discovered that
"Any person who wilfully consumes without authorisation narcotics or any person who commits an offence in terms of Article 19 for his or her own consumption is liable to a fine."
(Article 19a, paragraph 1)
"Any person who prepares a negligible quantity of a narcotic for his or her own consumption or supplies it to a person over the age of 18 free of charge for the purpose of consuming the narcotic together at the same time does not commit an offence." (Article 19b, paragraph 1)
To date, possession of a small quantity and consumption have always been punished by a fine of between 100 and 200 Swiss francs (CHF). Depending on the canton, a randomly imposed "administration fee" was often added to this amount, so a small bud or baggy could quickly carry a fine of CHF 500-800 francs (€400 – 700) and still can. The Zurich judge took a look at Article 19 of the BetmG and confirmed that both students were right. Simply possessing small quantities of cannabis products of up to 10 grams had wrongly been punished with a fine.
Confirmation of applicable legislation through acquittal
The court acquitted the defendant, because, as the judge argued, non-punishable offences should not be punished with a fine. According to the presiding judge, the BetmG states that eight grams are not illegal and as such, no consumption offence had been committed. According to Swiss media reports, this verdict could affect the entire country's drugs policy. "Only consumption may be punished, and not the possession of small quantities of cannabis for personal consumption," explained Peter Albrecht, Emeritus Professor of Criminal Law and former President of the Basel City Criminal Court in an initial statement made to the "Schweiz am Sonntag" newspaper.
To date, no one in Switzerland has dared to take legal action against a penalty decision for circulating small amounts of cannabis, because even though "circulation free of charge" is not defined as a punishable offence by law, it is on a par with possession of a small quantity. Resourceful smokers could therefore argue that in addition to possession, the circulation of a small quantity in the form of a gift is not sufficient for imposing a fine either. The Swiss police are of a different opinion, of course, and have already announced that they will not be changing their current practices when it comes to imposing fines.
Yet the formulation is so clear that the government either needs to change the text in the law or abstain from punishing mere possession offences in future. Because people in the Confederation are already discussing a change to the BetmG and various cannabis pilot projects, things could still go either way.
Reality overtakes the law
But whilst at the federal level the long overdue pilot projects are still being discussed, there is now already legal CBD cannabis that contains up to 1% THC, because unlike in the EU, where a limit of 0.3% is in force, hemp in Switzerland may contain up to 1% of this active substance. At Cannatrade Zürich, several companies have even envisaged growing the CBD plants that already exist in greenhouses in accordance with medical standards, in order to produce buds, concentrates and other CBD products from them. Just recently, a tobacco substitute made of CBD hemp buds obtained authorisation throughout Switzerland. But what could prove to be an effective product for consumers trying to give up tobacco, or a tobacco substitute, is now causing Swiss drugs investigators quite a headache, because a CBD joint looks and smells like a real one. Only real connoisseurs, of whom there are not too many among the Swiss police, would be able to differentiate between a CBD joint and one containing THC.
Something is even happening with the planned pilot projects, even if it is proceeding much more slowly than many people expected. In Bern, in addition to the Cannabis Social Club pilot project, which was launched years ago, the first pilot project for medicinal cannabis will take place, and up to 30 pharmacies wish to participate. However, neither the demands of many municipalities made according to regulations nor the lack of a legal basis for a regular supply of cannabis for patients have had much effect on federal policy to date. In Switzerland, all pilot projects relating to cannabis require the green light from federal authorities. To date, the responsible Swiss Federal Council, under Alain Berset, has blocked all related attempts. But at the beginning of this year, Berset appeared surprisingly open, when one of his predecessors confronted him with the problem for the umpteenth time. In a one-on-one meeting with ex-Federal Councillor Ruth Dreyfuss in February, Berset allegedly appeared open to the idea of cannabis pilot projects for the first time. At the time, it was agreed that the concerns of numerous cities and municipalities would be "examined seriously." In February, Berset made his promise dependent on the legal position but since then, those concerns have been examined without result. The group surrounding Genevan professor Cattacin has been working on the project for four years now and would like to finally start the cannabis pilot projects in 2017, but they have yet to obtain approval from the union.
The verdict as an opportunity for CSCs?
Now, given that an ordinary law student has discovered a loophole in the law, which until now had been missed by all professionals, this could still be taken as the basis for the proposed pilot projects. The proposal: If possession and consumption of a small quantity for personal consumption were not illegal, as the latest verdict indicates, you would no longer be able to define consumption at certain places such as Cannabis Social Clubs or a model coffee shop as a summary offence. Therefore, public consumption would still be a summary offence, whereas possession and circulation of larger quantities would remain a criminal offence. That creates scope for pilot projects, without legalising cannabis overnight or the police taking measures to prohibit ostentatious consumption.
Yet because of or even despite the latest verdict, Bern has yet to give the signal to overcome the huge discrepancy between reality and mood on the one hand, and the law that is currently in force on the other. That discrepancy is even greater among the Swiss than in the rest of Europe. What is certain is that a reform of the reform is urgently needed, if only to ensure that patients are cared for in a humane manner and to finally give the consumer a degree of legal certainty. At the moment, even many of the Swiss do not know what is legal and what isn't when it comes to this stigmatised plant.