Cannabis Convention Let's be honest: there's a lot of mistrust and suspicion when it comes to the corporate world, the banking world, turning its attention to cannabis. The organiser of the Cannabis Capital Convention, Michael Kraland, admits it: "here come the suits; what's going to happen?" is the question on the lips of everyone involved. So what can we predict will happen?
The recent big news about Coca Cola potentially launching a cannabis-infused soft drink has been met with as much incredulity and excitement from the mainstream world as it has with incredulity and suspicion from the cannabis world. Rumours that Pepsi are also considering something similar hit the news a couple of weeks later.
Two types of non-alcoholic hop-flavoured cannabinoid-infused sparkling water are already available in California, made (in collaboration with an extraction company) and marketed by the Lagunitas brewery which is a subsidiary of Heineken. Although branded as "cannabis infused", it does not contain the full spectrum of biochemicals present in cannabis. One contains what sounds like a balanced blend of 5 mg THC and 5 mg CBD per 355 ml. The other just has 10 mg of THC per 355 ml, which – given what we know of the Entourage Effect, and what happens if you administer THC isolated from CBD (which this clip misnames as 'cannabanoid') – really doesn't seem like a good idea.
It could well be said that this kind of approach reads as 'we will take your drug of choice, which you have risked imprisonment and ostracisation for, make it diluted, sanitised and less enjoyable, repackage it and sell it back to you'. Who wouldn't be distrustful under these circumstances? And this is only one example of one corporation creating a new cannabis product. What other consequences could occur once the 'big money' gets involved? Will it be willing to listen to the experience of the people who have created and maintained the cannabis underground for the last seventy years?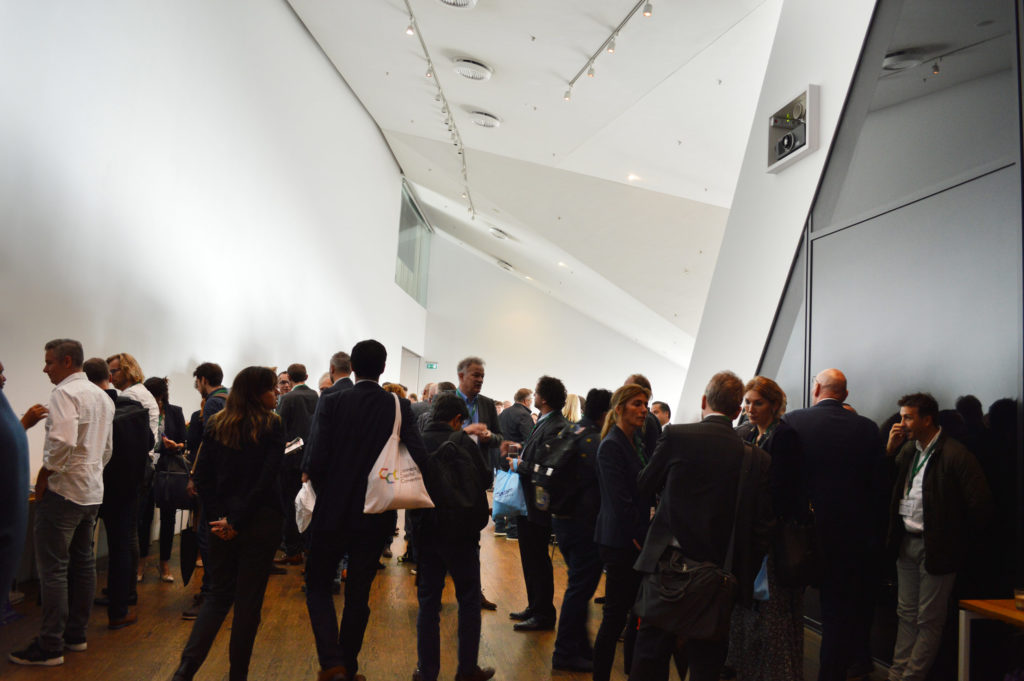 "If the money comes in and replaces the people who are experienced, then the money is stupid"
Cinema 1 at the EYE Film Museum in Amsterdam is almost completely full, and almost completely silent apart from the speaker. Robert Cheney of C21 Investments is saying the words that many cannabis growers would be relieved to hear, but it's uncertain if there is anyone in the audience who would describe themselves thusly. These are investors, business people, entrepreneurs, and business owners. There is more expertise in the field of financial management than the field of hands-on cannabis cultivation represented here, and it is the first time that these two worlds have collided so prominently on Dutch soil.
It is also a predominantly white male audience. A rough head-count tallies about 25 women, and perhaps 5 people of colour, out of around 300. Out of 13 speakers, only one is female. The demographic for cannabis use, and definitely for cannabis-related arrests, in the US and in Europe is in no way reflected by the demographic in the room.
But these people are not investing in cannabis seeds to grow at home, nor buds to enjoy or to alleviate pain. They have not paid hundreds of euros per ticket to openly use cannabis without fear, as the judges of the Cannabis Cup did in its heyday. They are here to discover what the investment opportunities are in the unprecedented and rapidly expanding legal cannabis market.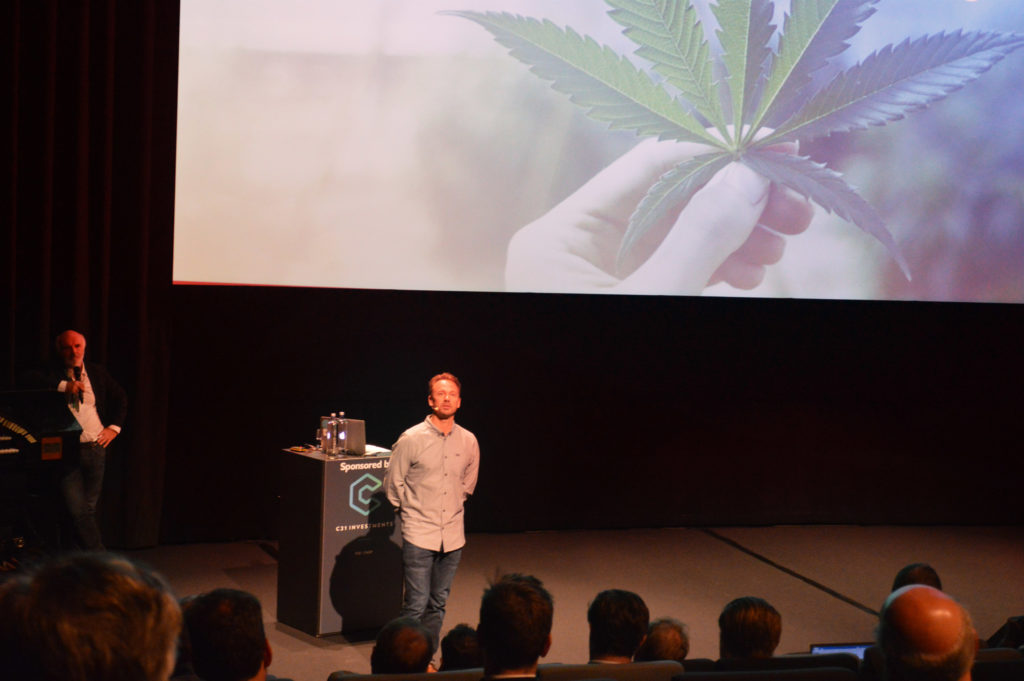 The Cannabis Capital Convention is an initiative of Michael Kraland, financial investment specialist, writer, and founder of two Dutch investment banking sites. A successful businessperson, Kraland is established enough to be unconcerned about the stigma which he confirms is still attached to cannabis. Instead, he was greatly intrigued by the investment potential of the rapidly expanding cannabis market. He decided to bring together some of the major groups from Canada and the US with the established cannabis businesses of the Netherlands to explore the ways in which the financial investment world and the cannabis world can benefit each other.
The figures and charts that parade across the cinema screen throughout the day are astonishing, even to people who work within the Dutch industry. Examples include the expectation that by 2020, a year and a half after full legalisation in California, sales of recreational cannabis will exceed sales of wine – not even alcohol in general, but just wine.
Estimated European cannabis use is 3000 tons per year; North American is 6,250 tons
One of the most compelling presentations is given by Alex Brooks of Canaccord Genuity, the largest independent investment dealer in Canada. A gently matter-of-fact Englishman with an obviously comprehensive knowledge of investment banking, he reveals that the recreational cannabis market in Europe is estimated at over €25 billion per year, although it is unlikely to be fully legalised in the near future. The CBD 'wellness product' market is swiftly catching up, with the 2018 revenue estimated at €200 million across Europe. His presentation highlights CBD e-liquid as the largest category, and features a photo of our own Sensi Seeds product. Not only are these figures relevant to Europe, they become even more interesting to investors when it is considered that European cannabis consumption is less than half of that of North America.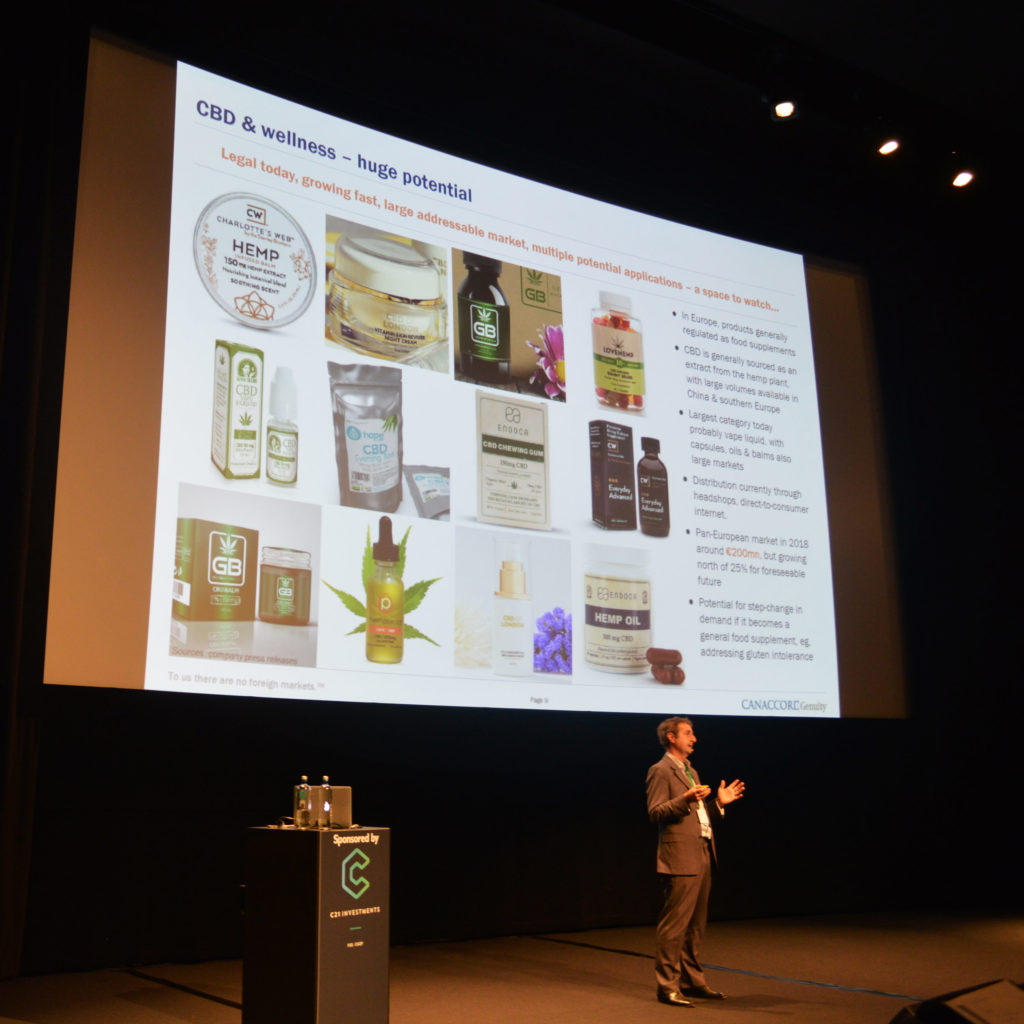 Equally compelling is Christine Smith, CEO of Grön. Together with Sky Pinnick and Russ Rotondi of Phantom Farms, Christine toured the Hash Marihuana & Hemp Museum the day before the Cannabis Capital Convention and was delighted and fascinated by the diversity of the exhibits, but somewhat shocked to learn only then that she was the only non-male speaker. Ironically, this happened in the middle of the current exhibition 'We Are Mary Jane: Women of Cannabis', which has been extended due to its popularity.
Pulling no punches, she thanks Michael Kraland for "the opportunity to be the token woman speaker" as she takes the stage at the auspicious hour of 16:20. Christine achieved significant success in one very male-dominated and high-pressure world, that of architecture, before entering the world of cannabis. Initially she was focused on creating packaging for edibles. However, her skills and standards are so high (no pun intended) that she was unable to find cannabis food products that met the bar set by her designs. The obvious, yet bold next step was to create her own.
A new approach to the edibles market
Grön chocolates are not only gorgeously packaged, their formulation is indicative of a new approach to the edibles market. The focus is on microdosing. Edibles have previously had the well-deserved reputation as the Russian Roulette of cannabis consumption thanks to the variables of the entourage effect and its interaction with metabolism. Grön have perfected the technique of removing terpenes from their products, instead using only CBD and THC in carefully calibrated amounts. The entire range of Grön chocolates contains only a quarter to a half of the legal recreational limit for cannabis. This results in predictable, reproducible effects that can be enjoyed without the fear of unwanted hours of psychoactivity. Instead, Grön chocolates are designed for people that Christine describes as "enthusiasts" to be able to relax and unwind without going overboard.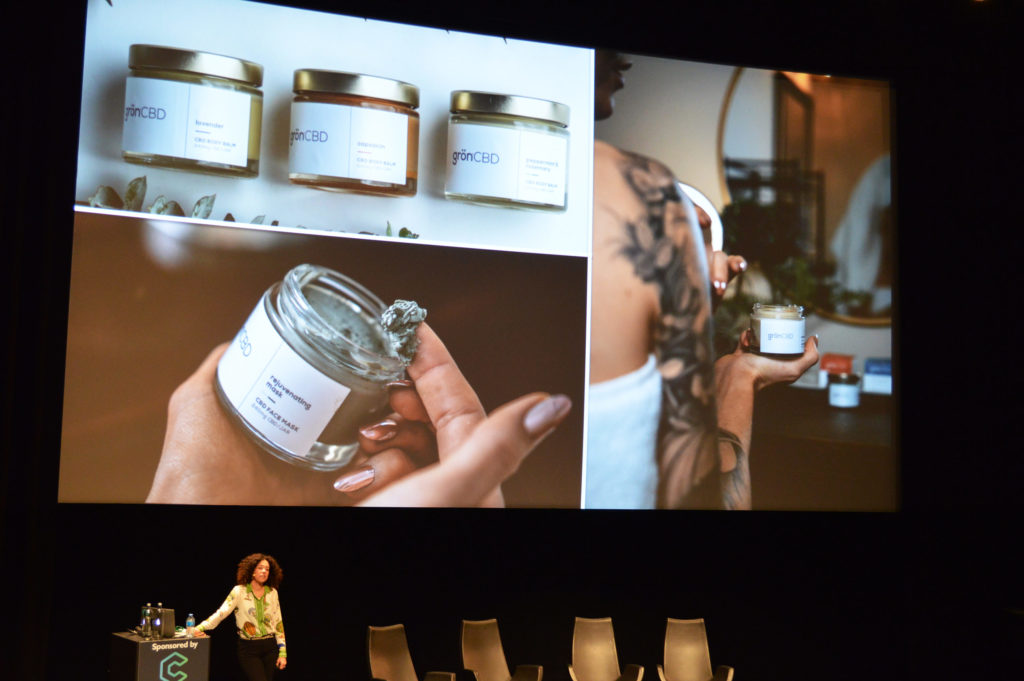 Grön doesn't stop there. Christine has recently opened Oregon's first CBD café, enabling potential enthusiasts to sample all manner of fine CBD-infused products. The next stage, which Christine is enthusiastic about to an extent that clearly communicates itself to the audience, is to blend Grön's successful formula with a new range of wellness products. Another speaker, Stephen Murphy of Prohibition Partners, confirmed earlier in the day that "cannabis is becoming a key point differentiation for beauty and wellness companies and consumers", and this is a theme that recurs throughout the day.
Building firewalls, building bridges
The approach of Canaccord Genuity is to, as Alex puts it, "build firewalls" between the four different markets that cannabis occupies in terms of business investment: pharmaceutical, CBD / wellness, medicinal and recreational. There will be companies for which one or two of these are far more interesting than the others, or one particular aspect that they shy away from (probably recreational) despite its increasing legitimacy. The point of these divisions is not to sideline or discriminate against any one area at the expense of the others. The intention is to make it simpler for companies or individuals who may be somewhat bewildered by a market that has been illegal for their entire lives suddenly holding the promise of making them very, very rich indeed.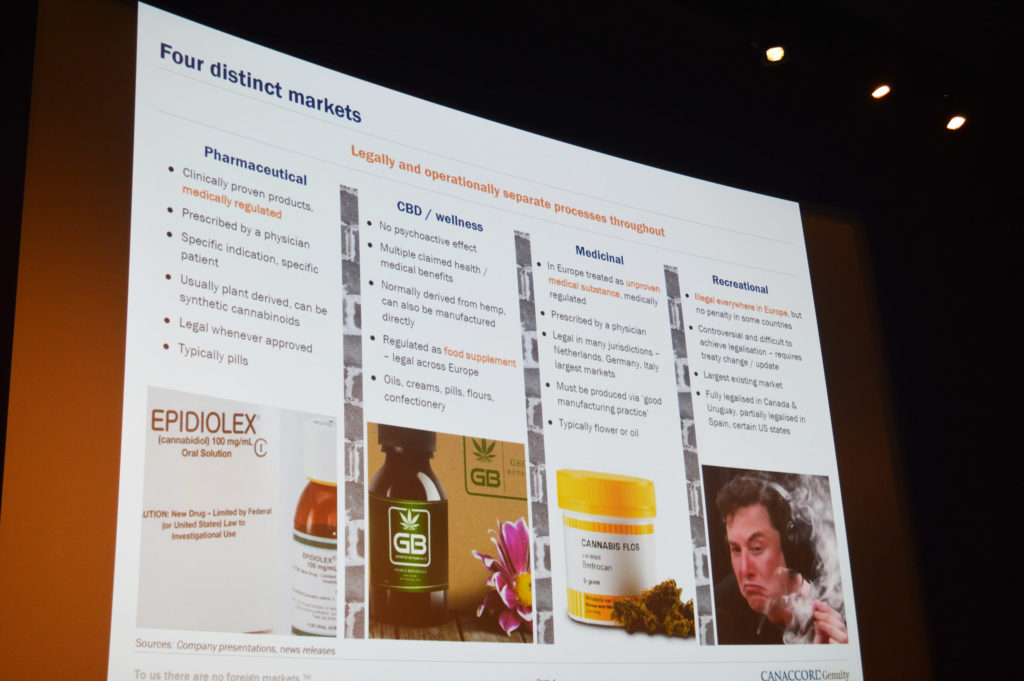 Yet for Alex Brooks at least, there is more to this emerging market than just the potential for riches. This inaugural Cannabis Capital Conference concludes with a panel which comprises Alex, Christine Smith, Michael Kraland, and Tjalling Erkelens and Mauricio Agudelo of Bedrocan. Alex's first statement is nothing to do with money. Instead, he uses the opportunity of having the room's eyes upon him to state his abhorrence of a (drug) market that currently finds it acceptable that young people are dying because of the way its products are illegal and unregulated.
Protect the rights of home growers
It's a point that needs making, one that's been the elephant in the room all day. This 'green rush', this cannabinoid-filled cornucopia of opportunity, is only possible because people with far less have  risked it all to resist the restrictions of prohibition. For many, the result has been loss of freedom, loss of livelihood, loss of life. It's somewhat reassuring that at least one of the major figures here today acknowledges this onstage. Offstage, in a quieter moment, Eric Shoemaker of Swell Industries describes the question of what all this means for the small-scale home grower as "a conversation among adults about adult choices… we should absolutely protect the rights of home growers. They kept it going during prohibition.".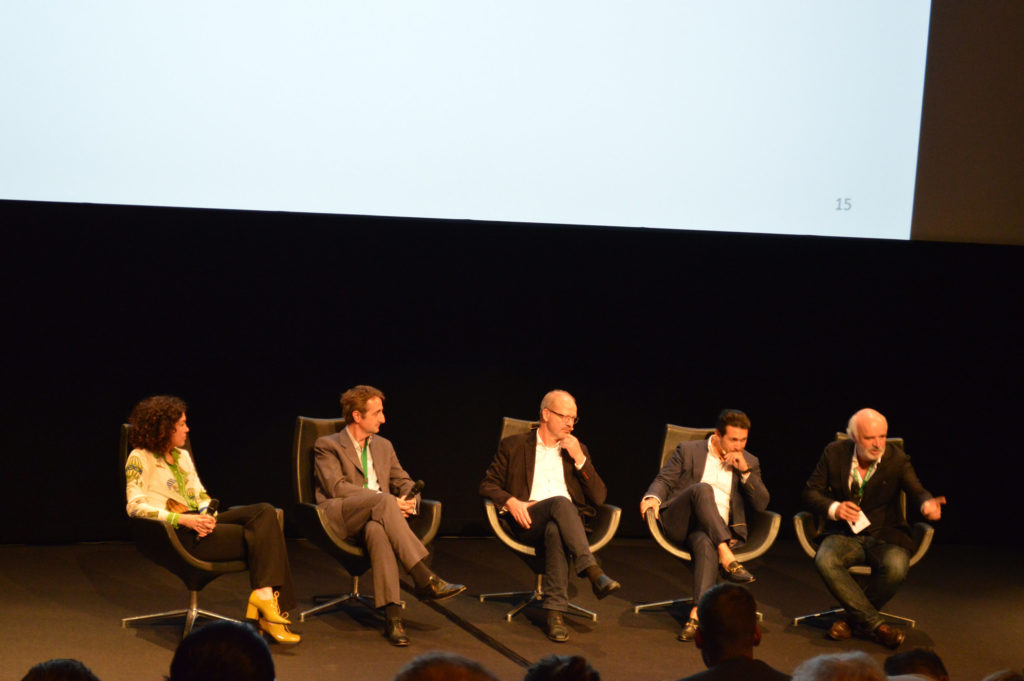 After a full day of being around investment bankers, financial advisors, 'cannapreneurs' and business experts, there's no denying that this is a completely different type of event from the Cannabis Cups, harvest festivals and Liberation Days that Sensi Seeds usually reports on – but that doesn't make it a bad thing. There's a sense of optimism, a sense of attainability of – pardon the pun – new heights. It can be exhausting to constantly have the awareness, whether conscious or subconscious, that you are on the wrong side of the law. That there is risk inherent in simply doing what you believe in, although that doesn't stop you doing it. The group of people gathered in the EYE Film Museum have an energy that is unaffected by that risk, that fatigue. They have a lot to offer the world of cannabis, just as it, and we, have a lot to offer them. The thing we need to do now is listen to and learn from each other.
What's your opinion on the involvement of Big Money in the world of cannabis? Are you an investor trying to make head or tail of this previously clandestine world? Let us know in the comments below!