New strains The second wave of the Classic Redux Series is here! Another four new cannabis seed strains are now available, bringing yet more original Sensi Seed Bank varieties to a whole new generation of growers in formats that utilize the most modern advantages of cannabis cultivation. Discover new legends waiting to be grown!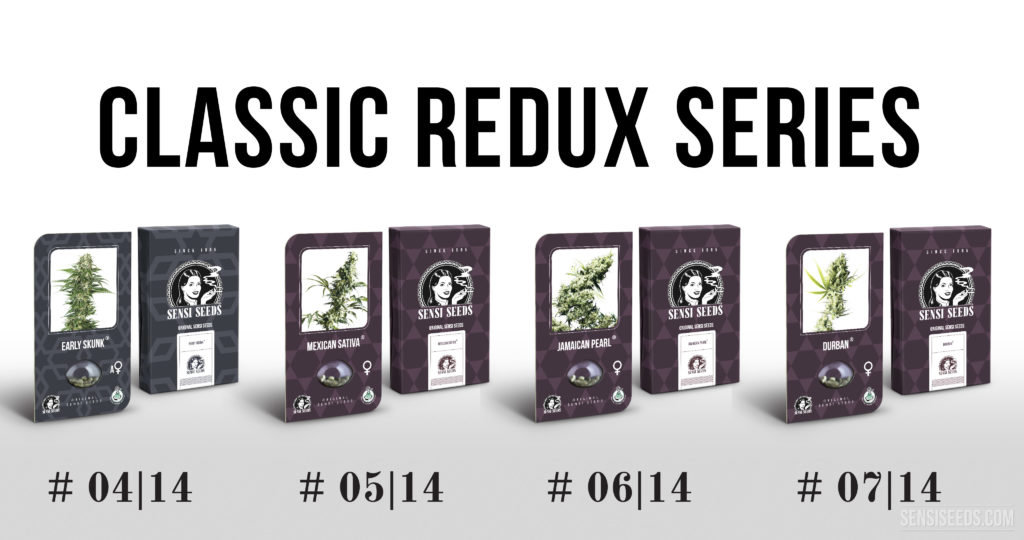 The word 'redux' is derived from the ancient Latin 'reducere', literally 'to lead back', and refers to when something previously available or known returns, or when an older work of art is presented in a new way. In this case, the latter definition is particularly apt; the cannabis strains in question are truly works of art that have stood the test of time and continue to be popular today.
It was with this proven track record in mind that Sensi Seeds embarked on a grand total of fourteen new varieties to be released in stages over the course of 2017, each one a redux of a classic. The first three new cannabis seed strains from Sensi Seeds came on the market last month, and now it's time for another four. These new variations on classic themes are all perfect for outdoor growing in climates that are not traditionally conducive to producing high quality, strong, tasty buds. So let's meet them!
Mexican SAtiva Feminized
Great for beginners, Mexican Sativa Feminized flourishes well outdoors in cold wet climates, delivers a good yield and energetic high. It's exciting and affordable!
Mexican Sativa Feminized is the new expression of our sativa dominant, ever-popular Mexican Sativa. It displays the vigorous growth, impressive height and elegant, elongated buds of the original. These traits derive from genetics originating in the Southern Mexican region of Oaxaca. How did we adapt this exotic cannabis variety to northern climates? By blending it with the notoriously robust African sativa Durban. A dash of a hash plant cultivar from Pakistan reduced the flowering time. It also further reinforced the resistance to cold. Next, the most outstanding offspring from this line were back-crossed with the original Oaxacan.
Mexican Sativa Feminized is an excellent choice for both beginner and experienced cultivators. If you are looking for a strong, uplifting sativa with an exotic taste, look no further! These feminized cannabis seeds will grow well either indoors or outdoors. Gardeners in cold and cool climates especially enjoy the hardiness and resilience of this strain. And everyone will appreciate how affordable it is.
Buy Mexican Sativa Feminized seeds here.
Jamaican Pearl Feminized
Bring some Caribbean sunshine to your garden! Jamaican Pearl Feminized seeds thrive in cool climates, producing harvests of sweet, sky high sativa goodness.
Jamaican Pearl's vigorous, productive growing profile is a favourite of growers everywhere. Made from Early Pearl, one of our oldest, most reliable outdoor sativa strains, and a blend of special  Caribbean cultivars, Jamaican Pearl Feminized seeds maintain her superb mostly-sativa balance and makes it easy to produce a crop of big, powerful flowering plants.
Naturally grown cannabis flowers are a wonderful way to store solar energy for a cold winter, so buy Jamaican Pearl Feminized seeds for your garden and let them soak up the sun! Our powerful, exotic, feminized sativa strain rewards medicinal and recreational growers with easy, bountiful harvests. This sweet cannabis delivers a delicious burst of flavour and splendid, golden high that warms the body like a ray of sunshine – from the tips of the toes to the frontal lobes!
Buy Jamaican Pearl Feminized seeds here.
Durban Feminized
Our sturdy South African sativa powerhouse can flourish anywhere! For an easy sativa with great potency, flavour and production, try Durban Feminized seeds!
Outside its home continent, Durban is easily the best-known African cannabis strain. This chunky subtropical sativa grows abundantly across southern Africa and is enjoyed everywhere. Durban Feminized cannabis seeds are a perfect outdoor sativa for growers of all experience levels. She's quick, fungus-resistant and a great producer, even in a dubious summer!
Durban can grow and flower beautifully in any climate, from temperate to tropical. If you're thinking about growing a sativa in a normal garden or balcony setting, you're looking for plants whose characteristics make them easier and more manageable. Durban Feminized has all of those important features – she's tough, forgiving and produces feminized plants which won't grow too tall. She's also fast in flowering, very productive and a potent medicinal or recreational plant.
Buy Durban Feminized seeds here.
Early Skunk Automatic
Early Skunk Automatic is the easiest version of our most balanced outdoor seed strain. Feminized, autoflowering, heavy and potent – perfect for novices!
Our first Early Skunk was a revolution for outdoor growing, especially here in the northern latitudes. A grow-anywhere powerhouse, she was bred to flourish in short summers, to resist pests and fungus and to deliver knockout harvests! Early Skunk Automatic cannabis seeds bring the extra advantages of autoflowering, feminized traits to this outdoor strain.
If you're looking for an easy, fast, feminized seed strain which will produce high potency buds in almost any environment and circumstance, look no further than Early Skunk Automatic seeds! With no need to worry about male plants or inducing flowering, this is a great strain for beginners. From a garden to a balcony, from a sunny, south-facing window to a far northern summer where the 'midnight sun' causes very unusual photoperiods – Early Skunk Automatic is the ideal choice!
Buy Early Skunk Automatic seeds here.
Big things grow from tiny seeds
Back at the very beginning of the European cannabis seed industry, Ben Dronkers pioneered the practise of collecting seeds from all the great cannabis-producing areas of the world. He knew that he was achieving something special, but had no idea just how much of an impact his work would have; not just in the Netherlands, but all over the globe. These strains have all revolutionized the cannabis cultivation community in different ways. Early Skunk gave the outdoor option of cultivating strong, tasty buds with an authentic Skunk flavour and effect. Durban brought the soaring sativa high of South Africa's most famous export within reach of a whole new continent. Mexican Sativa tempered rare and exotic genetics with the hardiness necessary to thrive away from their native soil. Jamaican Pearl blended the best of classic island 'ganja' and one of our favourite early strains.
From oldschool to newschool
All of these are now considered as oldschool cannabis breeds. Some are actually older than the people who are growing them now! All the more reason to re-engineer them with the latest advances available to us as Europe's oldest cannabis seed company. When The Sensi Seed Bank was created from The Seed Bank and The Sensi Connoisseurs Club, feminized seeds were a breeder's dream, and autoflowering was a quality only found in the as yet untapped Ruderalis branch of the cannabis family tree. The Classic Redux Series is the best of both worlds: tried and tested original varieties in feminized and autoflowering expressions.
We have always moved with the times, and as we approach the end of the second decade of the 21st century, it is with great pride that we continue to improve and refine the strains that have built our success. We hope you enjoy them and we look forward to your feedback – let us know what you think in the comments below!