CBD Cannabis contains over 500 constituents. The most important of these are THC (tetrahydrocannabinol) and CBD (cannabidiol), which both belong to the cannabinoid group. Unlike THC, CBD does not make you high. It does however offer great medicinal potential. That is one of the reasons that we have seen a real boom in CBD over the last few years.
Even people who are not the least bit interested in cannabis have probably heard something about CBD. The media are full of reports about its many potential health benefits and medicinal uses. CBD is said to be successful in combatting anxiety, paranoia, epilepsy, pain and inflammation. It is said to heal acne and yes, CBD can even tackle cancer.
It is true that more and more studies, experts and patients are talking about its positive medicinal effects. CBD is found not just in medicines in the form of tablets, capsules and creams, but also in oils and foodstuffs. The food industry discovered CBD even before the pharmaceutical industry did. But can you be sure that if it says CBD on the label there really is CBD inside? What do consumers need to look out for? How does CBD work and what are its possible side-effects? Sensi Seeds puts CBD under the microscope, reviewing this cannabinoid from a variety of perspectives and answering all the important questions.
What is CBD? How does it work and how is it different from THC?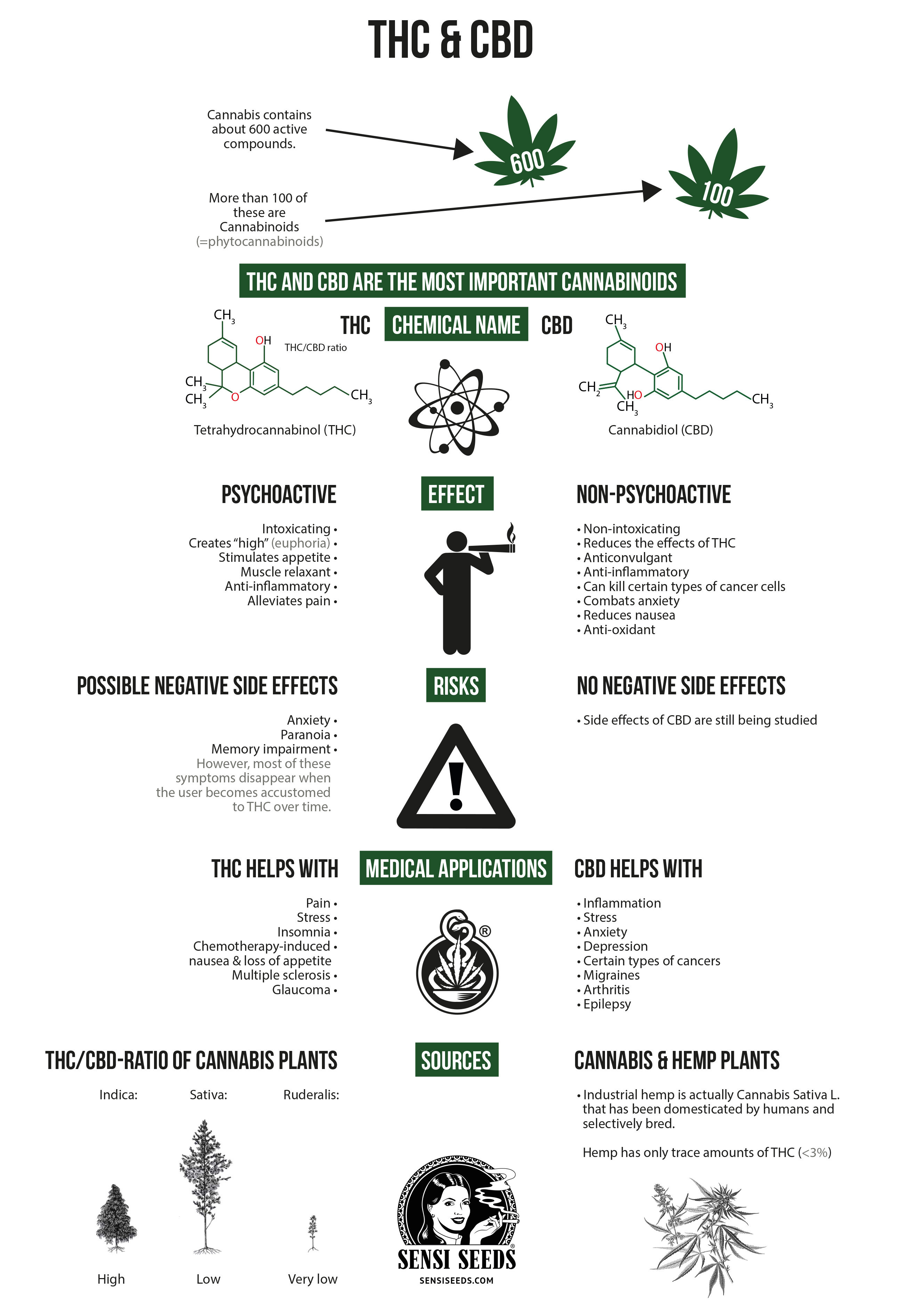 There are more than 500 active constituents in cannabis, of which about 100 belong to the plant cannabinoid group (=phytocannabinoids). The two most important of these are called THC and CBD. Like family members, they complement each other, support each other and argue with each other. The major difference for consumers is that THC is psychoactive while CBD is defined as non-psychoactive. As such, you will not get a high from CBD, but there are people who have observed a calming effect. Studies have shown that CBD dilutes the effects of THC thereby limiting the anxiety that the consumption of (too much) THC can create.
Dr Ethan Russo is acknowledged as a leading expert in the field of cannabinoid research. He explains in simple terms on www.cannabis-med.org what CBD actually is: "In the past, CBD was widespread in the indigenous strains from Afghanistan and Morocco, but has mainly disappeared from cannabis for recreational use. It is found, but generally only in low concentrations, in the hemp grown for fibre. CBD is attracting increasing attention thanks to its various medicinal properties, including reducing pain and preventing inflammation without intoxication or sedation. It also reduces the side-effects of THC if they are consumed together, especially anxiety and increased pulse rate. Taken together, both constituents can work synergistically for many applications."
CBD in medicine – reported experiences
The research results are highly promising: CBD can be used to treat many illnesses and symptoms, such as anxiety disorders, pain, epilepsy, inflammation and possibly even cancer. CBD, a substance with great potential? Undoubtedly! The UK has accepted this and officially approved CBD as a medicine. But it does need to be said at this point that most of the information available about CBD comes from basic research. There are too few studies involving people, meaning that its true therapeutic usefulness cannot yet be properly estimated. But what we can already do right now is listen. Personal reports of patients' experiences are just as valuable as scientific results. Are you a doctor, pharmacist or nurse who is interested in medicinal cannabis? Then we recommend you visit this website with information about the use of cannabinoids in medicine.
CBD products and applications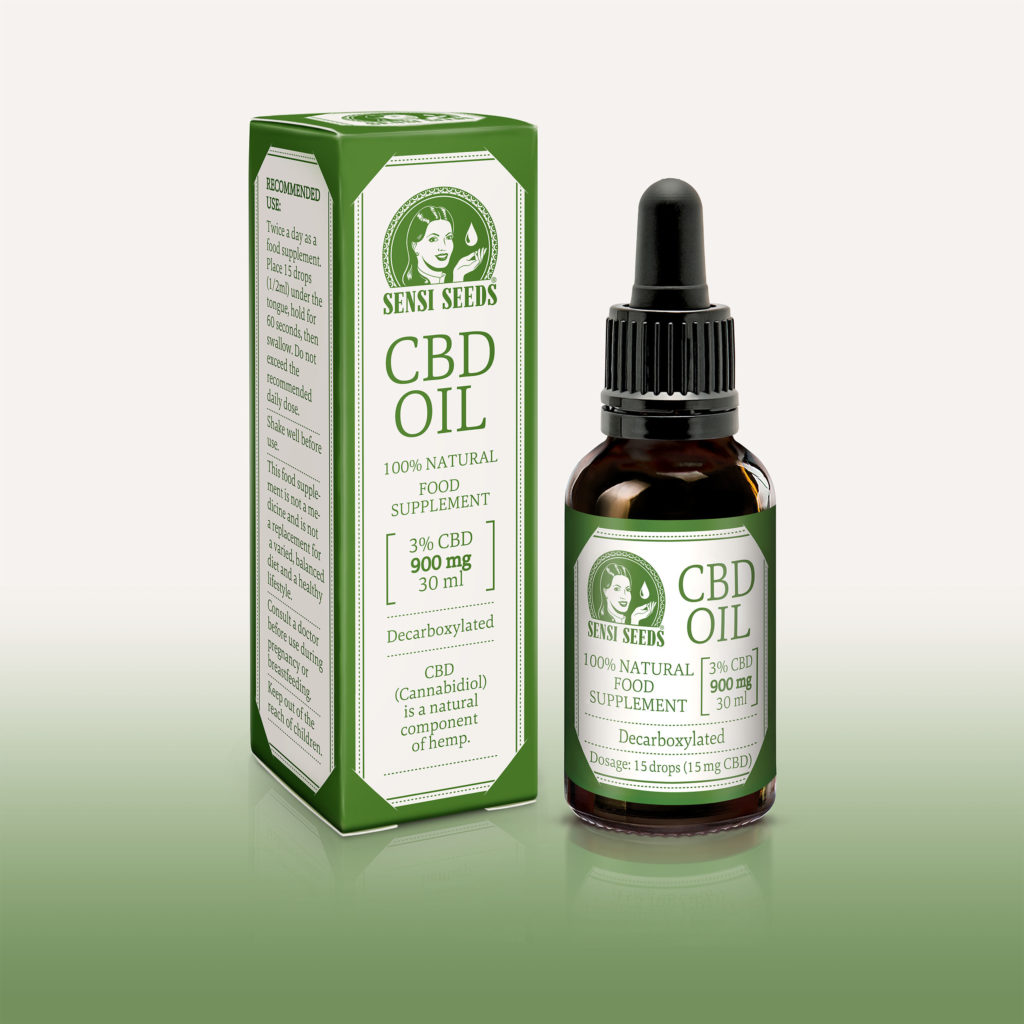 CBD is the food additive of the day. New companies are coming onto the market and want to grab a slice of the pie. This is especially true in Switzerland. In almost every city there is now CBD weed, CBD oils, foodstuffs and even CBD eliquids on sale. At the same time, a tangled web of producers, wholesalers and retailers has sprung up. This is definitely not helping to improve product quality. In some samples, products were found that contained either zero, or much less CBD than stated on the packaging. Contamination with bacteria or pesticides is also sometimes an issue.
How can you as a consumer make sure that you are buying a good quality product? The answer is simple: find out where, and under what conditions, the hemp is grown from which the CBD is drawn.
Sensi Seeds has more than three decades of experience with cannabis and cannabinoids. All our CBD products are produced by our sister company, HempFlax, with the greatest care, and non-chemically. Because we look after both production and sales, we can guarantee our customers safe products of the highest quality. The latest example of this is our CBD coconut hemp oil, which is not only healthy but also tastes fantastic.